Interested in a smart toaster oven but not sure which features to look out for?
Great, because we reviewed 6 different models here!
Continue reading this article where you can learn more about mini, air fryer, countertop, convection, and other toaster oven combos. Besides reviews, this article also offers you insight into technical specifications and other performances to look for when buying such a kitchen appliance.
The Rundown
Best 6 Smart Toaster Ovens
Best Of Best Smart Toaster Oven
Breville Convection Toaster Oven
9 Cooking Presets
This Best Breville toaster oven uses a power supply of 1800 Watts and features element IQ to deliver the right power at the right time. It offers 9 cooking programs for toasting bread, bagels, baking pizza, cookies, broiling, and roasting. It can even be used for keeping food warm or reheating leftovers.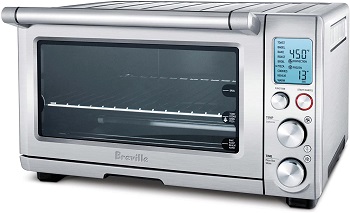 5 Quartz Heaters
With the 5 quartz heating elements, you will be able to get crispy foods faster, cooked evenly to perfection. To set up the cooking program, you can use the function turning knob along with the screen display. Inside the Breville 1800-Watt smart oven, you can fit 6 bread slices or even a 13-inch pizza.
Customizable Temp & Time
The LED screen changes color from orange to blue during the cooking process. When setting up a cooking program, you can also adjust the temperature by turning a knob and set up a cooking timer. To check in on the cooking progress, you can take a peek through the glass door while the interior light will illuminate the oven cavity.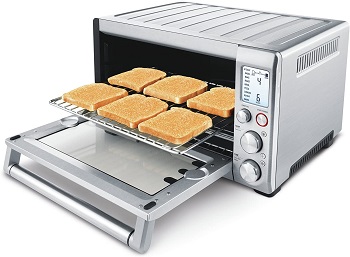 Circulates Hot Air
This Breville smart toaster oven features a convection fan that circulates hot air inside the oven. The digital convection toaster oven heats quickly and automatically turns off once cooking is completed and the timer shuts off. With smart technology, the oven adjusts the performance to suit the food you are cooking for the best cooking results.
Short Description:
an LED screen with 9 cooking programs
toast, bagels, pizza, cookies, broil, roast, etc
5 quartz heating elements and a convection fan
it fits 6 bread slices, a 13-inch pizza
temperature and timer control knobs
Best Mini Smart Toaster Oven
Breville Compact Smart Oven BO650XL
Smart Heat Distribution
This Breville mini smart toaster oven is ideal for countertop use thanks to its compact size. The compact smart oven features element IQ for the smart distribution of heat among the four featured quartz heating elements. That way, you can achieve perfect results each time. The screen display offers 8 cooking programs to choose from.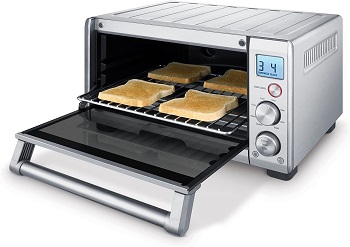 Non-Sticking Interior
This toaster oven broiler can do much more than just toast and broil. It can also bake pizza, cookies, bagels, roast, and more. Inside the oven, you can fit 4 bread slices, a 12-inch pizza, roast a chicken, and even fit a 6-cup muffin tray. The inner walls are non-stick coated for easy cleaning.
Calculates Time & Temp
The LCD screen display is easy to read and lights up orange during preheating and cooking and turns blue once cooking is done. To get the perfect baked results, it calculates the time and temperature needed to bake different foods.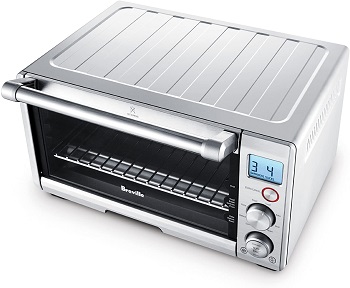 Space-Saving Design
Inside the space-saving countertop model, you will be able to prepare many different meals for breakfast, lunch, and dinner. For its everyday use, the smart mini oven will preheat quickly so that you can enjoy delicious meals faster.
Short Description:
compact size with a 4-slice capacity
even heat distribution with 4 quartz heaters
offers 8 cooking programs to choose from
pizza, bake, bagel, roast, toast, broil, etc
easy-to-clean non-stick inner oven walls
LCD screen calculates time and temperature
Best Air Fryer Smart Toaster Oven
Nuwave Smart Oven Bravo XL
40 Easy Recipes
If you are a beginner in toaster oven use but wish to use smart technology, this model might be the one for you. It features intuitive controls and has 40 recipes that are easy to follow. The control panel offers 12 one-touch cooking settings for air frying, baking, broiling, roasting, toasting, grilling, reheating, and more.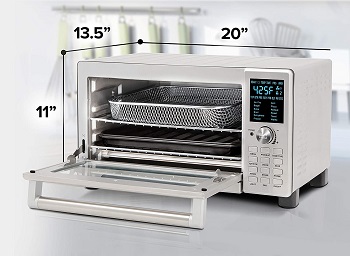 Wide Temperature Range
This air fryer convection toaster oven features 3 convection fan speeds and is equipped with 5 quartz elements for heating. The temperature can be adjusted between 100 and 450°F in small 5-degree increments. The oven can hold as much as 9 bread slices at one, a 13-inch pizza, or a 10-pound chicken.
Digital Temperature Probe
To avoid over or undercooking of foods, you can measure the food's internal temperature by using the temperature probe. The unit will shut off when the food such as chicken, fish, or other meat reaches the set temperature. The smart toaster oven is made of quality materials, including a stainless steel body and a heat-resistant tempered glass door.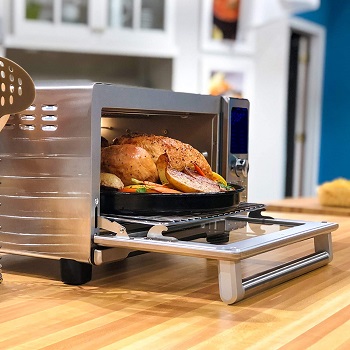 Adjustable Heating Elements
To make operation easy, a non-stick baking pan is also included with the smart oven air fryer. To get precise cooking results, you can adjust the power of the top and bottom heating elements. By using convection heating, you will get faster and more even cooking results. The recipes are easily accessible on your smartphone.
Short Description:
features intuitive controls and 40 recipes
12 one-touch cooking programs available
air fry, bake, toast, roast, grill, reheat, etc
5 quartz heaters and 3 convection fan speeds
adjustable temperature between 100 and 450°F
stainless steel body and heat-resistant glass door
adjustable power of top and bottom heaters
Best Countertop Smart Toaster Oven
Amazon Alexa Smart Oven
Alexa Voice Control
This countertop toaster oven is ideal for people who want a stress-free, think-free, and foolproof kitchen appliance. It can be used as a convection oven, microwave, air fryer, and food warmer. It comes equipped with an Echo Dot for voice control with Alexa. Alexa will be able to notify you when the oven has preheated or when the food is done.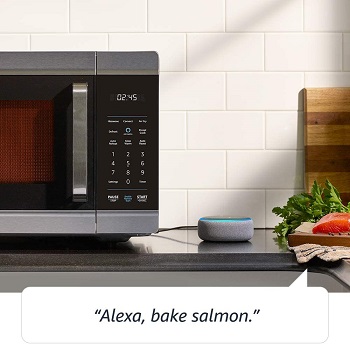 Over 30 Presets
The Alexa app on your smartphone will allow you to scan some food packages so that the oven can cook that food automatically. The oven is spacious enough to cook up to a 5-pound chicken. You can ask Alexa to start any of the 30+ presets. Before that, follow the instructions for the oven rack position according to the desired cooking mode.
Precise Sensor Cooking
Internal sensors on the smart toaster oven detect the temperature and humidity for perfect results. A temperature probe is detachable and allows you to check the food's temperature for precise cooking results. To start using it, install the oven, connect to the Amazon Alexa app on the smartphone, and the rest is easy.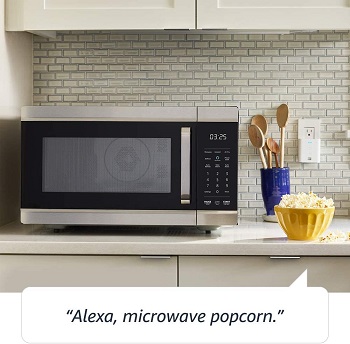 For A Decluttered Kitchen
The four-mode toaster oven will be able to replace many different small kitchen appliances to save space in your kitchen and declutter busy countertops. You won't need to have any expert knowledge to be able to prepare different meals in this unit.
Short Description:
for foolproof and stress-free cooking
convection, air fryer, food warmer, microwave
easy cooking by scanning food packages
Alexa voice control and announcements
four-mode appliance saves space in the kitchen
Best Convection Smart Toaster Oven
Ninja Toaster Oven DT251
Extra-Large Capacity
This smart toaster oven comes in a stainless steel finish and with an extra-large capacity. Inside the oven, there are two levels available for cooking, suitable for fitting up to a 5-pound chicken with a pan full of vegetables or a 12-pound turkey inside. Besides that, it can also bake two 12-inch pizzas at once.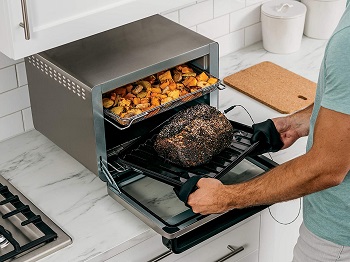 Deep-Fried Alternative
The oven comes with a surround convection feature that circulates hot air, thus speeding up the cooking process by up to 30%. It offers juicy and crispy results, while also offering a great alternative to traditional deep-fried foods. It offers a setting for air frying for healthier meals with 75% less fat.
Multifunctional Programs
With a thermometer that offers smart cooking technologies, you can easily program the level of cooked food from rare to well done with a simple click. It offers many different cooking programs, from reheating, baking, and broiling to air frying, air roasting, toasting, dehydrating, and settings for bagels and pizza.

Included Contents
The toaster oven air fryer dehydrator is easy to program with simple clicks, as it features a touch button control panel. It comes with a cooking guide included, offering 15 recipes. It features a high-velocity fan that wraps around the food for uniform results. The crumb tray is easy to remove for cleaning.
Short Description:
stainless steel finish; large capacity
it fits up to two 12-inch pizzas inside
30% faster, 75% less fat used
allows cooking at two levels at once
offers multifunctional cooking programs
air fry, air roast, toast, bagel, pizza, etc
a high-velocity fan, a smart thermometer
Best Combo Smart Toaster Oven
Cosori 12-in-1 Toaster Oven Black
Multitude Of Options
This smart toaster oven offers you 12 different cooking modes in just one appliance. The air fryer toaster oven with rotisserie allows you to also roast, dehydrate, broil, make pizza, cookies, bagels, toast, ferment, and more. The smart oven can be connected to your smartphone for versatile adjustments, as well as voice control.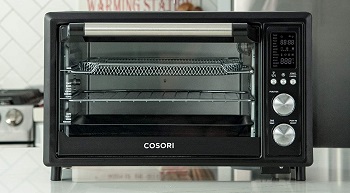 Smartphone Control
By connecting the oven to your smartphone through the app, you can adjust the time and temperature, control the convection fan, and the oven light. When using the air frying setting, you can enjoy delicious snacks prepared with up to 85% less fat.
Pairable With Alexa
To be able to operate it easily, this appliance is equipped with a screen display and control knobs for choosing between the functions and setting up the timer and temperature. If you want, you can even voice control the settings with Alexa by pairing this unit to an Alexa device.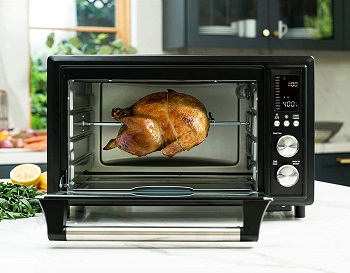 Helpful App Options
Besides that, you can pair it with your smartphone to monitor the cooking process from anywhere through the VeSync app. The smartphone app also offers 100 recipes and lets you save your own custom ones. The oven comes with many trays, baskets, and racks for easy cooking.
Short Description:
12 cooking modes in one appliance
toast, roast, dehydrate, broil, pizza, etc
it connects to smartphones through an app
air fried foods made with 85% less fat
able to connect to an Alexa device
VeSync app offers 100 cooking recipes
adjust and control it with a smartphone
What To Consider In Smart Toaster Ovens?
As the market is filled with different types of toaster ovens, you should first find out about qualities that make a smart one. Moreover, when choosing among the abundance of options, you should consider its size and learn about cooking programs it has to offer. Finally, read about why convection technology is useful and how you can benefit from investing in such a small kitchen appliance.
Smart Qualities – For a toaster oven to be considered smart, it should offer multiple functions for versatile cooking, usually just a click away. This means that it is very easy to operate, taking any guesswork away from delicious cooking. They allow easy switching between many modes with automatic adjustments to the oven's performance.
Smart Control – Besides the above-mentioned qualities, an oven with smart features will sometimes also be able to connect to a smartphone. However, besides smartphones, these units can also be paired to your smart home technologies, such as voice control through a smart voice assistant.
Size – Available in different sizes, you can choose either model with smaller or bigger capacities. This will majorly depend on your needs as well as available kitchen space. Most models can hold 6 bread slices, while 4-slice options of toaster ovens are also available. However, if needed, the market also offers bigger capacities.
Cooking Options – Multifunction toaster ovens allow you to do much more than just toast bread. That's why smart toaster ovens usually offer the possibility of baking, broiling, pizza, bagel, but sometimes also air fry, dehydrate, and rotisserie options. Choosing the right model for your needs will mostly depend on what you plan to cook in it.
Convection Benefits – A convection fan will circulate hot air inside the oven, allowing for uniform cooking. By using the convection feature, food will bake and cook faster, resulting in evenly brown and crispy snacks. A toaster oven can offer you extra cooking space or be used as an alternative in spaces without conventional ovens.
To Wrap It Up
As our best smart toaster oven model, we have settled on the Breville the smart oven convection toaster oven. It is generous in capacity, holding up to 6 slices of bread at once. It offers 9 cooking presets and easily adjusts the temperature over the 5 quartz heating elements. If you want an easy-to-use model that can air fry, check out our reviews of digital air fryer toaster ovens. For fast cooking and baking, consider some of the fast toaster ovens available on the market.