In need of a high-end toaster oven and looking for a deeper insight into such models on the market?
In that case, keep reading this article!
We have chosen and reviewed countertop, air fryer, convection, combo, and pizza models available on the market to help you in your search for the best model tailored to your needs with the highest available specs. Besides that, here you can also read about features and technical specifications to keep in mind while searching for a toaster oven.
The Rundown
Best 6 High-end Toaster Ovens
Best Of Best High-end Toaster Oven
Cuisinart Toaster Oven TOA-65
High Specs With Little Noise
This digital convection toaster oven is made from steel material and comes in silver color, suitable for any countertop decor. It offers premium results while making minimum noise with the high-velocity fan and high-heat airflow. The inside of the oven has a 0.6 cubic feet capacity while offering a wide range of cooking programs.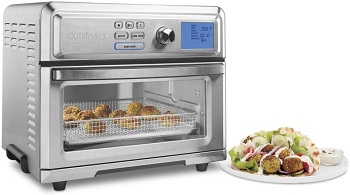 Simple Setup
The control panel is equipped with a screen display, a turning knob, and pushbuttons for easy setup. The available cooking functions include warm, reheat, toast, broil, roast, bake, bagel, pizza, and dual cook. When using the low-temperature settings, you can braise, dehydrate, proof, and slow cook.
Healthy Fried Snacks
For lovers of fried snacks, this oven offers an air frying setting, allowing you to enjoy a healthy option of fried wings, nuggets, fries, and other snacks. The fan allows you to customize the heat speed from low to high, while also allowing you to adjust the temperature. The cooking temperatures range between 80 and 450 Fahrenheit degrees.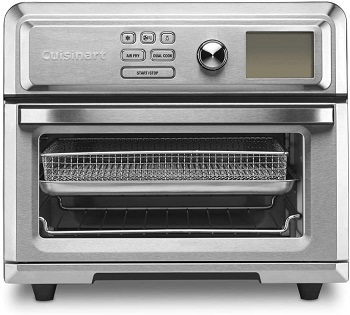 3-Pound Capacity
This high-end toaster oven comes from a reliable brand, is durable and easy to use. It offers versatile programs and can fry up to 3 pounds of food at once. The viewing window on the door is large and works great along with the interior light.
Short Description:
high-heat and high-velocity fan without noise
0.6 cubic feet capacity, 3 pounds of food
easy to set up with the control panel
toast, air fry, broil, bake, reheat, dehydrate, etc
temperature adjustable between 80 and 450°F
Best Countertop High-end Toaster Oven
Breville Smart Toaster Oven
Two Fan Speeds
This smart toaster oven is ideal for countertop use, featuring convection technology that is suitable for air frying. The convection fan offers two speeds for cooking control, allowing fast and even heat distribution, for dehydrating, air frying, and toasting. The smart features deliver heat over the six quartz heating elements for the best results.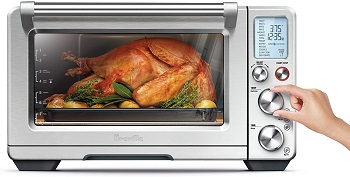 Air Fryer & Dehydrator
If you are a lover of dried fruits and snacks, in this high-end toaster oven you can dehydrate up to 4 trays of foods. You can also air fry different foods, such as French fries, wings, nuggets, and more. The oven has a 1 cubic foot capacity for toasting up to 9 bread slices at once or roasting a 14-pound turkey.
13 Cooking Functions
By using the screen display and three turning knobs, you can choose between 13 cooking functions. It allows you to toast, roast, broil, bake, slow cook, air fry, dehydrate and offers special programs for bagels and pizza. Inside the oven, you can fit a 12-cup muffin tray and most pans measuring 9 by 13 inches.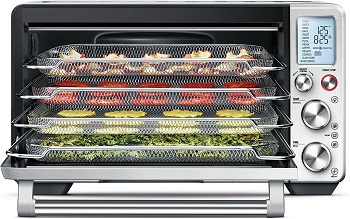 30% Faster
While providing you with crispy food, the countertop toaster oven also reduces cooking time by up to 30% thanks to the convection feature. The heating elements offer precise cooking with smart technology, delivering heat above and below the food.
Short Description:
it offers two convection fan speeds
fast and even heating, up to 30%
a 1 cubic foot cooking capacity
6 precise quartz heating elements
13 programs on the control panel
toast, air fry, dehydrate, bake, broil, etc
Best Air Fryer High-end Toaster Oven
Ninja Convection Toaster Oven
Smart Thermometer
This high-end toaster oven features a stainless steel finish with 10 available cooking functions. It is equipped with a smart thermometer and a surround convection technology for more powerful cooking. The thermometer is easy to set up for customizing between rare to well-done cooking level.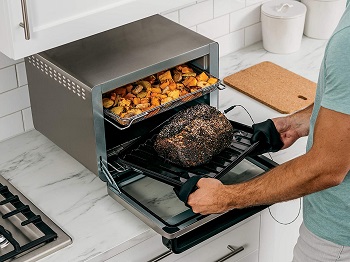 Two-Level Capacity
The unit cooks faster up to 30% with faster preheating, as well. The oven has a large capacity for even and precise cooking on two levels simultaneously. It can fit a 12-pound turkey, two 12-inch pizzas, or a 5-pound chicken with a tray full of vegetables.
High-Velocity Fan
The 10 available features allow you to bake, toast, roast, broil, air fry, dehydrate, and more. For healthier fried meals and snacks, the air frying mode reduces fat use by up to 75%. It works with the help of a high-velocity fan for surrounded heat airflow, cooking family-sized meals faster.

Specific Control Panel
The digital air fryer toaster oven is easy to use thanks to the cooking programs that are just one click away. The unit has maximized the inner capacity by fitting the control panel on the door handle. To prevent any changes to the settings, the panel freezes and locks when the door is open.
Short Description:
a smart thermometer, surround convection cooking
large capacity for two 12-inch pizzas
30%  faster cooking for family-sized meals
features a digital panel with 10 cooking programs
air fry, dehydrate, bake, broil, and more
air fried foods with 75% less fat used
precise simultaneous cooking on two levels
Best Convection High-end Toaster Oven
Wolf Gourmet Toaster Oven
7 Cooking Modes
This large convection toaster oven comes equipped with 7 cooking modes, a temperature probe, and two silver turning knobs alongside a screen display. The high-end toaster oven offers many features of a conventional oven in a more compact and energy-efficient unit.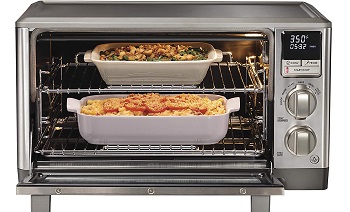 Even Cooking Results
To evenly toast, bake, and roast, this oven offers heated air continuously with the help of convection technology. The screen display works with the function and temperature turning knobs for easy setups. The function control knob can be used for choosing between the 7 available cooking programs.
Internal Temperature Control
The cooking programs include bagel, toast, bake, broil, roast, proof, and warm cooking options. The included temperature probe is used for controlling the internal meat temperature for precise and tender results. Besides the probe, you will also get a broiling rack, a baking pan, and two oven racks that slide easily.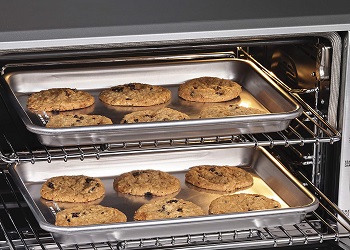 Customizable Look
If desired, you can exchange the silver knobs for black ones, as they come included, as well. That way, you can control the look of the oven to make sure it suits the kitchen decor. Inside the oven, you can fit a 5-pound chicken and stoneware dishes that measure up to 9 by 13 inches.
Short Description:
it offers 7 cooking modes
heated air for more even results
toast, broil, bake, roast, proof, warm, etc
features a temperature probe for meat
a baking pan, two oven racks included
Best Combo High-end Toaster Oven
Aobosi 10-In-1 Toaster Oven
Fewer Oils & Calories
This air fryer convection toaster oven offers 10 multifunctions for cooking available on the digital control panel. The combo unit can toast, air fry, air roast, warm, bake, and offers programs for bagels, pizza, and rotisserie. It is ideal for cooking with less oil for fewer calories.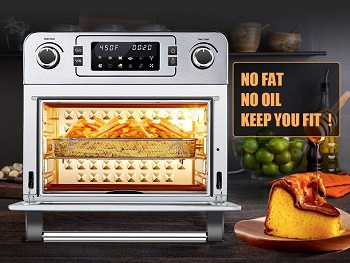 Family-Sized Oven
The setup is easy with two turning knobs. You can adjust the time and temperature by yourself, or let the digital control settings to do it for you. The oven has a 0.81 cubic feet capacity with three layers for cooking, ideal for family-sized meals. It can fit 6 bread slices or a 4-pound chicken, an 8-inch pizza, or 18 chicken wings inside.
Intuitive & Modern
The unit lets you set up a timer for up to 60 minutes, with temperatures adjustable up to 450 Fahrenheit degrees. The LCD screen display gives the high-end toaster oven a modern look with intuitive settings. For precise and even heating, it is equipped with six 360-degree heating elements.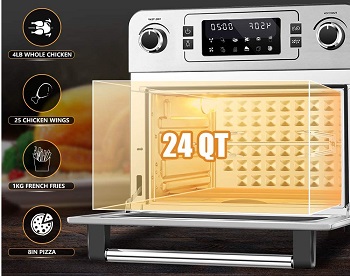 Included Settings
The convection setting offers two speeds for cooking, allowing you to control the heat distribution for faster and even results. To be able to use the rotisserie setting, you will also get the spit equipment and the removal tool. Besides that, you will get an air frying basket, a wire rack, a baking pan, and even a recipe book.
Short Description:
the digital panel with 10 cooking functions
toast, air fry, air roast, bake, pizza, rotisserie, etc
0.81 cubic feet capacity for family-sized cooking
it fits 6 bread slices, an 8-inch pizza, etc
60-minute timer, 450°F maximum temperature
even and fast cooking with six 360-degree heaters
Best Pizza High-end Toaster Oven
KitchenAid Non-Stick Toaster Oven
Versatile Use
This high-end toaster oven is a great choice if you wish to use the same unit for chicken, desserts, and more. It is large enough to cook two whole chickens weighing up to 3.6 pounds for family-sized meals. It offers a versatile use, from proofing, baking, cookies, to pizza.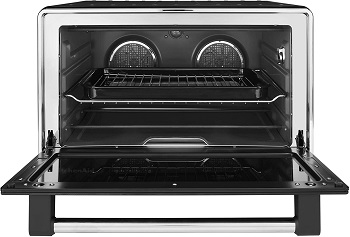 Non-Stick Cavity
The dual convection bake option allows you to prepare chicken up to 20% faster. After cooking, the oven cavity cleans up easily as it is non-stick coated. To choose between 12 presets, you will have to use the turning knob situated at the bottom of the unit alongside the control panel.
Easy To Control
You can toast, bake, roast, broil, and reheat foods, as well as make cookies, bagels, pizza, and more. A temperature probe is included so that you can control the cooking process for the best cooking results. The interior oven light is also helpful for checking in on the cooking process without interrupting it.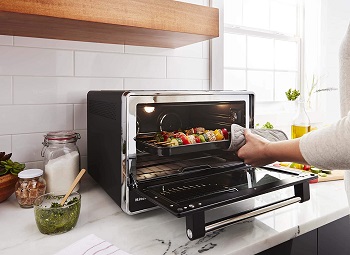 Stylish Look
The modern toaster oven has a streamlined profile with stylish black chrome knobs to easily complement any kitchen design. Included with the purchase, you will also get a 9 by a 13-inch baking pan with a grill rack, a removable metal rack, and a metal drip and crumb tray.
Short Description:
offers 12 versatile presets for cooking
dual convection program for 20% faster cooking
features a non-stick oven cavity for easy cleaning
toast, bake, reheat, broil, cookies, pizza, etc
includes an interior light and a temperature probe
stylish look with black chrome knobs
includes a baking pan and a crumb tray
What To Consider In High-End Toaster Ovens?
When looking for a toaster oven with high specs, you should keep some of the following advice in mind. Firstly, consider its capacity and make sure it is easy to use. Secondly, check out the number of heating elements it possesses, and learn about cooking presets it has to offer. Finally, take into consideration the benefits of such a kitchen appliance.
Capacity – The market is full of toaster ovens in different sizes. Depending on your needs, you can go for models that are smaller or bigger. From 2-slice toaster ovens for personal use to models that can hold over 10 bread slices at once for family use. The capacity will also depend on the size of the unit according to the available countertop space.
Simplicity – A toaster oven should be easy to use, with intuitive interfaces and clearly labeled settings. A screen display should be easy to read for quick setup. Otherwise, it could take you a long time to learn how to use it. Without complicated settings, it will be easily done.
Number Of Heaters – Depending on the size and the power of the toaster oven, it will also be equipped with a different number of heating elements. Differently sized models will have a different number of heating elements to be able to achieve even heating and cooking results.
Cooking Versatility – The best high-end toaster ovens offer multiple cooking functions besides toasting bread. They can usually broil, bake, warm, reheat, and even air fry foods. Some models can even be used for dehydrating along with air frying when using convection technology.
Benefits – Such a small kitchen appliance is ideal for spaces that don't have a conventional oven. Besides that, it can also be used as a helper, giving any kitchen extra cooking space. It preheats faster and cleans easier than ovens, while also using less energy. Likewise, it produces less heat in the kitchen.
To Wrap It Up
The Cuisinart toaster oven is our top choice. This high-end toaster oven has a 0.6 cubic feet capacity and is easy to set up. It can do much more than just toast, with options for air frying, broiling, baking, and more. It uses convection technology with high specs while making little noise in your kitchen. If you want to bake in a toaster oven, consider our reviews of the best toaster ovens for baking. In case you are interested, you can also read about electric toaster ovens currently popular on the market.