Looking to make a modern toaster oven a fixture in your kitchen space?
Great, because we reviewed 6 versatile models.
We have incorporated reviews of many different toaster ovens so that there is something for everyone's needs, be it convection, combo, countertop, smaller, or bigger model. Alongside that, here you can also learn about technical specifications that make the best toaster ovens on the market to help you in your search.
The Rundown
Top 6 Modern Toaster Ovens
Best Of Best Modern Toaster Oven
Proctor-Silex 31122 Toaster Oven
4-Slice Capacity
This modern toaster oven has a capacity of holding 4 toast slices at once or even a 9-inch pizza. With its decent capacity and compact design, it won't take up too much space on your kitchen countertop while giving off a modern wide. It is equipped with three control knobs for easy setup.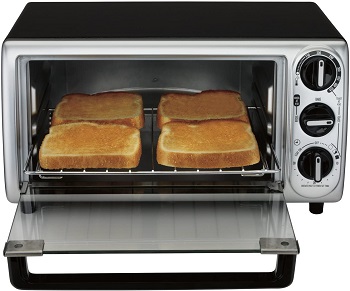 Adjustable Features
The first turning knob is to be used for adjusting the cooking temperature up to 450 degrees Fahrenheit. The second control knob is used for choosing between three available functions. You can toast, broil, and bake. The timer control knob is the third dial on the control panel allowing you to set up a timer for up to 30 minutes with a stay-on function.
User-Friendly
If you set up a timer when cooking, it will automatically turn the unit off once the time is up. Besides that, it will also produce a ready bell signal to alert you that the cooking process is done. When toasting and broiling, you need to use the oven temperature of 450°F.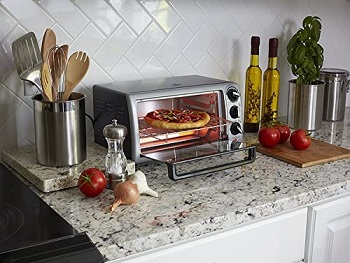 Sleek Design
This simple toaster oven features a large glass window on the door, allowing you to check in on the cooking process at any time without interrupting the cycle. It has a silver finish to fit into any kitchen decor, along with the sleek curved front.
Short Description:
holds 4 toast slices, a 9-inch pizza
silver finish, curved front, large glass door
features three control knobs for setup
adjustable temperature and timer
up to 450°F, a 30-minute timer
toast, broil, bake options to choose from
Best Convection Modern Toaster Oven
Toshiba Digital Toaster Oven
10 Cooking Options
This modern toaster oven works with convection and offers 10 versatile programs to choose from. It features a bright blue digital display with three turning knobs for simple operation. The glass door is large and see-through for taking a peek inside. The interior is large and can hold up to 6 bread slices simultaneously.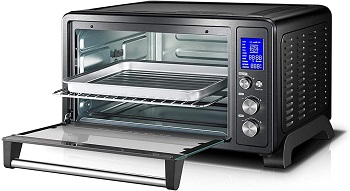 Easy To Operate
Besides 6 toast slices, you can fit up to a 4-pound chicken inside, a 12-inch pizza, or even casserole dishes. A small turning selector is used alongside the screen display to choose between cooking functions, such as toast, pizza, cookies, rotisserie, baking, broiling, warming, convection, etc.
Wide Temperature Range
The temperature knob can be turned to adjust the cooking temperature between 150 and 400 Fahrenheit degrees. With convection, food will be cooked fast and evenly thanks to the circulation of hot air. With the rotisserie setting, you can roast meat to get juicy insides and a crispy outer layer.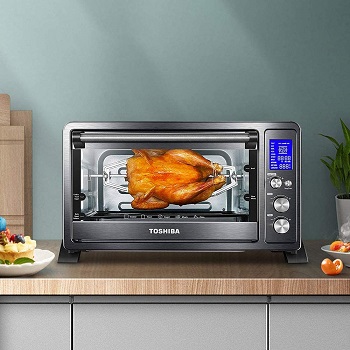 Non-Stick & Modern
The digital convection toaster oven is easy to keep clean as the interior is non-stick coated. The crumb tray is removable after the unit cools off and can be washed with water and soap. The features such as a digital interface, the black stainless steel color, and a large glass door give any kitchen a modern accent.
Short Description:
a bright blue digital display with turning knobs
offers 10 cooking programs to choose from
bake, broil, toast, bagel, rotisserie, convection, etc
fits 6 toast slices, a 12-inch pizza, a 4-pound chicken
temperature adjustable from 150 to 400°F
modern design with a non-stick coated interior
Best Combo Modern Toaster Oven
Cuisinart Toaster Oven TOB-60N1
Stainless Steel Construction
This modern toaster oven is constructed from stainless steel for durability while also being a kitchen addition that is pleasant to the eye. This makes it ideal for countertop use with a capacity of 0.6 cubic feet. The oven can heat between 250 and 450 Fahrenheit degrees and offers 5 cooking settings.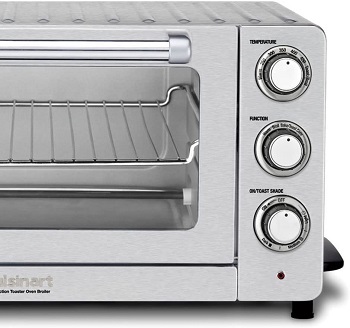 Customizable Toast Shade
You can use it to bake, broil, toast, convection bake, or keep food warm. When using the toasting function, you can even select the toast shade you would like to achieve. It can be done by turning the timer control knob, with light, medium, and dark toast shades.
Quick Maintenance
To be able to easily clean this toaster oven broiler, it is coated with a non-stick layer throughout the oven cavity. The crumb tray easily slides out for quick cleanup, as well. The door features a large tinted glass window to monitor the cooking inside without having to open the oven door.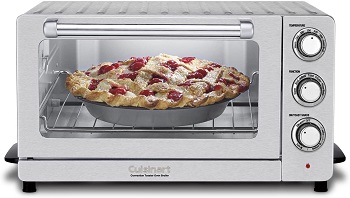 6-Slice Capacity
The capacity of this oven is large enough to fit 6 toast slices in at once or even a 12-inch pizza. The stainless steel construction gives the unit a bit of an industrial look. At the same time, it will give any kitchen countertop a modern accent.
Short Description:
durable stainless steel construction
temperature adjustable between 250 and 450°F
toast, broil, bake, convection bake, keep warm
light, medium, dark toast shades available
0.6 cubic feet capacity for 6 toast slices
non-stick coated for quick and easy cleanup
Best Pizza Modern Toaster Oven
Balmuda Steam Oven Toaster
Toasts With Steam
This Japanese toaster oven is compact in size, black in color, and modern in design. It differs from the other toaster ovens in this article as it uses steam for toasting bread. It comes with a 5 cc cup that is an ideal amount of food to pour at the top of the unit for steam toasting.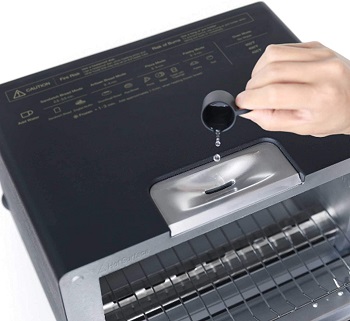 5 Cooking Modes
The modern toaster oven can be used as an oven or offers settings for pizza, pastry, artisan bread, and sandwich bread. The five cooking modes can be set up by turning the control knob. The knob offers settings for four different types of bread or an oven mode with temperatures between 350 and 450°F.
Included Accessories
A toasting rack and a baking tray also come included with the unit for easy operation. The black toaster oven features a door with a viewing window and a comfortable door handle that gives a sleek modern look to any kitchen countertop.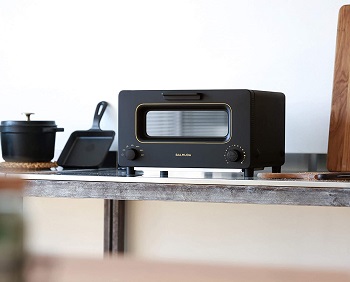 Heats Quickly 
When toasting with steam, the oven cavity will be able to heat quicker than thin air. The steam wraps around the bread to toast the surface while keeping the inside of the bread juicy and fluffy. To bake pizza, place it on the baking tray and choose the pizza setting among the cooking modes.
Short Description:
black color, compact size, modern design
a 5 cc cup, baking tray, oven rack included
offers 5 cooking modes to choose from
toasts with steam for crispy yet fluffy results
artisan, sandwich bread, pizza, pastry modes
Best Countertop Modern Toaster Oven
KitchenAid Toaster Oven Large
Included Accessories
This modern toaster oven comes in matte black color, featuring a glass door and a control panel with a screen display under the door. It has a large inner capacity and comes with a baking pan that measures 9 by 13 inches. Along with the tray, you will also get a metal crumb tray and a removable metal oven rack.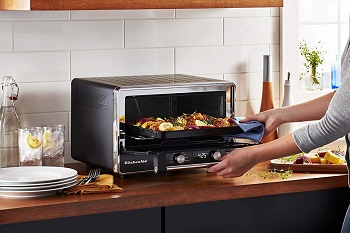 Versatile Functions
The screen display is accompanied by a turning knob for setting up the cooking timer. The function control knob allows you to choose between 9 cooking presets. You can choose a setting for pizza, bagels, toast, cookies, and programs for roasting, broiling, baking, and reheating.
Non-Stick Interior
By offering many cooking options, this unit will be ideal as an alternative or extra help to a full-size oven in the kitchen. During cooking, you can take a look inside the oven through the glass door without opening it. After cooking, the unit will also be easy to clean thanks to the non-stick interior.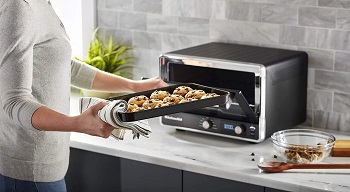 Stylish & Sleek
The countertop toaster oven gives a modern vibe to the kitchen with a streamlined profile and stylish chrome knobs. The sleek design is also achieved with the help of the easy-to-read display for notifying you of the cooking updates with a mere glance at the digital panel.
Short Description:
matte black, digital screen display
large capacity with non-stick interior
9 cooking presets to choose from
pizza, bagels, toast, cookies settings
it also broils, bakes, roasts, reheats
stylish and sleek with chrome knobs
Best Big Modern Toaster Oven
Breville Smart Toaster Oven
Smart Cooking Features
This smart toaster oven features element IQ to deliver the right power at the right time, providing amazing cooking results each time. It is made of stainless steel material and comes in silver color, featuring a door with a glass window. On the right side of the door, there is a digital screen display with three control knobs.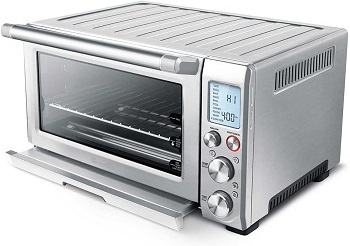 5 Quartz Heaters & Convection
The smart function with the digital display offers you to choose between 9 different options for cooking. You can toast, grill, bake, reheat, and also use settings for cookies, crumpet, pizza, and keeping food warm. It is equipped with 5 quartz elements with an additional convection feature.
Interior Dimensions
Inside the modern toaster oven, you can fit 6 toast slices at once, ideal for family breakfast. It is also large enough to fit a 13-inch pizza inside. The interior dimensions of the oven are 13.25 inches in width, 11.25 inches in depth, and 5.25 inches in height, making it quite spacious.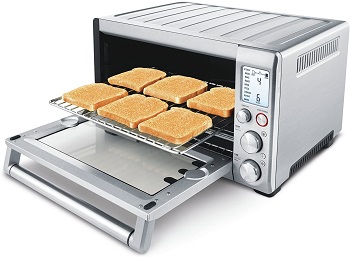 Modern Yet Timeless
When you place this unit on your kitchen counter, it will give off a sleek and modern, yet timeless touch to space. However, you will have to ensure it has 4 inches of free space on both sides. By using it, you will get to prepare cookies, pizza, meat, and toast all in one countertop appliance.
Short Description:
smart element IQ for perfect results
convection feature with 5 quartz elements
offers 9 cooking programs to choose among
it fits 6 toast slices, a 13-inch pizza inside
toast, bake, grill, reheat, keep food warm
cookies, crumpet, pizza settings available
stainless steel material with silver color
What To Consider In Modern Toaster Ovens?
To get the best toaster oven for your need, while making sure it easily fits into your modern kitchen decor, here are some things to pay attention to. Firstly, make sure its capacity is large enough for your needs and that you understand how to use it. Moreover, you should also consider the different types of cooking that the unit offers. Finally, here you can read about the included contents and benefits of such a small appliance for your kitchen.
Capacity – Toaster ovens can be small in size for personal use or have a large enough capacity to prepare enough food for the family or even some gatherings. Whether you end up going for a 2-slice toaster oven or an oven that can hold even 18 toast slices at once, will depend on your needs and how much countertop space you have available.
Simplicity – To properly learn how to use a toaster oven, it should feature simple operations that are easy to memorize and follow. For example, look for easy-to-read display screens, intuitive control panels, and functions and controls that are easy to use.
Cooking Options – Besides toasting bread, modern toaster ovens also offer a wide variety of cooking applications in the same small unit. For example, some of them are great for broiling, baking, roasting, while some can even be used for cookies or as a rotisserie. To get the best model for your demands, look for cooking programs you are thinking to use.
What Comes Included? – Along with the oven, you will usually also get a baking pan and an oven rack with corresponding dimensions, as well as a crumb tray. They should be easy to clean, while the crumb tray should be easy to remove from the unit for cleaning, as well. For models that offer rotisserie function, you will also get a rotisserie set included.
Benefits – Besides fitting into your modern kitchen design, such a kitchen appliance will also be useful in spaces that don't have a conventional oven, such as kitchenettes in studio apartments and other confined spaces. Moreover, it can save you both time and space in the kitchen, while using less energy and producing less heat.
To Wrap It Up
Our favorite toaster oven reviewed in this article is the Proctor Silex 31122 modern toaster oven. It offers three versatile programs for toasting, broiling, and baking. The oven can hold 4 toast slices at once, or even a 9-inch pizza. With the curved front, a glass door, and a silver finish, it will complement any modern decor. If you love black appliances with a sleek design, check out our selection of black stainless steel toaster ovens. For models that fit various space designs, consider some of our choices of cute toaster ovens.