Can't decide which toaster oven broiler to get?
In that case, you've come to the right place!
In the first part of this article, you can read reviews of 6 models, including convection, countertop, French door, and toaster ovens, and broiler models that come in different sizes. In the second part of the article, you can find out about qualities to look for to get the best toaster oven on the market.
The Rundown
Best 6 Toaster Oven With Broiler Combos
Best Of Best Toaster Oven Broiler
Cuisinart Toaster Oven And Broiler
Non-Stick Interior
This Cuisinart convection toaster oven broiler has a 0.7 cubic feet space to fit 6 slices of bread and a 12-inch pizza. The interior oven cavity is non-sticking for easy cleaning. With the convection fan, this oven can heat up to 500 Fahrenheit degrees for quick cooking.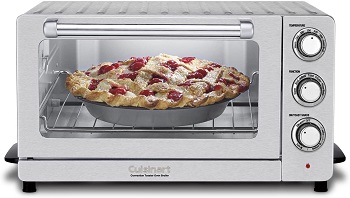 3 Adjustable Knobs
The door on the stainless steel toaster oven has a huge viewing window and an LED light indicates when the power is on. On the side of the door, there are three turning knobs. The knobs are used for setting up the temperature, choosing between 4 functions, and selecting the toast shade.
3 Toast Shades
When toasting bread, you can choose between light, medium, and dark shades. The four available functions are toast, broil, bake, and convection bake. You can also set up a keep-warm program to keep foods at an optimal temperature for serving.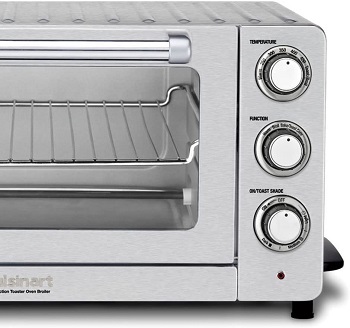 Industrial Style
The oven has a brushed stainless steel finish giving off an industrial style to any kitchen space and is designed for countertop use. With the broil function, you can prepare your favorite meals in your kitchen, and enjoy various dishes from this small appliance.
Short Description:
0.7 cubic feet fits 6 slices of bread
stainless steel body, non-stick interior
three turning knobs for setups
toast, bake, broil, convection bake functions
temperature adjustable up to 500°F
Best Convection Toaster Oven With Broiler
Oster Digital Toaster Oven
6-Slice Oven
This digital convection toaster oven has a large 6-slice capacity and comes in a black stainless body. The oven cavity is big enough to fit a baking tray that is 2 inches high, 10.5 inches wide, and 12.5 inches long. The convection fan can obtain temperatures between 150 and 450 Fahrenheit degrees.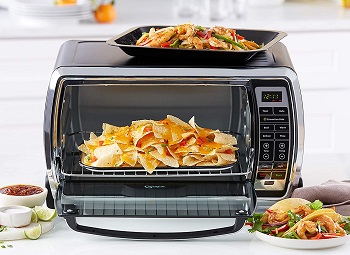 Dishwasher Safe Trays
The Oster convection toaster oven broiler is big enough to also fit one 12-inch pizza and includes a durable baking pan. It can even be used for a casserole dish or a roast meal. The crumb tray is easy to remove from the oven for cleaning all the grease and crumbs. The tray and the rack are even dishwasher safe.
7 Digital Programs
The control panel offers 7 digital settings for defrosting, pizza, baking, broiling, warm, toast, and convection baking. You can also set the 90-minute  time and the temperature with the help of buttons. When you want to take a peek inside, you can turn on the light with one click and look through the viewing window on the door.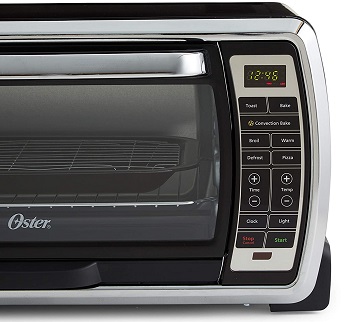 Two Rack Positions
The rack has two positions to accommodate different foods, such as thin and thick foods. When using the broiling setting, you can choose a temperature according to the type of food you want to broil. Its generous capacity is ideal for family households, cooking different types of food.
Short Description:
6-slice black stainless toaster oven
temperature range from 150 to 450°F
dishwasher safe baking pan and crumb tray
7 digital settings to choose from
toast, pizza, broil, bake, defrost, etc
an adjustable 90-minute timer
Best 4-Slice Toaster Oven Broiler
Hamilton Beach Toaster Oven
2 Turning Knobs
The Hamilton Beach toaster oven broiler has a maximum capacity of holding 4 slices of bread or 2 personal pizzas. It comes with a baking pan and has a broil function. The crumb tray is easy to remove to clean any crumbs and grease regularly. There are two turning knobs for easy setup of a cooking program.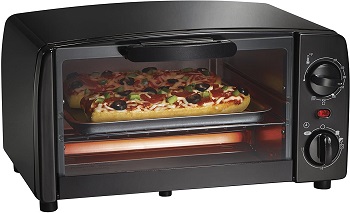 Versatile Broiled Meals
The top knob on the unit is to be used for setting up the cooking temperature of the oven. The knob works by turning and offers a maximum temperature of 450 Fahrenheit degrees. The broiler function allows you to enjoy versatile meals from this toaster oven.
15-Minute Timer
The second knob on the oven is to be used for different toasting options. Besides that, it can also be used to set up a 15-minute timer. Once the time is up, a bell will ring and the oven will automatically shut off. The included bake pan can be used for cooking and warming leftover food, biscuits, sandwiches, or rolls.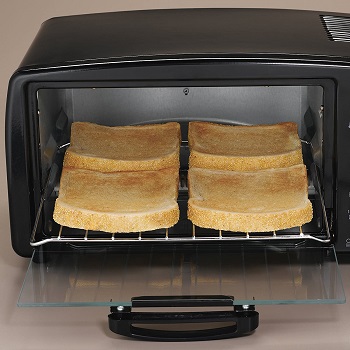 Overall Measurements
The outer body of this best toaster oven under $100 stays cool to the touch for safety and is affordable at a price of around 60 dollars on Amazon. The overall measurements of the oven are 16 inches in height, 13.2 inches in width, and 9.2 inches in depth. The product can be used on kitchen tables and countertops and weighs 7.7 pounds.
Short Description:
4 slices of bread or 2 personal pizzas
removable crumb tray for cleaning
features two turning knobs for setups
versatile cooking with the broiler function
15-minute timer with automatic shutoff
adjustable temperature up to 450°F
Best Countertop Toaster Oven With Broiler
Black And Decker Toaster Oven
6-Slice Size
This Black and Decker toaster oven broiler uses a convection feature for cooking and offers many programs that are just a click of a button away. The oven can fit 6 slices of bread at once or a 12-inch pizza, as well as casserole dishes and whole chickens.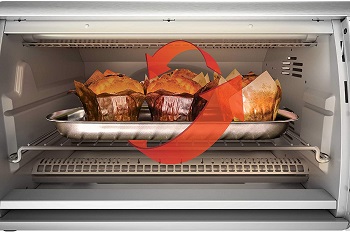 Low & High Rack Positions
The oven offers two positions of the rack so that you can put the food straight under the broiler, or make more space for larger quantities of food. The convection fan circulates the air around the oven for even and faster cooking. The broiler option requires a simple push of a button to start working.
One-Touch Settings
Besides the broiler function, the oven features one-touch functions for bagels, pizza, toast, baking, cookies, potatoes, and frozen snacks. The outer body of the unit is made of stainless steel material and its silver color can lift the look of any kitchen countertop.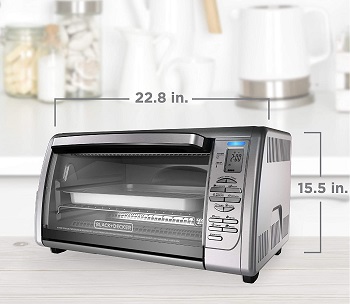 Easy To Clean
The countertop toaster oven includes a broiler pan and an external removable crumb tray. By sliding it in and out, you will find it easy to get rid of crumbs and grease. The interior of the oven cavity is non-sticking for easy cleanup, as well.
Short Description:
a convection fan for even and fast cooking
it fits 6 slices of bread or a 12-inch pizza
lower and higher rack positions for cooking
8 one-touch cooking programs
bagels, pizza, toast, broil, cookies, etc
Best French Door Toaster Oven Broiler
Elite Toaster Oven Rotisserie
See-Through Door
This Elite toaster oven broiler & rotisserie has a 23-liter or a 0.8 cubic feet capacity of the inner cavity, enough to fit 6 slices of bread at once, or a 12-inch pizza. It comes in black color and features a French door made out of the see-through glass with a handle for easy opening.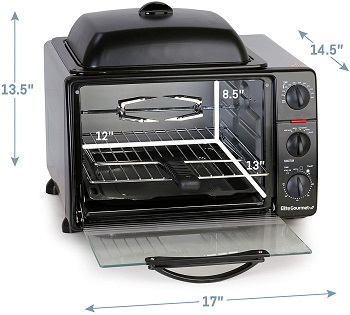 3 Adjustable Knobs
On the right side of the glass door, the three turning knobs are used to adjust the temperature, choose between cooking functions, and set up a time. The functions available to choose from are broil, toast, convection bake, keep-warm, and rotisserie.
Wide Temperature Range
When using the rotisserie mode, you will get roasted foods without unwanted grease and fats. On top of the oven, there is a grill, griddle, and steamer with a domed lid. For different cooking needs, you can adjust the temperature between 150 and 450 Fahrenheit degrees.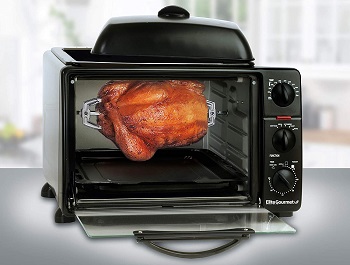 Accessories Included
This rotisserie convection toaster oven includes a pan removal handle clip, rotisserie spit, and fork, and removal tongs. A wide grill rack and a roasting pan are also included. A crumb tray also easily slides out for cleaning. With the wide range of functions, you can enjoy versatile meals prepared on your kitchen counter.
Short Description:
23-liter or 0.8 cubic feet capacity
the black color with French glass door
three turning knobs for setups
adjustable temperature and timer
broil, toast, keep-warm, rotisserie options
features a top-grill griddle and steamer
Best Auto Shutoff Toaster Oven With Broiler
Maxi Matic Toaster Oven
Toast, Bake & Broil
This toaster oven with broiler comes in black color and can hold 4 slices of bread for toasting at once. Along with the toasting functions, it also features settings for baking and broiling food. With the simple toaster oven, you can do all toasting, baking, and broiling.
Easy To Set Up
The top knob on the unit can be used for setting up the cooking temperature with a maximum of 450 Fahrenheit degrees. All you will have to do is turn the knob to set up the desired temperature. With a simple turn of a knob, you can also choose between baking, broiling, and toasting functions.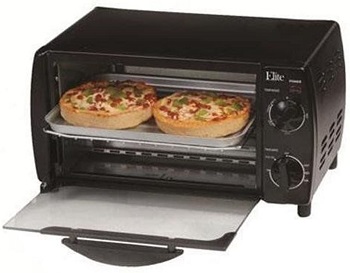 Timer & Stay-On Features
The indicator light shows when the unit is plugged in. When cooking, you can even set up a timer for up to 60 minutes for precise results. The stay-on feature is also available, giving you the control you need. Once the time is up, the bell rings and the unit shuts off automatically.
For Confined Spaces
The toasting pan is removable from the toaster oven with auto shut off. A baking pan and a rack are also included. The crumb tray collects all the grease and the crumb and is removable for cleaning. With its compact size, this oven can be a great solution for cooking in confined spaces.
Short Description:
toasts 4 slices of bread at once
functions for toasting, baking, broiling
temperature adjustable up to 450°F
a baking pan and rack included
compact size for confined spaces
60-minute timer and stay-on function
automatically shuts off when time is up
What To Consider In Toaster Oven With Broiler Combos?
In case you are not sure which qualities to have in mind when buying a toaster oven that has a broiler function. Firstly, look for the appropriate size for your needs and your space. Secondly, make sure the unit is easy to use and check out which preset programs it comes with. Also, find out about accessories that come included with such a kitchen appliance.
Size & Capacity – Toaster ovens can have smaller capacities of holding around 4 slices of bread at once. Standard sizes can usually fit 6 slices of bread at once or a whole 12-inch pizza. Larger models usually feature more than one rack to fit over 10 slices of bread and even two 12-inch pizzas. Depending on your needs and the size of your space, you can choose the appropriate size for you.
User-Friendly – To make sure an oven is easy to use it must have intuitive and clear functions that are not complicated to use. For models with digital programs, the screen display needs to be easy to read. When choosing the best toaster oven broiler, make sure you understand how to use it.
Presets Available – Whether you go for a model with analog or digital functions, they usually offer at least a couple of different cooking functions. Besides toasting and broiling, these appliances can also offer options for baking, pizza, cookies, rotisserie, and much more. When choosing, opt for a multifunction toaster oven model with presets you are thinking to use.
Included Contents – A toaster oven that can also be used as a broiler usually includes a crumb tray, a baking pan, and an oven rack. Moreover, it also includes accessories such as a broiler pan. All of these accessories will help to make operation as easy as possible. They should be easy to remove for cleaning.
Temperature Range – For a toaster oven to be able to both toast bread and broil food, and do other things, it will need a wide temperature range. Most models on the market offer you the possibility of adjusting the temperature up to around 450 Fahrenheit degrees.