Keen on buying a rotisserie convection toaster oven?
Not sure which model to go for?
Keep reading this article, where we will try to answer your questions and review some of the currently popular models on the market. Whether you are looking for large, French door, digital, and combo models, here you can find out more about them. Finally, our buying guide can help you figure out which qualities to look for when buying this type of toaster oven.
The Rundown
Best 6 Rotisserie Convection Toaster Ovens
Best Of Best Rotisserie Convection Toaster Oven
Hamilton Beach Rotisserie Convection
5-Pound Chicken Rotisserie
This Hamilton Beach countertop oven with convection and rotisserie options has an extra-large capacity so that you can even bake two 12-inch pizzas at once. The rotisserie equipment fits up to a 5-pound chicken and includes a skewer and a lifter. The temperature and the timer are adjustable, and it is easy to choose between cooking functions.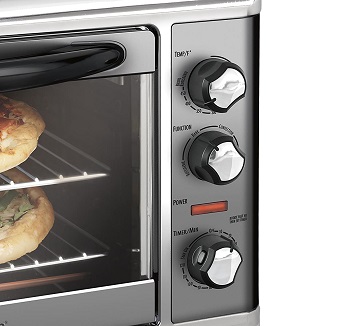 Adjustable Oven Temp
The temperature of the oven can go up to 450°F for different cooking applications and is easy to set up by turning the temperature dial. The available cooking functions can also be selected with the help of a turn knob and they include options for rotisserie, convection baking, baking, and broiling.
Included Content
The timer knob lets you set up the cooking time for up to 2 hours and even offers a stay-on function. Included with the rotisserie convection toaster oven, you will also get a broiler rack, 2 baking pans, and 2 cooking racks. The convection bake setting cooks faster and more evenly for better results.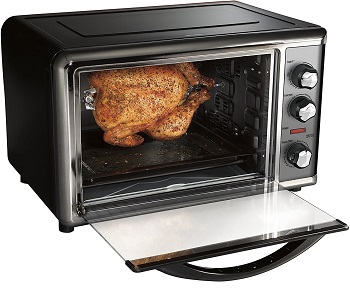 Large Capacity
The oven racks are removable and adjustable according to the space you need inside the oven for different cooking needs. It can fit two casseroles that measure 9 by 13 inches inside at once, as well as two cake pans at once. At the same time, the Hamilton Beach extra large convection oven is suitable in size for countertop use.
Short Description:
features rotisserie skewer for a 5-pound chicken
fits two 12-inch pizzas, two cake pans, two casseroles
adjustable temperature, 2-hour adjustable timer
options for rotisserie, broiling, baking, convection baking
includes two oven racks and two baking pans
Best Large Rotisserie Convection Toaster Oven
DeLonghi Convection Oven Rotisserie
20-Liter Cavity
This DeLonghi convection rotisserie toaster oven offers multiple functions for cooking and can hold up to 6 slices of bread at once. The 20-liter oven cavity is even suitable for a 12-inch pizza and has a non-stick interior for easy cleaning. It comes with a non-stick baking pan, a non-stick broil tray, and a flat rack.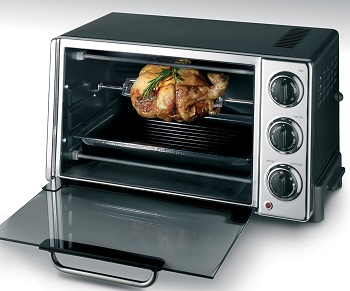 Light, Medium, Dark Toast
The three featuring turn knobs are to be used for setting up the temperature, choosing between cooking settings, and adjusting the toast shade from light and medium to dark. The temperature dial offers settings for keeping food warm, toasting, or broiling, or you can choose between 250 and 390°F.
Various Cooking Settings
The function knob offers a selection of settings for baking, toasting, baking with convection, broiling, slow baking, keeping food warm, and even rotisserie. The equipment for rotisserie is easy to use and clean and can even be used along with a baking pan. It will catch any splatter, grease, and other spillages for a mess-free toaster oven.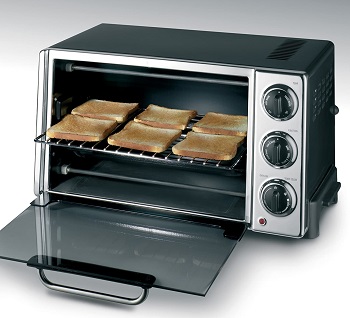 For Large Families
The DeLonghi convection toaster oven with rotisserie is ideal for large families and can introduce various cooked meals into your weekly and daily meals. The large convection toaster oven is user-friendly with an interior light and a glass door for monitoring the process.
Short Description:
6-slice capacity with a 20-liter cavity
non-sticking interior, baking  pan, and broil tray
adjustable temperature and toast shades
baking, toasting, broiling, convection baking
rotisserie option can be mess-free
large size ideal for large families
Best Digital Rotisserie Convection Toaster Oven
Cuisinart Rotisserie Convection Oven
0.8 Cubic Feet Oven
With a 0.8 cubic feet capacity, this Cuisinart rotisserie convection toaster oven can fit a 12-inch pizza inside or 6 bread slices. It features a digital control panel with a selector knob and offers 12 settings for versatile cooking needs. The rotisserie option can roast a 4-pound chicken or a 5-pound duck.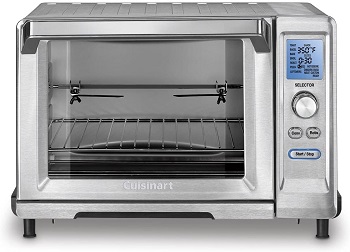 Digital & Stainless
The digital convection toaster oven heats quickly and evenly for uniform cooking. The outer body is made of brushed stainless steel, giving a stylish look to any countertop. The oven offers digital dedicated settings for toast, bagels, pizza, leftovers, roasting, baking, broiling, rotisserie, and more.
Easy To Clean
To make maintenance as easy as possible, the oven has a non-stick interior. The crumb tray can be pulled out from the front to clean it of any crumbs and grease that drip into it. The oven can maintain a precise temperature thanks to the heat sensors.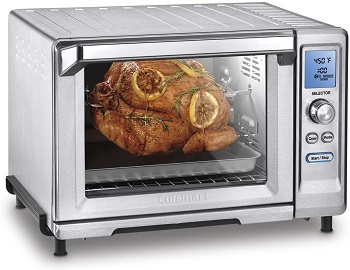 12-In-1 Design
The convection setting can be turned on with a press of a button. It circulates hot air inside the oven for better and crisper results. With 12 available functions, you can enjoy versatile food from a compact unit that fits on your kitchen counter.
Short Description:
0.8 cubic feet oven fits 6 bread slices
features a digital control panel
rotisserie for a 4-pound chicken, 5-pound duck
non-stick interior; brushed stainless steel body
12 functions for baking, pizza, toast, bagels, etc
easy-to-clean crumb tray is front accessible
heat sensors maintain the oven temperature
Best Airfryer Rotisserie Convection Toaster Oven
Cosori 12-In-1 Toaster Oven Combo
12 Presets
This rotisserie convection toaster oven offers 12 presets for cooking, including air frying, broiling, rotisserie, dehydrate, and more. It can also be used for pizza, bagels, roasting, and fermenting. The 32-quart oven can fit 6 slices of bread at once or a 13-inch pizza.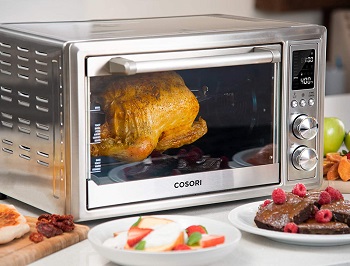 Included Accessories
The oven features an LED screen and two dials for easy setup, as well as an interior light. The light lets you check in on the cooking process by taking a peek through the glass door. Along with the product, you will also get a crumb tray, a fry basket, a food tray, and a wire rack.
85% Less Fat
To be able to use the rotisserie setting, the oven also comes with a rotisserie fork set and rotisserie handle for easy operation. A recipe book is included as well to help you get creative when using this oven. The toaster oven air fryer dehydrator combo allows you to enjoy fried foods with 85% less fat.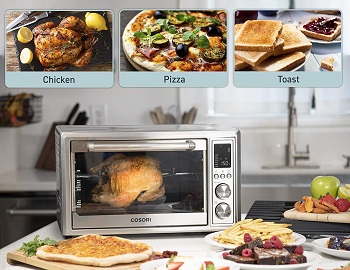 Feeds 5-7 People
This oven can prepare enough food to feed 5 to 7 people and even fit a 5-pound chicken inside. It offers three rack positions for adjusting it to the size and quantity of foods cooked inside. The heat is circulated throughout the oven with a 2-speed fan and 5 smart heating elements.
Short Description:
features 12 presets for versatile cooking
32-quart oven fits a 13-inch pizza
features an LED screen and 2 dials
the rotisserie equipment comes included
pizza, bagels, roasting, air frying, and more
Best Auto Shutoff Rotisserie Convection Toaster Oven
Black And Decker Countertop Oven
Fast & Even Baking
This Black & Decker rotisserie convection countertop toaster oven is made from stainless steel. It is equipped with a convection fan that circulates the warm air throughout, offering fast and even baking results. For flexible cooking, it allows you to choose between two rack positions.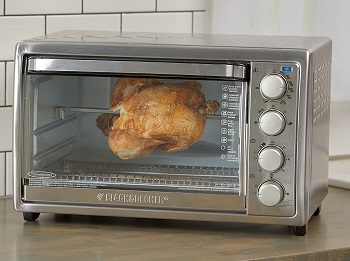 5 Available Settings
The Black & Decker rotisserie oven delivers roasted meat by rotating it and baking it in convection heat. It easily fits on your countertop, offering you the possibilities for toast, baking, broiling, rotisserie, and keeping food warm. The temperature knob lets you choose an oven temperature up to 450°F.
Safe To Use
The second knob offers a selection of 5 afore-mentioned cooking functions, while the timer knob can set up a timer for up to 60 minutes. Once the timer expires, the oven with automatically shut off for safety. This toaster oven with auto shut off will thus prevent burning and overheating.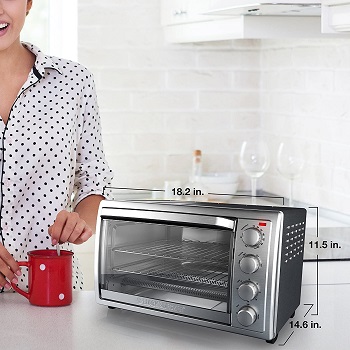 Adjustable Toast Color
The fourth knob on the control panel can be used for choosing between different toast shades, according to your preference. Inside the Black and Decker rotisserie convection toaster oven, you can fit 6 bread slices or a 12-inch pizza.
Short Description:
fast and even cooking with the convection fan
two rack positions for flexible cooking
convection baking with the rotisserie option
toast, bake, broil, rotisserie, and keep warm
60-minute timer with auto shut off
adjustable temperature and toast shade
Best French Door Rotisserie Convection Toaster Oven
Cook's Essentials Toaster Oven
Included Equipment
This Cook's Essentials convection rotisserie toaster oven features a French door and four turning knobs on the side. With the convection oven, you also get a rotisserie spit and forks, a baking pan, a crumb tray, and tray tools. Inside the oven, there are two stainless steel racks.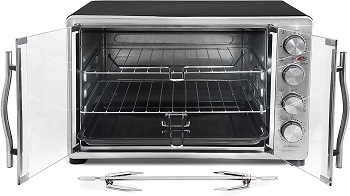 5 Available Functions
On each of the racks, you can fit a 12-inch pizza, and when in rotisserie mode, it can fit up to 7 pounds of food. The first knob is used to adjust the temperature of the upper heater between 150 and 450°F. The second knob offers a selection of options for baking, broiling, keeping food warm, rotisserie, and convection baking.
Independent Heat Adjustments
When toasting bread, you get to choose between light and darker shades and can even set up a timer for up to 60 minutes. The temperature of the bottom heater can also be adjusted between 150 and 450°F. With the independent adjustments, it allows precise cooking temperatures for different programs and foods.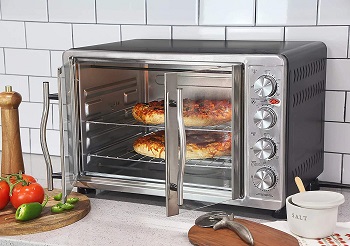 How To Use?
The upper rack of the double door toaster oven is to be used for broiling foods, and toast, cookies, bagels, and other baking foods can go on the middle rack shelves. The bottom of the oven is reserved for pies, bread, and pizza. For the rotisserie option, the racks are removed and the rotisserie equipment is installed.
Short Description:
features a French door and 4 knobs
rotisserie spit and forks and baking tray included
two stainless steel racks and a crumb tray
150-450°F temperature for top and bottom heaters
60-minute timer and adjustable toast colors
bake, broil, rotisserie, keep warm, convection settings
fits 7 pounds of food, a 12-inch pizza
What To Consider In Rotisserie Convection Toaster Oven?
To get the best toaster oven with rotisserie and convection settings, firstly consider its size. Likewise, it is also important for the oven to be easy to use and that it offers cooking programs that are suitable for you. The oven will also have to come with certain equipment to make use and operation as easy as possible.
Convection – A convection fan circulates air inside the oven to reduce cooking time and usually results in crispier foods on the outside. Some models offer separate convection setting to be used for baking pizza and some other foods, independent of the regular baking function on the oven.
Rotisserie – Roasted chicken, duck, and other meat can be achieved without the need for a separate kitchen appliance that offers only a rotisserie option. The necessary equipment is usually included with the oven and can be installed for rotating the meats and making crispy and delicious chicken or other types of meat.
Size – A rotisserie convection toaster oven usually comes in a size of at least 6 bread slices, and some can even hold up to two 12-inch pizzas. They are ideal for family use while keeping the sizing of the unit as compact as possible. Depending on your needs and how much countertop space you have available, you can choose between small convection toaster ovens and bigger models.
Cooking Possibilities – Along with the options for convection baking and rotisserie, these models can usually do much more. They can also bake pizza, bagels, toast bread, and even broil foods. With versatile cooking options inside a small kitchen appliance, you will always be able to enjoy toasted bread and much more.
Accessories – A crumb tray is standard equipment for a toaster oven, collecting crumbs and grease from the oven for easy cleaning. Besides that, a rotisserie spit and fork will also come for rotating and baking meat. A baking tray is also usually included, as well as oven racks.
To Wrap It Up
For our top pick of a rotisserie convection toaster oven, we have chosen the Hamilton Beach countertop oven with convection & rotisserie. It can bake up to two 12-inch pizzas at once, or a 5-pound chicken on the rotisserie skewer. It can also be used for convection baking, regular baking, and broiling. In case you are looking for a toaster oven to broil your favorite fish and other foods, check out our selection of toaster oven broiler models. For other oven and rotisserie combinations, consider our choices of air fryer toaster ovens with rotisserie.