Are you a fan of double-door toaster ovens but not sure which one works best for you?
Do not worry, we've got you covered!
Continue reading to find out about convection, countertop, rotisserie, air fryer, and large models currently popular on the market as we have reviewed 6 such models. Besides that, you can also learn about specifications to keep in mind when buying such a kitchen appliance to get the best one for your needs.
The Rundown
Best 6 Double-Door Toaster Ovens
Best Of Best Double Door Toaster Oven
Oster Toaster Oven Double Door
Opens With One Pull
This Oster double door countertop oven allows you to open both door sides with just one pull. Besides the double-door system, it is also equipped with a digital control panel. The cavity is extra spacious and can hold up to two 16-inch pizzas at once or even 14 toast slices.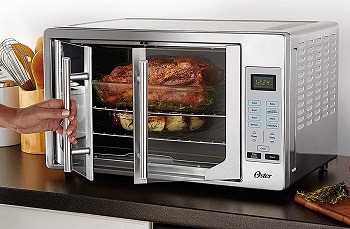 One-Touch Presets
The digital convection toaster oven offers turbo convection setting along the one-touch presets. The other options include toast, bake, broil, defrost, pizza, warm, and dehydrate. By using the digital display, you can also set up the oven temperature and timer. The timer can be set up for up to 90 minutes.
Circulates Hot Air
When using turbo convection technology, the oven circulates heated air throughout, making cooking more even and faster. To check in on the food inside, you can take a peek through the door, without opening them, and the interior light will help here. For flexible cooking, the oven has two racks inside.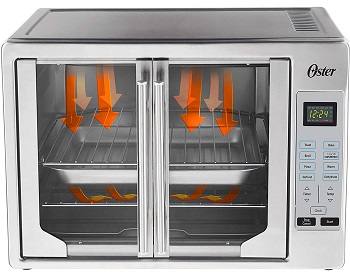 Brushed Stainless Steel
Besides two large pizzas, the Oster double door toaster oven can also fit casseroles and whole chickens inside. Its sleek design with a brushed stainless steel finish makes it a centerpiece of any kitchen decor with ease.
Short Description:
double doors open with just one pull
fits two 16-inch pizzas, 14 toast slices
turbo convection, toast, bake, broil, etc
digital one-touch cooking presets
temperature settings, 90-minute timer
Best Convection Double Door Toaster Oven
Elite Toaster Oven With Double Doors
18-Slice Capacity
This Elite Platinum double door convection & rotisserie toaster oven has a 45-liter capacity and comes with two oven racks. Each rack can hold 9 toast slices, so it can toast 18 bread slices in one go. When roasting, the double door convection toaster oven can hold up to a 20-pound turkey inside the cavity. Likewise, it can also hold two 14-inch pizzas at once.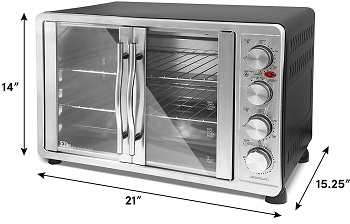 Four Rack Positions
The double door toaster oven allows you to open just one side of the door or both so that you can accommodate it to your surroundings and even save countertop space when needed. The toaster oven with convection offers four rack positions for flexible cooking, allowing you to prepare multiple dishes at once.
Separate Temperature Settings
The extra-large convection countertop oven features a control panel with four turning knobs. The first is used to set the upper heater's temperature, and the third one does the same for the bottom heating elements. The second knob lets you choose between cooking functions, such as convection, rotisserie, and convection rotisserie.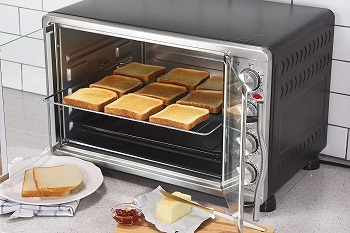 60-Minute Timer
The fourth control knob can be used to set up the cooking time for up to 60 minutes. Once the cooking time is up, the toaster oven turns off automatically. Both the top and bottom heating elements can be adjusted up to 450°Fahrenheit. Included in the package, you will also get a rotisserie set and a baking pan.
Short Description:
fits 18 toast slices, two 14-inch pizzas
double doors can be open separately or together
comes with two oven racks, four positions
separate top and bottom heater settings
60-minute timer with automatic shut off
convection, rotisserie, toast, etc
Best Countertop Double Door Toaster Oven
Luby French Door Toaster Oven
24-Cup Muffin Tray
This double door countertop oven has a large capacity of 18 slices of toast and can even bake a 14-inch pizza. If you like to prepare muffins, in this product you will be able to fit 24 muffin cups at once. The French door system will free up space on the countertop when the doors are open, as they open to the side and not downward.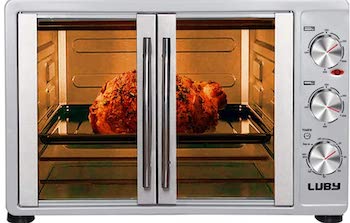 Individual Adjustments
The control panel of this double door toaster oven features three turning knobs, allowing you to choose the temperature of the top and bottom heating elements individually and to also set an oven timer for up to 60 minutes. Flexible cooking is possible thanks to the individual adjustments, allowing you to cook different foods at once.
Four Heating Tubes
Both the upper and lower heaters can be heated up to 450 Fahrenheit degrees. When you set up the oven timer, it will signal when the time is up with a bell sound and automatically turn off to prevent overheating and burning. The oven is engineered to cook and heat fast and evenly by using the four heating tubes.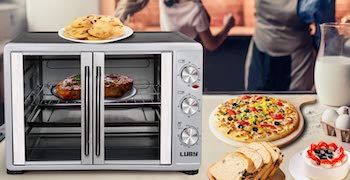 Versatile Use
In this countertop toaster oven, you can toast bread, broiling fish, turkey, baking pizza, cookies, and much more. Its large size makes it a great model if you have a large family or want to prepare foods and snacks for your friends. For a dinner idea, it can fit a 20-pound turkey inside for roasting.
Short Description:
18-slice capacity; fits a 14-inch pizza
French door system saves countertop space
individual top and bottom heater settings
60-minute timer, auto shutoff, bell signal
four heating tubes for fast and even cooking
toasts, broils fish, roasts, bakes cookies, etc
for large families and gatherings
Best Rotisserie Double Door Toaster Oven
Kalorik Toaster Oven Digital
Up To 500°F
This double door toaster oven with rotisserie has a capacity of 26 quarts and offers 9 settings to choose from. It can heat up to 500 Fahrenheit degrees and has a modern look with the French door design. The control panel is located above the oven doors, featuring a digital display, a turning knob, and 5 pushbuttons.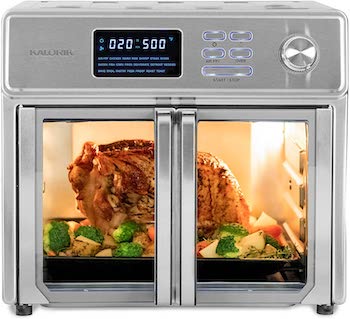 10-In-1 Functionality
By using this air fryer toaster oven with a rotisserie function, you can save a lot of space on the kitchen countertop as it combines 10 different functions in just one unit. When air frying, it delivers crispy and crunchy results while using little to no oil. The oven is big enough to bake a 12-inch pizza or toast 9 slices of bread while still living some free room inside the cavity.
Versatile Use
With the oven temperature adjustable up to 500 Fahrenheit degrees, this model cooks 30% faster than other air fryer models and 50% faster than conventional ovens. You can use the unit to toast, braise, sear, broil, dehydrate, grill, roast, bake, and rotisserie, as well. To prevent burning, both doors can be open with a single hand.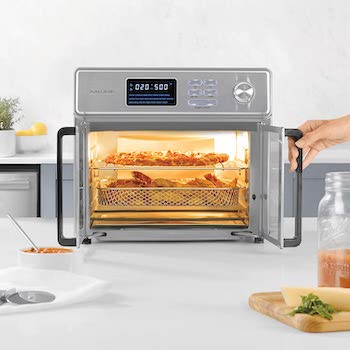 9 Accessories
The unit comes with 9 accessories, including a rotisserie spit and handles so that you can prepare delicious meat at any time. Besides that, you will also get an air frying basket, a baking pan, a bacon tray, an airing rack, as well as a tray for steaks and dehydration, and more.
Short Description:
26-quart oven fits 9 toast slices and 12-inch pizzas
combines 10 different appliances in one unit
single-hand double-door opening
heats up to 500 Fahrenheit degrees
toast, braise, sear, air fry, grill, bake, etc
Best Air Fryer Double Door Toaster Oven
Galanz TotalFry Toaster Oven
360-Degree Frying
This double door toaster oven has a capacity of 1.5 cubic feet. It is equipped with 8 cooking programs and is set up by using the three available turn knobs. It uses 360-degree air frying technology to deliver perfectly crunchy and crispy foods as the air circulates better with the air frying kit that provides more frying surface.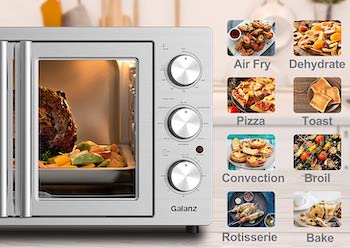 Wide Temperature Range
The first of the three turning knobs can be used to set the oven temperature between 200 and 450 Fahrenheit degrees. The function knob is used to set up a cooking program. It offers 8 settings, including toast, bake, broil, rotisserie, air fry, convection, dehydrate, and pizza.
Single-Hand Door Pull
The air fryer convection toaster oven has a convenient French door system that opens both doors when you pull just one, allowing you to just use one hand for it. When cooking, you can also set up a timer for up to 90 minutes to help you prepare any meal precisely.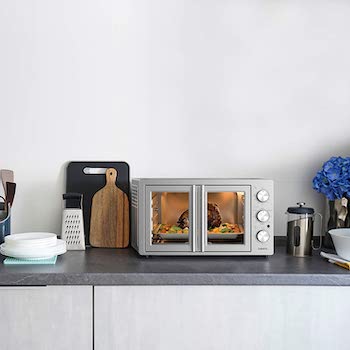 Included Accessories
You can check in on the cooking process at any time by taking a peek through the closed door. An interior light is also helpful here. Included in the package, there is also an air frying basket, a rotisserie kit, an oven rack, air frying rack, and a food tray.
Short Description:
1.5 cubic feet large oven capacity
8 cooking programs to choose from
360-degree air frying for crispy results
temperature adjustments from 200 to 450°F
air fry, convection, dehydrate, toast, bake, broil, etc
single-hand pull opens the double doors
Best Large Double Door Toaster Oven
Best Choice Products Toaster Oven
Fits Three 16-Inch Pizzas
This double door toaster oven features a digital screen display and three turn-style control knobs for easy setup. The spacious oven cavity features two oven racks and allows you to bake three 16-inch pizzas in one go. The French door design allows you to open just one or both door sides at once to save countertop space and prevent heat loss.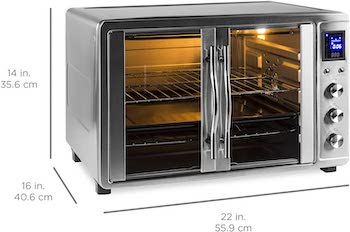 10 Versatile Settings
The digital control panel lets you choose between 10 available programs by reading the screen display and turning the function control knob. The available programs let you toast, bake, defrost, dehydrate, roast, keep food warm, and more. The rotisserie setting is used to prepare chicken, lamb, and other tender meats.
Convenient Accessories
Besides choosing between the available cooking programs, the unit also lets you set the oven temperature and timer by turning the dedicated control knobs. Included accessories allow convenient and flexible use thanks to the oven rack, baking pan, and rotisserie set.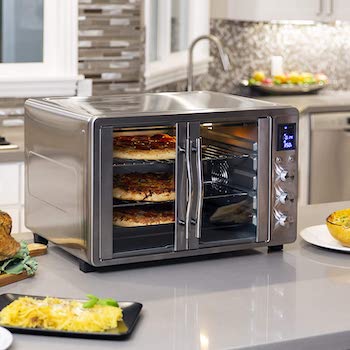 For Large Meals
The stainless steel toaster oven sits nicely on kitchen countertops and is ideal for use in busy environments, for holidays, and other occasions where you might have to prepare a lot of food at once.
Short Description:
it fits three 16-inch pizzas at once
French door design, separate openings
10 digital programs for cooking
toast, bake, rotisserie, defrost, and more
adjustable oven temperature and timer
oven rack, baking pan, rotisserie set included
for large family meals and gatherings
What To Consider In Double Door Toaster Ovens?
In case you've set your mind on investing in a toaster oven with a French door design, here are some things to take into consideration before making the purchase. Firstly, learn about the differences between double door designs to find out which one works better for you. Secondly, check out its sizing and make sure the unit is easy to use. Finally, also consider the cooking programs such a unit has to offer and read about the advantages of cooking in such a small kitchen appliance.
French Door Design – The market offers different types of double-door design available on the market. Some of them work to open both doors with just a single pull of one hand. That way, both doors open at the same time without having to use both hands to achieve it simultaneously. Other models, however, claim to try to save countertop space by opening just one door with one pull. The best French door toaster oven for you will be the one that you think works better in your environment and that reflects how busy you are.
Capacity – Toaster ovens with double door designs are available mostly in bigger sizes, allowing you to prepare enough food for the whole family in one go.  They can sometimes fit even 18 toast slices in at once or more than one large pizza. Make sure you go for the product whose capacity works for your needs and that can fit your available countertop space.
Ease Of Use – Besides suiting your needs with its capacity, it is also important you understand how to use the unit. For it to be easy to use, look for the following specifications. Firstly, make sure the control panel is intuitive to use without complicated operations. Secondly, look for controls and functions that are clearly labeled and screen displays that are easy to read.
Cooking Settings – Besides toasting, it would be good for the double door toaster oven to offer some other possibilities for a multitude of uses. Like multifunction toaster ovens, they can sometimes offer many cooking presets, including roasting, baking, broiling, air frying, dehydrating, rotisserie, defrosting, and more. That way, you can use the same unit for many things while saving space.
Advantages – A toaster oven can be a great alternative to conventional ovens as it produces less heat while using less energy and preheating faster. At the same time, it is also easier to clean and takes up less space which makes it suitable for more confined spaces without a conventional oven.
To Wrap It Up
The Oster double door toaster oven has a large capacity and can toast up to 14 bread slices at once or even bake two 16-inch pizzas at once. It is our top choice as it also features hot air circulation and offers a turbo convection setting for faster and more even baking, among other digital one-touch settings. If you'd also like to check out other specific door designs in toaster ovens, consider our selection of roll-top toaster ovens. For other specific designs, also read our reviews of toaster ovens with toaster on top.