Searching for an electric toaster oven to use in your home, unsure of which features make them the most suitable for your family?
Well, in that case, continue reading this article where we will try to answer that and many other questions.
Firstly, you can read our reviews of 6 different models, including small, 4-slice, convection, countertop, and big toaster ovens. Apart from that, we have also put together a list of features and specs to keep in mind when shopping for your kitchen's requirements. You can check it out in our buying guide below. Happy reading!
The Rundown
Best 6 Electric Toaster Ovens
Best Of Best Electric Toaster Oven
Ovente Toaster Oven TO5810B
4-Slice Capacity
This electric toaster oven features a 4-slice oven cavity and comes equipped with a baking pan. Its compact size makes it ideal for countertops and it is also easy to clean. The crumb tray collects all the drips and crumbs for mess-free countertops and is easy to remove from the unit for cleaning.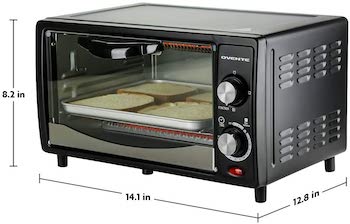 Two Control Knobs
The oven door is made out of glass, allowing you to take a peek inside the oven at any time without having to open the door and interrupt the process. On the right side of the oven door, there is a control panel consisting of two turn-style knobs for easy operation. One of them is used to set up the oven timer for up to 30 minutes.
Top & Bottom Heating
The first turning knob lets you choose between three cooking functions, depending on the heating elements you want to use. You can use only the upper or only the bottom heating element for cooking, and there is an option for simultaneous upper and bottom heating elements baking.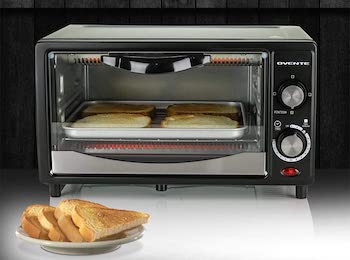 Achieves High Temperatures
The lower element allows you to set up the oven temperature for up to 464°F, the upper goes up to 374°F, and when using both, you can heat the toaster oven broiler to 554 Fahrenheit degrees. That way, you can reheat food, bake pizza, cookies, toast bread, broil meat, roast vegetables, and so on.
Short Description:
4-slice oven capacity, compact size
includes a crumb tray and a baking pan
large glass door, two control knobs
features a 30-minute oven timer
can use top, bottom, or both heating elements
Best Small Electric Toaster Oven
Zojirushi Oven Toaster In Black
Ideal For Singles
This small electric toaster oven comes in black color, featuring a glass door with a handle. It is ideal for singles and small families as it can toast two bread slices at once. Besides toasting, you can also do it for other oven functions thanks to the adjustable temperature settings. You can also set up a timer for up to 30 minutes.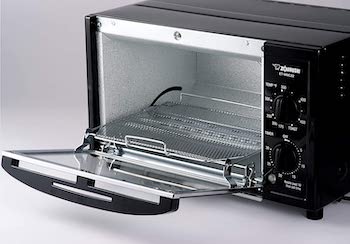 Features A Mesh Rack
The first control knob is used to set up the oven temperature between 175 and 450 Fahrenheit degrees, depending on the cooking you want to get done. Included in the package, you will get a mesh rack that will prevent mochi from dripping while cooking. It is also ideal for toasting foods without leaving grill marks while making sure to toast the food evenly.
Removable Parts
The toaster oven door is also your cheat sheet, as it states the temperatures and the time needed to prepare some of the common toaster oven foods to perfection. After cooking, you can easily maintain the oven clean as the glass door, mesh rack, and crumb tray are removable for cleaning.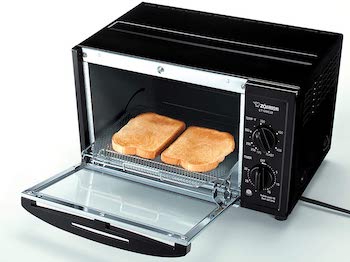 Auto-Eject Rack
The 2-slice toaster oven also comes with a baking tray included, allowing you to fit up to a 7.875-inch pizza on it. The unit is constructed from stainless steel and has a glossy black finish to easily fit into any kitchen decor. The food is also easy to take out as the mash rack pulls out automatically.
Short Description:
2-slice capacity for singles and small families
30-minute timer and adjustable temperatures
the oven can heat between 175 and 450°F
features a mesh oven rack to prevent drips
removable glass door, rack, and crumb tray
package with a baking tray included
Best 4-Slice Electric Toaster Oven
Toastmaster Oven Toaster 10L
10-Liter Capacity 
This electric toaster oven has a capacity of 10 liters, which is enough to fit up to 4 toast slices inside at once. It features a large glass door that allows you to take a peek inside during the cooking process without having to interrupt it. The control panel consists of two turning knobs and has a power indicator light, as well.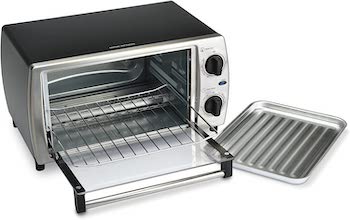 Two Quartz Heating Elements
You can set the oven timer for up to 30 minutes, and there is also a stay-on function if you want to use your oven for over half an hour. The oven temperature is adjustable between 150 and 450 Fahrenheit degrees and lets you bake, broil, and toast. The oven is equipped with two quartz heating elements, as well.
Customizable Rack Positions
Besides 4 slices of toast, this oven can also hold a 9-inch pizza inside. Included in the package, you will also get a chrome-plated oven rack and an aluminum baking pan that both have multifunctional use, depending on what food you want to prepare. The oven cavity also offers two rack positions for flexible cooking.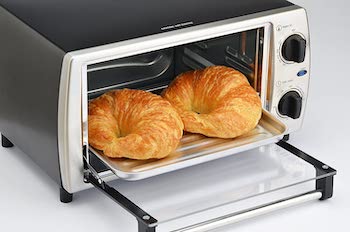 For Taller & Shorter Foods
By customizing the height of the oven rack, you can accommodate taller and shorter foods inside the stainless steel toaster oven with ease. When broiling, you can put the food closer to the broiling element if you use the higher oven rack position.
Short Description:
4-slice capacity fits a 9-inch pizza
a large glass door, a power indicator light
adjustable temperature from 150 to 450°F
used for toasting, baking, and broiling
two rack positions for flexibility
aluminum pan and chrome-plated rack included
equipped with two quartz heating elements
Best Convection Electric Toaster Oven
General Electric Oven Toaster
Bakes Evenly
This electric toaster oven comes in a combination of silver and black colors and has a 0.75 cubic feet capacity. It can provide even baking without any hot spots thanks to the convection technology. It is designed to fit a 12-inch pizza inside and is also great for chickens and small hens.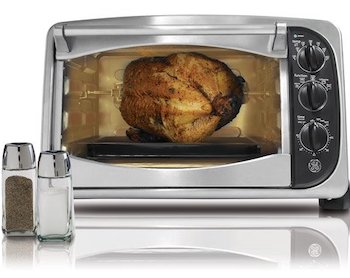 6-8 Toast Slices
The control panel is located on the right side of the glass oven door and features three knobs for operation. The first one is used to set up the temperature, the second to choose between the cooking functions, and the third to set up an oven timer. It can be used to toast 6 to 8 slices of bread simultaneously.
5 Cooking Functions
The oven temperature can go as high as 450 Fahrenheit degrees and the timer can be set up for up to 60 minutes. Once the time is up, the oven shuts off automatically to prevent overheating and burning. It allows you to choose between options for toasting, baking, broiling, rotisserie and keeping food warm.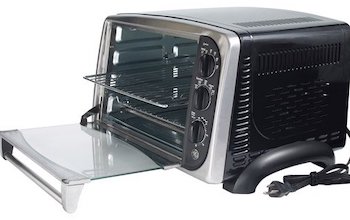 Cool-Touch Handle
The rotisserie convection toaster oven has a chrome front and stainless steel accents that make it a great stylish accent in any kitchen interior with the polished black side exterior. The oven handle stays cool to the touch and the crumb tray is easy to remove for cleaning.
Short Description:
0.75 cubic feet oven holds 6 to 8 toast slices
even cooking thanks to convection technology
adjustable temperature up to 450°Fahrenheit
toast, bake, broil, keep warm, rotisserie
60-minute timer with auto shut off
Best Countertop Electric Toaster Oven
Breville Electric Oven Smart
10 Digital Presets
This toaster oven features a smart element IQ that delivers the right power for great baking results. It offers 10 digital presets on the screen display and is operated by turning three control knobs. The function knob allows you to choose among the presets, while the other two are used to choose the temperature and set up an oven timer.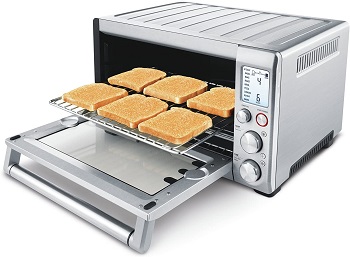 Hot Air Circulation
The smart toaster oven is equipped with 5 quartz heating elements and also offers a convection setting for circulating hot air throughout the oven cavity. Besides that, you can also use this electric toaster oven to toast, bake, broil, roast, reheat, warm, make crumpets and cookies, and bake pizza.
6-Slice Capacity
The oven is big enough to fit 6 slices of toast inside or a 13-inch pizza. The convection fan is built into the unit and circulates hot air to speed up the cooking process. By using this oven, you can toast bread, prepare juicy meats, and bake cookies, pizza, and more, all in just one small kitchen appliance.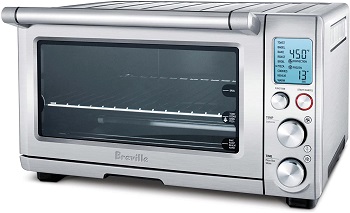 Works In Many Environments 
It sits on your countertop and can be of great help if you are busy and can't prepare all the food in just your conventional oven. At the same time, it can also be used in smaller spaces that don't have a conventional big oven, such as kitchenettes in studio apartments.
Short Description:
features smart element IQ with 5 quartz heaters
offers 10 digital cooking presets to choose from
the convection fan circulates hot air throughout
toast, bake, broil, roast, reheat, cookies, pizza, etc
fits 6 toast slices or a 13-inch pizza
adjustable oven temperature and timer
Best Big Electric Toaster Oven
Oster Large 6-Slice Toaster Oven
7 Digital Presets
This electric toaster oven is a great countertop model that allows you to toast up to 6 slices of toast at once, usually enough for family breakfast. It features a digital control panel with one-touch presets, offering 7 cooking functions to choose among. Inside the oven, you can even fit a baking pan that is up to 2 inches tall, 12.5 inches long, and 10.5 inches wide.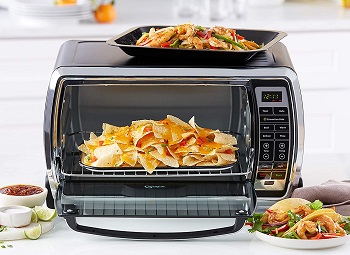 Wide Temperature Range
The temperature is adjustable from 150 to 450 degrees Fahrenheit so that you can prepare different foods in it. The oven door is made of glass so that you can take a peek inside at any moment and the interior light will also help with viewing. The 7 cooking settings are used to toast, bake, warm, broil, and there are settings for pizza, defrosting, and convection, as well.
Toast Shade Selection
The large convection toaster oven comes with a baking pan and a removable crumb tray. The convection bake option prepares food faster while making sure it is uniformly browned. It circulates hot air inside the unit to deliver crispy and flaky crust on foods. When toasting bread, you can choose between lighter and darker toast shades.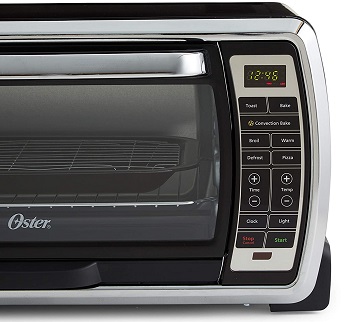 Automatic Shut Off
Two rack positions in the oven make it easy to accommodate both taller and smaller foods inside the oven. You can also set up the oven timer for up to 90 minutes, depending on which food you want to cook. Once the time is up, the oven will automatically shut off to prevent burning.
Short Description:
6-slice capacity with two oven rack positions
oven temperature from 150 to 450°F
a digital control panel with 7 functions
toast, bake, broil, warm, defrost, convection, etc
a baking pan and a crumb tray included
faster cooking with more uniform results
lighter and darker toast shades selection
What To Consider In Electric Toaster Ovens?
When you look for a toaster oven, it is important to keep the following features in mind to tailor it to your needs. Ask yourself how big it should be and what you want to be able to prepare with it. Also, make sure the unit is easy to use to save you some time. Finally, consider the wattage and learn about the benefits of having such a kitchen appliance.
Capacity – If you have a small family or live alone, a small toaster oven will be ideal for you. You can get a model with up to a 4-slice capacity. However, if you need to prepare larger amounts of foods at once, you will have to consider toaster ovens that are bigger in size. The market even offers models that can hold well over 10 toast slices simultaneously. The dimensions are also important to make sure it fits your countertop space.
Cooking Options – Along with toasting bread, this type of kitchen appliance can usually offer other cooking functions as well. Depending on your needs, you can choose between models that offer some of the following functions all in one unit – bake, broil, roast, air fry, dehydrate, defrost, rotisserie, and much more.
Ease Of Use – To save you time, make sure you understand how to use the electric toaster oven. This means looking for models that have clearly labeled controls and functions, screen displays that are easy to read, and control panels that are intuitive to use.
Wattage – By saying how many Watts an electric unit has, we actually talk about the operating power of that appliance. Depending on where you want to use it and what for, you can go for a low wattage toaster oven or a more powerful one. If you just want a model that does toasting, then you won't need to invest in a model with a high wattage.
Benefits – A toaster oven uses less energy than a conventional oven, and it also preheats faster, while producing less heat, ideal for cooking during the hot summer days. It can be of extra help in busy kitchens or used in confined spaces without a big oven. It is also easier to keep clean.
To Wrap It Up
As our favorite electric toaster oven, we have chosen the Ovente toaster oven. It has a 4-slice capacity and allows you to choose whether you want to use the top and bottom heating elements simultaneously or individually. When used simultaneously, it can achieve a temperature of over 550 Fahrenheit degrees for toasting and baking. If you want to invest in a model without spending too much money, read our reviews of the best toaster ovens under $100. If you want to bake in a toaster oven, check out our selection of the best toaster ovens for baking.