Are you looking for the best toaster oven for baking bread, cakes, frozen snacks, and more?
If yes, make sure to check out the following 6 reviewed models!
In this article, we have reviewed countertop and portable models, models for baking cakes, bread, frozen pizza, and more so that you can find something that works for you. Besides the selection of different toaster ovens suitable for baking, here you can also read our buying guide. It should help you concentrate on the features that make the best models so that you don't have too much trouble picking one out for yourself.
The Rundown
6 Best Toaster Ovens For Baking
Best Of Best Toaster Oven For Baking
Oster Digital Toaster Oven
Large Capacity
This best toaster oven for baking has a capacity large enough to fit 6 slices of toast at once. It comes in black color and has a polished stainless finish. When baking, it can hold a baking pan with maximum measurements of 2 inches in height, 10.5 inches in width, and 12.5 inches in length.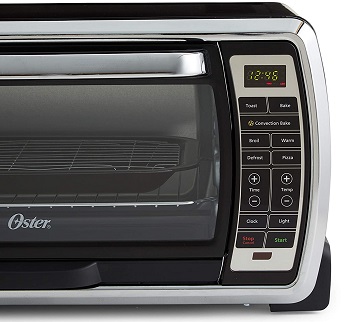 Wide Temperature Range
Even though it is smaller in size, it offers the convenience of a conventional oven by offering a wide temperature range and convection heating. The oven temperature can be adjusted from 150 to 450 Fahrenheit degrees for versatile use. The digital control panel offers 7 cooking programs to choose from.
Convenient Viewing Window
The 6-slice convection toaster oven features a large viewing window on the door that makes it easy to check in on the baking at any time without interrupting the cooking cycle. The sensor touch control panel offers settings for toasting, defrosting, pizza, as well as warming, baking, convection baking, and broiling.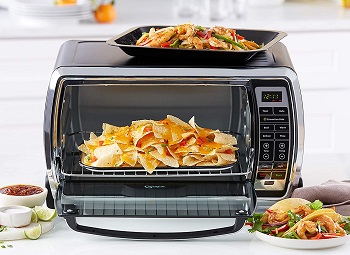 Hot Air Circulation
When you use the convection baking feature, the food will be baked evenly and faster as the hot air circulates throughout the oven. The oven cavity is also large enough for baking cookies, fitting in casseroles, roasting foods, and baking a 12-inch pizza. The crumb tray and the rack can be removed for cleaning.
Short Description:
6-slice capacity for cookies, 12-inch pizzas
temperatures from 150 to 450°Fahrenheit
offers 7 digital one-touch programs
toast, pizza, defrost, bake, warm, broil
also offers a convection baking program
Best Countertop Toaster Oven For Baking
Breville Compact Convection Toaster Oven
1800-Watt Power Supply
This best toaster oven for baking is equipped with quartz heating elements and works with element IQ to deliver the right heat according to the cooking program that is being used. With a power supply of 1800 Watts, it preheats quickly to deliver fast cooking results. The built-in convection fan circulates hot air to reduce cooking time, as well.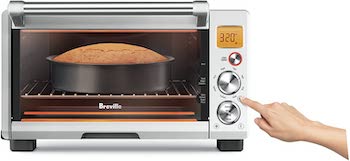 8 Cooking Settings
The control panel consists of two turning knobs and a digital screen display for setting up the cooking process. Among the 8 cooking functions, you can choose to bake, toast, roast, broil, or set a cooking program for cookies, pizza, bagels, or reheating food. That way, the baking possibilities are endless.
Smart Features
Inside the Breville compact convection smart toaster oven, you can toast 4 bread slices at once, roast a chicken, or bake up to a 12-inch pizza. During preheating and baking, the screen display is lit in orange color and will turn to blue once the cooking cycle is finished. It also calculates the temperature and the time needed to achieve perfect baking results, making it the best countertop oven for baking cakes.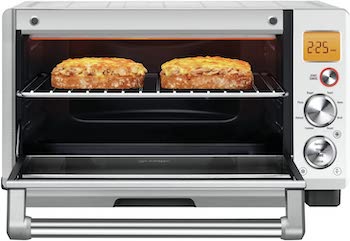 Compact Size
The countertop toaster oven won't take up too much space on the kitchen worktops while allowing you to bake cakes, prepare meats, toast bread evenly, and bake a variety of cookies. To check out the customer reviews, click on the Amazon link below.
Short Description:
equipped with 4 quartz heating elements
features a built-in convection fan
offers 8 cooking functions to choose from
toast, bake, roast, broil, pizza, cookies, bagels
calculates cooking time and temperature
it bakes cakes, roasts meats, toasts bread, etc
Best Mini Toaster Oven For Baking
Balmuda Steam Toaster Oven
5 Working Modes
This model is the best mini oven for baking cakes and it offers five cooking modes to choose from. You can choose between oven settings at 350, 400, and 450 Fahrenheit degrees or choose modes for artisan bread, sandwich bread, pizza, and pastry. It comes in a small size with a height of 8.2 inches and a length of 14.1 inches.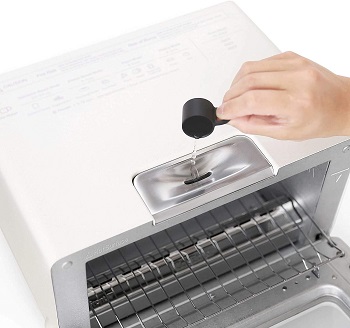 Toasts With Steam
Included in the package, you will also get a baking pan. This white Japanese toaster oven can also work with steam so that a thin layer of steam wraps around the bread, making it crispy on the outside and moist on the inside. To work with steam, you will get a small water measuring cup to put in enough water through the opening at the top of the unit.
15-Minute Oven Timer
This best toaster oven for baking will allow you to check on the baking process by taking a peek inside through the clear glass door window. To choose among the 5 cooking modes, you will simply have to use the turning knob. The timer control knob is also available and allows you to set up the cooking time for up to 15 minutes.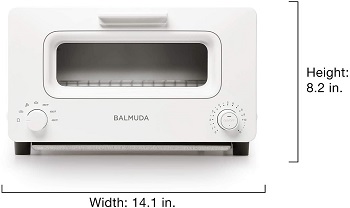 Included Contents
Besides the baking pan, an oven rack for toasting will also come included with the unit. An instruction manual is also provided so that you can learn how to easily use the best steam toaster oven for baking and toasting.
Short Description:
comes in small size, white color
5 cooking modes to choose from
artisan and sandwich bread, pastry, pizza, oven
mode temperatures of 350, 400, 450°F
it can even work and toast with steam
works with a 15-minute timer
includes a baking pan and an oven rack
Best For Cakes Toaster Oven For Baking
Iris Ohyama Toaster Oven Ivory
4 Power Levels
This best portable oven for baking cakes comes in a compact size and ivory color. It features an oven door with a viewing clear glass window and two turning knobs. The two control knobs are used to choose among 4 power levels between 250 and 1000 Watts and to set up the oven timer between 1 and 15 minutes.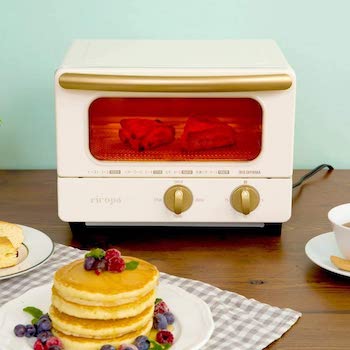 Baking Pan Included
The portable toaster oven has a small capacity and can work at 250, 500, 750, and 1000 Watts. Its depth of 22 centimeters makes it ideal for toasting 2 bread slices at once. A baking pan also comes included so that you can prepare various small cakes and other meals and desserts inside the oven.
For Cakes & Cookies
This toaster oven can be used for both cakes and cookies. It is even suitable for grilling and comes with a grilling rack included, allowing you to even prepare small pizzas inside. The rack is easy to remove for washing, as well as the crumb tray. It collects all the food drips and crumbs inside the oven to prevent messy countertops.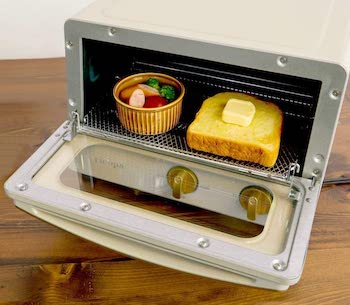 Adjustable Settings
As you can choose between 4 power levels and a timer for up to 15 minutes, you can adjust the settings to prepare many different foods inside. This is the best toaster oven for baking cookies such as Japanese mochi, which will take 3 to 4 minutes at 750 Watts.
Short Description:
white color, glass viewing window
features two control knobs for operation
oven timer from 1 to 15 minutes
power levels of 250, 500, 750, 1000 Watts
22-centimeter depth for 2 toast slices
Best For Bread Toaster Oven For Baking
Cuisinart Convection Toaster Oven
Proofs & Bakes
This is the best toaster oven for baking bread as it can be used both for proofing and baking. It is constructed from stainless steel and comes in silver color. Unlike the usual toaster ovens, this one works with steam and features a special compartment for water. The control panel consists of a digital display. a turning knob, and three pushbuttons.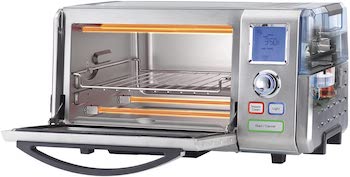 120 Minutes Of Steam
This stainless steel toaster oven can offer up to 120 minutes of constant steam and has an oven cavity big enough to fit a 12-inch pizza inside. Besides pizza, it can also hold up to a 4.5-pound chicken. The steam clean technology works up to 40% faster than conventional ovens.
Increased Moisture Retention
When proofing and baking bread, you get to check on it without opening the oven door as it has a large viewing window. While using steam, the oven also increases the retention of moisture inside food and bread. It is engineered with a bread technology specialized for proofing and works to bake bread both faster and better.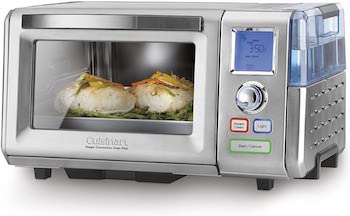 For Other Pastries
Besides bread, you can also proof donuts, pretzels, rolls, and other pastries to get professional bakery results in your home. Besides steaming and poaching, you can also bake, broil, toast, and more. The featuring steam clean option makes cleanup a breeze, as well.
Short Description:
used for proofing and baking bread
cooks and cleans with steam
offers up to 120 minutes of steaming
fits a 12-inch pizza, a 4.5-pound chicken
works 40% faster than conventional ovens
proofs, bakes, steams, poaches, broils, etc
Best For Frozen Pizza Toaster Oven For Baking
Black And Decker Large Toaster Oven
Fits A 12-Inch Pizza
This Black and Decker extra large toaster oven has a deep curved interior that can fit up to a 12-inch pizza inside. The control panel consists of one-touch buttons for a wide variety of cooking settings, including frozen snacks. This makes it the best toaster oven for frozen pizza and also offers a separate pizza setting.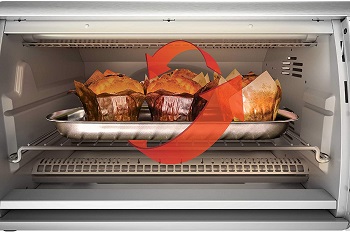 Convection Heating
Besides the one-touch settings, the control panel also features a screen display that makes operation easy. Other settings include cookies, potatoes, snacks, bagel, bake, broil, and toast. For fast and even baking, the convection setting circulates hot air throughout the cavity. The high and low rack positions are great for accommodating different foods inside the oven.
Easy Maintenance
This large convection toaster oven comes with a broiling rack and a baking pan included. The crumb tray is easy to remove for cleaning and slides in and out easily. The inside of the oven is non-stick coated and cleans easily once the surfaces cool down. For breakfast, you can also easily toast 6 bread slices at once.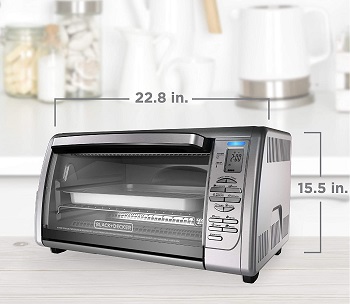 For Versatile Baking 
To get perfectly baked pizza, the convection setting will circulate the heated air inside the cavity and brown and bake pizza evenly. Besides pizza, you can enjoy many other snacks. This best toaster oven for baking can simplify baking cookies, potatoes, and more with the available presets.
Short Description:
fits a 12-inch pizza or 6 slices of toast
offers one-touch cooking settings
pizza, frozen snacks, potatoes, cookies, etc
it can also toast, bake, and broil
circulates hot air with convection
offers two rack positions inside the oven
includes a baking pan and a broiling rack
What To Consider In The Best Toaster Oven For Baking?
If you want to bake but don't have enough space in your small kitchen, or need an extra appliance for baking in your busy kitchen, you should search for a toaster oven that can bake. To make sure you go for the best model according to your needs, here are some things to keep in mind. Firstly, look for the size and make sure the unit is easy to use. You should also check which cooking programs it has to offer.
Size – Toaster ovens can have a really compact size with a capacity no bigger than 2 slices of toast, while some others will be able to fit in two large pizzas and over 10 bread slices at once. To get the best one for you, make sure its dimensions fit your space and the needs of your family, as well. If looking for a model for singles and couples, a 2-slice toaster oven might be enough.
Ease Of Use – To make sure the oven is easy to operate, you should look out for the following features. Firstly, make sure its functions and controls are clearly labeled and that the screen display is easy to read. Besides that, the control panel should be intuitive to use so you don't spend a lot of time finding the desired setting.
What Can It Do? – When looking for the best toaster oven for baking, you should make sure that it offers a baking setting, along with the setting for toasting bread. Besides that, many products also feature dedicated presets for cookies, pizza, and bagels so that it is easy to precisely bake different foods and desserts.
Convection – If you want to be sure your bread, cakes, cookies, pizza, and other foods are baked uniformly with evenly browned surfaces, a toaster oven with convection will be the one. A digital convection toaster oven will offer you both digital precision when adjusting the temperature and a convection fan to circulate heated air throughout the oven cavity.
Benefits – By investing in a toaster oven, you can prepare toast and other baked goods without having to turn the big oven on. It uses less energy, produces less heat, preheats faster, and is also easier to clean than a conventional oven. It can also be used in more confined spaces where you can't fit a big oven.
To Wrap It Up
The Oster digital toaster oven is the best toaster oven for baking in our opinion. It stood out to us as it offers 7 one-touch presets for cooking, and can hold baking pans measuring up to 10.5 by 12.5 inches. It can toast, bake, defrost, convection bake, broil, warm, and more. For buying on a budget, check out our selection of the best toaster ovens under $100. If you want to prepare snacks and breakfast quickly, consider some of the fast toaster ovens we have reviewed.