Do you need a portable toaster oven that you can take with you when traveling or pull out at any time to use at home?
If yes, this article is a must-read for you!
We have reviewed four different models of small toaster ovens that are portable and easy to use no matter where you go. Whether you want a model for baking cakes, a model for your car, or a small unit that you can store away when not using it at home, they will allow you to enjoy baked goods wherever you might be. Besides the reviews, here you can also read about the features to keep in mind when buying such a unit.
The Rundown
Best 4 Portable Toaster Ovens
Best Of Best Portable Toaster Oven
Dash Mini Toaster Oven
Small Footprint
This portable toaster oven comes in aqua color and has a small footprint ideal for countertops and use in confined spaces such as dorm rooms, studio apartments, and offices. It is easily portable thanks to its mini size. It can be used for preparing snacks for on the go, such as toast, bagels, pizza slices, paninis, cookies, and so on.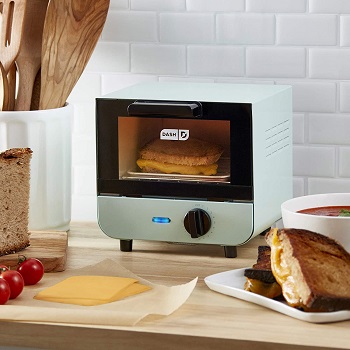 15-Minute Timer
The aqua toaster oven features a glass window in the door so that you can take a peek inside at any point during the cooking process. It is operated by a 15-minute timer so that you can easily get lighter or darker toast, according to your preference. Lighter toast shade will take fewer minutes.
Dishwasher Safe Parts
With the oven, you will also get a baking pan and an oven rack. They are both easy to remove and dishwasher safe along with the crumb tray. The rest of the surfaces can be easily wiped clean. To spark your creativity, you will also get recipes in the package.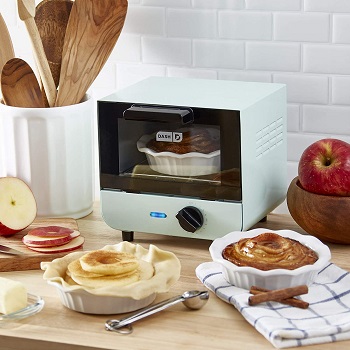 For Home & On The Go
The small unit is great for taking with you when you leave home for some time so that you can enjoy your favorite baked dishes no matter where you are. With its bright design, it will also bring a pop of color to any cooking space.
Short Description:
small footprint, aqua color
operated by a 15-minute timer
for toast, pizza, cookies, bakes, paninis
dishwasher safe parts for easy cleaning
features a pan, a rack, a crumb tray
Best For Baking Cakes Portable Toaster Oven
Iris Ohyama Toaster Oven
Ivory Color
This is the best portable oven for baking cakes, but it can also be used for toasting bread, and more. It comes in ivory color and features a large glass window for viewing the cooking process. Besides the window, there is also a handle on the oven door. Under the door, there is a control panel with two turn-style turning knobs.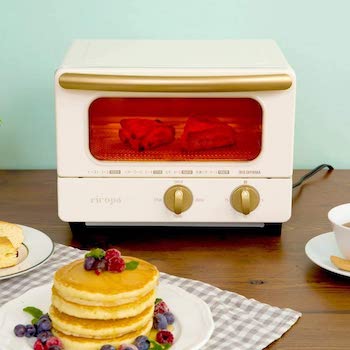 Adjustable Power Level
This portable toaster oven is equipped with two turning knobs that allow you to choose from four power levels and set up a cooking timer. The available power levels are 250, 500, 750, and 1000 Watts. The timer can be set up for up to 15 minutes to be able to prepare many different Japanese snacks and toast.
2-Slice Capacity
The depth of 22 centimeters allows enough interior space to toast two bread slices simultaneously. A baking pan also comes included, as well as a rack. Both can be removed for cleaning, and wash easily. The crumb tray collects the drips and the crumbs inside the unit and is also removable for cleaning.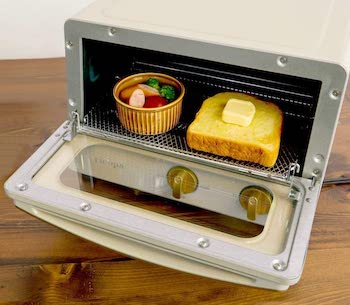 For Rice Cake & More
By adjusting the power level and the cooking timer, you can easily prepare many different foods in this 2-slice toaster oven. For mochi, traditional Japanese rice cakes, you should use the 750-Watt level for 3 to 4 minutes. To get toasted bread, you should use the 100-Watt setting for 1 to 2 minutes. This model comes in a small size, ideal for storing away when not in use in case you don't have enough countertop space.
Short Description:
ivory color, large glass viewing window
4 power levels and a 15-minute timer
250, 500, 750, 1000-Watt settings
22-centimeter depth for 2 toast slices
removable rack, pan, and crumb tray
for cake, toast, and other dishes
Best For Car Portable Toaster Oven
Ovente 800-Watt Toaster Oven
Works With An Inverter
If you spend a lot of time on the road but still want to enjoy crispy toasted bread, this portable toaster oven for cars might be the one for you. To be able to use it, you will however also have to invest in an inverter that inverts 12 Volts into 110 Volts with the help of your car battery. To make sure it works, the inverter, in this case, has to be more powerful than 800 Watts, which is the power of this toaster oven.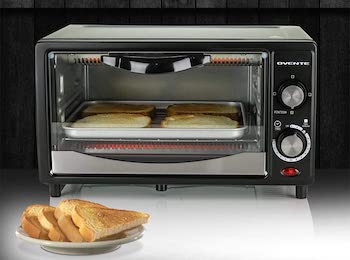 Adjustable Oven Rack
The low wattage toaster oven can fit 4 slices of toast in at once and comes with a baking tray and a crumb tray included. The wire oven rack is adjustable so that you can fit different heights of food inside, and not just toast. As it is equipped with top and bottom heating elements, you can use them separately or simultaneously for cooking.
High Temperature 
When using both upper and lower heating elements, the unit can achieve a maximum temperature of 554 Fahrenheit degrees. To control the cooking program, you can also set up a timer for a maximum of 30 minutes. To remove the drips and food crumbs from the inside, you can simply remove the crumb tray from the unit.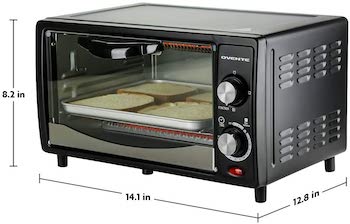 Power Indicator Light
With this model, you can toast bread, bake pizza, and bake cookies. For safety reasons, the power light will indicate when the unit is on. The pan and the wire rack are easy to remove for cleaning and the interior can be easily wiped clean, as well.
Short Description:
uses a power supply of 800 Watts
works with an inverter in cars
4-slice capacity, adjustable rack
toasts bread; bakes pizza and cookies
equipped with top and bottom heaters
heaters can work separately or together
control the cooking with a 30-minute timer
Best Small Portable Toaster Oven
Balmuda Steam Toaster Oven
5 Cooking Modes
This toaster oven comes in a small size with an attractive design and is black. It features a door with a handle and a clear window for viewing the cooking process inside. It offers five different cooking modes and can also work with steam. To cook with steam, you will have to pour the water in through the top opening on the unit.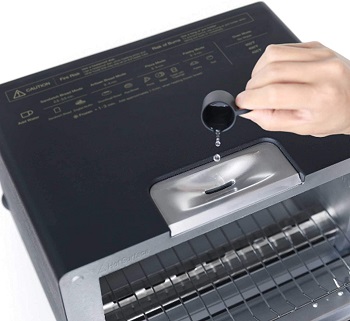 Cooks With Steam
The Japanese toaster oven will produce crispy toast on the outside while keeping the inside moist. When toasting the bread, a thin layer of steam will wrap around the toast while retaining the moisture. Its small size is great for countertop space in kitchenettes and kitchens and can be stored away when not in use as well.
Portable Size
Thanks to the small site, it will also be easy to transport this portable toaster oven. It is 8.2 inches high and 14.1 inches long. The control panel consists of two turning knobs that allow you to choose between 5 cooking modes and set up a cooking timer for up to 15-minutes.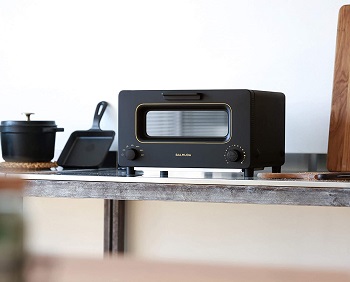 Included Contents
The 5 special modes include settings for sandwich bread, artisan bread, pastry, and pizza. The fifth mode is the oven setting so that you can prepare many different baked goods no matter where you go. Included in the package, you will also get a manual, a baking pan, and a toast rack.
Short Description:
black color, small attractive design
features two control knobs for settings
5 cooking modes and a 15-minute timer
sandwich and artisan bread, pastry, and pizza
cooks with steam for both crispiness and moisture
What To Consider In Portable Toaster Ovens?
For people who are on the go but want to enjoy toasted bread and other baked goods, a small toaster oven can be of great help. When choosing a model, look out for some features that make it portable and check out the capacity it has to offer. Besides that, you should also make sure the unit is easy to use and that it offers cooking programs you plan to use. Finally, you can also find out about accessories that come included with such a product.
Portable Features – For a toaster oven to be easily portable, it should be lightweight enough to take around with you and small enough to fit just about anywhere. This is especially true for models that are suitable for car use. For a toaster oven to also be suitable for car use, you will have to invest in a 12-V into a 110-V inverter.
Capacity – As they come in small sizes, portable toaster ovens won't be able to offer you a large baking capacity. However, this is also usually not needed as it is mostly one person who uses a portable model. For larger family use, you should check out extra-large convection countertop ovens that are, however, not as easy to transport.
Ease Of Use – For a toaster oven to be easy to use, it should be equipped with the following features. Firstly, the control panel should be intuitive to use and the controls and functions should be clearly labeled so you don't spend a lot of time looking for the right setting.
Cooking Options – Toaster ovens that are suitable for portability usually allow you to adjust the temperature and the cooking time so that you can prepare different meals. Some even allow you to choose among different cooking programs, such as toasting, broiling, baking, roasting, and more.
Included Accessories – Included with the toaster oven, you will usually get a crumb tray that collects all the drips inside the oven to prevent a mess around the unit. Along with that, an oven rack and a baking tray are also usually included, They are constructed to perfectly fit the size of the accompanying oven.
To Wrap It Up
The Dash mini toaster oven is our favorite choice for a portable toaster oven. It is small in size, easy to operate with the help of a 15-minute timer, and ideal for small food portions. You can use it for toasting, pizza, cookies, paninis, bagels, and more. No matter where you go you can enjoy warm and toasted pastries and other foods. If you spend a lot of time in your recreational vehicle and love to camp, check out our selection of RV toaster ovens. For models with simple operation, consider reviews of simple toaster ovens on the market.