Do you want to invest your money in a Japanese toaster oven?
Great, because we reviewed 6 models for you!
Continue reading to find out about countertop, infrared, small, vertical, and combo models made in Japan and from globally popular Japanese brands. Besides that, you can also learn about technical specifications that make the best toaster ovens and read our list of features that customize these appliances to your needs.
The Rundown
6 Best Japanese Toaster Ovens
Best Of Best Japanese Toaster Oven
Panasonic FlashXpress Toaster Oven
Double Heating Elements
This Japanese toaster oven features double infrared heating with quartz and ceramic heating elements. The heaters are positioned in the front and the back for uniform and even cooking. The front heaters cook food on the outside, while the inside is ensured to cook properly with the back heating elements.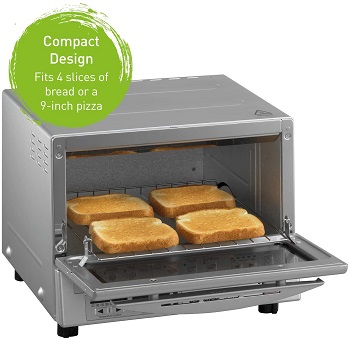 Adjustable Settings
The control panel is positioned under the door, offering settings for different cooking programs, allowing you to set the timer, temperature, and even choose between different toast settings. The glass door is connected to the wire rack to allow you to safely and easily pull it out when needed.
Wide Temperature Range
By controlling the temperature precisely between 200 and 500°F, you can prepare bread, side dishes, cook frozen meals, and more. The toaster oven allows you to bake, toast, brown, defrost, and more. The infrared ray heater makes cooking up to 40% faster. When you choose the setting, the unit will automatically count the time needed to cook the meal.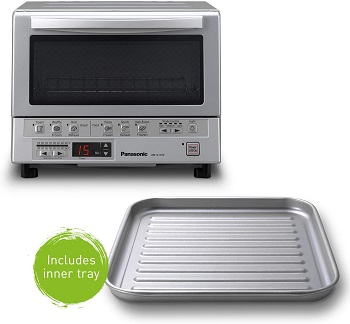 4-Slice Capacity
You can fit 4 slices of bread or a 9-inch pizza on the square-shaped included baking tray. This infrared toaster oven can even be used for pizza, hashbrowns, waffles, and more. The interior oven light will allow you to check what's happening on the inside of the oven through the glass door.
Short Description:
features quartz and ceramic heating elements
uniform heating cooks food on the inside and outside
adjustable temperature between 200 and 500°F
it can bake, brown, defrost, toast, and reheat
4-slice square-shaped baking tray included
Best Countertop Japanese Toaster Oven
Tiger Yakitate Toaster Oven
Easy-To-Clean
This Japanese countertop oven comes in red color, featuring a glass door and two control knobs for easy operation. Included in the package, you will get a baking tray, a baking rack, and a crumb tray along with the toaster oven. These accessories are easy to remove from the unit for cleaning.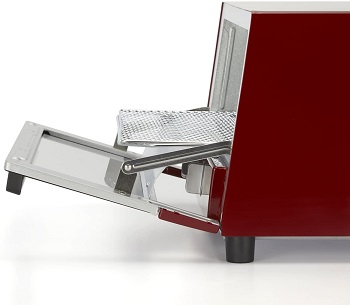 Adjustable Temp
The temperature control knob is used to set up the temperature between 175 and 450 Fahrenheit degrees. The timer can be set up for up to half an hour by turning the timer control dial. After the time runs out, the unit automatically shuts off for safety and signals that the food is ready.
10-Inch Pizza Capacity
You can fit up to a 10-inch pizza inside the oven cavity. The rack is connected to the door for easy slideout, allowing your food to cool off without having to remove it. Besides cooking food, you can also use this toaster oven with auto shut off to warm your food.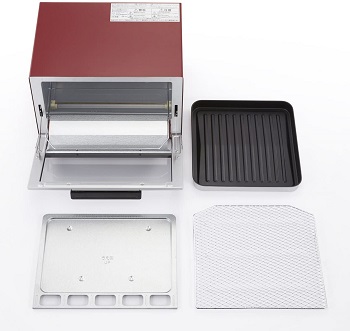 Attractive Look
During cooking, you can check the food inside the oven by taking a peek inside through the large glass door. The attractive red color will make this Japanese toaster oven a fixture in any kitchen, giving it a bright accent.
Short Description:
features two control knobs for setup
a baking tray, rack, a crumb tray included
temperature adjustable between 175 and 450°F
30-minute timer with automatic shut off
it fits up to 10-inch pizzas inside
it can be used for cooking and warming food
Best Combo Japanese Toaster Oven
Bruno Toaster Oven Grill
Open-Top Design
This Japanese toaster oven is different from other toaster ovens with the way it opens up. The upper half of the unit opens up like a pot with a hinged lid. On the front side of the upper body, there is a viewing window and two side handles that allow you to easily transport it and open the upper part as well.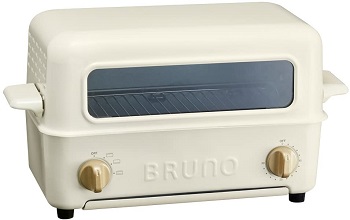 Independent Heater Controls
This kitchen appliance is available to purchase in white and red colors. It features two control knobs on the lower part of the body. The upper and lower heating elements can be on at the same or you can turn them on separately. Besides using it as a toaster oven, it can also be used as a grill with an open top.
Easy To Clean
Both the crumb tray and the grill rack are easy to remove to clean with water after use. The open-top toaster oven also allows you to clean the cavity with ease once you remove the oven rack and other accessories from it. To control cooking, you can set up a timer for up to 30 minutes.
Recipe Booklet Included
The grill toaster oven allows you to choose between upper and lower heating elements or turning them on both, by simply turning the control dial. Included with the purchase of this item, you will also get a booklet with 8 recipes to help you get creative.
Short Description:
the specific design with the open top
features a viewing window with side handles
comes with a recipe book and a grill rack
the crumb tray is easy to remove for cleaning
features upper and lower heating elements
features a 30-minute timer with a dial
easy to control which heater is working
Best Pizza Japanese Toaster Oven
Balmuda Steam Oven Toaster
Cooks With Steam
This Japanese toaster oven is ideal for countertop use without taking up a lot of space. It works with the help of steam and offers 5 cooking programs. It comes in white color and features a glass window on the door, as well as a white handle. To cook with steam, you will have to pour water into the toaster from the opening at the top.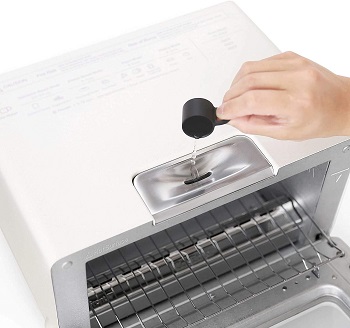 Crispy Yet Moist Bread
When using steam to cook, it will work faster than hot air, wrapping a thin layer of steam around the bread to toast its surface. The inside of the bread will retain its moisture and flavor. To achieve these results, you will also be able to precisely adjust the temperature of the oven.
5 Cooking Modes
The unit offers 5 modes for different breaded goods. For example, it has special modes for artisan bread, sandwich bread, pastry, pizza, and even an oven mode. To pour in a precise amount of water for creating steam, you will get a 5 cubic centimeter cup with the unit.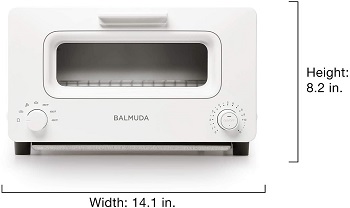 Compact Size
A baking pan and a toast rack are included with the purchase, as well as an instruction manual. With its compact size, the countertop toaster oven is ideal for use on your kitchen countertop without taking up too much precious space.
Short Description:
5 cooking modes for different breaded goods
artisan bread, toast, pizza, pastry, sandwich bread
5 cc of water to pour in for cooking with steam
includes a baking pan and a toast rack
white color, viewing window on the door
Best Small Japanese Toaster Oven
Iris Ohyama Toaster Oven
4 Wattage Levels
This Japanese toaster oven comes in pink color, featuring a viewing window on the door, along with a door handle, and two control knobs. The first control knob allows you to choose between 4 different wattages, while the timer knob allows you to set up the cooking time for up to 15 minutes.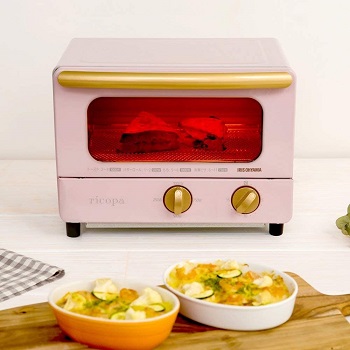 2-Slice Capacity
With its depth of around 22 centimeters, you can use this oven to toast up to two bread slices simultaneously. The power control knob allows you to choose between four different power levels, 250, 500, 750, and 1000 Watts. A baking pan is included with the unit.
Removable Parts
Besides toasting bread, you can also use this unit for pizza. A grilling rack is also included, allowing you to not just toast, but also grill foods inside. The rack can be removed and washed easily. Besides that, the crumb tray is also easy to remove and wash from drips, fats, and crumbs.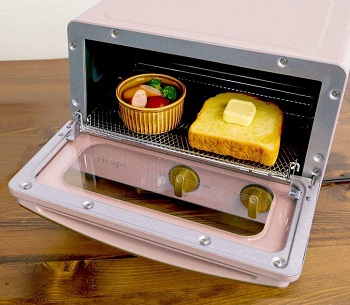 Adjustable Settings
By adjusting the power level and setting up a timer, you can use this kitchen appliance for a wide variety of cooking applications. For example, mochi will take 3 to 4 minutes on the 725-Watt setting. At the same time, the pink toaster oven will be a great addition to your kitchen space, giving it a stylish look with a cute accent.
Short Description:
pink color with a glass door window
250,500, 750, 1000-Watt settings
a 15-minute timer with a control knob
22-centimeter depth holds 2 bread slices
easy-to-wash removable crumb and baking trays
adjustable settings for different cooking needs
Best Vertical Japanese Toaster Oven
Muji Toaster Oven MJ-OTL10A
13-Inch Height
This toaster oven is specific thanks to its vertical shape that makes it stand out among the usual horizontal models. It is 9 inches wide, 8 inches deep, and 13 inches tall. It comes in white color and features a black tinted glass door. The oven cavity is free of Teflon for healthy and safe cooking.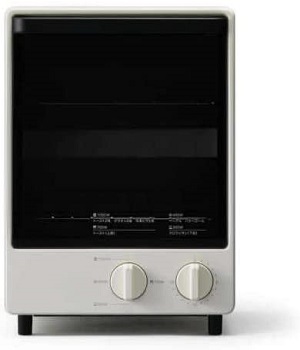 Two Control Knobs
The oven holds two racks for toasting a larger quantity of bread slices at once. To set up a cooking program, this Japanese toaster oven features two turning knobs under the glass door. The first dial allows you to choose between different wattage settings. The timer knob lets you set up a timer for up to 15 minutes.
Japanese Instructions
Designed for the Japanese market, this vertical toaster oven comes with Japanese instructions and labeled functions. This model could work for you if you understand Japanese or don't mind translation. Likewise, it is also widely chosen for toasting bread by Americans.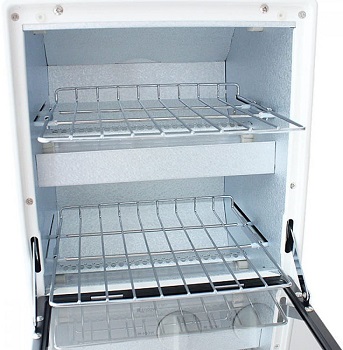 For Confined Spaces
Thanks to the compact design, it is very easy to fit this kitchen appliance on the countertop, without demanding a lof space. This even makes it suitable for confined spaces such as kitchenettes in studio apartments. For toasting bread, you will get two baking trays included with the unit.
Short Description:
specific vertical shape for countertops
features a black tinted glass door
9 inches wide, 8 deep, 13 inches tall
two oven racks and two baking trays
knobs for wattage and timer settings
ideal for confined kitchen spaces
it comes with Japanese instructions
What To Consider In Japanese Toaster Ovens?
When looking for a toaster oven, it is important to consider its size and capacity, as well as make sure that the unit is easy to use. Besides that, a toaster oven can offer you various cooking programs to fit your needs. Look out for the temperature range and other adjustable features. Finally, here you can also read about other content that usually comes included with the toaster oven.
Capacity – The models of toaster ovens available on the market differ mainly in their size and capacity. Depending on your needs, you can pick a 2-slice toaster oven, or go for larger models. The size of the appliance is also important, and you should check if your countertop offers enough space for a certain model.
Ease Of Use – For a toaster oven to be easy to use, it should have an intuitive control panel with clearly labeled functions and controls. That way, you won't have to spend a lot of time learning how to use it. Some Japanese toaster ovens have Japanese controls so beware of that. You might have to translate if you don't understand the language.
Cooking Options – Besides toasting, many toaster ovens can also allow you to different kinds of baking, roasting, and broiling. Depending on the model, you will be able to prepare different foods inside one small kitchen appliance. It can sometimes even be used for pizza, cookies, bagels, and more.
Adjustable Features – Toaster oven models mostly allow you to choose the cooking temperature, usually between 200 and 450 Fahrenheit degrees. If you adjust the temperature, you can use the unit for different cooking and baking needs, including even warming the food. A timer feature is sometimes also available for precise cooking.
What Else? – To be able to use it to its full potential, you will usually also get an oven rack and a baking tray to fit the unit perfectly. A crumb tray is also helpful as it collects all the drips for mess-free countertops. It should be easy to remove for cleaning.
To Wrap It Up
As our favorite, we have chosen the Panasonic FlashXpress toaster oven. This Japanese toaster oven has a 4-slice capacity with a temperature range between 200 and 500°F. It can toast, bake, brown, defrost, and keep food warm. If you are interested, you can also read this article to check out our selection of electric toaster ovens on the market. For lovers of French door appliances, we have also reviewed some double door toaster ovens for you to check out.