Interested in adding a pop of color to your kitchen with a purple or a pink toaster oven?
If your answer is affirmative and you are curious, check out the models we have found and reviewed!
You can check out our selection of mini, convection, combo, countertop, and pizza models available on the market at the moment. Besides that, in this article, you can also learn about technical specifications to keep in mind when searching the market to get the best one for your needs.
The Rundown
Best 6 Purple & Pink Toaster Ovens
Best Of Best Pink Toaster Oven
Dash Toaster Oven Mini
Vertical Footprint
This pink toaster oven comes in a small size, ideal for preparing small portions of snacks such as cookies, paninis, bagels, toast, and pizza. The oven is vertical in shape so it won't take up a lot of space on your kitchen countertop. It comes equipped with an oven rack and a baking tray.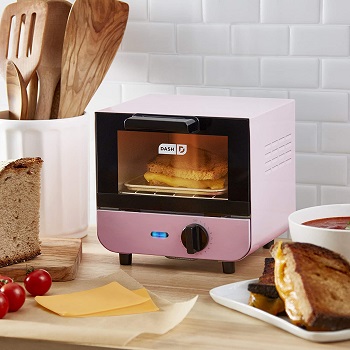 Saves Money & Energy
Thanks to its small size, this vertical toaster oven is energy efficient so that you can save money while preparing small snacks for on the go, without using your big conventional oven. The glass door is convenient for taking a peek inside the oven without having to interrupt the process.
15-Minute Timer
The timer control knob is located under the glass door and allows you to set up the cooking time for up to 15 minutes. By doing so, you get to choose the toast shade to your preference. If you want a darker shade, simply leave the bread inside for longer. Once the time is up, the unit automatically shuts off to prevent burning.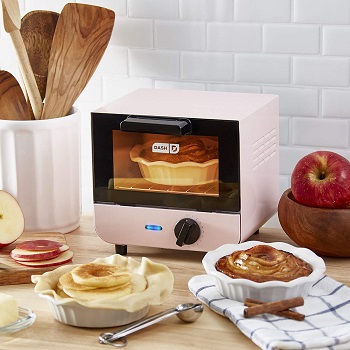 Dishwasher Safe Parts
When toasting bread, it will be evenly browned as it sits on the oven rack in the middle of the oven cavity. The crumb tray collects the drops of crumbs and other drips and is easily removable for cleaning. It can be put in the dishwasher along with the oven rack and the baking tray. The other surface of the unit can be wiped clean.
Short Description:
small vertical footprint, pink color
for cookies, paninis, pizza, toast, etc
15-minute timer with auto shut off
oven rack and baking tray included
dishwasher safe parts for easy cleanup
Best Mini Pink Toaster Oven
Iris Ohyama Toaster Oven
Japanese Instructions
This pink mini oven is designed for the Japanese market but is easy to use and adored even by Americans. In case you do not understand Japanese, you can easily translate the functions, as well. The Japanese toaster oven features a glass viewing window on the door, a door handle, and two control knobs underneath it.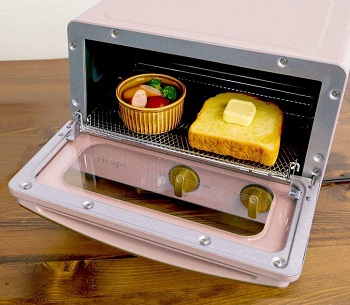 2-Slice Oven
The first control knob allows you to choose between 4 power levels, and the second is used for setting a timer for up to 15 minutes. You can choose between 250, 500, 750, and 1000 Watts. The oven cavity can hold up to 2 bread slices at once and comes with an included baking pan.
Easy Cleanup
Apart from toasting slices of bread, this unit is ideal for pizza and grilling foods. A grilling rack comes included and is easy to remove for cleaning. You can also easily wash away any crumbs, fats, and drips by removing the crumb tray from the unit.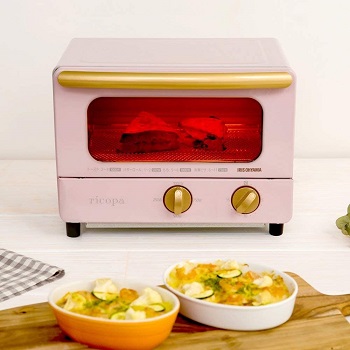 Adjustable For Cooking
With its ash pink color, this pink toaster oven is a stylish addition to any kitchen space. With its adjustable power levels and customizable cooking timer, it will be easy to prepare a variety of dishes in this unit. For example, preparing mochi will take around 4 minutes if you use the 750-Watt setting.
Short Description:
Japanese functions for operation, pink color
a control knob with 4 power levels
a 15-minute timer for different cooking
choose between 250, 500, 750, 1000 Watts
includes a baking pan and a grilling rack
adjustable settings for different cooking
Best Convection Pink Toaster Oven
WOIQ Toaster Oven
Non-Stick Oven
This pink toaster oven uses convection to heat the oven fast. It comes in a compact size but has a spacious oven cavity that can even fit 13-inch pizza, cakes, chicken, and casserole dishes. In case of any spills or for a regular cleanup, the oven can be easily wiped down as it is non-stick coated.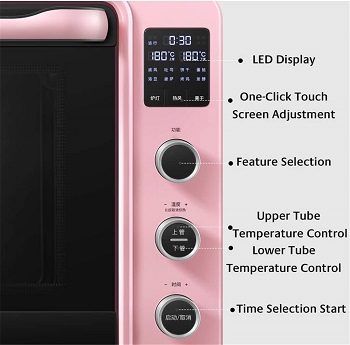 6 Cooking Options
The control panel of the small convection toaster oven features a digital screen display with three control knobs for setup. One of them is used to set up the cooking timer for up to 60 minutes, depending on the cooking program. The available cooking programs include toast, bagel, pizza, broiling, baking, and keeping food warm.
Included Components
Inside the oven, you will get a baking tray and a grill rack. The rack is adjustable depending on the cooking program and the type of food you want to cook. The door has a large glass window for viewing the cooking process inside. The adjustable oven temperature helps you to precisely bake many types of foods.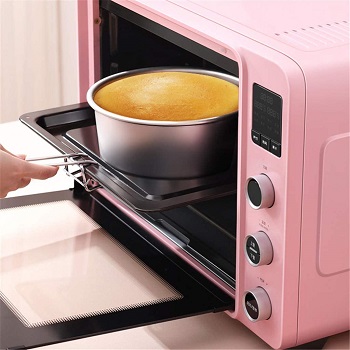 Independent Tube Temp
The clean look with the compact design and the pink oven is a great fixture for girls' apartments, dorm rooms, but also kitchens, etc. It is equipped with lower and upper heating tubes for uniform cooking. To cook precisely, you can adjust the independent temperatures of both upper and lower heating elements.
Short Description:
it fits 13-inch pizzas, casseroles, chickens, cake, etc
non-stick interior with an adjustable oven rack
a screen display with three control knobs
60-minute timer, 6 cooking functions available
toast, bagel, pizza, broil, keep warm, bake options
upper and lower tubes with adjustable temperature
pink color with a large glass viewing door
Best Combo Purple Toaster Oven
XIEJING Digital Toaster Oven
Designed To Save Energy
This purple toaster oven features a non-toxic aluminum cavity that effectively keeps the inside of the oven warm. The glass door is double-layered to also help with this while blocking heat transfer to save energy. The upper and lower layers of the oven cavity are also removable for washing.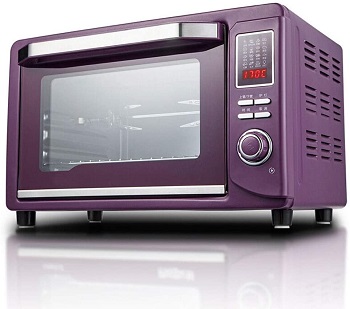 12 Cooking Options
The control panel consists of a digital screen display, four pushbuttons, and a turning knob. The screen displays icons for different cooking settings, including muffins, chicken, fish, cookies, bread, vegetables, and more. The multifunction toaster oven offers 12 cooking settings in total.
Independent Temp Controls
The oven is equipped with 6 stainless steel heating tubes and offers 4 rack positions. The upper and lower heating elements are controlled independently so that you can set up the cooking temperature precisely. The interior furnace light is made from tempered glass for viewing the inside of the oven at any time through the glass door.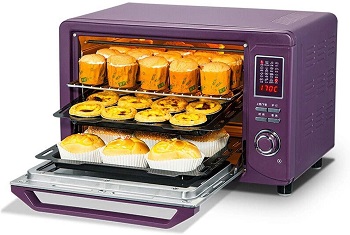 Rotisserie Equipment 
Equipped with the rotisserie set, you can easily prepare different types of meat, including chicken and turkey. It will rotate inside the oven for uniform browning and cooking, while the fats and grease drip away from the juicy meat.
Short Description:
non-toxic aluminum interior of the oven
double-layered glass door saves energy
a digital screen display with controls
offers 12 cooking settings on the screen
chicken, fish, bread, vegetables, muffins, etc
Best Pizza Purple Toaster Oven
SHUI 15L Toaster Oven
Large Glass Window
This purple toaster oven comes in a small size, featuring a door with a large glass viewing window and a handle for easy opening. The control panel features three turning dials for setup. That way, you get to choose the oven temperature, the cooking setting, and the cooking time.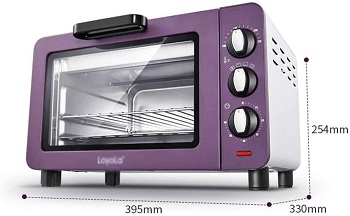 Customize The Temperature
The first control dial allows you to set up the oven temperature between 100 and 230°Celsius. With the help of the second dial, you can choose whether you want both the upper and lower or independent heating elements to work for different cooking needs.
Ready Bell Chime
The cooking timer can be set up for up to 60 minutes, depending on the cooking you want to do. Once the cooking time is up, the unit will shut off automatically to prevent burning or overheating. At the same time, the ready bell signal will alert you that the cooking time is done.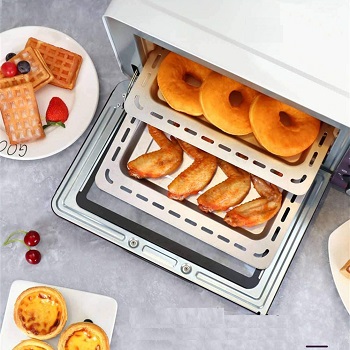 For Pizza & More
The oven offers 3 rack heights so that you can use it for toast, pizza, vegetables, whole chickens, etc. As you can control the temperature of upper and lower heaters independently, you will get to not just toast and bake but also broil with this toaster oven broiler.
Short Description:
large glass window and handle on the door
adjustable time and temperature of heaters
temperatures between 100 and 230°C
60-minute timer with automatic shut off
3 shelf heights for different types of cooking
for toast, pizza, chicken, vegetables, etc
Best Countertop Purple Toaster Oven
Dulplay Toaster Oven
For Clean Countertops
This countertop toaster oven comes in purple color, featuring a glass door and four dials for setting up the cooking course. With the 30-liter capacity, it won't take up too much precious space on the countertop, while also keeping it clean. The crumb tray collects all the drips and fats and is easy to remove for cleaning.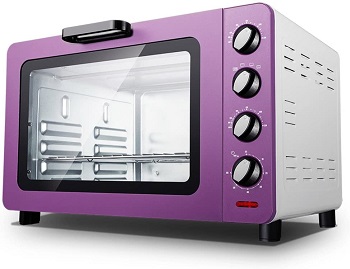 4 Cooking Options
The stainless steel construction is durable and along with the purple color gives a stylish vibe to any kitchen. The feet of the unit also make sure it is stable on the countertop. If you want to toast, bake, broil, or keep some food warm, you won't have to make your big conventional oven running and dirty for that thanks to this toaster oven.
4 Heating Elements
The inside of the oven is non-stick coated for easy cleaning after cooking and in case of spillage. It is also equipped with 4 heating elements made of stainless steel and you can choose the temperature for the upper and lower heaters independently with the help of control knobs.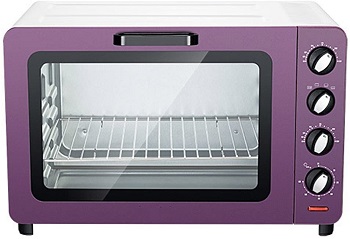 4-Slice Capacity
The purple toaster oven is big enough to fit a 9-inch pizza inside or up to 4 toast slices at once. The timer is adjustable for up to 60 minutes and features a stay-on function for longer cooking courses. Included in the package, you will also get a broiler rack and a baking pan.
Short Description:
30-liter capacity, purple color
fits 9-inch pizzas, 4 toast slices
crumb tray, grill rack, baking pan included
used for toasting, baking, broiling, warming
the non-stick oven cavity for easy cleaning
60-minute timer with a stay on function
features four stainless steel heating elements
What To Consider In Pink & Purple Toaster Ovens?
When looking to buy a toaster oven, here are a couple of things to take into consideration. First of all, consider its size and make sure the unit is easy to use. Secondly, check out which cooking programs it has to offer. Besides that, you should also read about its advantages and the number of heating elements needed.
Capacity – Depending on your needs, you might be looking for a very small unit, such as a 2-slice toaster oven for personal use, ideal for dorm rooms, studio apartments, etc. However, the market also offers larger models, that can hold 6, 8, 9, or over 10 toast slices at once. It is also important to look at the overall dimensions to find the one that fits your available countertop space.
Ease Of Use – Toaster ovens help you save and not waste time. That is why you should always go for models that are easy to use, featuring intuitive control panels with screen displays that are easy to use and clearly labeled functions and controls.
Cooking Programs – Besides toasting bread, most toaster ovens can also bake, broil, keep food warm. Some even offer dedicated settings for pizza, cookies, bagels, rotisserie, etc. The best model for you will be the one that offers functions you are willing to try out and use.
Number Of Heaters – Depending on the size of the oven cavity, a toaster oven can have a smaller or larger number of heating elements. They must provide uniform heating for the best cooking results. Sometimes, the upper and lower heating elements can also be independently controlled for precise cooking.
Advantages – Besides fitting perfectly into your kitchen decor, purple and pink toaster ovens can also be a great alternative in small spaces without conventional ovens. They produce less heat in the kitchen, while also using less energy and are much easier to keep clean.
To Wrap It Up
Our top pick is the Dash pink toaster oven, ideal for preparing snacks such as toast, bagels, paninis, pizza, as well as cookies. It is also very easy to use with a control knob for setting up the cooking timer and has dishwasher safe parts. In case you like funky designs in kitchen appliances, also check out our selection of cute toaster ovens. For another type of stylish addition to the kitchen space, also consider some of the rose gold toaster ovens we have reviewed.