Desperately searching for a gold or a rose gold toaster oven for your kitchen?
In that case, continue reading this article!
You can find out about different models, including combo, countertop, and small products that offer a variety of uses. Moreover, you can also read about technical specifications to keep in mind when purchasing such a kitchen appliance.
The Rundown
Best 4 Gold & Rose Gold Toaster Ovens
Best Of Best Gold Toaster Oven
Vestware Toaster Oven Gold
Sensor Touch Setup
This toaster oven has a 32-quart capacity and comes in reflective gold color. It features a door with a glass viewing window and a control panel located above the oven door. The digital panel has touch buttons for choosing a program for cooking. The gold toaster oven comes with a baking pan and a grill rack included.
Feeds 5 To 8 People
Equipped with 5 preset programs and 4 menus with 32 preset recipes, the modern toaster oven allows you to prepare many different foods without trouble. Its capacity is big enough to feed between 5 and 8 people. Inside the oven, the shelf has 4 available positions for flexible cooking.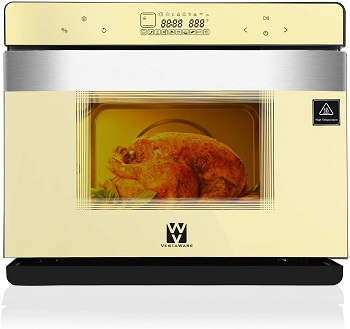 Steam, Roast & Bake
The tempered glass window is double layered and along with the door, it is resistant to heat and corrosion. It can cook with steam, and is a great choice for roasted dinners, combining steamed foods with roasted and baked oven goods. The digital control panel works with touch sensors and is easy to operate.
Wide Temperature Range
The temperature is adjustable from 85 up to 450°F and has built-in temperature sensors that monitor the oven temperature. It also heats evenly thanks to the top and bottom heating elements and can cook up to 40% faster than conventional ovens.
Short Description:
32-quart capacity feeds 5 to 8 people
control panel with sensor touch buttons
5 preset programs and 4 cooking menus
it roasts, bakes, and cooks with steam
adjustable temperature from 85 to 450°F
Best Combo Gold Toaster Oven
LQRYJDZ Toaster Oven Gold
Two Rack Positions
This gold toaster oven has a 30-liter capacity with a curved inner cavity. Inside the oven, it offers two rack positions for flexible cooking of many different meals. The oven is large enough to fit a cake serving 2 to 4 people or even a circular pizza. The control panel consists of three turning knobs to set up the cooking program.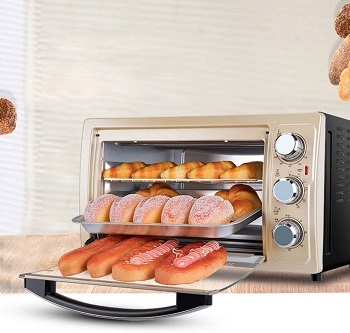 Adjustable Temperature
Besides toasting bread, you can also use this unit to grill, bake, and roast different foods. The grill toaster oven cooks fast and evenly with adjustable temperatures. You can prepare pizza, cake, cupcakes, roast vegetables, and meats. To adjust the temperature, use the temperature control knob for up to 250°C.
Multiple Cooking Functions
The second control knob on the panel allows you to choose among different cooking functions. The timer dial is used to set up the cooking time for up to 60 minutes. This way, you can cook many dishes precisely, without worrying about overcooking them.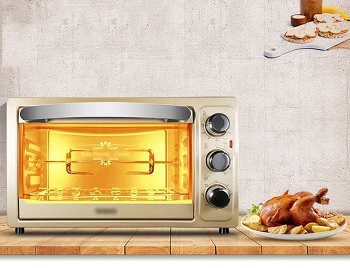 Suitable For Smaller Spaces
With its golden color and sleek design, it will give your kitchen a stylish accent. At the same time, it will provide you with a cooking space for smaller meals, so you don't have to get your big oven dirty. It can also be used in other smaller spaces, such as studio apartments.
Short Description:
the 30-liter curved inner cavity
it offers two rack positions
fits a cake serving 2 to 4 people
temperature adjustments up to 250°C
60-minute timer for cooking
pizza, cupcakes, meats, vegetables, etc
Best Countertop Rose Gold Toaster Oven
Jinru Toaster Oven Rose Gold
2 Heating Tubes
This toaster oven comes in a rose gold color on the sides and a white color on the front, giving off a stylish vibe to the kitchen space. It uses a power supply of 1800 Watts and is equipped with 2 heating tubes. The countertop toaster oven also requires 4 inches of free space on both sides of the unit.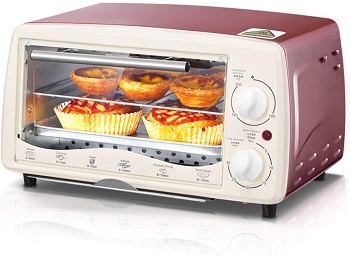 Various Uses
The rose gold toaster oven can be used for toasting bread, making cupcakes, preparing beef steak, chicken wings, cookies, or kebabs. The control panel features two turning knobs to customize the settings. The first one is used for setting up the temperature with a maximum of 250°C.
Control The Cooking Time
The second control knob is used to set up the cooking time up to 30 minutes. That way, you don't have to worry about overheating your food. To toast bread, you will need 3 to 5 minutes, cookies and cakes will take 5 to 7 minutes, kebabs 5 to 10 minutes, and chicken and beef steak 8 to 10 minutes.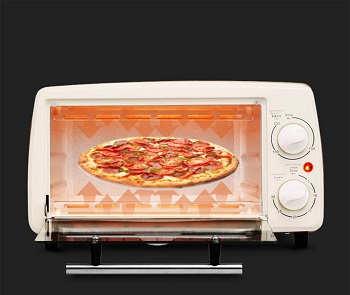 Feeds 2 To 3 People
The power light indicates when the unit is on for safety and is positioned on the control panel for easy viewing. Both the upper and the lower tubes' temperature is controlled with the one temperature dial. The size makes this product suitable even for smaller countertops and can feed 2 to 3 people.
Short Description:
rose gold sides, white oven front
2 heating tubes for baking
temperature adjustable up to 250°C
bread, cupcakes, kebabs, beefsteak, wings
features a 30-minute timer for cooking
it can feed 2 to 3 people
features a power indicator light
Best Small Rose Gold Toaster Oven
LQRYJDZ Toaster Oven Rose Gold
Digital Controls
This model comes in rose gold color and features an all-glass door that allows you to check inside the oven at any time. It is equipped with a smart digital display so that it is easy and quick to set up the cooking program and choose among the available settings.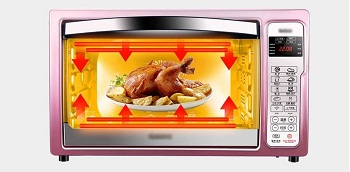 Three Rack Heights
The oven capacity is 32 liters and offers three shelf positions for flexibility during cooking. By adjusting the shelf height, you can fit different sized foods inside the oven more easily. It allows you to bake pizzas, cookies, roast vegetables, and prepare meats.
Customize The Settings
This electric toaster oven can be used for fish, rotisserie, burgers, toast, and many other cooking needs. Setting up a cooking program is easy by following the digital screen and using the one-touch cooking functions. The temperature can be set up to 230°C along with other smart features.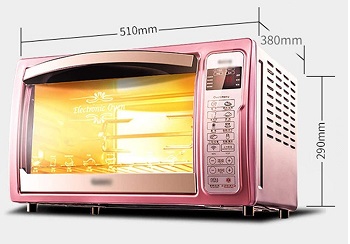 Compact Design
Thanks to its compact size, the rose gold toaster oven won't take up too much space on your kitchen countertop. As a result, you can also use it in more confined spaces, like dorm rooms, kitchenettes in studio apartments, and others.
Short Description:
rose gold color, large glass door
a digital display with touch settings
32-liter oven with three shelf positions
fish, rotisserie, burgers, toast, etc
temperature control up to 230°C
small size for confined spaces
for pizza, cookies, meats, vegetables
What To Consider In Rose Gold & Gold Toaster Ovens?
When searching the market for a toaster oven, there are a few different features to take into consideration. First of all, make sure to find the appropriate size and look out for the specs that make it easy to operate. Besides that, also consider the cooking options it has to offer and learn about heating elements and benefits such an item can bring to your everyday life.
Size – Toaster ovens are available in both smaller and larger capacity, while both are usually suitable for countertop use. Depending on your demands, you can get a small one, like a 2-slice toaster oven, or a bigger one that fits even more than 10 toast slices in at once. The overall dimensions are also important to make sure it fits your available countertop space.
Is It Easy To Use? – For a rose gold toaster oven to be easy to use, make sure it is equipped with some of the following features. Firstly, it should have an intuitive control panel so that you don't waste time looking for certain settings. Secondly, its controls and functions should be clearly labeled, and the screen displays easy to read.
What Can It Do? – Besides toasting bread, most toaster ovens can also bake, broil, roast, and offer settings for pizza, cookies, bagels. That way, such a small unit will be able to provide you with many different meals without taking up too much space or time to operate.
Heating Elements – Toaster ovens are usually equipped with a different number of heating tubes, depending on their size. They must be present both up and down inside the oven to be able to provide even results when baking, toasting, etc.
Benefits – A toaster oven can be used in spaces without a conventional oven as its alternative, or in spaces with one as its extra help. At the same time, it can save space and energy, while also producing less heat. It is also easier to clean than traditional ovens.
To Wrap It Up
The Vestware toaster oven is our top choice for a gold toaster oven. It can bake, roast, toast, and even cook with steam. It features a digital control panel and allows you to use it for versatile cooking while looking good on any kitchen counter. If you would like to explore other options, check out our selection of cute toaster ovens. Likewise, check out our list of copper toaster ovens.