Looking to invest in a copper toaster oven and want to explore your options to the fullest?
Great, because we have reviewed 4 versatile models for you!
Continue reading this article if you wish to learn more about small, convection, combo, countertop, and other toaster ovens that come in copper style and color. Moreover, take into consideration the below-mentioned features and specs to help you choose the best model for your needs.
The Rundown
Best 4 Copper Toaster Ovens
Best Of Best Copper Toaster Oven
Cuisinart Copper Stainless Toaster Oven
0.6 Cubic Feet Capacity 
This Cuisinart copper toaster oven has a 0.6 cubic feet interior capacity that can hold 6 slices of toast at once, or a 12-inch pizza, a 4-pound chicken, or air fry up to 3 pounds of chicken wings. It comes in copper color, featuring a large glass viewing window on the oven door, as well as a control panel with four turning control knobs above it.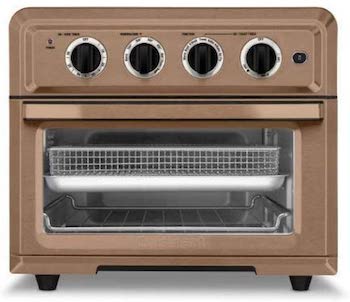 7 Cooking Functions
This compact air fryer toaster oven has a non-stick interior and offers 7 cooking programs to choose from on the control panel. Besides that, the control panel can also be used to choose the oven temperature, set a timer, and choose between lighter and darker toast shades on the dedicated toast timer.
Included Content
The oven timer can be set up for up to 60 minutes and automatically turns off once cooking is done to prevent overheating and burning. Included with the Cuisinart air fryer toaster oven copper model, you will get an air frying basket, a baking pan, and an oven rack.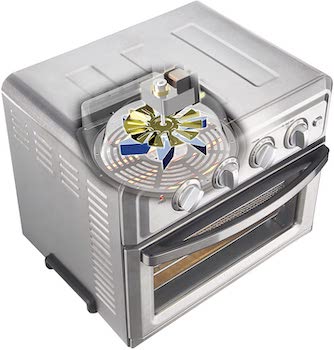 Fries With Hot Air
The 7 available functions allow you to convection bake, toast, convection broil, air fry, warm, and broil, and bake. When frying foods while using hot air, you can prepare healthier versions of your favorite crispy snacks, such as French fries and chicken wings. At the same time, you will use a lot less oil to achieve these results.
Short Description:
holds 6 toast slices, a 12-inch pizza, etc
copper color, a large viewing oven window
includes an air fry basket, oven rack, baking pan
air fry, toast, convection bake, convection broil, etc
60-minute oven timer, dedicated toast timer
Best Convection Copper Toaster Oven
Farberware Toaster Oven
10 Available Presets
This toaster oven has a 6-slice capacity and comes in sunset copper color. It features an LCD digital display with two turn-style knobs for operation. The first control knob allows you to choose between 10 cooking functions, while the other can be used to set up both the timer and the temperature of the oven.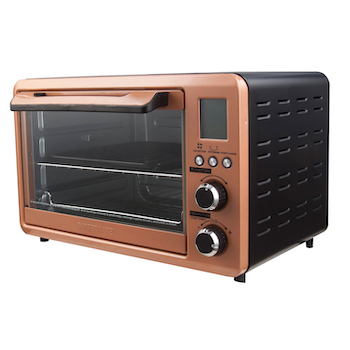 7 Levels Of Toast Shade
The 6-slice convection toaster oven can be used to toast bread, roast, defrost, prepare a rotisserie dinner, bake, broil, make pizza and cookies, defrost, warm, and reheat food, and more. The oven timer can be set up for up to 60 minutes, and you can also choose between 7 toasting levels to get precisely the toast shade of your dreams.
Plus Convection Heating
This copper toaster oven lets you choose the oven temperature from 150°F up to 450°F. It offers convection cooking, as well, by circulating hot air inside the unit to achieve crispy results while making the cooking process faster. With digital features, you will get to precisely control the cooking process, monitoring it through the glass window.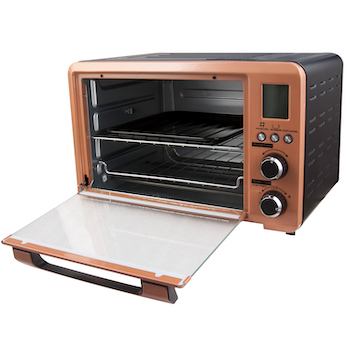 Accessories Included
The outer housing of the unit is made from iron with a powder finish and comes included with an enamel baking pan and a nickel-plated rack. The oven door features a large handle for easy opening, while the sides of the unit are black to make a nice contrast to the copper front.
Short Description:
holds 6 slices of toast; sunset copper color
10 cooking functions, 7 toast shade levels
150 to 450°F, a 60-minute oven timer
convection heating circulates hot air
an enamel baking pan, nickel-plated rack
bake, broil, toast, rotisserie, defrost, roast, etc
Best Combo Copper Toaster Oven
Cuisinart Toaster Oven
6-Slice Capacity
If you want the convenience of multiple kitchen appliances in one, this product might be the one for you. It can be used for toasting bread, convection baking, as well as broiling. Featuring a 0.6 cubic feet capacity, it can toast up to 6 slices of bread at once, or bake up to a 12-inch pizza.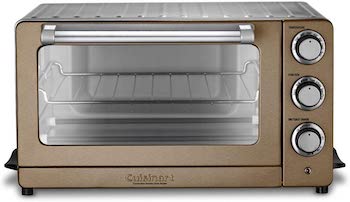 Adjustable Features
The copper toaster oven is easy to clean thanks to the non-sticking interior. On the outside, it has a power indicator light and three turning knobs to set up the temperature, choose the cooking preset, and choose the shade of toast when toasting bread. It is also equipped with a crumb tray that slides out, and a recipe book that comes included.
4 Cooking Settings
The oven temperature can be adjusted up to 500° Fahrenheit and offers 4 cooking programs. You can easily select between keeping food warm, broiling, toasting, and convection baking by turning the function control knob. When toasting bread, you can choose between light, medium, and dark toast shades.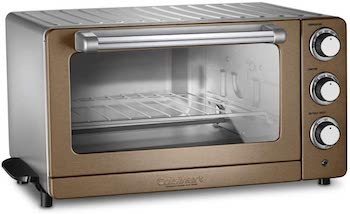 Stainless Steel Material
The toaster oven broiler is made from stainless steel material, and along with the copper color, it makes a stylish addition to any kitchen countertop. The glass door lets you take a peek inside during cooking to monitor the process but without interrupting it.
Short Description:
0.6 cubic feet oven; copper color
it fits a 12-inch pizza, 6 bread slices
non-stick interior, slide-out crumb tray
adjustable temperature and toast shade
convection bake, broil, toast, keep warm
stainless steel exterior, a power indicator light
a recipe book comes included
Best Countertop Copper Toaster Oven
DeLonghi Oven Style Copper
Silver & Copper Combination
This toaster oven comes in a combination of silver and copper colors, whit the silver front, and copper body sides. It is equipped with an oven door that has a large viewing window and a control panel featuring two turning knobs. The first knob is used to set up the oven temperature, and the other is used to set up a cooking timer.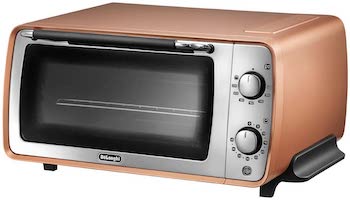 Choose The Time & Temp
The temperature of the copper toaster oven can be adjusted from 120 to 220° Celsius. The oven timer can be set for up to 45 minutes, depending on the baking you want to do. The oven door opens down completely to make it simple to use the cavity and to make cleanup a breeze as well.
Easy Operation
This countertop toaster oven features a double-layered glass door that makes for better heat isolation to reduce the temperature of the exterior. The product is delivered with a crumb tray and a pizza pan included. With the two control dials, it is very easy to operate for baking and toasting bread.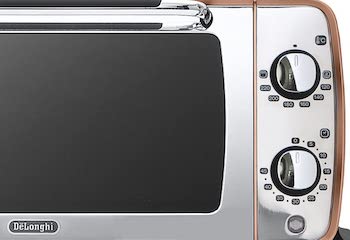 Countertop-Friendlz=y
The glass door allows you to check in on the cooking process without having to open the door during the baking program. It is ideal for countertop use with feet, in spaces without a conventional oven, or as extra help in busy kitchens.
Short Description:
silver front with copper body sides
control dials for temperature and timer
temperature adjustable from 120 to 220°C
double-layered glass door for heat isolation
features a 45-minute oven timer
What To Consider In Copper Toaster Ovens?
Once you start searching the market for a toaster oven in copper color, there are some of the following things we suggest you keep in mind. Firstly, look for the size of the oven and consider its ease of use. Secondly, check out which cooking programs it has to offer you and which accessories it comes with. Finally, learn about the advantages of having a toaster oven in your home.
Size – A toaster oven comes in both smaller and larger sizes, depending on your needs. If you live alone or have a small family, a smaller capacity of up to 4 toast slices might be enough for you. However, for larger families, the market has even extra-wide toaster ovens to offer, to fit in a lot of bread slices at once, or even other food.
Easy To Use – For a toaster oven to save you time, it needs to be easy to use, designed for easy operation. To achieve that, look for models that have easy-to-read digital displays, intuitive control panels, and controls and functions that are easy to read and are clearly labeled.
Cooking Programs – A toaster oven can, of course, toast bread. However, it can usually offer many other cooking settings like a conventional oven. These include baking, broiling, roasting, sometimes even air frying, rotisserie, etc. That way, a single unit can replace many kitchen appliances and save you precious countertop space.
Accessories – A toaster oven usually comes with a crumb tray included to collect all the drips during cooking and should be easy to remove for cleaning. Besides that, you will also get a corresponding number of oven racks and baking pans according to the oven size. Finally, rotisserie kits, air fry baskets, and more are sometimes also included.
Advantages – A copper toaster oven is a great alternative to conventional ovens in spaces without one, or as extra help in busy environments. It preheats faster while saving energy and producing less heat, ideal for cooking during the summer days. It is also easy to clean and you won't have to bend to get your food out of the unit.
To Wrap It Up
As our favorite model, we have chosen the Cuisinart copper toaster oven that offers you many versatile possibilities in just one unit. It can air fry, convection bake, convection broil, as well as warm, bake, and broil foods. It can air fry up to 3 pounds of chicken wings at once, toast 6 slices of bread, or bake a 12-inch pizza. For a similar style of toaster ovens, also consider our selection of gold toaster ovens, including rose gold, too. If you are a lover of stainless steel appliances, also check out reviews of stainless steel toaster ovens currently popular on the market.