Looking for a 10-chair dining table set to fit perfectly into your dining room for everyday use?
Do not fret, we've got you covered!
In this article, we have reviewed 4 sets in different styles and materials, including farmhouse, modern, and wooden dining table set 10 seater models. Besides the reviews, in this article, you can also find advice on qualities and features to keep in mind when researching the market for the dining room set for your requirements.
The Rundown
4 Best 10-Chair Dining Table Sets
Best Of Best 10-Chair Dining Table Set
Clintwood Dining Table Set
Crafted From Solid Wood
This 10-seat dining table set includes a table and 10 chairs and requires assembly. The height of the seat of each chair is 18.5 inches and the table is 30 inches high. The set is crafted from solid wood, including a table with four turned legs, and has a butterfly leaf that extends the tabletop to be able to accommodate 10 people.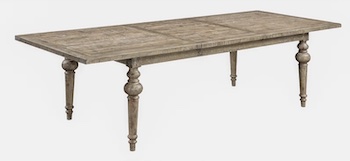 The Classic Design
The 10-person extendable dining table features solid pine frames with pine veneer slats and solid pine legs with an overly-emphasized turned design. The chairs are made from pine solids and solid American white ash featuring a round-back and webbed seating for added comfort.
Seats 8 To 10 People
The seating comes in cream color while the tabletop and base have a pine color, bringing a classic feel to your dining room setup. When fully collapsed, the table can seat 8 people, and upon extending it, it will be able to seat 10 people in total with one chair on each end and four chairs on each side.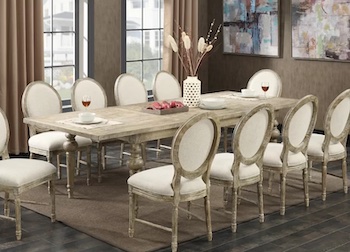 Traditional Details
To get a distressed look in the furniture, the wood was scored and rubbed through. The linen upholstery brings a nice feel to the chairs that feature fluted legs. The dining set combines classic with touches of traditional details and will make any dining room look majestic.
Short Description:
features a dining table and 10 chairs
features a butterfly leaf to extend the table
crafted from solid pine and pine veneer
round-backed chairs with linen upholstery
cream color seats and pine color table
Best Farmhouse Best Farmhouse 10-seat Dining Table Set
Hillsdale Dining Table Set
Dark Cherry Finish
This 10-seat dining table set comes in dark cherry color and includes a dining table with 10 chairs. The table features an x-trestle shape to be able to fit four chairs on each side of the table and one chair at each end of the table. The 10-person farmhouse dining table can seat between 6 and 10 people, ideal for large families and people who like to entertain.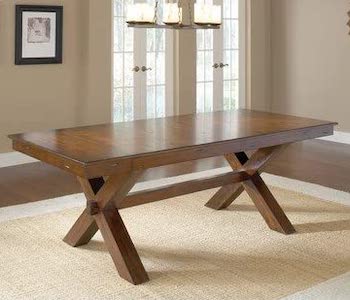 108-Inch Table
The table extends to measure 108 inches in length with the help of two 12-inch extension leaves. It is also 30 inches high and 40 inches wide. The chairs and the table have a distressed dark cherry finish and can bring warmth to your farmhouse-style dining room.
Faux Leather Upholstery
If you want to save space when you don't have to seat 10 people, the table can be collapsed to measure 84 inches in length. The chairs are 41 inches high and have brown faux leather upholstery. The back of the chairs comes in ladder-style and the upholstery is easy to care for.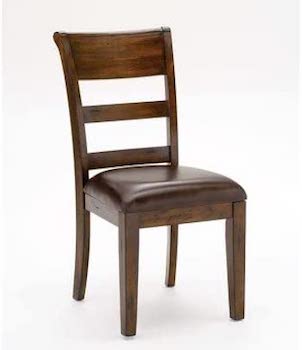 Stylish & Sturdy
Incorporating this farmhouse dining table set for 10 into your kitchen and dining area should be easy, to give accent to the white, rustic, and other farmhouse details you might have in the room. It is stylish, as well as sturdy so that it can be used every day.
Short Description:
dark cherry color of the table and chairs
108-inch length with two 12-inch leaves
it comfortably seats 6 to 10 people
features a trestle base of the table
brown faux leather chair upholstery
84 inches long when fully collapsed
Best Modern Dining Table Set For 10
Lexington Table Set For 10
2 Armchairs, 8 Side Chairs
This modern dining table set for 10 features an extendable table, two armchairs, and eight side chairs. The table is 30 inches tall and measures 88 inches in length when fully collapsed, and 128 inches when fully extended, and is also 46 inches wide. The armchairs and side chairs come in cream color and are upholstered.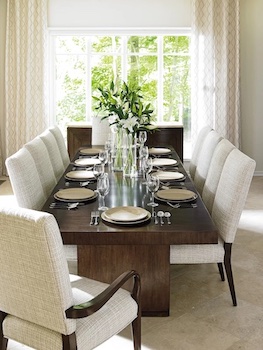 Cherry Finish
The tabletop, table base, and chairs' legs and arms all come in a cherry finish. The tabletop and the base are constructed from solid and manufactured wood and the table has a rectangular shape. That way, four side chairs go on each side, while one armchair goes on each end of the table.
Linen Upholstery 
To make the chairs comfortable, the back and the seating area are upholstered in linen material. When looking for modern dining room sets for 10 people, they must be also durable. This model is durable as it is crafted from a combination of solid and manufactured wood. It also gives the space a modern accent.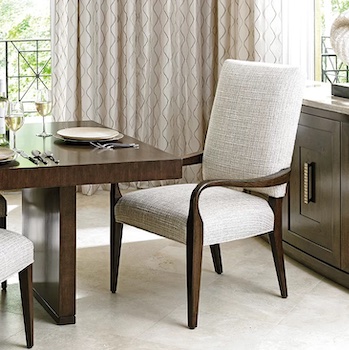 Double Pedestal Base
Both the armchairs and the side chairs are 43 inches tall while the armchairs are wider than the side chairs. The table has a double pedestal base that allows you to easily fit the chairs under the table when not in use to make the space around the table appear bigger.
Short Description:
an extendable table, 2 armchairs, 8 side chairs
88 inches long when collapsed, 128 when extended
linen upholstery and cream color on the chairs
solid and manufactured wood for table
features a double pedestal base
cherry finish of the table and chairs
comes in a durable and modern design
Best Wooden 10-chair Dining Table Set
Flash Furniture Set For 10
With 4 Benches
This dining table set for 10 people is constructed from wood and features a table with four benches. The furniture comes in an antique rustic finish, making it ideal for your farmhouse dining room. The table has four legs and features a 0.75-inch thick top with a 4-inch apron.
Seats 10 To 12 People
The pinewood table and benches can fit up to 12 people and are very comfortable for a family of 10. The set includes two smaller benches that go on the ends of the table and two long benches that can fit up to 5 people on each side of the table. The table is 108 inches wide and will be able to comfortably seat 10 people at it.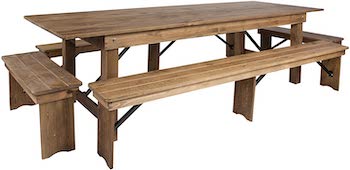 Rustic Vibe
The dining table gives off a rustic vibe and along with the benches can go great with your farmhouse dining room but also easily conforms to modern environments. Along with the benches, the table can be folded at the legs, making it easy to store and transport the set if needed. You can even use it outdoors for barbecues during the nice weather.
Easy To Fold
The 10-seater folding dining table set with benches fold by taking the pins out of the base and the legs will lock at the top for safety and stability during transport. To clean the tabletop, use a water-based cleanser before wiping the table dry.
Short Description:
crafted from pine wood for durability
features a table and four benches
0.75-inch thick tabletop and 4-inch apron
it can easily seat 10 to 12 people
a rustic 108-inch long pinewood table
foldable legs on the table and benches
What To Consider In A Dining Room Table Set For 10?
When looking for 10 piece dining room table sets, here are some of the qualities to keep an eye on. Firstly, consider the size and the material to get a durable set that can seat 10 people and fit into your space. Secondly, look for the style, shape, and table support to fit your needs. Finally, also make sure the unit is easy to maintain clean, and more.
The Size – For a table to be able to seat 10 people, it will ideally have to be around 8 feet long. To make sure such a big piece of furniture fits your dining room, also make sure that there are 3 feet of breathing space available on all sides of the unit so that the chairs can fit. Most tables will be around 30 inches tall, but the high-top models are usually between 34 and 39 inches tall.
The Material – According to the style you are going for, you can choose among many different materials, but it is important to make sure the table and the seating are durable. You can go for solid wood, veneer, plastic, glass, stone, and metal materials. The choice of material is also dependable on the style you want to go for.
The Style – The market is full of different styles to accommodate different tastes so there should be something for everyone. Popular 10 piece sets come in modern and rustic styles, and you can even find 10-seat farmhouse tables. Besides the style, you can also choose between round, rectangular, oval, or square-shaped tables to go with chairs or benches.
Table Support – Popular solutions for table base are trestle, pedestal, and legs. Here it is important to go for the model that makes enough room for all the chairs under the table. Pedestal and trestle bases usually make it easier to fit in more chairs under and make extra seating space at the table.
What Else? – To make the dining room table set for 10 user-friendly, make sure it is easy to keep clean. Moreover, also make sure that the set is easy to assemble and that it is built for stability and durability. If you are tight on space, you might also wanna check out extendable tables or folding ones.
To Wrap It Up
Our favorite 10-chair dining table set is the Clintwood table and 10 chairs. It features traditional details and gives a classic accent to your dining area. The pieces of furniture are crafted from solid and veneer pinewood and the table also comes in pine color. The chairs have rounded backs and cream linen upholstery to make them comfortable. If you are looking for a dining table set with 10 chairs, check out our reviews of 10-chair dining table sets. In case you are keen on timber, consider our selection of 10-seater timber dining tables.