Are you looking for a dining set that comfortably seats up to 6 people and provides your home with additional elegance?
Then a black 6 piece dining set is a great choice for you!
Listed below, you can find my reviews of the five best models that are currently available for you to buy. Check them out and find a dining set that fits into your home perfectly.
The Rundown
Best 5 Black 6 Piece Dining Sets You Can Place In Any Room
Best Of Best Black 6 Piece Dining Set
Walker Edison Solid Wood Dining Set
Durable Construction
This dining table features very durable construction. It is constructed out of solid wood and high-grade MDF material and has thick solid wood legs. They are reinforced with an additional bar to ensure that the table offers exceptional stability. Its tabletop surface, on the other hand, is made out of solid wood veneer material.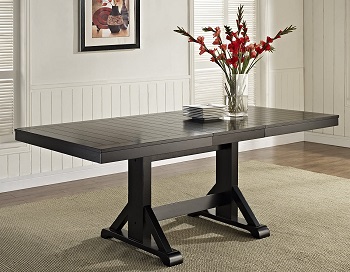 Extendable Design
Another amazing thing about this black dining room set for 6 is that it features an extendable design. The additional butterfly leaf features a self-contained design. You can easily remove it when the extension is not needed.
Solid Wood Bench
Both the chairs and the dining bench that come with this extendable dining table set for 6 are also made out of solid wood material. Note that, because of its size, the bench can seat up to 3 people very comfortably.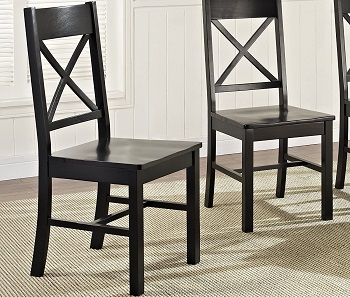 Quick Setup
You won't have to spend too much time trying to set up this 6-piece black dining set. It ships ready to assemble and most importantly all tools and necessary hardware come included in the package. The simple setup instructions will help you complete the process with as little effort as possible.
Short Description:
a beautiful, stylish, contemporary design
solid wood and high-grade MDF
solid wood veneer tabletop surface
comes with a rich, grain black finish
an additional self-contained butterfly leaf
X-back detailing on solid wood chairs
a very spacious 3-seat solid wood bench
Best 6 Seat Black 6 Piece Dining Set
East-West Furniture Dining Room Set
High-Quality Design
This dining table with 4 chairs and a bench also features a high-quality design. Its entire structure is made out of durable Asain wood, also knows as rubberwood. The feet of the table and the chairs have highly protective bottom foot caps that keep your floors safe from accidental scratches and damages.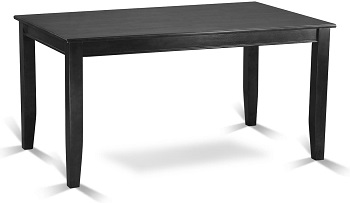 Seating Capacity
Just like the rest of the listed models, this dining table can also comfortably seat up to 6 people at once. Each chair is spacious enough to ensure that you can rest in it comfortably. The dining bench doesn't come with a backrest, but it can seat two people at once.
Upholstered Chairs
The 4 dining chairs are fully upholstered in a wonderful blue linen fabric that makes this black 6 piece dining set much more comfortable. They also have button tufted details on their backrests that provide them with additional elegance.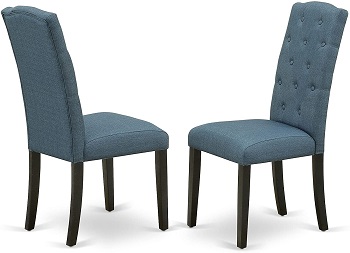 Easy To Clean
Note that this 36-inch wide rectangular dining table requires very little maintenance. To clean it properly you can use any furniture cleaner you like. Make sure that you don't choose an abrasive detergent because you might unintentionally damage the quality of the set.
Short Description:
constructed out of high-quality Asian wood
features a very spacious rectangular design
comfortably seats up to 6 people at once
upholstered chairs with button tufted details
very easy to clean and maintain
Best Modern Black 6 Piece Dining Set
Furniture of America Pub Dining Set
Modern Look
Out of all reviewed models, this 6-person counter height table set features the most modern-looking design. It has a triangular tabletop surface that sits atop bold block legs that provide it with the needed support. Both the included bench and the chairs are padded with leather material that provides an amazing comfort level.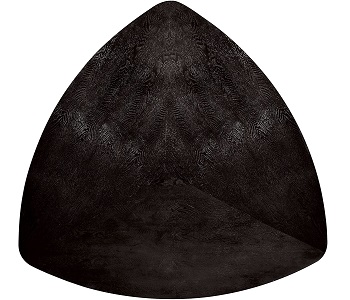 Counter-Height Design
This is the only black dining set with 6 pieces I reviewed in this post, that comes in a counter height. This feature makes it a highly convenient choice for use in family dining rooms and kitchens, but also in smaller bars and pubs.
Triangular Dining Table
As I mentioned above, this small 6 person dining table comes in a triangular shape. It has an additional triangular surface that is placed just below the table's top. It provides it with additional stability and structure. You can even use it as a storage shelf for some smaller pieces.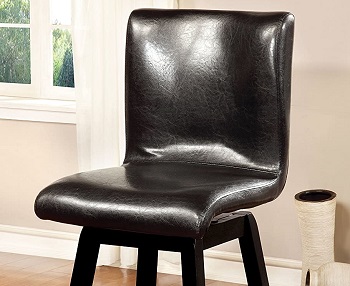 Swiveling Chairs
The 4 dining chairs feature a highly convenient swiveling design thanks to which you can easily turn around without leaving the chair. They have fully upholstered seats and backrests and even feature additional bottom footrests that will help you relax completely.
Short Description:
a beautiful modern appearance
features a counter-height design
solid wood and wood veneer construction
triangular dining table with bold block legs
leather-covered dining chairs and a bench
a highly convenient swivel-chair design
Best Wooden Black 6 Piece Dining Set
East-West Furniture Dining Set
Square/Rectangular Design
If you are looking for a spacious model that takes up very little floor space, this set is the perfect fit for you. It features a somewhat smaller square design that can easily be extended into a more spacious rectangular shape.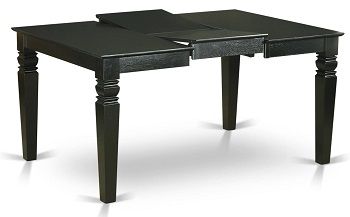 High-Quality Structure
Another thing worth knowing is that this black 6 piece dining set features a high-quality structure. It is entirely made out of Asian hardwood and it contains absolutely no MDF, veneer, or laminate material.
Self Storing Leaf
The best thing about the extendable leaf is that comes with this 42-inch dining table set is that it features a self-storing design. Thanks to this feature you won't need any additional storage space for it while it is not in use.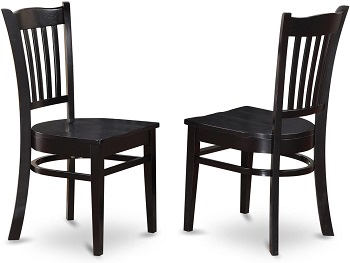 Precise Dimensions
This solid wood dining set for 6 features one dining table, 4 chairs, and one dining bench. The table is 42/60 inches long, 42 inches wide, and 30 inches high; each chair is 21 inches wide, 18 inches deep, and 37 inches high; the dining bench is 52 inches long, 16 inches wide, and 18 inches high.
Short Description:
features a square/rectangular design
a highly convenient self-storing leaf
100% Asian hardwood construction
no MDF, veneer, or laminate material
Best Cheap Black 6 Piece Dining Set
Better Homes and Gardens Dining Set
Two-Tone Design
This 6 piece farmhouse dining set features a beautiful two-tone design. Its entire structure comes in a clean black color while its seats and the tabletop surface come in a beautiful oak color that provides the set with a much warmer feel.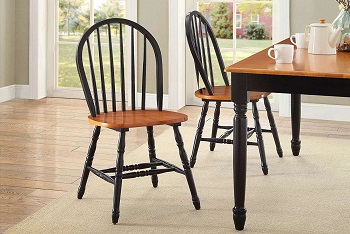 Beautiful Details
Note that this 6-piece dining set in black color offers beautiful details that make it much more eligible. The bottom feet of the table and the chairs are beautifully carved making this ser an eye-catching piece no matter where you place it.
Supportive Backrests
The chair backrests are specially designed to provide you with an optimal comfort level. They are even slightly curved to ensure that you can rest and relax while sitting at the table. Keep in mind that the seats aren't padded so you might consider getting additional seat cushions.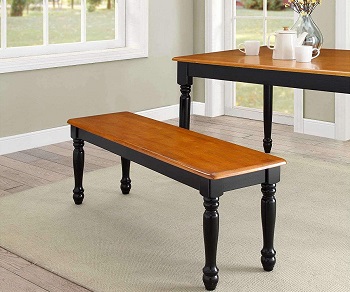 Lowest Price
Keep in mind that this farmhouse dining set for 6 isn't really cheap. However, it is listed at the lowest price out of all models I reviewed in this post. This makes it an amazing choice for everyone looking for a more budget-friendly option.
Short Description:
comes in a standard rectangular size
features a two-tone black and oak design
comes with versatile beautiful details
highly supportive and slightly curved backrests
listed at the lowest price out of reviewed models
What To Consider About The Best black 6 Piece Dining Sets?
6-piece black dining table sets can easily fit into both modernly designed homes and rustic ones. Here are some things you should keep in mind when choosing the model you want to buy.
Elegant Design – The great thing about having a black 6-piece dining table set is that it provides a very high level of elegance and sophistication to any room. It can work perfectly in a kitchen, a family dining room, living room, etc.
Color Combinations – If you don't want to have a completely black dining table set you can find some models that offer different color combinations. For instance, two-tone dining sets are an amazing choice if you want to have a colorful set that offers some elegance at the same time.
Regular Vs Counter Height – Another thing you should consider is whether you want a "regular" or a bar height table for 6. Both are a great option, meaning, you can choose the perfect black 6 piece dining set based on the design you like better.
Extendable Size – Some of these models come with an additional extendable leaf that will provide you with additional space. They are an amazing choice for everyone who loves to host dinner parties or larger gatherings.
Seating Arrangements – The last thing you should think about is the seating arrangement that the black dining table set with 6 pieces you like provides. Some models come with fully upholstered seats, others have high supportive backrests, etc.