Searching for a 10-seat farmhouse table that you can use in your kitchen or dining room?
Great, because we found 4 models in different styles and reviewed them for you!
In the first part of the article, you can read reviews of large, rustic, and wooden farmhouse tables that seat up to 10 people so that you can figure out which one suits your needs the best. In the second part of the article, you can learn about features that make the best farmhouse tables to seat 10 people so that you know which qualities to concentrate on when shopping.
The Rundown
4 Best 10-Seat Farmhouse Tables
Best Of Best 10 Seat Farmhouse Table
Signature Design Farmhouse Table For 10
Seats 8 To 10 People
This farmhouse table comes in chipped white color and features an extension leaf that expands it from 78 to 96 inches in length. That way it can comfortably seat 8 to 10 people. The table is also 30 inches high and 42 inches wide, making it a perfect rectangular shape for your long dining room.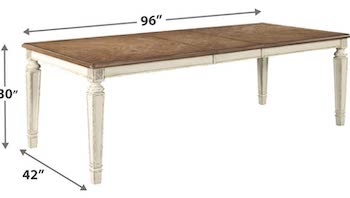 Two-Tone Finish
If you want to save space, you can also collapse the extension leaf to make the table 78 inches long. The antiqued finish in two tones will go great with most farmhouse styles and other rustic elements in your kitchen or dining room. The table is crafted from engineered wood along with cast resin components and veneer.
Details Make The Character
You will have to assemble this 10-seat farmhouse table upon receiving it and all the necessary hardware, tools, and instructions will come included to make it as easy as possible. The beautifully crafted details on the edges of the table and the four legs will bring character to your dining room.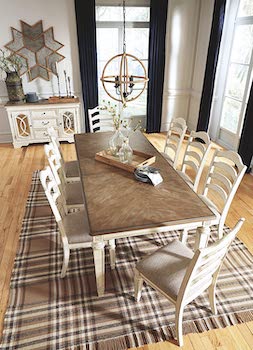 Traditional Cottage Style
The distressed finish on the tabletop and the traditional cottage design along with the white and brownish shades make a perfect statement piece in farmhouse kitchens and dining areas. It is large enough to fit 10 people, ideal for big families and people who love to entertain.
Short Description:
expands from 78 to 96 inches with a leaf
comfortably seats 8 to 10 people
white and brownish distressed antique finish
engineered wood with cast resin and veneer
traditional cottage design with rustic details
Best Large 10-seat Farmhouse Table
Laurel Crown 10-Seat Farmhouse Table
Solid Mahogany Wood
This large farmhouse table seats 10 people and is 94.5 inches long. It is also 30.5 inches high and 43.5 inches wide so that you can fit four seats on each side of the table and one seat on each end of the table, as well. The rectangular 10-seat farmhouse table is made of solid mahogany wood and comes in a satin semi-gloss finish.
Durable Without Details
The 8-foot dining table is ideal for your farmhouse kitchen or dining room if you have a large family or love to entertain and have guests over. Its darker color could be a great contrast to other lighter colors of the farmhouse style. It is built with durability and sturdiness in mind, so it has a really simple build without much detailing.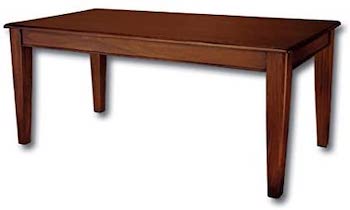 Lacquer Finish
The medium-dark brown tone of the table is achieved by using 100% solid Honduras mahogany wood when crafting this table. It will thus be able to withstand frequent use and be long-lasting. The wood has a lacquer finish that also gives the table a nice satin sheen.
For 8 To 10 People
At this table, you can comfortably seat between 8 and 10 people, ideal for holidays and parties. It can become a centerpiece of the dining area thanks to its massiveness and length. When combined with lighter tones of dishes on top, it can give off an even more of a farmhouse-style look.
Short Description:
94.5 inches long, 39.5 high, 43.5 wide
100% solid Honduras mahogany wood
built for durability and sturdiness
medium-dark brown with a satin sheen
comfortably seats between 8 and 10 people
ideal for hosting, holidays, and parties
Best Wooden 10-seat Farmhouse Table
Flash Furniture HERCULES Farmhouse Table
Rectangular Centerpiece
This model of a farmhouse table is 9 feet long and 40 inches wide to give your dining room a rectangular centerpiece where your whole family can come together to dine and converse. Apart from large households, it is also a great model for large dining rooms where you can entertain guests and celebrate holidays.

Solid Pine Wood Craft
The 10-seat farmhouse table is made from solid pine wood and has a 0.75-inch thick tabletop with a 4-inch apron. Moreover, the base of the table consists of four legs that are also foldable by pushing the pins out. When the pins are pushed in, the legs of the table will be secured. By folding the legs, the table can be easily stored or transported if needed.
Antique & Rustic Look
This table is available in an antique rust color that brings country-charm to the dining area. The rustic dining table seats 10 people, one at each end of the table, and four at each side of the table. Supported by metal braces, the four legs of the table are 3.5 inches thick and come in a square shape.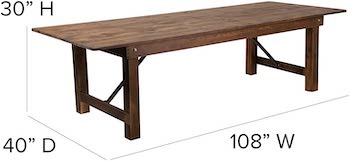 108-Inch Length
To create a rustic atmosphere at the dining table, it can be used without decorative linens and tablecloths so that the wooden look is always on display. The 108-inch long table is also 30 inches high so that you can combine it with seating benches or chairs to create a farmhouse dining experience.
Short Description:
108 inches long, 40 wide, 30 tall
constructed from solid pine wood
o.75-inch thick tabletop, 4-inch apron
four folding 3.5-inch square legs
antique rust color for country charm
foldable for easy transport or storage
the pins push out for folding
Best Extending 10-seat Farmhouse Table
Biscottini Farmhouse Table For 10
White & Walnut Colors
This two-tone table is a great example of farmhouse style as it combines white and walnut colors. The structure of the table is white, while the tabletop is walnut in color. This type of 10-person extendable dining table is a great solution for smaller spaces and dining rooms that don't have to seat 10 people every day.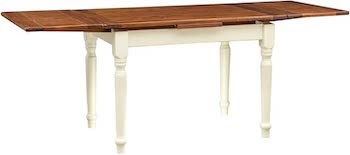 Seats 4 to 10 People
Moreover, by using the extension leaves, the table can go from a 4-seat capacity to a 10-seat capacity easily. Also, each of the two extension leaves measures 45 centimeters so that the 120-centimeter table can be extended to 165 or 210 centimeters with ease. Extending the table is easy and only one person is needed for the job.
Linden Wood Craft
This 10-seat farmhouse table is crafted from solid linden wood and lasts for a long time, withstanding even frequent everyday use. For cleaning, you should use a non-abrasive detergent and then wipe the surfaces dry afterward. With the central opening system, you can choose to use only one or both extensions at once.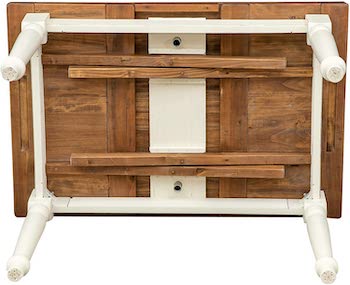 Easily Extendable
When fully collapsed, the table can seat between 4 and 6 people which is mostly enough for immediate families. When guests pop around or you plan a night of entertainment, it will be easy to extend so that the farmhouse dining table seats 10. For seating 8 people, it is enough to extend only one leaf.
Short Description:
solid linden wood table construction
a two-tone table in white and walnut colors
featuring two 45-centimeter extension leaves
extends to 165 or 210 centimeters with leaves
it can easily seat between 4 and 10 people
What To Consider In 10-Seat Farmhouse Tables?
Seeing as the market favors farmhouse style, there are many sizes and colors for dining tables available. When it comes to 10-seat farmhouse dining tables, besides the size, you should also keep the material in mind to get a sturdy and durable piece of furniture. Similarly, you should also consider the shape of the table and keep in mind other qualities that make the best user-friendly tables.
Farmhouse Style – Farmhouse kitchens usually incorporate a dining area in them as well and are mostly suitable for feeding larger groups of people at once. The style's main focus is on natural materials as well as neutral and earth-tone colors, such as white, beige, and gray. To start the foundation of farmhouse style, you should choose a table in these colors.
Farmhouse Materials – When we talk about materials tables are made out of, the market offers a vast array of options, from plastic, glass, metal, to stone, and wood. To get a country-charm piece, you should look for wooden models. Besides, these wooden tables will be durable and sturdy.
The Size – You are probably wondering how large the table has to be able to fit 10 people at it. When it comes to rectangular models which are most popular for large capacities, the table will have to be at least 8 feet long to be able to seat 10 people. Some tables can achieve that with extension leaves, which is great for spaces that don't have to seat 1o person all the time.
Table Shape & Support – Dining tables come in square, rectangular, round, and oval shapes. Further, rectangular solutions are the most popular for large capacities. Likewise, the table can have differently shaped bases and trestles, pedestals, and legs are the most popular. Pedestal and trestle are great if you want to be able to add more seats to the table easily.
Other Qualities – When purchasing a table, look for models that are easy to assemble and that are also easy to keep clean. Most importantly, go for the style you want, make sure it is easy to put the chairs under it, and that it is stable and durable. To get the right size, also keep in mind that each place at the table needs around 22 inches of space.
To Wrap It Up
Our top pick for a 10-seat farmhouse table is the Signature Design dining table. This model comes in chipped white with detailing on the edge and the legs and is made of a combination of wood, veneer, and cast resin. It is 96 inches long so that it can fit between 8 and 10 people. If you'd like to check out other types of 10-person tables in farmhouse style, take a look at our reviews of 10-person farmhouse tables. For sets of a table with 10 seats, consider our selection of dining table sets for 10.