Are you in the market for an 11-piece dining room set to place in your kitchen and dining space?
If yes, you have come to the right place!
Read this article if you wish to read reviews of counter height, farmhouse, formal, and contemporary models of dining room sets. Besides that, you can also check out our guide where we talk about qualities to keep in mind when shopping for such a set. That way, you will be able to get the best model suited to your needs.
The Rundown
5 Best 11-Piece Dining Room Sets
Best Of Best 11 Piece Dining Room Set
Hillsdale Park Avenue 11 Pc Dining Room Set
Extendable Table & 10 Chairs
This 11-piece dining room set includes 10 chairs and a table. The set is both sturdy and stylish and can be used in dining rooms as well as open-plan kitchens that are used for dining, as well. The 11-piece extendible dining set features two 12-inch leaves so that the table can measure up to 108 inches in length to seat up to 10 people.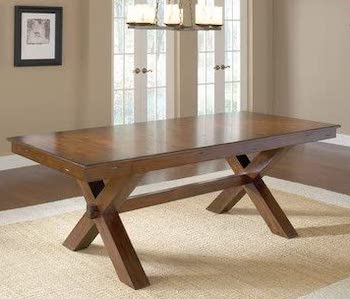 Dark Cherry Finish
The dining table has a trestle support base so that it can fit between 6 and 10 chairs under the tabletop easily. By seating up to 10 people, it is ideal for large families and guest-entertainment. The set comes in dark cherry color and the chair upholstery is dark brown.
Faux Leather Upholstery
The table measures 84 inches in length without the extension leaves and is also 40 inches wide and 30 inches tall. The chairs are 41 inches high and have a ladder-style back. The brown upholstery comes in a faux leather style so that the seats are also easy to keep clean.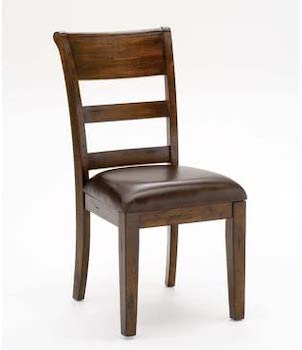 Seats 6 When Collapsed 
The distressed dark cherry finish will go nicely with some lighter-colored elements to make a stylish dining experience in your home. When you collapse the table, it will be enough to seat 6 people which is mostly enough for immediate families.
Short Description:
includes a dining table and 10 chairs
sturdy set in dark cherry finish
two 12-inch leaves for extending the table
the extendable table seats 6 to 10
faux leather brown chair upholstery
Best Counter Height 11 Piece Dining Room Set
17 Stories Everly 11 Piece Dining Room Set
34-Inch Table Height
If you want a dining set that will be counter height, this model might be the one for you. Firstly, it measures 34 inches in height with a seating height of 19 inches. It includes a counter-height table with 10 chairs in gray color. The table has leg support with a crossbar and exposed nuts and bolts that give it an industrial accent.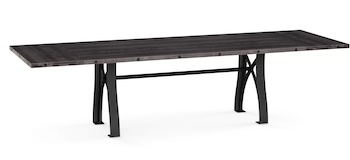 Metal & Wood Construction
The tabletop is crafted from distressed solid birch wood and includes two extension leaves. The base of the table is made from metal. Moreover, the table can seat 8 people when fully collapsed, and 10 people when extended. Each chair supports up to 300 pounds and the seating color is gray. The table base is black in color.
Old Industrial Style
For lovers of industrial style, this 11-piece dining room set will bring elements of old factory-style straight into the everyday space. To give the birch tabletop a distressed look, the wood is scored and rubbed through. All the items are unique in color and finish due to natural factors.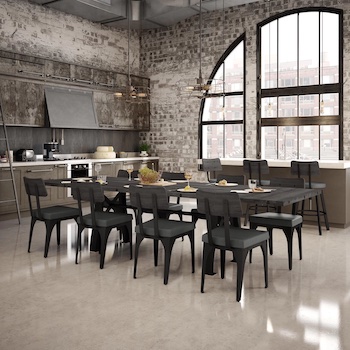 120-Inch Table Length
Once fully extended, the table will measure 120 inches in length, and when you fully collapse it, it will measure 84 inches in length. The tabletop is 1 inch thick and the legs are 33 inches tall to give the overall 11 piece counter height dining set.
Short Description:
1-inch thick tabletop and 33-inch long legs
34-inch counter height, two extension leaves
metal table base, distressed solid birch tabletop
industrial style with metal and exposed details
120-inch extendable table with 10 chairs
it can seat 8 to 10 people easily
Best Farmhouse 11 Piece Dining Room Set
Sunset Trading Brook 11 Piece Dining Room Set
Hardwood & Oak Material
Firstly, this 11-piece farmhouse dining set includes a table with 10 sitting chairs. Among the 10 sitting chairs, there are 8 side chairs and 2 armchairs that go on each end of the table. Secondly, the set is made of wood materials, such as hardwood and oak. Finally, the chairs have ladder-style backs and the dining table is extendable to be able to seat 10 people.

Pecan Wheat Color
Both the table and the chairs come in pecan wheat lacquer finish. The traditional style and the natural colors of this 11 piece dining room set are great for fitting into your farmhouse-style dining area. With the extendable table that offers 4 different sizes, you will be able to seat your large family for a meal at once.
Expands To 4 Sizes
The table can be 62 inches long, or 86 inches long. For larger groups of people, you can also expand it to 110 or 134 inches in length. That is possible with the help of three 24-inch extension leaves. The country-cottage table collapses to a smaller size for everyday life but is also very easy to extend for entertainment nights and holiday dinners.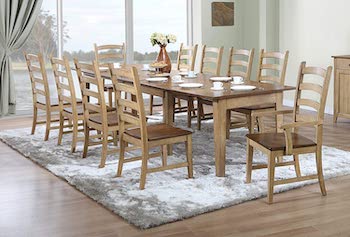 How To Clean?
The 10-person farmhouse dining table can be dusted with a soft cloth or a light furniture polish. To protect the finish, always wipe dry after spills and don't use abrasive detergents on the surfaces of the 11-piece indoor dining set.
Short Description:
a 4-size table with 10 sitting chairs
hardwood and oak wood construction
with a pecan wheat lacquer finish
includes 8 side chairs and 2 armchairs
extendable to 4 different sizes
extends from 62 to 134 inches
features three 24-inch leaves
Best Formal 11 Piece Dining Room Set
European Furniture Valentina 11 Piece Dining Table Set
100% Hand-Carved
If you are looking for an 11-piece dining room set to use in your dining area separate from the kitchen, this set in a formal style is a good choice. The set is made of 100% solid mahogany wood and is 100% hand-carved. It includes a long oval table with 10 chairs, including two armchairs and eight side chairs.

Combination Of Finishes
The 11-piece formal dining room set comes in a combination of antique silver and dark bronze finishes. However, the tabletop has a natural finish with 7 layers of polyurethane and is polished for a super smooth tabletop experience. At the same time, the tabletop has a pattern design on it, giving off a majestic look in the dining room, ideal as a centerpiece of the space.
Rich Patterns & Details
Handmade by craftsmen, the patterns are inlaid in the tabletop and the supporting columns are curved, giving off a luxurious style. The chairs have upholstered seats from Italian leather. The backrest on the chairs is made from fine fabric. To seat up to 10 people, the tabletop can extend from 95 to 116 inches with the help of a 21-inch leaf.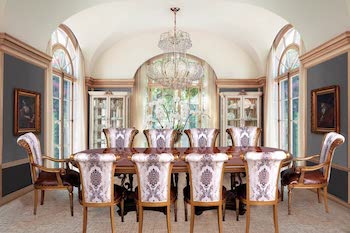 Great For Formal Dining Rooms
Rich in detail, the dining set will look great in formal spaces, away from the smell and the noise of cooking food in the kitchen. If you love the luxurious style, you can't go wrong with this set, perfect for staging formal dinner parties.
Short Description:
includes an oval table and 10 chairs
2 armchairs and 8 side chairs
100% handmade from solid wood
antique silver, dark bronze, natural finishes
the 95-inch table extends to 116 inches
Italian leather seat upholstery, fine fabric
Best Contemporary 11 Piece Dining Room Set
Lexington Laurel Canyon 11 Pc Dining Room Set
Cherry & Gray
In case you are looking for an addition to your modern kitchen and dining space, this contemporary 11 piece dining room set could be the answer. It includes a cherry-finish table with 10 gray upholstered chairs. The set of chairs includes 2 armchairs that go on the ends of the table and 8 side chairs so that you can fit 4 of them on each side of the table.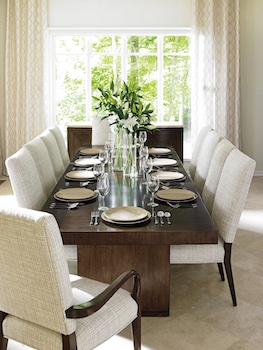 Double Pedestal Base
Both the top and the base of the table are made from solid and manufactured wood in cherry color. Likewise, the arms and the legs of the chairs come in the same color, as well. The rectangular table is 88 inches long and has a double pedestal base to make it sturdy. The linen upholstery material of the chairs is gray to contrast the dark color of the wood furniture.
Two 20-Inch Extension Leaves
The extendable table has two 20-inch leaves which make it perfect for hosting parties where you can seat up to 10 people at the same table. Once you extend it fully, it is 128 inches long to seat 10 people. When you collapse it, it can still seat 8 people comfortably.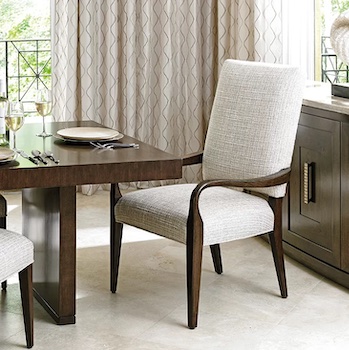 Comfortable Look
By combining the table with the chairs, your dining room can look both comfortable and curated at the same time. The table is 30 inches tall and 46 inches wide. Similarly, the chairs are 43 inches high, but the armchairs are wider than the side chairs.
Short Description:
cherry-finish table with gray upholstery chairs
includes 2 armchairs and 8 side chairs
solid and manufactured wood construction
88-inch table extends to 128 inches
features two 20-inch extension leaves
it can seat between 8 and 10 people
gives a comfortable and modern look
What To Consider In 11-Piece Dining Room Sets?
To start, you should keep in mind the style you want as an 11-piece dining table and chairs are available in many styles. Secondly, you should consider the size and the height of the furniture and you should also keep an eye out for the material of the furniture. In addition, here you can also read about other qualities that make sure your dining set is tailored to your needs.
The Style Of The Set – The market offers a vast array of furniture styles, including modern, rustic, farmhouse, antique, retro, as well as industrial, and many other styles. When choosing, you will usually pick a style that goes with the rest of your kitchen space but you can also always be bold and change it up a bit.
Size & Height – Most 10-chair dining room sets are expendable so that they don't have to take up as much space if not needed. Equipped with extension leaves, it will be easy to collapse and extend the tables when needed. As for the height of the table, most models are around 30 inches high, but you can also pick high-top tables that measure between 34 and 39 inches in height.
Furniture Material – Besides choosing the style, you can also choose among the different materials that make the table and chairs. Some of the most popular materials include solid wood, veneer, glass, and metal. However, an 11-piece dining room set can also be made of stone, plastic, and other materials.
What Does A Dining Set Include? – Besides a table, a set for the dining room also comes with sitting chairs. In an 11-piece set, there is usually one dining table and 10 chairs. Chairs can also be armchair or side chair style so that the chairs that go on the ends of the table differ from the side chairs. A table can also be extendable so that you can tailor it to the size of the room.
Other Qualities – To get a user-friendly set, go for comfortable chairs that are easy to maintain clean, as well as a sturdy table that is easy to keep clean. Moreover, also make sure that the chairs can go under the table easily. Most importantly, consider models that are easy to assemble. Also, you can choose between oval, round, rectangular, and square table shapes.
To Wrap It Up
In conclusion, our favorite 11-piece dining room set is the Hillsdale Park Avenue set. Firstly, it features 10 chairs and an extendable table to be able to seat 10 people. Secondly, it comes in a traditional style with a dark cherry finish and is sturdy. Thirdly, it is also comfortable thanks to the faux leather brown upholstery on the seats. Finally, if you wish to check out dining table sets with 10 chairs, you can do so by reading our reviews of 10-chair dining table sets. If you love modern furniture, make sure to check out our selection of modern 10-seater dining tables.