Looking to update your dining room with a 12-seat dining table set? Or maybe you need one for moving into your new home?
Whatever the case, here you can find reviews of sets in different styles!
Keep reading this article to find out about the features of solid wood, farmhouse, and square dining table sets that can set up to 12 people. Moreover, here you can also find the qualities to look for when buying a dining table set. That way, you can make sure to suit the dining room set to your needs.
The Rundown
BEST OF BEST 12 SEAT DINING TABLE SET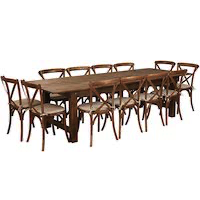 Flash Furniture HERCULES Dining Set
Featuring a 9-foot folding table with 12 cross-back chairs and cushions, the set is comfortable and durable with a solid pine tabletop.
Jump To Review
BEST SOLID WOOD 12 CHAIR DINING ROOM SET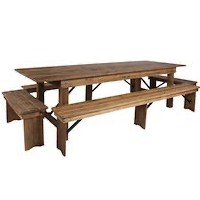 Flash Furniture 12-Seat Dining Table Set
With a solid pine tabletop and four benches in antique rustic style, it seats 12 and can be easily transported thanks to the folding legs.
Jump To Review
BEST FARMHOUSE 12 SEAT DINING TABLE SET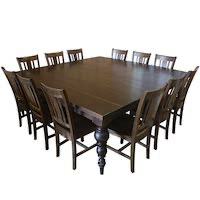 James+James Dining Set That Seats 12
With natural materials and colors, it is a great set for farmhouse style, featuring a square table with 12 chairs in a distressed look.
Jump To Review
3 Best 12-Seat Dining Table Sets
BEST OF BEST 12 SEAT DINING TABLE SET
Flash Furniture HERCULES Dining Set
A Table With 12 Chairs
This 12-seat dining table set consists of a folding farm table and 12 chairs featuring a cross backrest, as well as cushions for the chairs. It comes in a rustic style and can be used in farmhouse kitchens to seat up to 12 people. The dining table is rectangular and seats two chairs on each end and four chairs on each side.
Foldable Leg Design
The table is made from wood with a solid pine top and a wide apron. The legs of the table are foldable so that you can take transport or even store it when not in use. For instance, it can even be used outdoors for a barbecue during the nice weather. To fold the legs, simply push the pins out and the legs will come flush against the back of the tabletop.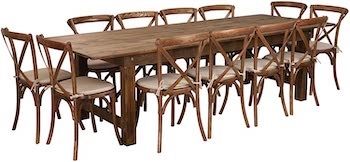 Comfortable & Safe
Moreover, once the legs are folded, they also lock securely under the tabletop so that it is safe to transport the table and carry it outside for a barbecue with family and friends. Each of the chairs comes with a 1-inch thick cushion for comfort. Likewise, you can stack the chairs on top of each other for storage. The chairs also have floor-protective pads on the legs.
9 Feet Long
The 9-foot long table is also 40 inches wide and its color brings warmth to the kitchen and dining area. With the wooden construction, it is durable. The robust design makes it suitable both for residential use and for restaurant use.
Short Description:
9-foot table with 12 stackable chairs
the table has folding legs for storage
the pins push out for folding the legs
the cross backrest on chairs with cushions
solid pine wood tabletop with an apron
BEST SOLID WOOD 12 CHAIR DINING ROOM SET
Flash Furniture 12-Seat Dining Table Set
Solid Pine Wood
In this set, you will get a table and four benches so that you can seat up to 12 people at the same table at once. The rustic table is 9 feet long and 40 inches tall, crafted from solid pine wood, and features a 0.75-inch thick tabletop with a 4-inch apron around it. This is one of the dining room sets that seat 12 people by using benches instead of chairs.
With Foldable Legs
Both the table and the benches have folding legs so that this set can be stored away when not needed or even transported easily if necessary. The two large benches measure 96 inches in length, and the two smaller ones measure 40 inches in length. The solid wood dining table seats 12 and is ideal for both home and restaurant use.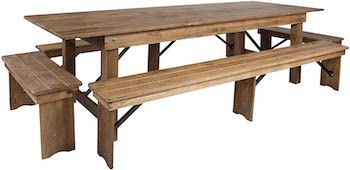 Rustic & Country Charm
The rustic and country-charm are great for farmhouse style but also easily conform in modern environments. To achieve the style you want, you can also use tablecloths on the table and some kind of cushions on the benches. By seating up to 12 people, you will have enough space to serve dinner to your family and friends at once.
How To Care For It?
The pins pull out to collapse the legs which then lock securely allowing you to transport the table and benches to different event locations and even outdoors during the nice weather. To keep the set clean, use water-based cleaners and then dry the surfaces.
Short Description:
includes a table and four benches
solid pine wood construction
a 9-foot long table with folding legs
two 96-inch benches, two 40-inch benches
easy transport; benches also have folding legs
seats 12 people; for large families and friends
BEST FARMHOUSE 12 SEAT DINING TABLE SET
James+James Dining Room Set That Seats 12
Solid Wood Construction
This 12-seat dining table set differs from the previous models as the table comes in a square shape. The table is made from solid knotty alder hardwood and is accompanied by 12 sitting chairs. Likewise, the chairs are made from solid parawood hardwood to go great with the square table. Three chairs go on each side of the table.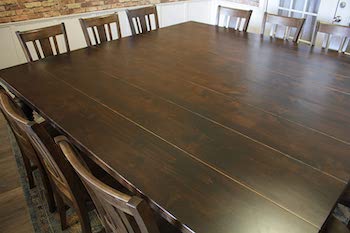 In Different Finishes
With a square shape, the table measures 84 inches in width and length and is 30 inches tall. Each of the chairs is around 17.25 inches wide. The set comes in many different finishes so that you can choose the one that best fits your style and space. You can choose between Barnwood, charred ember, Tuscany, harvest wheat, and tobacco finishes.
Unique Distressed Look
The base of the table features four legs with turns to bring details to your dining room. The turns on the legs are the most emphasized at the top and go smaller towards the bottom. Moreover, on each table, the markings, wood grains, and knots are different for a unique distressed look.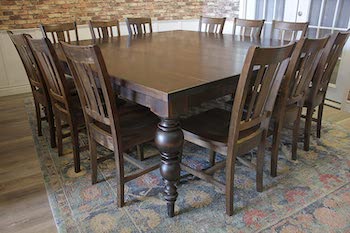 Polyurethane Finish
The polyurethane finish makes the tabletop easy to clean. The jointed grooves on the table don't make it hard to clean the tabletop as all the openings are filled for easy maintenance. If you have a large family and wish to fill your farmhouse kitchen and dining space with a square table and chairs, this might be the right solution for you.
Short Description:
solid knotty alder hardwood square table
12 solid parawood hardwood chairs
84 inches wide and long, 30 inches high
available in 5 hardwood finishes
easy to clean; all the openings are filled
three chairs go on each table side
turned leg design with over-emphasis
What To Consider In Dining Room Sets That Seat 12?
To seat 12 people for a meal, you might have to invest in a dining table set with 12 chairs. However, a 12-person dining room set can also include a table with benches that can seat up to 12 people. That is why it is important to look for the size, style, and material of the set. Moreover, you should also consider some of the below-mentioned qualities that make the set user-friendly.
The Size – Depending on the shape of the table, it will be differently sized to be able to seat 12 people at once. You will usually need to have 22 to 24 inches of space for each place at the table. Rectangular tables will have to measure around 120 inches in length, while square tables will have to be over 80 inches wide and long to be able to seat 12 people.
The Style – The market offers many different 12-chair dining table sets to fit different styles and needs. Some of the most popular dining room set styles are modern, farmhouse, rustic, industrial, but also traditional, classic, and more. Therefore, you have a large array of models to choose from when shopping.
The Material – Depending on the style you choose, you will also be able to pick between different materials. In other words, you can choose between veneer, solid wood, plastic, metal, glass, stone, and many other materials for your 12-seater dining table and chairs. Above all, make sure the material is durable and that the dining room sets that seat 12 are stable and sturdy.
Qualities Of The Table – When picking a dining table, make sure it is easy to assemble, as well as easy to keep clean. Besides that, also look for models that can easily fit the chairs under to save space around the table. Furthermore, you can choose between round, oval, square, and rectangle table shapes.
What Else? – When choosing a dining table set 12-seater, make sure it can fit the space in your kitchen or dining room. To achieve that, you will need to make sure there are 3 feet of breathing space around all the sides. To easily add chairs to the table, the base of the table is also important. Most popular table bases include legs, pedestals, and trestles.
To Wrap It Up
To sum everything up, we have picked the Fresh Furniture HERCULES set as our top choice. This 12-seat dining table set gives an antique rustic charm to space and features a 9-foot table with folding legs. The 12 chairs come with cushions for more comfort. With solid wood and solid pine wood construction, it is durable and long-lasting. For more 12 seaters, check out our selection of 13-piece dining room sets. If you'd like to seat 10 people at a table, look at the reviews of 10-chair dining table sets.