Looking to please everyone in the family by adding a cute toaster oven to your kitchen countertop assemble of appliances?
Great, because we chose and reviewed 6 different models for you to choose from!
Continue reading this article to find out more about convection, combo, pizza, big, and small models the market has to offer in different colors and playful designs. Moreover, you can also skim through our buying guide where we mention the technical specifications and features that make the best toaster ovens on the market to ease the process for you. Happy reading!
The Rundown
Top 6 Cute Toaster Ovens
Best Of Best Cute Toaster Oven
Dash Toaster Oven In Pink
For Small Portions
If you want a small-size toaster oven in a girly color, this model could be the one for you. It can be used to toast bread but also prepares pizza, bagels, cookies, and paninis. It is ideal for on the go and prepares smaller portions of food. It is equipped with a timer and features an oven door with a glass viewing window.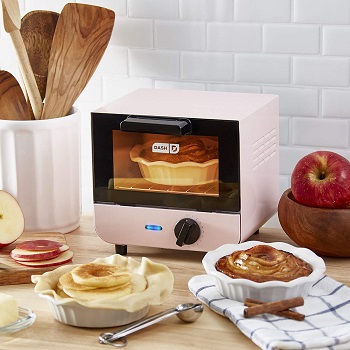 Dishwasher Safe Parts
Inside the pink toaster oven, you will get a baking tray and an oven rack included. A crumb tray is also included and collects the drips and crumbs so they don't make a mess on the countertop. It is easy to remove for cleaning, along with the other accessories, and are all dishwasher safe.
Auto Shut-Off
The oven timer can be set up for up to 15 minutes, allowing you to prepare toast with a lighter or a darker shade, depending on your preference. Once the time is up, the unit automatically turns off. It won't take up a lot of space on the countertop and can even be a good gift for someone moving into a studio apartment.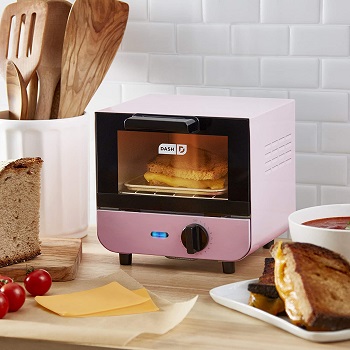 Browns Evenly
Thanks to its small size, this cute toaster oven is also more energy-efficient than conventional ovens. The bread will be evenly browned on both sides thanks to the oven rack in the middle. As it is easy to use with just one control knob, anyone can use the oven to prepare a toast for breakfast and more.
Short Description:
for toast, pizza, bagels, cookies, paninis
small size for small food portions
a 15-minute timer with auto-shutoff
a baking tray and oven rack included
dishwasher safe crumb tray and parts
Best Convection Cute Toaster Oven
Nostalgia Toaster Oven Aqua
Large Capacity
This toaster oven comes in aqua color and has a retro feel to it. It features two oven racks inside and has a large capacity of 0.7 cubic feet. It can fit two 12-inch pizzas inside the oven at once, or even 12 slices of bread. Besides that, it can also be used to make cookies, steaks, casseroles, etc.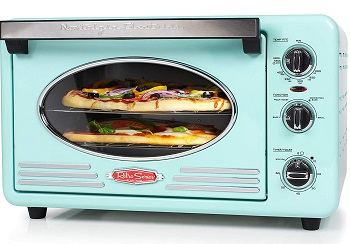 Adjustable Features
The cute toaster oven door features a window for taking a peek inside the oven during the cooking process. On the right side of the door, there is a control panel consisting of three turning knobs. These knobs are used for adjusting the temperature, choosing a cooking function, and setting up an oven timer.
4 Cooking Options
The temperature of the oven can be adjusted from 200 to 450 Fahrenheit degrees and offers functions for baking, pizza and toast, convection baking, and broiling. The oven timer can be set up for up to 60 minutes and produces a ding noise when the time is up to alert you of it.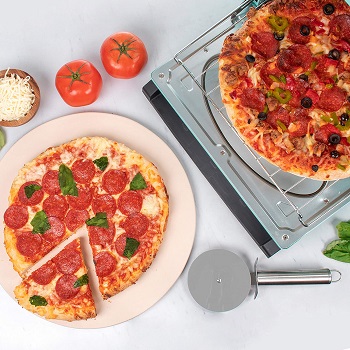 Uniform Heating
The wire racks are removable from the unit for easy cleaning, along with the crumb tray and the baking pan. The large convection toaster oven uses convection technology to reduce cooking time while providing uniform heat to bake foods more evenly. Its bright color will give any kitchen decor a pop of color with a retro vibe.
Short Description:
aqua color, 0.7 cubic feet capacity
holds 12 toast slices, two 12-inch pizzas
temperatures from 200 to 450°F
bake, pizza and toast, convection bake, broil
removable racks and a baking tray included
convection option for uniform heating
Best Combo Cute Toaster Oven
Hamilton Beach Toaster Oven Red
Space-Saving Design
This cute toaster oven comes in red color and is specifically designed to save extra countertop space to declutter the kitchen. This is possible as the unit features both a toaster oven and toaster slots at the top of the oven. To switch between using the oven and the toaster slots, you will simply have to slide the lever.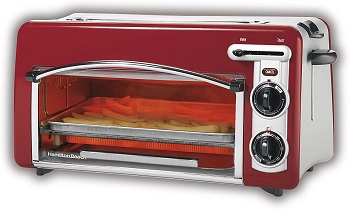 Faster & More Even Toasting
This unit uses 73% less energy than a conventional oven while toasting 24% faster and more evenly, and reheating up to 28% faster. The top slots work like a traditional toaster and are 1.5 inches wide, allowing you to fit in not just toast slices, but also bagels, and even English muffin halves.
Toaster & Oven Options
The oven can be used for two slices of a 16-inch pizza, and can also be used for nuggets, fries, and more. This toaster oven with toaster slots can be used to toast bread and allows you to choose between 6 settings on the toast shade selector. The oven can be controlled by setting the temperature up to 450 degrees Fahrenheit.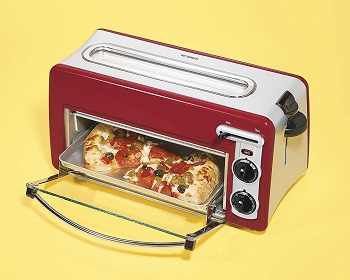 Multitude Of Oven Uses
The oven can also be used to prepare fish, chicken, sandwiches, and much more by simply adjusting the temperature. You will have both a traditional toaster along with the toaster oven at your disposal while saving precious countertop space.
Short Description:
a toaster oven with toaster slots on top
1.5 inches wide slots for bread, bagels, etc
the oven works with temperatures up to 450°F
the oven is used for fish, chicken, fries, nuggets, etc
the oven can fit up to two slices of a 16-inch pizza
uses 73% less energy, toasts 24% faster
it reheats 38% faster than conventional ovens
Best Pizza Cute Toaster Oven
Sengoku HeatMate Toaster Oven
Fast Graphite Heating
This cute toaster oven is available in eggshell white color to complement the look of any kitchen with ease. It features a door with a viewing window, a handle, and a control panel located underneath it. It uses revolutionary graphite heating technology that instantly heats the oven and reaches its maximum in under a second.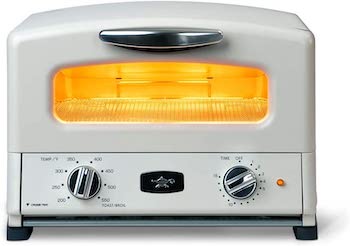 Fits A 9-Inch Pizza
You won't need to preheat the oven before using it as the graphite technology uses less wattage to provide more heat. Inside the oven, you can fit four toast slices or even a 9-inch pizza. The fast toaster oven heats 30% hotter than a typical toaster oven to reduce cooking time and save energy.
Timer & Temp Adjustments
The control panel is operated with two dials, one for setting the oven temperature, and the other for adjusting the oven timer between 1 and 15 minutes. The oven temperature can be adjusted between 200 and 550 Fahrenheit degrees, to be used for versatile cooking and baking needs.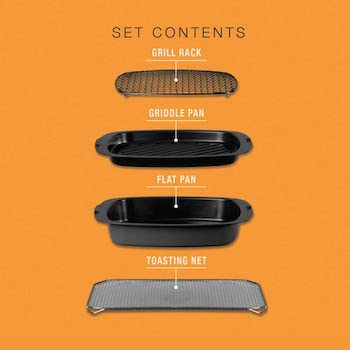 Versatile Use
The unit is easy to use and comes with four non-sticking baking trays included. It can be used for toasting, broiling, baking, roasting, grilling, keeping food warm, and reheating food. The unit comes in a compact size ideal for countertop use and has a vintage look.
Short Description:
eggshell white color, countertop compact size
graphite technology for very fast heating
fits 4 toast slices, a 9-inch pizza
it can bake, broil, toast, roast, reheat, etc
adjustable temperature from 200 to 550°F
Best Big Cute Toaster Oven
KitchenAid Toaster Oven In Aqua Sky
For 12-Inch Pizza
If you need a toaster oven big enough to prepare food for the whole family, this model might be the one for you. The cute toaster oven comes in aqua sky color and has enough room inside the cavity to fit 2 to 12-inch pizzas or even cornish hens. It is designed for countertop use and features a digital display with two turn-style knobs.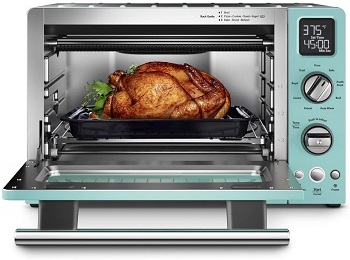 9 Memorized Presets
The digital convection toaster oven between 9 versatile functions and also lets you choose the oven temperature and timer. The convection technology provides even heating throughout the unit for delicious baking results. The 9 available presets are roast, broil, bake, toast, reheat, keep warm, and settings for pizza, bagels, and cookies.
Included Contents
The oven timer can be set up for up to 120 minutes to remind you when the dish finishes cooking for precise baking results. The cavity of the oven is non-stick coated for easy cleaning. Included in the package, you will get a non-stick drip tray, a cooling rack, a 12-inch multipurpose pan, and a 12-inch broiling rack.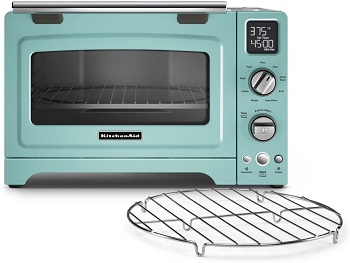 6-Slice Capacity
This model can be used for baking pizza, preparing side dishes, keeping dishes warm, and reheating them. It is also ideal for toasting up to 6 toast slices at once for breakfast. The unit is easy to operate thanks to the easy-to-read digital display with control knobs that turn easily.
Short Description:
aqua color, designed for countertop use
fits 2 to 12-inch pizzas or cornish hens
offers 9 cooking functions to choose from
toast, broil, roast, bake, reheat, pizza, cookies, etc
comes with a 12-inch pan and broiling rack
it can toast up to 6 slices of bread at once
Best Small Cute Toaster Oven
Iris Ohyama Toaster Oven Ash Pink
2-Slice Capacity
This 2-slice toaster oven comes in ash pink color and features two easy-turn knobs for set up. The control panel is located under the oven door with a viewing window and a large handle. The first of the two control knobs can be used to choose between 4 wattage settings, while the other can set the timer for up to 15 minutes.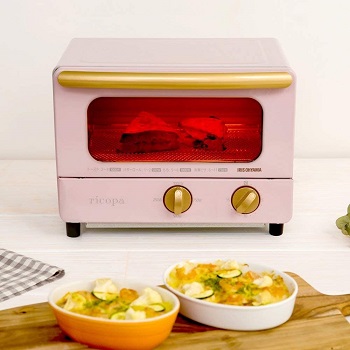 A Baking Pan Included
The cute toaster oven has a depth of around 22 centimeters and allows you to toast two slices of bread simultaneously. You can choose between power levels of 250, 500, 750, and 1000 Watts. To be able to use the unit to its maximal potential, you will get a baking pan in the package, as well.
Toasts & Grills
The oven can even be used for pizza and grilling foods. A grilling rack is included and can be easily removed from the unit for cleaning. The crumb tray collects all the fats, drips, and crumbs so they don't make a mess on the countertop and is also removable for cleaning.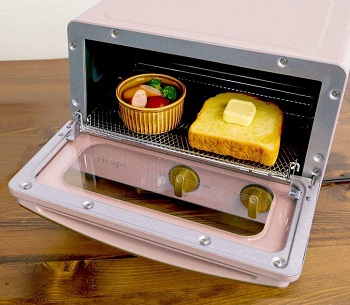 Various Cooking Options
This small appliance won't take up a lot of space on your kitchen countertop but will be helpful in preparing many dishes. To be able to use it for versatile meals, you will simply have to use a different combination of cooking minutes with one of the four power levels. That way, you will easily prepare mochi and other Japanese dishes.
Short Description:
small size, ash pink color
15-minute timer, 4 wattage levels
it fits 2 toast slices at once
250, 500, 750, 1000 Watts options
adjustable settings for versatile cooking
a baking pan and grilling rack included
removable parts for easy cleanup
What To Consider In Cute Toaster Ovens?
When buying a toaster oven that is cute, there is more to pay attention to than just its look. Firstly, we advise you to check out the oven capacity and that you make sure you understand how to use the unit. Secondly, you should also check out which cooking programs it has to offer and learn about accessories it usually comes included with.
Size – In this article, we presented toaster ovens in many different colors, including aqua toaster ovens, and in different styles, as well. The best model for you will be the one that can offer enough capacity for your needs, while also making sure its overall dimensions can fit your available countertop space.
Ease Of Use – A toaster oven should always be easy to understand to make sure it is simple to use. No matter if you go for a simple toaster oven, or one that offers many available presets and settings, both should be easy to operate. That is why it is important to look for intuitive control panels, displays that are easy to read, and controls and functions that are understandable and clearly labeled.
What Can It Do? – Besides looking cute, for a toaster oven to be inviting to use, it should also offer you different cooking options. The market mostly offers models that can not just toast, but also broil, bake, reheat food, or keep it warm. Some even have dedicated settings for pizza, bagels, cookies, and more.
Anything Else? – For cute toaster ovens to be the ideal choice for you, you should also keep in mind the following. If you invest in a convection model, it can help you reduce cooking time by circulating hot air inside the unit. That way, you will be able to enjoy crispy foods while saving time and making sure the food is cooked evenly.
Included Contents – A toaster oven usually comes with included accessories, such as a crumb tray, a baking pan, and an oven rack. Sometimes, you can even get multiple racks and pans, depending on the size of the unit. They should be easy to remove for cleaning. Besides them, you may also get a broiling rack and other necessary parts.
To Wrap It Up
Our favorite cute toaster oven is the Dash mini toaster oven in pink color. It is very easy to operate by adjusting the oven timer for up to 15 minutes so that anyone can learn how to use it. It can toast bread, or prepare small portions of pizza, bagels, paninis, and cookies. Finally, it is also easy to maintain clean with dishwasher safe parts. For other types of colorful toaster ovens, check out our selection of colored toaster ovens available on the market. If you are looking to invest in a toaster oven without breaking the bank, our list of best toaster ovens under $50 might help you out.