Desperate for a fast toaster oven that is going to help you prepare quick breakfast and snacks at any time?
If yes, you are in the right place!
Continue reading to check out 6 reviewed models, including air fryer, convection, combo, countertop, and affordable toaster ovens that work quickly to help you save time. Apart from that, you can also learn about technical specs to keep in mind when looking for the best model for your needs.
The Rundown
Best 6 Fast Toaster Ovens For Quick Breakfast & Snacks
Best Of Best Fast Toaster Oven
Panasonic Quick Toaster Oven
Double Infrared Heaters
This toaster oven has a capacity of 4 slices of bread, making it an ideal size for countertops and preparing toast for breakfast. It is equipped with quartz and ceramic infrared heating elements that provide even toasting and uniform browning as they are positioned in the front and the back.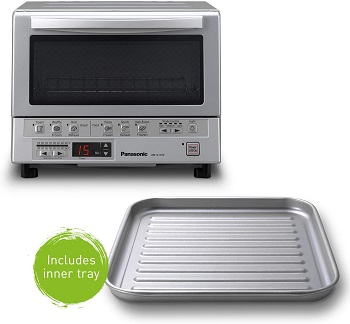 User-Friendly
If you love to prepare hors d'oeuvres at home, this fast toaster oven can help you do just that. The featuring glass door is see-through, allowing you to take a look inside the oven at any time. The door is connected to the oven rack inside, making it safe and easy to pull out.
Breakfast Presets & More
The infrared toaster oven allows you to precisely control the oven temperature while offering cooking presets that are just a click away. The control panel offers cooking presets for toast, waffles, pizza, hashbrowns, rolls, etc. When toasting bread for a quick breakfast, you can also choose between light, medium, and dark toast shades.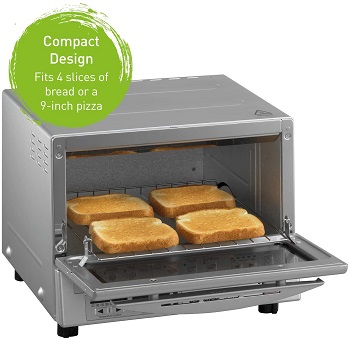 40% Faster Cooking
In the package, you will get a baking tray that fits no just 4 bread slices, but even up to a 9-inch pizza. Besides toast, you can prepare waffles, hashbrowns, or muffins for breakfast. At the same time, the unit works 40% faster than traditional ovens.
Short Description:
4-slice capacity fits a 9-inch pizza
quartz and ceramic heating infrared heaters
cooking presets on the control panel
adjustable temperature and toast shade
toast, waffle, hashbrowns, pizza, rolls settings
Best Air Fryer Fast Toaster Oven
Cuisinart Toaster Oven
Non-Stick Coated
This fast toaster oven comes in silver color and is constructed from stainless steel. It is a stylish addition to any kitchen decor with easy maintenance. The inside cavity is non-stick coated, equipped with a light, and has a 0.6 cubic feet capacity. The control panel consists of four control knobs with a turning design.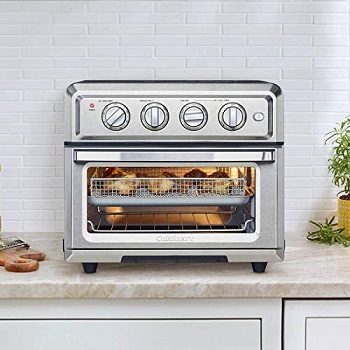 Holds 3 Pounds Of Wings
The air fryer convection toaster oven uses ultra-hot air circulated inside the oven thanks to the convection feature. The inner cavity can hold 6 toast slices at once, a 12-inch pizza, a 4-pound chicken, and has a maximum capacity of 3 pounds of wings for air frying.
Customize The Settings
On the control panel, the timer knob allows you to set up the cooking time for up to 60 minutes. The temperature control knob offers a range from warm to 450°F for different cooking needs. The function control knob offers programs such as toast, warm, broil, convection broil, convection bake, bake, and air fry.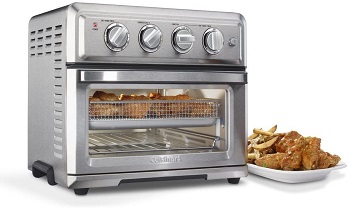 Fast Convection
The dedicated toast timer is used for selecting the shade of toast from light to dark, taking any guesswork out of toasting bread for your breakfast. Thanks to convection, you can also prepare different snacks faster, and air fry while using less oil for healthier fried snacks.
Short Description:
non-stick coated 0.6 cubic feet cavity
fits 6 toast slices, 3 pounds of chicken wings, etc
60-minute timer and dedicated toast timer
adjustable temperature up to 450°F
warm, convection broil and bake, air fry, etc
ideal for preparing breakfast toast and snacks
Best Convection Fast Toaster Oven
Instant Omni 11-In-1 Toaster Oven
Declutters The Countertop
This product resembles the look of a conventional oven with 11 cooking modes and a capacity of 26 liters. It fits 6 slices of bread, a 12-inch pizza, cake, or a whole chicken inside the oven for roasting. As it offers 11 versatile cooking programs, it can help you declutter your kitchen countertop of many other small appliances.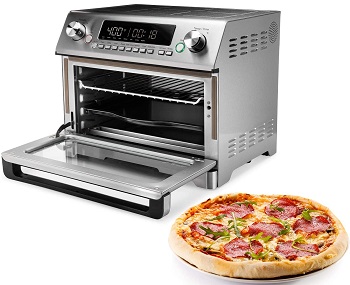 Quick & Even Heating
If you want to be able to prepare fast meals at any time, this fast toaster oven is the one for you. It heats quickly and evenly and includes all the necessary accessories for easy operation. You can air fry, dehydrate, toast, roast, broil, bake, and even use a dedicated convection setting.
Proof & Air Fry For Snacks
If you love homemade pizza and bread for snacks, the proofing setting will help you prepare both pizza and pastries. For air-fried snacks, you will have to use around 95% less oil while enjoying crispy and tasty snacks. The rotisserie function will help you achieve juicy and crispy meats by rotating them on a spit.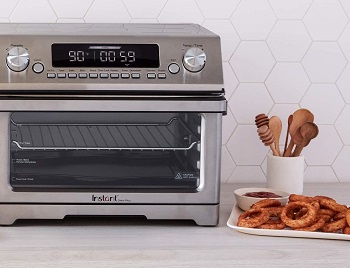 Crispy Breakfast Toast
For breakfast, the toast will be preprepared to a perfectly golden and crispy texture. The digital convection toaster oven is also easy to set up with one-touch programs and a screen display. With just one appliance, you can satisfy all your needs for fast snacks and breakfast.
Short Description:
11 cooking modes, 26-liter capacity
holds 6 slices of bread, a 12-inch pizza, etc
heats quickly and evenly with convection
features a digital display with one-touch programs
air fry, convection, toast, dehydrate, proof, etc
uses 95% less oil to prepare air-fried snacks
proofing for pastries, pizza, homemade bread
Best Combo Fast Toaster Oven
Breville Smart Toaster Oven
4 Quartz Heaters
This toaster oven is a great choice for avid lovers of technology, as it works with smart features and element IQ. Equipped with 4 quartz heating elements, it transfers heat where it is needed to achieve perfect results every time. The digital display with turning knobs offers 8 modes to choose from for a multitude of cooking needs.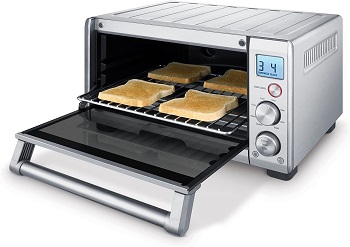 For Meals & Snacks
The smart toaster oven offers you settings for toast, bagel, pizza, cookies, reheating, roasting, broiling, and baking. Inside the oven, you can fit up to 4 toast slices at a time, ideal for preparing breakfast in the morning. It can also fit a chicken for roasting, a 12-inch pizza, or a 6-cup muffin tray inside the cavity.
Smart Calculations
The screen display stays orange during preheating and cooking and calculates the time and temperature needed to achieve perfect results. To get your food as fast as possible, this fast toaster oven preheats quickly. Once cooking is done, it changes to blue color.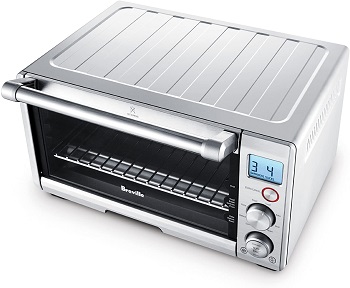 Easy Cleaning
With this unit, you can prepare breakfast, but also lunch and dinner easily when you are in a hurry. The interior walls of the oven are non-stick coated for easy cleaning. Besides toast for breakfast, you can also prepare pizza for movie time, or enjoy bagels and cookies as snacks wherever you go.
Short Description:
4 quartz heating elements for fast heating
smart IQ delivers heat where it is needed
toast, bagel, pizza, cookies, bake, roast, broil, etc
fits 4 toast slices, a 12-inch pizza, and more
calculates the cooking time and temperature
Best Countertop Fast Toaster Oven
Hamilton Beach 2-In-1 Toaster Oven
40% Faster Toasting
This product differs from the other models in this article as it features not only a toaster oven but also a built-in toaster slot on top of the unit. If you love to have freshly toasted bread for breakfast regularly, this works perfectly while saving you time, toasting up to 40% faster.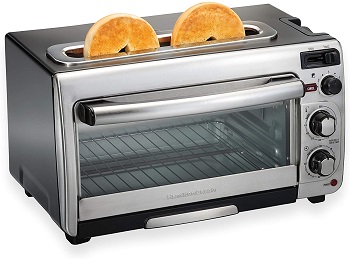 Wide Toaster Slots
With the easy setup and quick cooking, it will also be a great choice for preparing a quick meal when you are busy during the week. When using the built-in slot, you can even fit bagels or artisan bread slices inside thanks to its wide design. Getting toast out of the toaster is easy and quick with the bread lifter. It is also possible to choose the toast shade.
Oven Settings
The fast toaster oven is big enough to fit a 9-inch pizza inside and offers two rack positions so that you can even fit in casseroles, make muffins, and other snacks. The oven timer can be set up for 60 minutes, depending on the cooking you want to do, and even has a stay-on function. Once the time is up, the oven turns off automatically to prevent burning.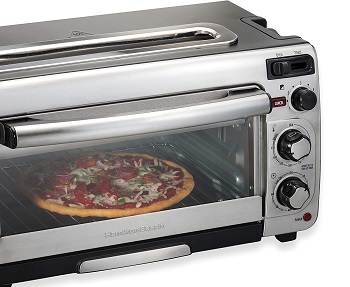 Bake & Broil
Included with the toaster oven with a toaster on top, you will get an oven rack, a baking pan, and a crumb tray. With the 2-in-1 functionality, it can also save you space on the kitchen counter. While toasting bread in the toaster slots, the oven can be used for baking, broiling, and toasting.
Short Description:
40% faster toasting with the toaster on top
separate controls for the toaster and the oven
wide slots fit even bagels and artisan bread
two rack positions, it fits a 9-inch pizza
oven settings for toasting, baking, and broiling
60-minute oven timer, toast shade timer
Best Cheap Fast Toaster Oven
Black & Decker Toaster Oven
Frozen Snack Setting
This fast toaster oven is available to purchase for the price of around 90 dollars on Amazon. It features a screen display with push buttons for easy set up on the control panel. If you love preparing frozen snacks, this product could be the one for you. Among other settings, it can be used for frozen snacks, as well.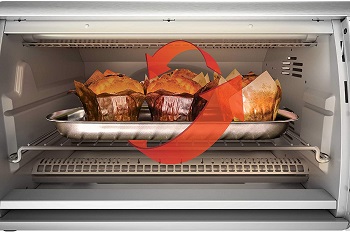 Fast & Even Baking
This best toaster oven under $100 offers convection baking by circulating hot air inside the oven, cooking faster, while offering even results. The deep interior is curved so that you can fit up to a 12-inch pizza inside, or casseroles, or whole chickens. The oven rack has two available positions.
8 Cooking Settings
By adjusting the oven rack, you can even put larger foods inside the oven, or bring them closer to the broiler. Besides broiling, you can also choose among other 7 one-touch settings, including baking, toasting, bagel, frozen snack, potatoes, cookies, and pizza.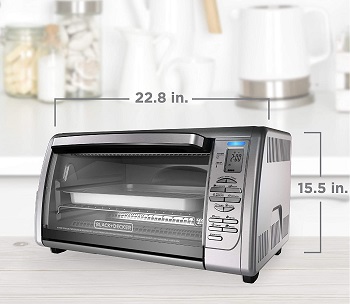 Easy To Clean
The available settings allow you to prepare breakfast foods as well as snacks quickly, without having to break the bank. After cooking, it is also easy to clean up thanks to the non-stick interior. The crumb tray is also removable for easy maintenance.
Short Description:
a screen display with pushbuttons
circulates hot air for fast and even results
fits a 12-inch pizza, casseroles, whole chickens
adjustable oven rack in two positions
8 one-touch settings available for selection
broil, toast, bake, bagel, pizza, frozen snacks, etc
easy to clean non-stick interior and crumb tray
What To Consider In Fast Toaster Ovens?
When you decided to purchase a toaster oven with your focus on quick breakfast and snacks, here are a couple of things to keep in mind. First of all, consider its capacity and look for features that make it easy to operate. Likewise, also look for cooking programs it has to offer and find out more about faster baking with convection.
How Fast Are They? – When toasting bread, no toaster oven should take more than a couple of minutes, but it also depends on which toast shade you prefer. If you like lightly shaded toast, then you should not have to wait a long time, while dark shaded toast might take around 5 minutes. Finally, this timing will also depend on how many toast slices you have put in at once.
Capacity – Toaster ovens are a popular kitchen item on the market so they come in all different styles and sizes. It is important to pay attention to how much food it can fit inside the oven so that you can find the one that best fits your needs. The capacity is usually measured in toast slices, from 2-slice toaster ovens to models that hold well over 10 slices at once.
Easy Operation – To save you time and prepare foods quickly, look for models that are easy to use. Some features that make operation easy are intuitive interfaces with screen displays that are easy to use. Besides that, also look for clearly labeled cooking functions and other controls such as temperature and timer adjustments.
Cooking Options – More than just toasting bread for breakfast, toaster ovens can offer dedicated settings for preparing lunch, dinner, and different snacks. Usually, fast toaster ovens offer settings for bagels, pizza, cookies, sometimes even muffins, waffles, potatoes, frozen snacks, etc. They can usually also bake and broil, while some may also air fry and more.
Convection – Equipped with a convection fan, a quick toaster oven circulates hot air throughout its cavity and helps to bake quicker while providing more even results. By reducing the cooking time, you get to enjoy your food sooner, ideal for busy people. At the same time, it makes crispy food and can even be used for dehydrating fruits for snacks.
Benefits – A toaster oven can be used in small spaces without a traditional oven or be of extra help in kitchens. Thanks to its smaller size, it can also save energy while producing less heat in the kitchen, ideal especially for summer days. It is easy to clean and usually preheats faster than conventional ovens for quicker cooking and baking.