Curious to find out more about air fryer convection toaster ovens before you make a purchase?
Then read this article!
Here you can find reviews of the combo, pizza, countertop, big, and stainless steel toaster oven models to help you find the one that is most tailored to your cooking habits. Besides that, you can also read the buying guide that points out the most important features and technical specifications to look out for when shopping for such a kitchen appliance.
The Rundown
Best 6 Air Fryer Convection Toaster Ovens
Best Of Best Air Fryer Convection Toaster Oven
Cuisinart Oven Convection Air Fryer
7 Cooking Options
This Cuisinart convection toaster oven air fryer comes in silver color and is constructed from stainless steel material. It can be used for 7 different cooking functions, including air frying, convection baking, convection broiling, baking, broiling, warming, and toasting. It is equipped with a glass door and a control panel consisting of four turning knobs.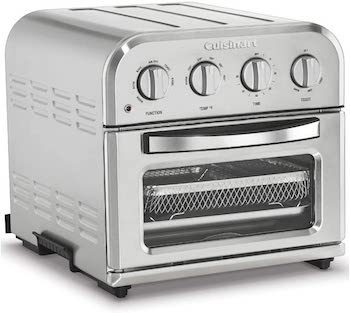 Generous Capacity
The oven cavity is 0.6 cubic feet large and is coated with a non-sticking layer. It is also equipped with a light that allows you to check the cooking process through the glass window without having to open the door. It can toast up to 6 slices of bread at once, air fry 3 pounds of chicken wings, bake a 4-pound chicken, and even bake a 12-inch pizza.
Adjustable Settings
To set up the oven timer, you can use the timer control knob and set the cooking time between 5 and 60 minutes. The temperature can also be controlled by a knob, from 200 to 450 Fahrenheit degrees. The function control dial allows you to choose among the 7 available cooking functions.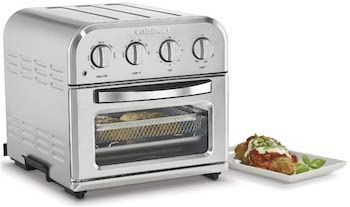 3 Toast Shades
When toasting bread, you can choose to get a lighter, medium, or darker toast shade by using the dedicated toast selector timer. Along with this 6-slice convection toaster oven, you will also get a baking pan, air frying basket, and an oven rack. It can be used to prepare healthier versions of fried foods by using air instead of oil to achieve crispiness.
Short Description:
silver color, stainless steel construction
offers 7 cooking functions
adjustable temperature from 200 to 450°F
fits 6 toast slices or a 12-inch pizza
air fry, convection bake, convection broil, etc
Best Combo Convection Toaster Oven Air Fryer
Breville Toaster Convection Oven Air Fryer
A Fan & 6 Heaters
This convection air fryer toaster oven features a convection fan that offers regular and super speed settings. The supper speed setting delivers a greater volume of heated air to fry foods with it, ideal for dehydrating, air frying, and roasting. It is also equipped with 6 independent quartz heating elements to deliver delicious food.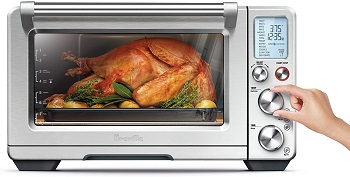 13-In-1 Functionality 
With this smart toaster oven, you can choose between 13 cooking settings, which is a great versatility offered in just one unit. With this Breville convection toaster oven air fryer, you can declutter your countertop, as it can be used as a convection oven, a toaster oven, air fryer, dehydrator, broiler, and so much more. It can also bake, roast, warm, proof, reheat, slow cook, prepare pizza, and bagels.
9-Slice Capacity
The 1 cubic foot oven cavity can fit 9 toast slices in at once, a 12-cup muffin tray, a 14-pound turkey, and baking pans measuring up to 9 by 13 inches. To check in on the cooking progress, you can turn the oven light on with a switch of a button and monitor the process through the glass window on the door.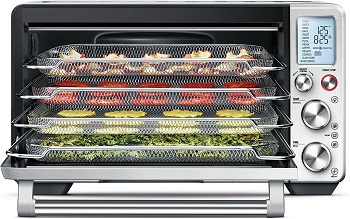 User-Friendly 
The control panel is user-friendly when setting up a cooking program. The digital display is easy to read and there are three turning knobs used for adjusting the settings. The function knob can be turned to choose the desired cooking program. The other two dials are used to set up the oven timer and the oven temperature.
Short Description:
regular and super convection fan speeds
features 13 cooking programs to choose from
air fry, dehydrate, roast, proof, bake, broil, etc
1 cubic foot oven fits 9 toast slices and more
user-friendly digital display and dials
six independent quartz heating elements
Best Pizza Convection Air Fryer Toaster Oven
Emeril Lagasse Toaster Oven
5 Heating Elements
This is one of the best convection toaster oven air fryer models that use 360-degree air circulation with five heating elements to cook food evenly on all sides. When air frying, it requires no added oils and fats to achieve crispy outer layers and juicy insides. Thanks to convection, it cooks 40% faster than traditional ovens.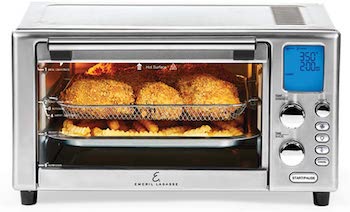 12 Cooking Options
The control panel offers 12 cooking presets to choose from. You can toast, roast, air fry, slow cook, dehydrate, bake, and much more. You can also use the rotisserie setting to prepare roasted meats rotating inside the oven for even results. When frying foods in this oven, you can enjoy your favorite meals while reducing the intake of unhealthy calories by over 70%.
Included Accessories
Along with the Emeril Lagasse convection oven air fryer, you will also get a recipe book, a crumb tray, a rotisserie spit, and a baking pan. The rotisserie convection toaster oven features a digital screen with three turning knobs and pushbuttons that make it easy to set up a cooking function, choose the temperature, and the timer.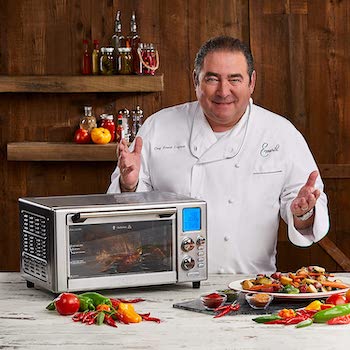 Countertop-Friendly
Thanks to its versatile use, this product will save you precious countertop space by offering many different functions in just one unit. If you like to prepare home-made snacks, the dehydrating option will help you make dried fruits, tea leaves, and more.
Short Description:
uses 360-degree convection air circulation
equipped with 5 heating elements
it offers 12 cooking programs
70% less harmful calories, 40% faster cooking
air fry, rotisserie, slow cook, dehydrate, toast, etc
includes a baking pan and a rotisserie spit
a recipe book also comes included
Best Countertop Convection Toaster Oven Air Fryer
Black And Decker Crisp And Bake Oven
Wide Construction
This countertop toaster oven features a wide glass door that allows you to fit even baking pans measuring 9 by 13 inches inside the oven. This best convection toaster oven air fryer delivers tasty fried foods without using fat to achieve crispiness and crunchiness. Alongside the door, there are three control knobs on the panel for setting up the cooking program.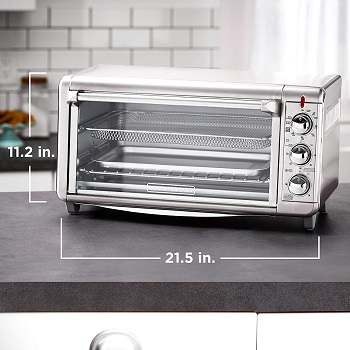 8-Slice Capacity
The oven cavity is big enough to toast 8 slices of bread at the same time or bake up to a 12-inch pizza. Inside the countertop model, you will get to bake and reheat without having to turn the big oven on. The first control dial lets you choose the oven temperature for baking, broiling, and toasting.
60-Minute Timer
The timer dial is used to set up a cooking timer for a maximum of one hour. If you want to cook something for a longer time, you can choose the stay-on function. When toasting bread, you can choose between light, medium, and dark shades by setting up the toast shade timer.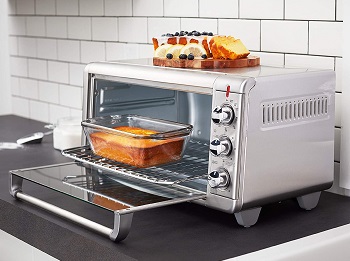 5 Cooking Settings
This Black and Decker convection toaster oven with air fryer allows you to choose between 5 cooking programs. You can do more than just toast and air fry, as there are also settings for baking, broiling, and keeping food warm. Included in the package, you will also get perfect-fit parts such as a baking pan, air frying basket, and a broiling rack.
Short Description:
fits 8 toast slices, a 12-inch pizza
wide enough for 9 by 13-inch pans
air fries for cooking without oils
air fry, bake, broil, toast, warm
dedicated timer for toast shades
Best Big Convection Air Fryer Toaster Oven
Nuwave Air Fryer Oven
12 Presets Available
This best convection toaster oven air fryer has a large capacity that can fit a 13-inch pizza inside, as well as 9 pieces of toast, and a 10-pound chicken. There are 12 presets available on the digital control panel and you can also choose the oven temperature from 100 to 450 degrees Fahrenheit in 5-degree increments.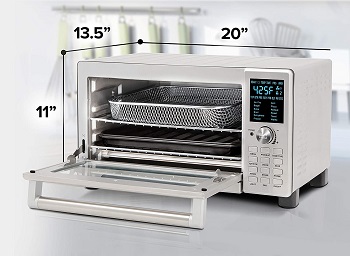 Integrated Temperature Probe
The oven offers three fan speeds for baking and is also equipped with 5 quartz heating elements. A temperature probe is also integrated into the appliances so that you can control the inner meat temperature for perfect and precise cooking. This model is very intuitive to use and with the included recipes, even inexperienced users will know how to use it.
Durable Parts
This large convection toaster oven lets you air fry, bake, broil, roast, toast, reheat, defrost, and grill in it. At the same time, it will look great on your kitchen countertop thanks to the stainless steel body finish and the modern-looking interface. The durable accessories it comes with include a silicone pad, a stainless steel tray, heavy-duty racks, and more.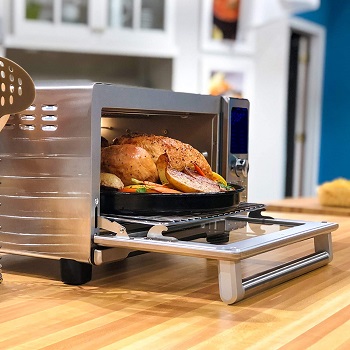 User-Friendly Engineering
The 1 cubic foot oven has a digital display that makes it easy to choose the cooking program, as well as adjust the oven temper temperature. By using the digital temperature probe, you don't have to worry about undercooking or overcooking your food again.
Short Description:
1 cubic foot oven holds 9 toast slices
fits a 10-pound chicken, a 13-inch pizza
adjustable temperature from 100 to 45o°F
three fan speeds, 5 quartz heating elements
12 cooking presets available to choose from
air fry, bake, broil, roast, defrost, grill, etc
Best Stainless Steel Convection Toaster Oven Air Fryer
Ninja Foodi Toaster Oven
Specific Design & Shape
This stainless steel toaster oven has a very wide body and can be flipped up to take 50% less space on your kitchen countertop when it is not being used. When air frying, it uses 75% less fat than traditional fryers to deliver crispy foods. It features 8 cooking programs that are easy to choose from on the digital display.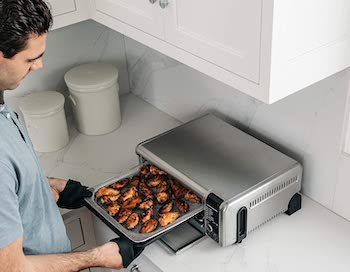 9-Slice Capacity
This convection toaster oven air fryer can use air not just to fry but also roast and broil, and it can also bake, dehydrate, and keep food warm. Likewise, it also offers programs for bagels and toast. The oven cavity can hold 9 toast slices, up to 6 chicken breasts, or even a 13-inch pizza.
60% Faster Cooking
The crumb tray collects food drips inside the oven for mess-free countertops and is easy to remove for cleaning. To do a deep clean, the back panel is easily accessible and removable. It also cooks 60% faster and 40% more evenly than some other models, so that you can prepare meals in just around 20 minutes.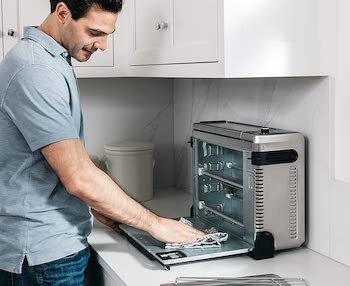 Dishwasher Safe Parts
Along with the Ninja Foodi digital air fry convection toaster oven, you will also get a non-sticking baking pan that is dishwasher safe, as well as a wire rack, and a dishwasher safe frying basket. Once cooking is done, you can simply pop these parts in the dishwasher for meticulous and fast cleaning.
Short Description:
wide body for 50% less storage space needed
uses 75% less fat than traditional fryers
features 8 programs on the digital panel
air fry, air broil, air roast, bake, toast, etc
9-slice capacity; fits a 13-inch pizza
60% faster and 40% more even cooking
includes many dishwasher safe parts
What To Consider In Convection Air Fryer Toaster Ovens?
When buying a toaster oven with convection and air fryer options, you should learn about convection specifications and benefits. Moreover, you should also consider its size and make sure it is easy to use. Besides that, it is also important to check out the cooking programs it has to offer.
Convection Specs – For a toaster oven to cook evenly and fast, it has to be equipped with a convection fan. Whether you go for a large or a small convection toaster oven, they work to circulate heated air through the oven and reduce cooking time as a result. Sometimes, it can offer you multiple fan speeds to choose between. That way, it will deliver crispy foods while using little to no oil and fat.
Capacity – The size of the unit is very important as you should pick the model that can satisfy your needs. Most models will be able to hold 6 toast slices, but in case you have a larger family, some models even can fit 9 toast slices in at once or more. Besides the capacity, the overall dimensions are also important to check out to make sure it fits the available countertop space. If you have limited countertop space available, a compact air fryer toaster oven might be the one.
Cooking Programs – You can air fry in convection toaster ovens, but also toast bread, bake, broil, keep food warm, and some even offer settings for rotisserie, pizza, bagels, cookies, and more. Some toaster oven air fryer convection models can even dehydrate fruits and vegetables, proof bread, and more.
Ease Of Use – The best convection toaster oven with air fryer models need to be easy to use, otherwise, they can waste a lot of your time. Look out for models that have clearly labeled functions and controls and whose control panels are intuitive to use. With easy-to-read screen displays and intuitive control panels, you won't have to search for specific functions for long.
Benefits – Convection technology reduces cooking time while ensuring that food is cooked evenly and quickly. The air frying option prepares crunchy and crispy foods without using a lot of oil which is also good for your health. Finally, a convection oven toaster air fryer preheats faster than traditional ovens while using less energy and producing less heat in the room, as well.