Are you interested in extra-large convection toaster ovens?
If yes, this article is the one for you!
Keep reading to find out about the features of 6 different models, including countertop, air fryer, pizza, combo, and cheap toaster ovens with a large capacity available on the market. If you are interested in another model that is not reviewed here, our buying guide can help you decide whether it is a model worth reading. Let's start!
The Rundown
Best 6 (Extra) Large Convection Toaster Ovens
Best Of Best Extra Large Convection Oven
Hamilton Beach XL Toaster Oven
Oven & Rotisserie
This Hamilton Beach extra large convection oven can fit two 12-inch pizzas inside at once, or two cake pans, and even two 9 by 13-inch casseroles. Besides the two racks it fits inside, it also comes with rotisserie equipment that can fit up to a 5-pound chicken.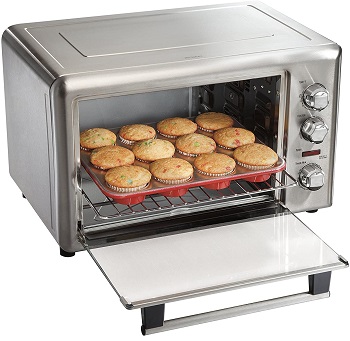 Quick & Even Results
The Hamilton Beach XL convection oven with rotisserie revolves the meat on the spit, making it both juicy and crispy. As it works with convection technology, it provides quicker and more even baking results. Besides toasting, baking, rotisserie, and convection settings, it can also broil.
Adjustable Features
A cooking function is easy to choose by turning the function control knob. The temperature can also be adjusted that way, up to 450 Fahrenheit degrees. For the different applications, the package includes a broiling rack, rotisserie equipment, two oven racks, and two baking pans, as well as a removable drip tray.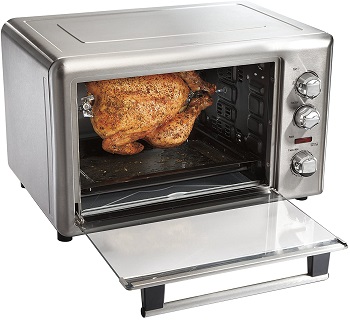 Contoured Control Knobs
This Hamilton Beach extra-large capacity and rotisserie toaster oven broiler also allow you to set up the timer for up to 120 minutes with automatic shutoff and even offers a stay-on feature. The control knobs are contoured for safe and easy use. Depending on the food you want to cook, you can also adjust the position of the oven racks.
Short Description:
fits two 12-inch pizzas, two cake pans, etc
rotisserie equipment for a 5-pound chicken
adjustable temperature up to 450°F
a broiling rack and two baking pans included
120-minute timer with auto shut off
Best Countertop Large Convection Toaster Oven
Oster XL Digital Convection Oven
18-Slice Capacity
If you need a model that can offer you a very large capacity, this Oster extra large convection oven might be the one for you. It can hold up to 18 slices of bread at once, a family-sized chicken, or two pizzas. It cooks fast and evenly thanks to the convection feature.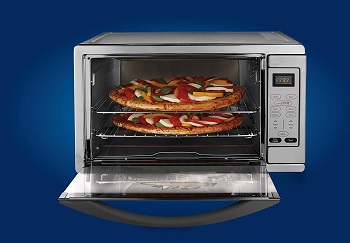 User-Friendly Design
A broiling rack, as well as two oven racks, and a baking pan come included in the package with the Oster digital countertop oven with convection. The interior of the oven is easy to clean after cooking, along with the crumb tray. The glass door allows you to check in on the cooking process without interruptions.
Digital Operation
The extra-large convection countertop oven offers digital controls for pizza, toast, broiling, baking, and defrosting. The turbo convection setting will cook the food fast while providing even browning. To operate the unit, along with the digital functions, the countertop toaster oven also features a digital screen display.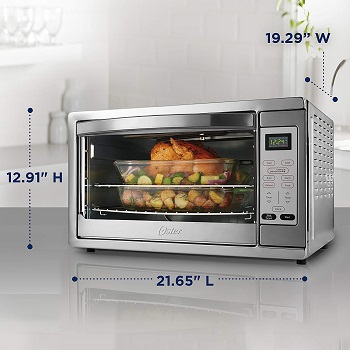 Adjustable Time & Temp
The large convection oven countertop model also lets you adjust the temperature between 200 and 450 Fahrenheit degrees. When cooking, you can also set up a timer for up to 90 minutes and the oven will automatically shut off afterward. It is a great choice for saving energy and for cooler kitchens while providing you with a large capacity countertop convection oven.
Short Description:
fits 18 bread slices, two pizzas, family-sized chickens
convection and turbo convection for fast cooking
2 oven racks, a baking pan, a broiling rack included
temperature adjustable between 200 and 450°F
features a screen display and digital functions
90-minute timer with automatic shut off
Best Air Fryer Extra Large Convection Oven
Nuwave XL Bravo Toaster Oven
5 Quartz Heaters
This large convection toaster oven has a capacity of 30 quarts and comes with an integrated temperature probe. Equipped with 5 quartz heating elements and a fan with three speeds, it offers perfect results. The oven can fit 9 bread slices at once, a 13-inch pizza, or a 10-pound chicken.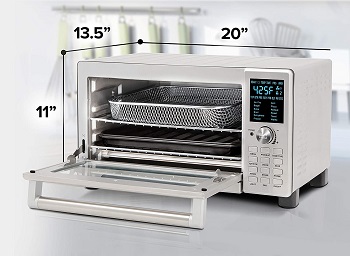 Easy To Operate
To set up a cooking program, this digital air fryer toaster oven features a large LCD screen with buttons. The easy-to-read screen display and function buttons even allow you to customize the oven temperature between 100 and 450°F in 5-degree increments.
12 Cooking Modes
Besides toasting bread, this oven also lets you air fry, dehydrate, grill, broil, roast, bake, warm, and reheat food. The 12 preprogrammed settings are easy to access and the 40 included recipes make it easy to use even for beginners. The temperature probe lets you monitor the internal temperature of meat for precise cooking, without over or undercooking.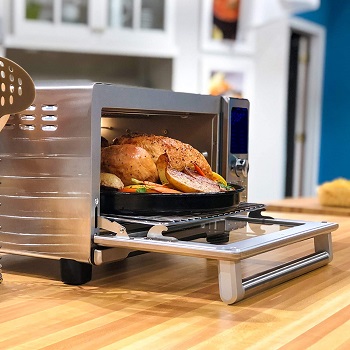 Durable Build
Included in the package, you will get heavy-duty cooking racks and a non-stick enamel baking tray. The outer body of the unit is made from brushed stainless steel and the glass tempered glass is heat-resistant. It cooks fast and evenly by combining radiant, conduction, and convection heat.
Short Description:
30-quart capacity for 9 slices of bread
digital interface with 12 preprogrammed settings
temperature adjustments between 100 and 450°F
air fry, toast, roast, bake, dehydrate, warm, reheat
brushed stainless steel body and tempered glass door
a temperature probe for internal temperature control
combines radiant, convection, and conduction heat
Best Pizza Large Convection Toaster Oven
Cuisinart Extra Large Toaster Oven
15 Digital Functions
This extra-large convection oven has a 0.95 cubic feet capacity that allows you to fit a baking pan measuring 9 by 13 inches inside or even a 13-inch pizza. It offers 15 cooking functions to choose from on the digital control panel. The blue backlit screen is large and accompanied by LED buttons.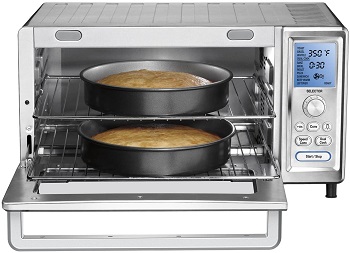 Auto-Eject Rack
The oven rack automatically conveniently slides out for safety and easy access. Inside the oven, there is also an interior light for checking in on the cooking process through the glass door. Alongside the 15 cooking functions, you can also choose convection, speed convection, and the dual cook mode.
Customizable Settings
With this digital convection toaster oven, you can set up a program for toast, bagels, pizza, waffles, sandwiches, as well as roasting, baking, and broiling. Likewise, it can also reheat or keep food warm. To get perfect results with even browning, you can customize the number of slices for toasting.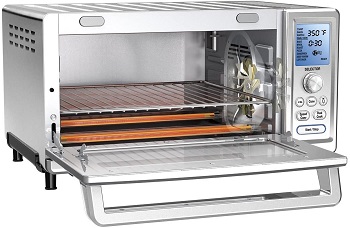 Two Convection Settings
When using the pizza setting, you can also customize its size so that it can calculate the cooking temperature and time for precise results. The convection setting can be used for faster cooking with consistent heating. The convection setting can be turned on at any time. Speed convection allows you to cook without preheating the oven.
Short Description:
0.95 cubic feet capacity for 9 bread slices
pizza setting for up to 13-inch pizzas
features 15 digital cooking functions
toast, bagel, broil, bake, warm, reheat, etc
convection and speed convection cook evenly
Best Combo Extra Large Convection Oven
Breville Smart Oven Air Convection
Timeless Appearance
This large convection toaster oven is ideal for countertops and is constructed from brushed stainless steel. It can easily fit into any kitchen decor thanks to its timeless appearance. It features a large glass window on the door and a large digital screen display with three turning dials for operation.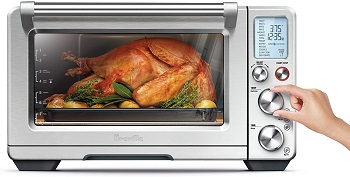 Two-Speed Fan
The oven uses convection technology with a fan that offers two-speed settings. Besides the regular speed, the super convection distributes heat fast and evenly by providing the oven with more hot air. This speed setting is ideal for air frying, dehydrating, and roasting different foods.
6 Quartz Heaters
The perfect results are possible as the oven distributes heat above and below food with the help of six independent quartz heating elements. You can air fry and dehydrate up to 4 trays of foods at once. The oven has a 1 cubic foot capacity for holding up to 9 bread slices, a 12-cup muffin tray, or roast up to a 14-pound turkey.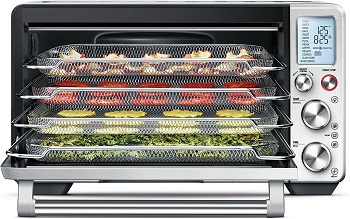 13 Smart Settings
Among the 13 cooking settings, you can choose to air fry, proof, bake, roast, broil, cookies, slow cook, dehydrate, and more. The smart toaster oven customizes the settings so that you can cook without any guesswork needed. It is a great unit for large gatherings and cooking for big family meals.
Short Description:
brushed stainless steel, large glass door
two-speed convection fan for cooking
air frying, dehydrating with the super speed
1 cubic foot capacity for 9 slices of bread
features 6 quartz elements for smart heating
13 settings for toast, bake, roast, broil, cookies, etc
Best Cheap Large Convection Toaster Oven
Black & Decker 8-Slice Toaster Oven
Fits Most Standard Pans
This extra-wide toaster oven can hold 8 slices of bread and includes toasting and broiling racks, as well as a baking pan. The oven is constructed from stainless steel and comes in black color to fit any kitchen decor without problems. The oven can achieve a maximum temperature of 450°F and fits a 12-inch pizza or pans measuring 9 by 13 inches.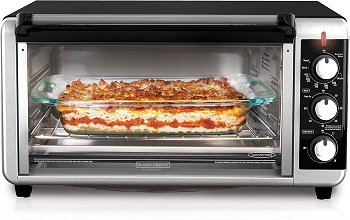 4 Cooking Modes
The food bakes fast and evenly thanks to the convection fan that circulates hot air inside the oven. Besides baking, you can also choose between settings for toasting, broiling, and warming food. The toast timer is also featured so that you can make toast with your shade preference easily.
Versatile Use
When using other functions but toasting, you can set up a timer for up to 60 minutes with a stay-on feature, as well. The temperature of the oven is adjustable between warm options, up to 450°F so that you can use it for different foods and different applications. You can purchase it for under 70 dollars on Amazon.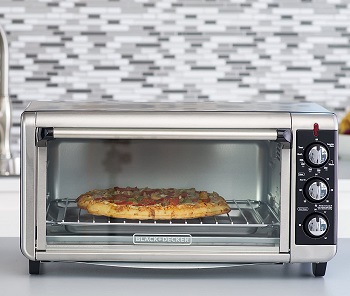 3 Rack Positions
The large convection toaster oven offers 3 oven rack positions for flexible cooking. As it is extra wide, most pans will be able to fit inside the oven, so that you don't have to invest in bakeware to use especially in this unit. The kitchen countertop is kept clean thanks to the crumb tray that is easy to remove for cleanup.
Short Description:
stainless steel construction in black color
fits 8 bread slices, most 9 by 13-inch pans
adjustable temperature up to 450°F
hot air circulation with the convection fan
it bakes, toasts, broils, keeps food warm
toast timer for precise shade selection
features a 60-minute timer with stay-on
What To Consider In Large Convection Toaster Ovens?
If you are not sure whether a convection toaster oven is the one for you, here you can learn about their advantages. Besides that, you should also keep in mind the size of the oven to suit your needs. To get the best large convection oven on the market, also make sure it is simple to use and check what it can do.
Convection Feature – A toaster oven that features convection technology is equipped with a fan that circulates hot air inside the oven. That way, cooking time is reduced, while you will get crispy results on the outside easily. Finally, it will provide even and uniform results, while making baking faster than in conventional toaster ovens.
Capacity – Unlike 2-slice toaster ovens suitable for personal use, these toaster ovens can usually hold over 8 bread slices, with 18-slice capacity models also available. That way, they will also be able to hold large pizzas and even family-sized chickens for baking and roasting.
Simple Use – To get the best large convection toaster oven, make sure its interface is intuitive with easy-to-read screen displays and clearly labeled functions. If it is complicated to use, you will have to spend a lot of time learning how to operate it.
What Can It Do? – A toaster oven with convection can usually toast, bake, broil, convection bake, and roast, and sometimes even air fry and dehydrate. Air frying reduces the use of fats and oils for healthier snacks while dehydrating prepares your favorite snacks from fruits and veggies.
Benefits – A toaster oven is a great alternative to conventional ovens in small and confined spaces. Likewise, it can also offer extra cooking space in your kitchen. They are usually energy-efficient, using less energy, and producing less heat in the kitchen. At the same time, they preheat fast and are easy to clean.
To Wrap It Up
The Hamilton Beach XL toaster oven is our top pick for a large convection toaster oven. It can two 12-inch pizzas inside at once, or a 5-pound chicken for family meals. It features two racks and two baking pans with rotisserie equipment and works with convection. If you want to prepare air-fried meals in a toaster oven, check out our reviews of air fryer convection toaster ovens. If you also want a model with a microwave combo, you should consider some of the microwave convection toaster ovens.