Keen on buying an infrared toaster oven for your kitchen?
In case you are, this article is a must-read for you!
We have gathered important information about this type of toaster oven to help you when searching the market for the one that best fits your needs. Moreover, you can also check out our reviews of convection, countertop, stainless steel, big, and small toaster ovens that work with the help of infrared technology. Happy reading!
The Rundown
Best 6 Infrared Toaster Ovens
Best Of Best Infrared Toaster Oven
Panasonic FlashXpress Toaster Oven
Quartz & Ceramic Heaters
This Panasonic FlashXpress compact toaster oven features double infrared heating elements made from ceramic and quartz. They are positioned in the front and the back to provide even and uniform baking and browning results. You can toast bread, bake, and even reheat in this Panasonic infrared toaster oven.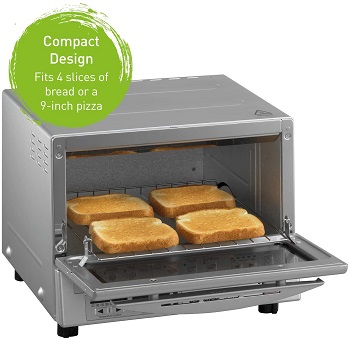 Bakes, Defrosts, Toasts
This Japanese toaster oven is a great countertop option for baking bread, defrosting meals, and preparing ready frozen meals, side dishes, and more. A see-through glass door is connected to the wire rack inside so that it is easy and safe to pull out when the door opens.
Easy To Operate
The control panel is located under the door and stays cool to the touch for easy setups. The temperature and cooking time is calculated once you choose between the 6 available cooking presets. The bright digital timer is easy to set for up to 25 minutes. The front infrared heater cooks food on the outside, while the inside is cooked thanks to the back infrared heater.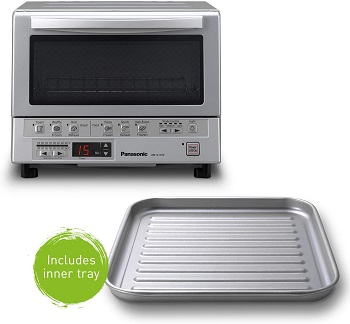 Accessories Included
Included with the Panasonic FlashXpress double infrared toaster oven in silver, you will get a square-shaped baking tray that can be used for holding up to 4 slices of bread or a 9-inch pizza at once. Apart from that, you will also get a removable crumb tray for easy cleaning of excess fats, crumbs, and other collected drips.
Short Description:
ceramic and quartz double infrared heaters
uniform baking and browning results
toast, bake, reheat, defrost, and brown options
a baking tray and a removable crumb tray included
fits 4 bread slices or even a 9-inch pizza
Best Convection Infrared Toaster Oven
Krups Deluxe Toaster Oven
Convection & Infrared Combination
This infrared convection toaster oven combines the work of a convection fan and infrared heaters for fast heating and cooking with rapid-heat technology. The 6-slice convection toaster oven offers 8 cooking presets on the digital display. It is easy to operate by using the screen display, control knob, and pushbuttons.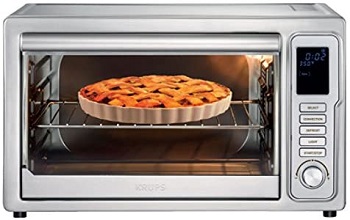 8 Available Presets
The 8 cooking programs include toast, broil, bake, roast, and options for pizza and bagels. It can also keep food warm, reheat it, or even defrost. The defrost setting adjusts automatically to deliver perfect baking and cooking results when working with frozen meals.
The Cavity Options
Inside the infrared toaster oven, there are two oven racks, and the oven cavity offers three rack positions for maximum flexibility. The glass door allows you to view the cooking process inside without having to open the door. The interior oven light is also helpful here.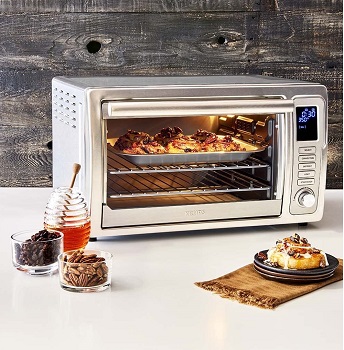 Adjustable Features
Depending on the cooking program you choose, the oven will allow you to adjust the cooking time and temperature. Likewise, when toasting bread, you will get to choose between different toast shades available, according to your preference.
Short Description:
combined convection fan and infrared heaters
6-slice oven with two racks and three rack positions
8 cooking presets available on the digital control panel
bake, toast, roast, broil, defrost, pizza, bagel
features an interior light and a glass door
adjustable toast shade, time, and temperature
Best Combo Infrared Toaster Oven
T-Fal OF1708 Toaster Oven
Instant & Uniform Heating
This infrared toaster oven features infrared heating elements for instant preheating and quality heat retention. Meanwhile, the convection fan circulates the hot air around the unit, resulting in even and constant results thanks to the uniform heat diffusion.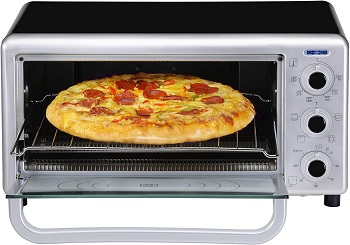 Special Cooking Basket
The oven is large enough to fit a 12-inch pizza inside. Inside the cavity, a stainless steel cooking basket is fitted to provide the best cooking results. It prepares crispy food as the hot air can circulate and wrap around the food from all sides, without the need for flipping.
Easy Maintenance
The crumb tray is easily accessible and can be taken out without having to open the oven door. It collects food crumbs, grease, and other drips for clean countertops. The inside of the oven is non-stick coated for easy cleaning. A 60-minute timer is also helpful and automatically shuts off the unit once the time is up.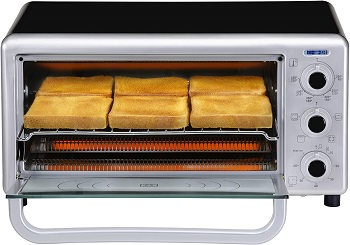 Adjustable Settings
This toaster oven broiler allows you to adjust the cooking temperature between 200 and 450°F by turning the temperature control knob. The function knob allows you to choose between baking, broiling, and toasting options. To set up the timer, use the third control knob on the panel.
Short Description:
instant preheating, hot air circulation
infrared technology and a convection fan
uniform heat diffusion for even cooking
easy-to-access removable crumb tray
an easy-to-clean non-stick inner cavity
a 60-minute timer with automatic shut-off
temperatures adjustable from 200 to 450°F
Best Countertop Infrared Toaster Oven
Black & Decker InfraWave Toaster Oven
52 Versatile Settings
This countertop toaster oven comes in black color, featuring a large glass door for easy viewing of the cooking process. At the bottom of the unit, a control panel with an LCD screen allows you to choose among 52 presets for versatile cooking. It is suitable for toasting, baking, roasting, broiling, and much more.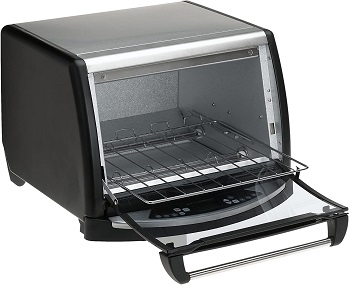 Comes With Accessories
Included with the infrared toaster oven, you will get a broiling rack and a baking pan for easy operation. A removable crumb tray is also included for easy cleaning. The oven achieves instant heat for faster cooking results without the need for preheating it.
Multitude Of Options
After you place this toaster oven on your kitchen countertop, you can use it for many different cooking and baking options. You can enjoy baked pizza, cookies, toasted bread, bagels, and even broil, roast, bake, and reheat food when necessary.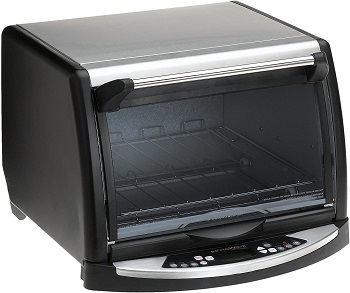 Intelligent & Effective
This kitchen appliance uses high-power light bulbs to emit specific light wavelengths. You don't have to worry about choosing the appropriate cooking temperature, as the unit does it for you. It is possible thanks to the intelligent profiling system that cycles the bulbs' light according to the food type that is cooking, avoiding any guesswork.
Short Description:
52 presets on the control panel with the LCD screen
toast, bake, broil, pizza, reheat, cookies, etc
a broiling rack and baking pan included
intelligent profiling system cuts out any guesswork
emits specific wavelengths from the bulb lights
Best Big Infrared Toaster Oven
Morning Star Digital Toaster Oven
Generous 12-Slice Capacity
This extra-large convection countertop oven can fit a whole chicken inside, a 12-inch pizza, or even up to 12 slices of bread at once. It uses the convection function for fast and even cooking, without requirements for preheating thanks to infrared technology.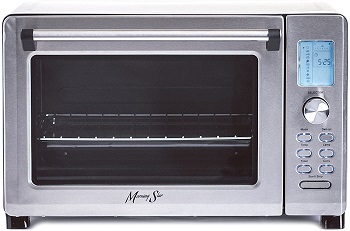 Fast & Safe To Use
The lightning infrared makes the oven up to 40% faster than some other traditional toaster ovens and is also safe at the same time. You can place it on any countertop that offers enough space, with 12 inches of free space needed above, and 4 inches around the unit.
Included Equipment
This infrared toaster oven is equipped with a stainless steel front, non-sticking interior, and even has a removable crumb tray. Apart from that, it also includes a baking tray and a wire rack that fit inside the unit easily. You can quickly select between the available programs by using the control panel.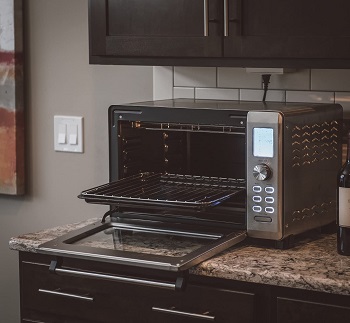 Customize & Adjust
You can choose between options for cookies and pizza, roasting, broiling, and even toast bread and bagels. Depending on the quantity and type of food you are cooking, you can customize the position of the oven, with three available settings.
Short Description:
large capacity fits 12 bread slices at once
fast and even cooking with convection
infrared technology for 40% faster cooking
features a stainless steel front, non-stick interior
comes with an oven rack and a baking pan
pizza, cookies, toast, roast, bagels, broil, etc
Best Stainless Steel Infrared Toaster Oven
Electrolux Frigidaire Toaster Oven
Silver Color
If you are looking for a model that can fit into any type of decor, this infrared toaster oven might be the one for you. Colored in silver and constructed from stainless steel material, it is durable and easy to keep clean, while complementing any space.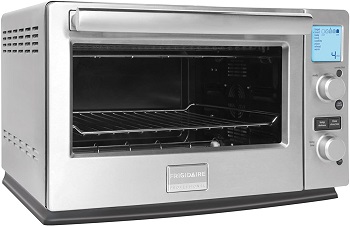 Combines 2 Technologies
By combining convection and infrared technology, this stainless steel toaster oven circulates hot air around the oven while making cooking faster, without the need for preheating. Features on the side of the door, there is a digital control panel with an LCD screen for easy setup.
Easy-To-Read & Use
The mode selector can be turned while the easy-to-read screen displays cooking options for easy operation. You can warm and reheat food, or choose between options for broiling, toasting, baking, and settings for bagels, cookies, and pizza. You can fit up to 6 bread slices inside and even choose between different toast shades.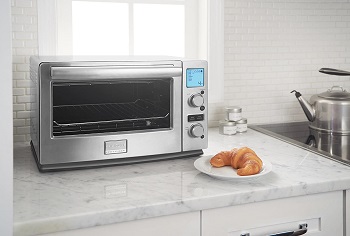 Choose Time & Temp
The temperature knob allows you to set the cooking temperature, according to the food you plan to cook. The same control knob is also used for setting up a cooking timer. Both the mode selector and the temperature control knob are to be used in combination with the LCD screen display.
Short Description:
stainless steel construction, silver color
it combines convection and infrared technologies
features a digital panel with an LCD screen display
mode selector for choosing between cooking settings
bagels, toast, cookies, pizza, broiling, baking, etc
a control knob for cooking temperature and time
faster cooking with hot air circulation
What To Consider In Infrared Toaster Ovens?
If you've ever come across an infrared model of a toaster oven on the market, it is finally time to learn more about how those models work. In case you want to invest in one, make sure its size is suitable for your needs. It is also important to look for models that are easy to use and that offer enough cooking versatility. Finally, you should also consider the equipment that comes included with such a kitchen appliance.
Infrared Technology – Such a toaster oven uses light energy to cook food and sometimes comes in the combination with convection models. They heat food easily and thoroughly for fast cooking results. Such an appliance can be used for baking, curing, drying, and more. When used with frozen foods, you won't have to defrost them before cooking.
Size – The market offers both smaller and bigger models, according to the needs of different users. Sometimes a 6-slice oven is more than enough, while some might have to go for larger models, ideal for larger families. Besides the capacity, you should also keep in mind the available countertop space.
Simple Operation – Any toaster oven will be appealing if it is easy to use. To be simple to use, it should feature an easy-to-read screen display, clearly labeled functions, and an overall intuitive interface. If a toaster oven is easy to use, it won't take a long time to learn how to operate.
Versatile Use – The best infrared toaster ovens can do much more than just toast bread. They usually offer cooking programs such as baking and broiling. Multifunction toaster ovens don't stop there either, offering you the possibilities for making pizza, bagels, cookies, warming, reheating food, defrosting, air frying, and much more.
Included Equipment – Each toaster oven includes a crumb tray that collects grease and other drips for clean countertops. It should be easy to remove for cleaning. Apart from that, oven racks and baking trays are usually also included. An oven rack can sometimes have more than one position inside the oven, as well.
To Wrap It Up
To summarize, we would like to take a final look at our top choice. The Panasonic FlashXpress double infrared toaster oven features ceramic and quartz heating elements. The front heaters cook the food on the outside, while the back heaters make sure it is thoroughly cooked on the inside. It can toast, brown, bake, defrost up to 4 slices at once. In case you are buying on a budget, consider some of our toaster ovens under $100 choices. For specific food that needs wide oven cavities, check out our selection of extra-wide toaster ovens.