Are you in the hunt for a multifunction toaster oven and wish to learn more about their versatility?
If yes, keep reading this article to find out more!
You can check out reviews of countertop and smaller 4-slice models, as well as convection, microwave, and big models the market has to offer. Besides that, you can also check out our buying guide to help you figure out how to choose a model customized to your needs.
The Rundown
Top 6 Multifunction Toaster Ovens
Best Of Best Multi Function Toaster Oven
Breville Multi-Function Oven Toaster
With Heaters & Fan
This smart toaster oven features a convection fan with two speeds and is also equipped with 6 independent quartz heating elements. The heating elements work above and below the food for perfect results, while the fan circulates hot air inside the oven. To air fry, roast, and dehydrate, the super speed of the convection fan works wonders.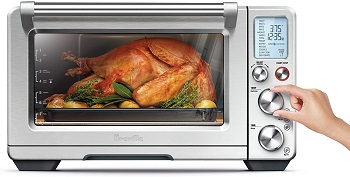 9-Slice Capacity
The interior of the oven has a capacity of 1 cubic foot and is roomy enough for 9 toast slices. It can even fit most 9 by 13-inch baking pans, 12-cup muffin trays, or a 14-pound turkey for roasting. The digital screen display works with control knobs for choosing between many cooking options.
13 Versatile Functions
This multifunction toaster oven is equipped with 13 functions that you can set up by using the easy-to-read display and turning the selector knob underneath it. That way, you can toast, bake, broil, roast, proof, air fry, slow cook, dehydrate, and more. It also offers settings for cookies, pizza, keeping food warm, and so on.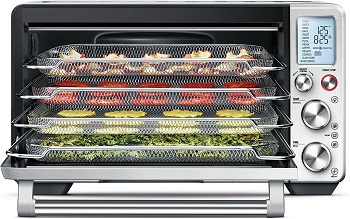 Air Frying Instead Of Oil
Besides toasting, and other options like baking and broiling, this oven also lets you air fry and dehydrate, so you don't have to invest in other such appliances. You can prepare delicious fried snacks, such as French fries, wings, and nuggets while using far less oil to achieve crispy results.
Short Description:
two-speed convection fan, 6 quartz heaters
top and bottom heaters, the fan circulates hot air
it fits 9 toast slices, a 12-cup muffin tray, etc
equipped with 13 multi-functions for cooking
air fry, dehydrate, roast, bake, pizza, cookies, etc
Best Countertop Multifunction Toaster Oven
Elite 8-Multi Toaster Oven
Oven & Griddle
This countertop toaster oven can hold up to 6 slices of toast inside the 0.8 cubic feet capacity. It is equipped with an oven-top grill to be used as a griddle and a steamer with a dome lid. It also comes with a rotisserie set, including removal thongs, a spit, and a fork. Besides that, you will also get a wire grill rack, crumb tray, and a roasting pan.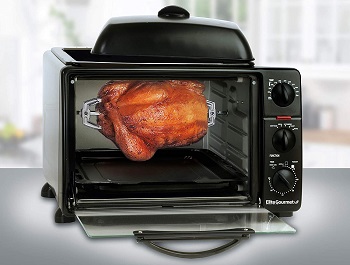 Bakes & Roasts
Besides 6 toast slices, the inside of the oven also has enough room for baking up to 12-inch pizzas, roasting poultry or other meats, etc. When using the rotisserie option, the meat will cook uniformly while spinning and eliminating the fat and grease as they drip away from the meat.
Adjustable Temperature 
The Elite multifunction toaster oven offers 8 multifunctional settings to choose from. You can set up the temperature for up to 450°F by using the temperature control knob. The function dial allows you to choose between the 8 settings, including convection toast, convection bake, broil, rotisserie, and keeping food warm.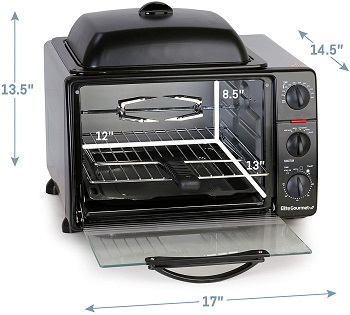 Prepare Breakfast At Once
Besides that, you can also grill eggs, bacon, and other breakfast foods, to get a whole breakfast while using one unit on the kitchen counter. Besides grilling, you can even steam food on it by using the dome lid. When cooking, you can even set up a timer, for up to 60 minutes with a stay-on function available.
Short Description:
0.8 cubic feet capacity for 6 toast slices
a toaster oven with an oven-top grill
the top griddle grills and steams foods
8 settings with adjustable temperature
toast, bake, broil, keep warm, rotisserie
includes a dome lid, roasting pan, and more
Best 4-Slice Multi Function Toaster Oven
Nostalgia 3-In-1 Toaster Oven
Breakfast Station Design
This vintage toaster oven can be used as a breakfast station with 3-in-1 functionality. Besides the 4-slice toaster oven, it also features a griddle and a 4-cup coffee maker. That way, you can toast bread, make coffee, and prepare eggs, bacon, and sausage all in one unit.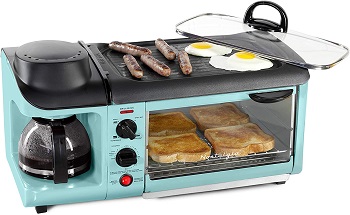 Oven Settings & Coffeemaker 
The multifunction toaster oven can do more than just toast bread. It is ideal for making cookies, baking up to a 7-inch pizza, and other meals, including casseroles. The coffee maker includes a glass carafe, a reusable filter, and a coffee scoop. It prepares coffee that you can enjoy while the food cooks.
Easy Cleanup
The griddle is located on top of the unit and is large enough to fit pancakes, eggs, hashbrowns, omelets, and other breakfast foods. It also includes a glass lid and is non-stick coated for easy cleaning. A wire rack, oven tray, and crumb tray are easy to remove for cleaning, as well.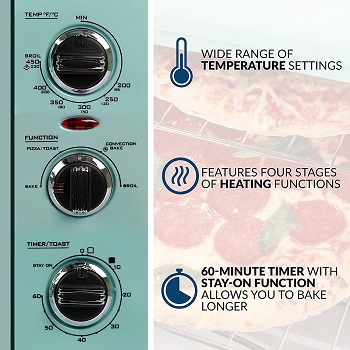 For Confined Spaces
To set up the cooking functions, the unit is easy to use with the help of two turning knobs and a switch. With the 3-in-1 design, it is ideal for use in confined spaces, such as RVs, small apartments, dorm rooms, etc. When cooking, you can also set up a 30-minute timer with an automatic shut off function.
Short Description:
3-in-1 vintage-looking breakfast station
4-slice oven fits even a 7-inch pizza
non-stick griddle with a glass lid
coffee maker prepares 5 cups of coffee
a wire rack, crumb, and oven trays included
ideal for small spaces, dorm rooms, RVs
30-minute timer with auto shut off
Best Convection Multifunction Toaster Oven
Mueller Toaster Oven With Timer
4-Slice Capacity
This multifunction toaster oven is constructed from stainless steel and has a capacity of holding up to 4 toast slices at once. It is equipped with an adjustable 30-minute timer that also offers a stay-on function. With its help, you can choose between light, medium, and dark toast shades.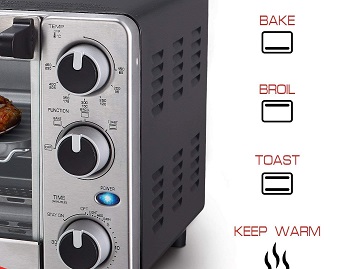 Customize The Time & Temp
The curved interior can also hold up to a 9-inch pizza. To set up the timer, simply use the timer control knob. The first control knob on the control panel also lets you adjust the oven temperature between 150 and 450 degrees Fahrenheit. The function knob is used for choosing between the 3 cooking settings.
3 Cooking Functions 
The small convection toaster oven can be used for baking, broiling, and toasting. By setting up the cooking temperature, you can expect perfect results thanks to the natural convection that circulates hot air inside the oven. That way, food is cooked more evenly and faster.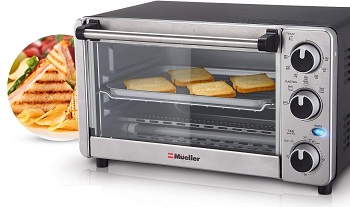 2 Rack Positions
The oven cavity offers 2 rack positions for accommodating different foods inside. The convection oven doesn't require preheating while providing quick results of browned and baked foods. You can cook exactly to your preference by taking a peek inside the oven through the glass door.
Short Description:
stainless steel construction for durability
4-slice capacity fits a 9-inch pizza inside
a 30-minute timer with a stay-on function
choose between light, medium, dark toast shades
used for toasting, baking, and broiling
Best Microwave Multi Function Toaster Oven
Toshiba Air Fry Toaster Oven
Reduces Energy Consumption
If you want the convenience of an air fryer, microwave, and a toaster oven in one, this model might be the one for you. The microwave toaster oven air fryer combo features a smart sensor and an ECO cooking mode to save energy consumption. The interior is stainless steel constructed, as well as the exterior which also has a black finish.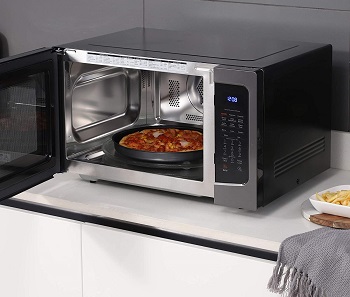 Humidity Detection
When air frying, you get to enjoy crispy and browned foods without using a lot of oil to achieve such results. The smart sensor is connected to the sensor cook and reheat options to adjust the temperature and time automatically by detecting the humidity in foods.
Multifunction Menus
To set up a cooking program, the screen display is easy to read and is simple to operate along with the intuitive control panel. When air frying, you can choose between 4 options on the menu, including frozen onion rings and French fries, chicken wings, and frozen chicken nuggets.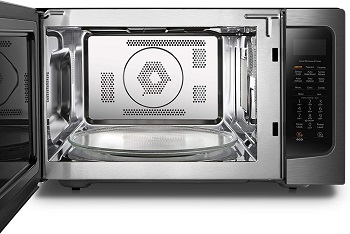 Microwave & Roasting Options
The roasting function also offers 6 different menus, including fish and mozzarella sticks, chicken legs, and tenders. When microwave cooking, you get to choose between 10 power levels on this multi-function toaster oven. You can also prepare popcorn with just a one-touch operation, and defrost foods by weight or time.
Short Description:
air fryer, microwave, toaster oven in one
ECO cooking mode with a smart sensor
stainless steel interior and exterior
sensor cooking with humidity detection
4 options for air frying, 6 for roasting
popcorn option and defrosting settings
Best Big Multifunction Toaster Oven
Galanz 4-In-1 Microwave Toaster Oven
1.2 Cubic Feet Capacity
This multi-function toaster oven doesn't not only toast but also offers 3 other functions to choose from in just one appliance. It can also be used as a microwave, a convection oven, and an air fryer unit. It has a capacity of 1.2 cubic feet and uses a convection feature while the food spins for faster cooking.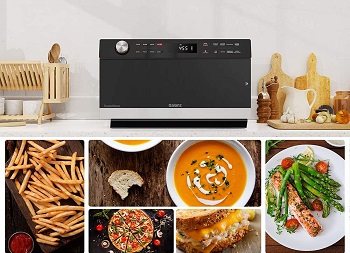 Many Oven Options
The food will never be over-or undercook thanks to the built-in humidity sensor, allowing you to cook and reheat food with an automatic stop once the food is ready to eat. The oven settings that are available include air fry, convection, toast, bake, broil, warm, bagel, and pizza.
Healthy Fried Food
When air frying, you will have to use little to no oil to achieve crispy browned foods and snacks. That way, you will get to enjoy healthier versions of fried chicken, French fries, shrimps, etc. The microwave function allows you to defrost foods by either weight or time.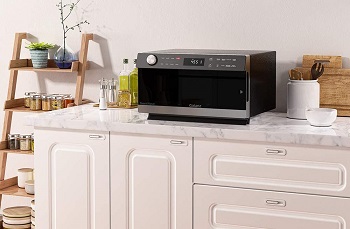 Included Components
To be able to use the microwave convection toaster oven to its full potential, you will get a turntable and an air fry kit included. The unit is easy to operate thanks to the screen display with touch buttons and a control dial. It is easy to save precious countertop space while enjoying the multi-functionality of the appliance.
Short Description:
microwave, toaster, convection oven, and air fryer
1.2 cubic feet large capacity for cooking
oven functions include bake, air fry, convection, etc
microwave and defrost by time or food weight
includes an air fry kit, a turntable, and more
built-in humidity sensor for precise cooking
air-fry many foods using little to no oil
What To Consider In Multi-Function Toaster Ovens?
In case you are tight on countertop space but want the convenience of many kitchen appliances, such an oven might be the answer to your prayers. It is available to purchase in different capacities, while you should also keep in mind its ease of use. Besides that, you will have to pick among different functions that best suit your demand and learn of its benefits.
Capacity – A toaster oven can be small, offering a 3-slice capacity, or can be large enough to prepare enough toast for your whole family, and more. Most models on the market either have a 4- or a 6-slice capacity, but if you need larger models for frequent use, a commercial toaster oven might be the one for you.
Is It Easy To Use? – For a toaster oven, especially the one with multiple functions to be user-friendly, it needs to have some of the following features. Firstly, make sure the screen display is easy to read and that the control panel is intuitive to use. Besides that, look for controls and functions that are understandable and clearly labeled.
Available Functions – Apart from being used for toasting, a multi-function toaster oven can mostly also be used as either an air fryer, microwave, convection oven, broiler, and more. Some models even have incorporated griddles for grilling foods while the oven toasts bread slices. The best model for you will be the one featuring cooking functions you are thinking to use.
Included Components – Most toaster ovens come with an oven rack, a baking pan, and a crumb tray. Depending on their multifunctionality, they can also feature rotisserie sets, air frying baskets, grill, and broiling racks, and much more.
Benefits – By incorporating many functions into one kitchen appliance, you will be able to save space on your kitchen countertop. At the same time, it will be an ideal choice for smaller spaces and kitchenettes. Toaster ovens also save energy and produce less heat and are easy to clean.
To Wrap It Up
Our top choice is the Breville multi-function toaster oven. It has a large 9-slice capacity and offers 13 versatile functions to choose from. You can air fry, dehydrate, slow cook, as well as toast bread, bake, broil, and more. If you are interested in other combo options on the market, consider some of the reviewed models of 3-in-1 toaster ovens. For countertop models that are both a toaster oven and a microwave in one, check out countertop microwave toaster oven combo models.