Do you need an industrial toaster oven for your business?
If yes, check out the models we have reviewed here.
After researching the market, we have chosen to review the best convection, countertop, pizza, stainless steel, and affordable models. Besides the reviews, in this article, you can also find a buying guide to help you concentrate on the important features and specifications to have in mind while hunting for a toaster oven for your business.
The Rundown
Best 6 Industrial And Commercial Toaster Ovens
Best Of Best Commercial Toaster Oven
Gemelli Home Toaster Oven
Removable Rotisserie Set
This professional-grade toaster oven features a pizza drawer under the oven and comes with rotisserie equipment included. The rotisserie set is removable and can be used for cooking between 5 and 6 pounds of meat evenly with the help of rotation, while the fats drip down. It is durable for long-lasting and frequent use.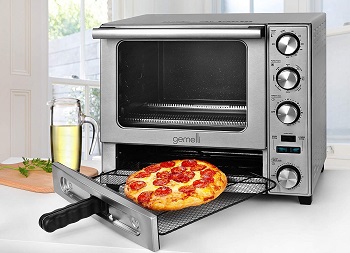 30% Faster Cooking
The bottom drawer is suitable for 12-inch pizzas, toasting bread, bagels, and snacks without a sheet pan needed. Heat circulates evenly around the oven thanks to the built-in convection fan. Because of that, the commercial toaster oven can cook up to 30% faster than conventional toaster ovens.
8 Cooking Options
The two turning control knobs allow easy set up of a cooking program and temperature for both lower and upper ovens, with separate timer knobs for upper and lower ovens. You can choose between 8 cooking programs, including toasting, baking, convection baking, broiling, defrosting, rotisserie, and more.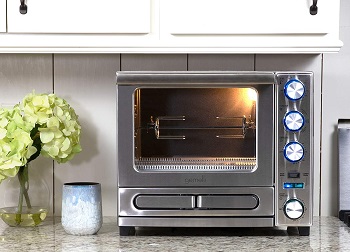 Included Contents
The interior of the rotisserie convection toaster oven is non-stick coated for easy cleaning and is also scratch-resistant. It is easy to operate with simple stainless steel turning knobs. You will also get an enamel baking tray, crumb trays for the main and the lower oven, and a broil grill.
Short Description:
professional-grade unit with a pizza drawer
a built-in convection fan for 30% faster cooking
offers 8 cooking programs to choose from
toast, bake, broil, rotisserie, defrost, etc
rotisserie equipment for 5-6 pounds of meat
Best Convection Industrial Toaster Oven
VBENLEM Toaster Oven
Even-Heat Circulation
This commercial toaster oven has a very large 2.12 cubic feet capacity with four tiers for different cooking needs. It can do more than just toasting, offering the possibility of roasting, steaming, reheating, defrosting, etc. The convection technology ensures even results with heat circulation.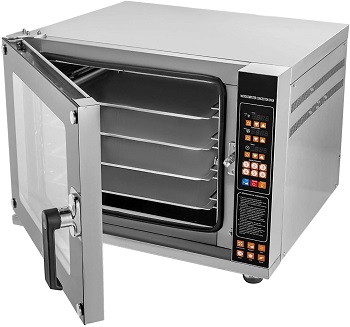 Versatile Use
This industrial toaster oven is suitable both for commercial and home use. It can bake cookies, cakes, tarts, macarons, dehydrate vegetables and fruit, defrosting, steaming fish, baking pizza, or grilling chicken. The unit is controlled by a microcomputer and easy to set up with touch buttons.
Feeds 10 To 15 People
You can set up the timer to 90 minutes with temperature adjustments between 0 and 350 Celsius degrees. The large capacity oven lets you use it to the maximum with four included trays for full use of space at once. You can prepare enough food to feed between 10 and 15 people.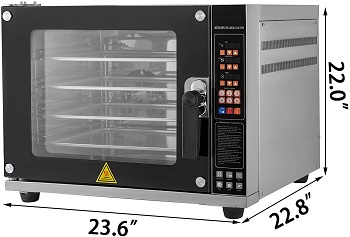 Durable Build
Depending on the size and quantity of food, it is easy to customize the four-layer shelves inside the oven. For durability and frequent use, the case is made from stainless steel with a thickened glass door. The interior is also made of food-grade stainless steel for easy cleaning and resistant to high temperatures and corrosion.
Short Description:
2.12 cubic feet capacity with 4 shelves
convection technology for even heat circulation
toast, bake, roast, steam, dehydrate, defrost, etc
adjustable timer and cooking temperature
large capacity feeds between 10 and 15 people
durable, corrosion-resistant stainless steel
Best Countertop Commercial Toaster Oven
KITMA 66L Toaster Oven
Extra-Large Capacity
This toaster oven with auto shut off has a 66-liter capacity with 4 racks. It comes in silver color with a stainless steel build. At the bottom of the front side of the unit, there are two turning knobs, a steam injection, and an on and off switch. The turning knobs allow you to set both the cooking time and temperature.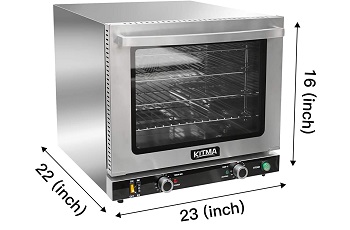 Adjustable Time & Temp
The timer control knob lets you set up the cooking time for up to 120 minutes. After cooking, the oven will shut off automatically. The temperature knob allows you to set the cooking time between 150 and 550 Fahrenheit degrees. The steaming injection lets you control the humidity during the cooking process.
Durable & Easy To Clean
Inside the toaster oven, there are four removable chrome wire shelves and each of them can hold a half-sized sheet pan. The oven is made of 304 food-grade stainless steel that is easy to keep clean. The oven door is made of tempered glass and is kept cool during cooking thanks to the heat insulation.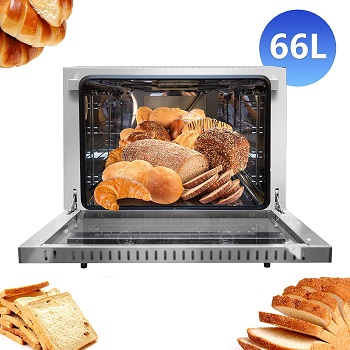 Hot Air Circulation
This industrial toaster oven will offer the versatility of cooking options in just one appliance, ideal for busy kitchens. The convection heating technology features a rear fan for circulating hot air, allowing quick and even baking and cooking. It is large enough to fit bread, pizzas, and more.
Short Description:
a 66-liter capacity with 4 racks
120-minute timer with auto-shutoff
temperature adjustable between 150 and 550°F
four removable chrome wire shelves inside
304 food-grade stainless steel construction
convection fan for circulating hot air
versatile use, ideal for busy kitchens
Best Pizza Industrial Toaster Oven
Loyalheartdy Cooker Toaster Oven
For 14-Inch Pizzas
This commercial toaster oven is suitable for fitting up to a 14-inch pizza inside. It is easy to use and keep clean, featuring a viewing window and an interior light for checking in on the cooking process. The two control knobs allow you to independently set the cooking temperature up to 300 Celsius degrees.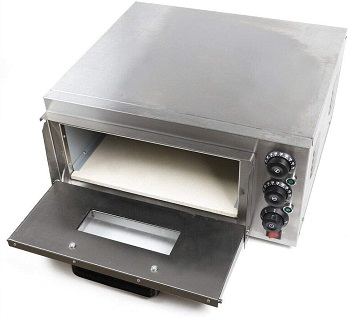 Private & Business Use
Inside this toaster oven, you can bake pizza, pastries, pies, cakes, potato bread, and more. Besides private use, it can even be used in restaurants, snack bars, clubs, and more. For both home and business use, it is made of stainless steel material for durability.
Stainless Steel Construction
The heating element moves up and down inside the unit, allowing the temperature to rise rapidly. The time control button allows you to set up the cooking time according to your needs. With the stainless steel construction, it will easily fit into the look and feel of any restaurant kitchen.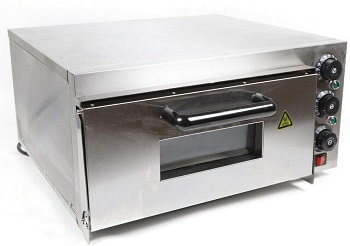 Space-Saving Design
The indicator light shows you when the set temperature is achieved to avoid any guessing. The on and off switch is located under the three control knobs for convenience. This countertop toaster oven has a single layer to take up minimum space in the kitchen.
Short Description:
suitable for 14-inch pizzas
easy to use and keep clean
interior light and a viewing window
adjustable temperature up to 300°C
suitable for restaurants and homes
Best Stainless Steel Commercial Toaster Oven
Adcraft Electric Toaster Oven
Professional & Portable
This stainless steel toaster oven is easily portable and uses convection, ideal for use in professional foodservice businesses. It is ideal for countertops in kitchens that are tight on space and only takes up 24 inches in width, 21 inches in depth, and around 22 inches in height.
For Frequent, Tough Use
Suitable even for frequent use and toughest demands, this industrial toaster oven is made from stainless steel material. The inside of the oven holds 4 racks suitable for fitting inside 4 half-size sheet pans with 3 inches distance between them.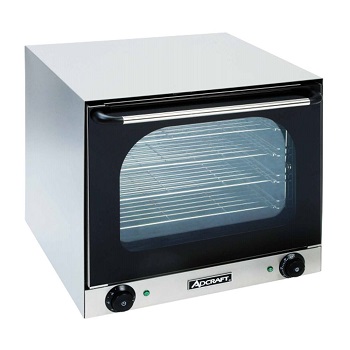 Wide Temperature Range
You can set the timer for up to 2 hours and adjust the cooking temperature between 120 and 570 Fahrenheit degrees. You can use it for cooking and baking many different foods, such as pizzas, bread, pies, and even meatloaves. With its easy-to-use features, a cooking program is simple and quick to set up.
Faster Cooking
A fan is built into the unit for circulating the hot air throughout the oven cavity, resulting in faster cooking without sacrificing the quality of cooking. As the cooking racks are made of heavy-duty stainless steel, they will be durable and great for frequent use.
Short Description:
suitable for countertops, portable model
features 4 heavy-duty stainless steel racks
2-hour timer, temperature between 120 and 570°F
for pizza, meatloaves, bread, pies, etc
a built-in fan circulates hot air inside the oven
it fits 4 racks inside with a 3-inch distance
Best Cheap Industrial Toaster Oven
Hamilton Beach Toaster Oven 31240
Digital Controls
This commercial toaster oven can be purchased for an affordable price of under 170 dollars on Amazon. It is a professional toaster oven equipped with a digital control panel for easy setups. It has a capacity of holding 6 bread slices at once, a 12-inch pizza, or a whole chicken. The size is ideal for kitchen countertops.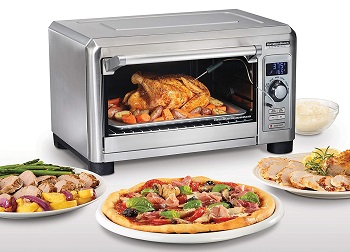 7 Cooking Modes
The turning knob on the control panel is used for setting up a cooking function, allowing you to choose between 7 different modes. You can toast, warm, reheat, convection bake, bake, broil, and there is even a dedicated program for bagels. The oven features 3 rack positions for flexible cooking.
Internal Meat Temperature
There is a storage drawer on the 6-slice convection toaster oven that holds the temperature probe hidden away when not in use. The probe allows you to monitor the doneness of your meat, as you can stick it inside the meat to measure its internal temperature. The screen displays the temperature of the food when you are using the probe.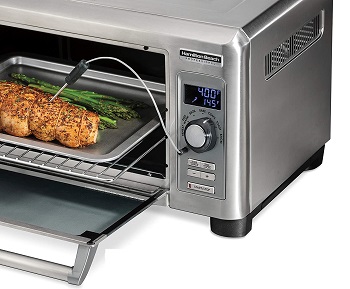 Accessories Included
Besides the internal temperature, the digital screen also displays the temperature of the oven, allowing you to easily track both temperatures. When the internal temperature is reached, the oven turns off automatically. Included with this kitchen appliance, you will also get a baking pan and a nesting broiling rack.
Short Description:
6-slice capacity, a 12-inch pizza, a whole chicken
features a digital control panel with 7 settings
bake, convection bake, broil, toast, reheat, etc
a temperature probe with a storage drawer
auto-shutoff when the internal temperature is achieved
a nesting broiling rack, a baking pan included
flexible cooking with 3 oven rack positions
What To Consider In Industrial Toaster Ovens?
Seeing as the market offers a wide variety of toaster ovens to choose from, there are a couple of things to keep in mind to get the best industrial model. First of all, consider its size and capacity and make sure it is easy to use for maximum comfort. Moreover, look for models with adjustable temperatures and check out cooking options it has to offer.
Sizing – Depending on how much countertop space you have available, you can choose between models with different capacities. Most industrial options offer larger capacities, with multiple oven racks, allowing you to prepare a bigger amount of food inside at once. When choosing, you should keep in mind both your needs and the available countertop space.
Ease Of Use – A toaster oven should always feature clearly labeled functions and controls so that it is easy to understand and use. An easy-to-read display screen will also be of great help here. If you find a model that is easy to use, you won't need to spend hours and be confused about how to use it.
Adjustable Settings – Toaster ovens usually let you set up the cooking temperature, ranging even up to over 500°Fahrenheit. That way, you will be able to customize the temperature to the food that you want to cook. A temperature probe might be included, allowing you to check and monitor the doneness of the meat for easier cooking.
Cooking Modes – An commercial toaster oven mostly lets you toast, bake, and broil, while some models can even be used as a rotisserie. Moreover, they sometimes also feature cooking programs for bagels, pizza, or can keep food warm or reheat it when necessary.
What Else? – For this kitchen appliance to be durable and suitable for frequent and demanding use, it should be constructed from food-grade durable materials, such as stainless steel. It should be easy to keep clean for hygienic reasons, such as a self-cleaning toaster oven, and should include some accessories for easy use. For example, baking pans, rotisserie equipment, and oven racks can be helpful.
To Wrap It Up
Our top pick for an industrial toaster oven is the Gemelli toaster oven. It cooks even up to 30% faster thanks to the built-in convection fan for hot air circulation. It offers versatile programs for cooking and even features rotisserie equipment for making between 5 and 6 pounds of meat. For models with big capacities, check out our selection of extra-large convection countertop ovens. If you also wish to air fry, a large toaster oven air fryer might be the choice for you.