Desperately searching for a self-cleaning toaster oven?
In that case, you've come to the right place!
We have reviewed 6 different models that are easy to clean, including air fryer, convection, big, small, cheap, and pizza toaster ovens. Besides that, here you can find out more about qualities that make toaster ovens easy to clean for hygienic cooking and spotless countertops.
The Rundown
6 Best Self-cleaning Toaster Ovens
Best Of Best Self-cleaning Toaster Ovens
Breville Toaster Oven Self Clean
4 Quartz Elements
This smart toaster oven features four quartz elements that deliver perfect cooking results by distributing heat intelligently where it is needed. Equipped with a digital screen display, it is easy to select between 8 cooking functions by simply turning a control knob.
Smart LCD Display
You can reheat food, bake, make cookies, pizza, bagels, or broil, roast, and toast with this compact oven. The oven is big enough to fit 4 slices of bread, a 12-inch pizza, roast a chicken, or even fits a 6-cup muffin tray. The LCD screen is illuminated in orange during preheating and cooking and turns blue once cooking is completed.
Non-Stick Interior
The smart display sets the temperature and time needed to precisely cook food according to the cooking function you select. After cooking, the self-cleaning toaster oven will be easy to clean up. The interior walls of the oven are non-stick coated so that washing any dirt will be easy.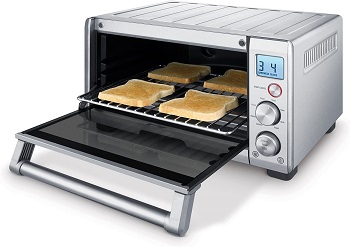 Accessible Crumb Tray
The compact footprint saves space on any kitchen countertop while allowing you to prepare many different meals for everyday eating. With its fast preheat, you will be able to enjoy cooked and baked foods more quickly. The crumb tray accessible at the bottom by sliding out is easy to maintain clean, as well.
Short Description:
features four quartz heating elements
8 cooking functions to select from
bake, broil, roast, toast, pizza, etc
intelligent heat distribution for cooking
non-stick interior for easy cleaning
Best Air Fryer Self-cleaning Toaster Oven
Cuisinart Toaster Oven TOA-60
No Oil & Grease
This air fryer convection toaster oven comes with 7 functions, including an option for air frying foods. That way, you can enjoy fried foods with much less fat and grease, which also makes cleanup a lot easier. The 0.6 cubic feet oven cavity is non-sticking, which makes maintenance even easier.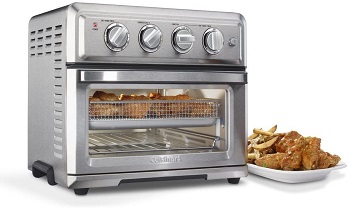 Auto Shut Off
The self-cleaning toaster oven can fit up to 6 slices of bread at once, bake a 12-inch pizza, or air fry a 4-pound chicken, or up to 3 pounds of chicken wings. The timer control knob allows you to set up a timer for up to 60 minutes and automatically shuts the oven off once the time is up.
Adjustable Settings
When toasting bread, you can select the shade according to your preference by turning the fourth knob on the control panel. The temperature of the oven can be set up to 450 degrees Fahrenheit. An oven rack, a baking pan, and a basket for air frying come included with the purchase.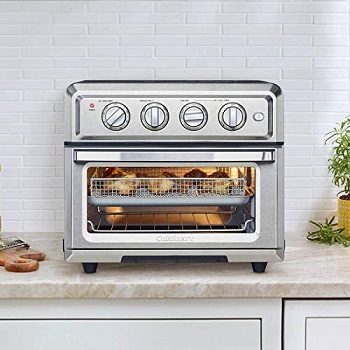 Healthier Cooking
When using ultra-hot air for frying, instead of deep oils and grease, you are greeted with healthier food and the cleanup is also a breeze afterward. It is an ideal appliance for your countertop, giving it a sleek vibe thanks to the stainless steel construction and silver color.
Short Description:
7 cooking functions available for selection
0.6 cubic feet non-stick oven for easy cleaning
it can toast, bake, broil, air fry with hot air
a 60-minute timer with auto shut off
adjustable toast shade, temperature up to 450°F
oven rack, air fry basket, baking pan included
Best Convection Self-cleaning Toaster Ovens
Oster Large Toaster Oven
6-Slice Capacity
This digital convection toaster oven offers a large 6-slice capacity that can fit a 12-inch pizza or even a baking pan with maximum measurements of 2 inches in height, 10.5 inches in width, and 12.5 inches in length. It uses convection for baking and offers a temperature range between 150 and 450 Fahrenheit degrees.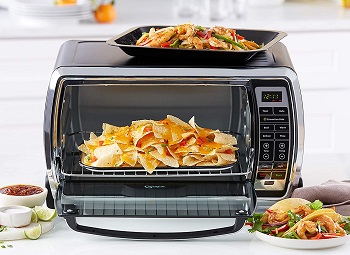 7 Cooking Settings
On the side of the oven, there is a digital display with pushbuttons for easy set up of one of the available 7 preset programs for cooking. You can convection bake, bake, make pizza, defrost foods, toast, broil, and keep foods warm. The self-cleaning toaster oven comes with a durable baking tray for versatile use.
Customizable Space
The convection feature is used for fast cooking and can be used for more uniform browning on foods. When toasting bread, you can also decide on the shade of it. With the two available rack positions, you can enjoy thin pizzas and even roast meats in the same large oven.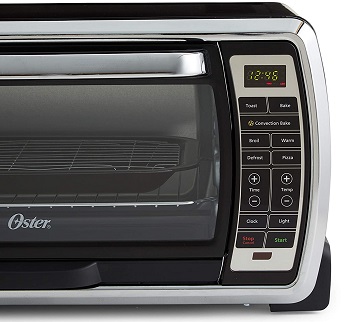 Dishwasher Safe Parts
The crumb tray is easy to remove after cooking and collects all the grease and other spills. Along with the oven rack, it can be placed on the top rack of the dishwasher for easy cleaning. However, before cleaning, always allow the metal parts to cool down.
Short Description:
fits a 12-inch pizza, 6 slices of bread
temperature adjustable up to 450°F
convection feature for faster, uniform cooking
7 available functions on the control panel
two rack positions, large cavity
dishwasher safe crumb and baking trays
toast, pizza, bake, convection bake, broil, etc
Best Pizza Self-cleaning Toaster Oven
Hamilton Beach Roll-Top Oven
4 Available Settings
This roll-top toaster oven has a capacity of holding up to 6 slices of bread at once. The countertop model works with convection, but also offers settings for broiling, baking, and toasting. Its specific door design allows you to open it upward and away from the kitchen countertop, freeing up space in front of the unit.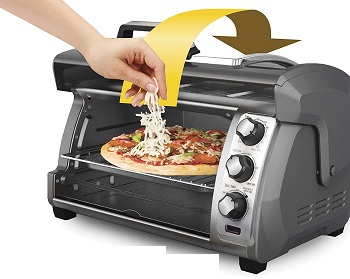 Spill-Free Design
As the door moves up and out of the way, it is also less likely that you will spill food and juices on it. That way, cleaning the door will also be easier. At the same time, access to food during and after cooking will also be easier, and cleaning the inside of the oven will become more simple with the large opening.
Safe Contoured Knobs
The spacious oven can hold a 12-inch pizza and a 9 by an 11-inch baking pan. The oven rack can be set in two different positions for baking, broiling, toasting, and convection baking. The three contoured knobs are safe and easy to use for setting up the cooking temperature, timer, and selecting between cooking functions.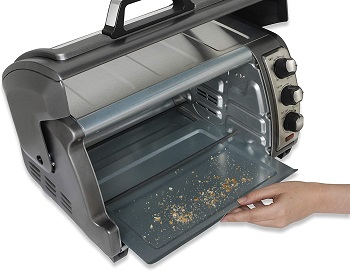 How To Clean?
The convection setting reduces cooking time up to 25 percent while providing crispy and evenly cooked foods. The crumb tray is accessible from the front of the unit for removing it and cleaning it from grease and drips. When cleaning this self-cleaning toaster oven, unplug it and let it cool down.
Short Description:
6-slice capacity for a 12-inch pizza
broil, bake, toast, convection settings
roll-top door prevents spillage on it
easy-reach oven with two rack positions
easy-to-clean slide-out crumb tray
Best Big Self-cleaning Toaster Ovens
Black & Decker Toaster Oven Silver
For 12-inch Pizzas
For a self-cleaning toaster oven that is both easy to use and clean while providing a large capacity, this countertop toaster oven might be the one. It fits a 12-inch pizza inside the extra-deep curved cavity easily. If you want to achieve fast baking results with uniformly baked foods, you can use the convection setting for circulating hot air.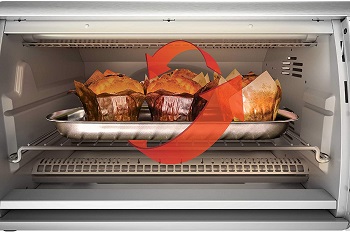 Many Specialized Settings
This model offers you settings for not just toasting bread, but also bagels, as well as options for broiling, and baking. It is equipped with special programs for defrosting, pizza, potatoes, and cookies, and convection baking is just one touch away. Inside the oven, you can even fit casseroles, whole chickens, etc.
Two Rack Positions
The rack can be positioned higher and lower inside the oven, for broiling or for accommodating large quantities of food. Different positions work better for different cooking applications, delivering better results. The convection technology can be used for faster cooking and even baking.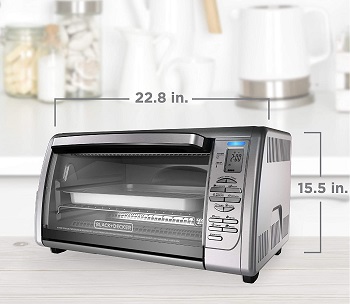 Included Parts
The outer stainless steel body compliments any kitchen design and is also easy to maintain clean for spotless countertops. Included with the purchase, you will also get a broiler pan and a crumb tray. The crumb tray is easy to slide in and out for cleaning it from drips, grease, and crumbs.
Short Description:
extra-deep cavity fits a 12-inch pizza
convection technology for fast and even baking
toast, bake, broil, convection, pizza, cookies, etc
easy-to-clean stainless steel body and crumb tray
comes with a pan specialized for broiling foods
higher and lower positions of the oven rack
Best Cheap Self-cleaning Toaster Oven
Comfee Compact Toaster Oven
3-In-1 Appliance
This self-cleaning toaster oven offers 3 functions for cooking in just one kitchen appliance. You can use it to toast, bake, and broil without taking up too much space on your kitchen countertop. The control panel is equipped with two turning knobs for adjusting the temperature and setting up a timer.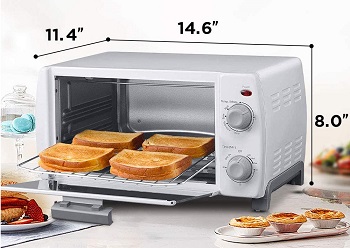 Timer With Stay-On
The first turning knob allows you to set up a temperature of up to 450°F with options for toasting, baking, and broiling. By setting up a timer for up to 30 minutes, you can easily choose a toast shade. Likewise, if needed, you can also choose the stay-on function for longer cooking needs.
Flexible Rack
The rack inside the oven comes with flexible positions, great for use when cooking many types of foods of different types and sizes. The oven can fit a 9-inch pizza inside, as well as up to 4 slices of bread. You can buy this toaster oven for under $50 on Amazon for the price of just around 35 dollars.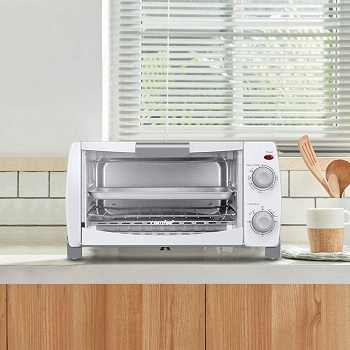 A Non-Stick Tray
For cleaning the unit, the crumb tray can be accessed from the bottom of the unit. To do so, you will have to tilt the oven backward and push the crumb tray open. Then, you will be able to clean the non-stick tray of crumbs, grease, and any other drips and spillage.
Short Description:
3-in-1 oven for broiling, toasting, baking
temperature and timer control knobs
temperature adjustable up to 450°F
30-minute timer with a stay-on function
it fits 4 bread slices, a 9-inch pizza
a non-stick crumb tray drops from the bottom
the oven rack has two positions
What To Consider In Self-cleaning Toaster Ovens?
The market offers toaster ovens with specific parts that are very easy to maintain clean after each use so they are called self-cleaning. Moreover, they come in different sizes and with different preset programs for cooking. Besides those qualities, also look for models that are easy to use and that can adjust the temperature of the oven.
Self-cleaning Parts – Some toaster ovens come with baking trays, oven racks, and other accessories that are easy to remove and some are even dishwasher-safe for easy cleaning. Another important cleaning part is a crumb tray that can be accessed either from the bottom and the front and collects grease, drips, and crumbs. Inner oven cavities can also be non-stick coated for easier cleanup after use.
Size – Toaster ovens on the market come in smaller and bigger sizes to accommodate different needs. They are usually compact enough to be used on kitchen countertops without taking up too much space. Mostly, they can fit 4 or 6 slices of bread, but even casseroles, whole chickens, 9-inch, or 12-inch pizzas.
Preset Programs – Self-cleaning toaster ovens offer various cooking programs, allowing you to use such a small appliance for many cooking needs. Besides toasting, they can be used for baking, broiling, some even for air frying, and convection baking.
Ease Of Use -A toaster oven should be easy to use, without complicated functions that will waste your time. Some of the user-friendly qualities to look for are clearly labeled controls and functions, easy-to-read displays, and intuitive interfaces and control panels.
Temperature & Timer – For different cooking needs, toaster ovens can usually provide you with a temperature range of 200 to 450 Fahrenheit degrees. Timers can be set up for 30 to 60 minutes usually and feature automatic shut off functions to prevent overheating and burning.
To Wrap It Up
The best self-cleaning toaster oven is the Breville toaster oven. It offers 8 cooking functions with smart heating technology for the best baking results. Its non-stick interior and the accessible crumb tray make cleanup a breeze. In case you are looking for a model that is also safe to use, consider our choices of the safest toaster ovens. For durable models that can also be easy to clean, check out our stainless steel toaster ovens.