Looking for a way to add color to your kitchen space and wondering which colored toaster oven could be used to achieve that while also being functional?
In that case, you are in the right place!
If you keep reading this article, you will find reviews of 6 toaster ovens in different colors, including blue, red, yellow, green, and brown. Besides that, you will also be able to learn more about their features and what they can be used for. Finally, you can also read our buying guide to help you find the best model for your needs.
The Rundown
Top 6 Colored Toaster Ovens
Best Of Best Colored Toaster Oven
Hamilton Beach 2-In-1 Toaster Oven
Interesting Design In Red
This colored toaster oven comes in red and is specific as it features both a toaster oven and a toaster slot on top of the unit. That way, you can either use the oven to toast bread and prepare other meals and snacks or use the slots to toast different types of bread. To alternate between using the oven and the toaster slots, you will simply have to slide the lever.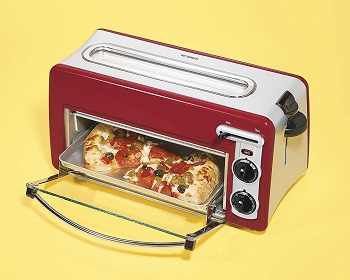 Saves Time, Energy & Space
The toaster oven with toaster on top works fast and browns evenly and is proved to toast up to 24% faster, reheat 28% faster, and use 73% less energy than a traditional toaster oven. As it features two functions in one, it will also save you space on the kitchen countertop.
Adjustable Oven Temperature
The oven can be used for baking at temperatures up to 450 Fahrenheit degrees. To set the temperature, simply turn the temperature control knob. You will be able to bake up to 2 slices of a 16-inch pizza or prepare nuggets, fish filets, sandwiches, chicken breasts, and more.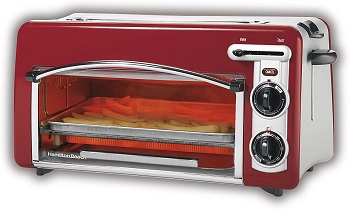 Select The Toast Shade
The toaster slots are 1.5 inches wide so that you can use them for toasting bread, bagels, and even English muffin halves. When toasting bread, you get to also choose among 6 toast shade settings by simply turning a knob. Included in the package, there is also a removable crumb tray and a baking pan.
Short Description:
24% faster toasting, 73% less energy used
used as an oven and a toaster with top slots
1.5-inch wide slots for bagels, toast, etc
the oven for nuggets, fries, sandwiches, etc
adjustable temperature, and toast shade selector
Best Blue Colored Toaster Oven
Nostalgia Toaster Oven Retro Style
Retro Look In Aqua
This blue toaster oven comes in the shade of aqua and features a retro look thanks to the oval door window, door handle, turning knobs, and some other retro details. The oven has a 0.7 cubic feet capacity that can hold 12 slices of toast at once or even two 12-inch pizzas simultaneously.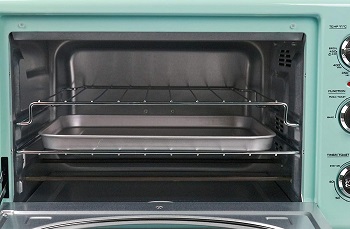 Three Adjustable Features
The three control knobs are used to choose the oven temperature, cooking function, and cooking time. The temperature can be adjusted between 200 and 450 degrees Fahrenheit and you can choose between options for toasting, broiling, baking, and convection baking.
User-Friendly 
Included with the colored toaster oven, you will also get a baking pan, wire racks, and a crumb tray. They are all easy to remove for cleaning. The glass window is heat resistant and allows you to take a peek inside the oven without having to open the oven door.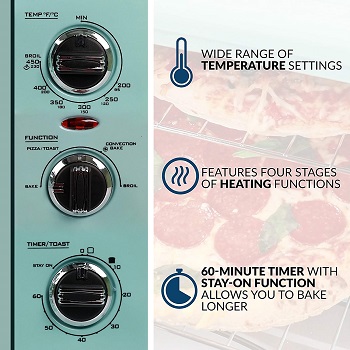 60-Minute Timer
When cooking, you can also set up the timer for up to 60 minutes or choose the stay-on function for longer endeavors. You can prepare tasty meals, snacks, and desserts while the toaster oven also gives a stylish vibe to the kitchen when it is not used.
Short Description:
aqua blue color, retro look with details
0.7 cubic feet capacity for 12 toast slices
temperature adjustable from 200 to 450°F
options for toasting, baking, broiling, convection baking
removable crumb tray, wire racks, and a baking pan
60-minute timer with stay-on function
Best Yellow Colored Toaster Oven
Dash Mini Toaster Oven Cooker
Vertical Shape
This yellow toaster oven comes in a small vertical size that can save space on your kitchen countertop. It comes with a baking pan and an oven rack included in the package. Its small size makes it ideal for preparing smaller portions of toast, bagels, pizza, cookies, and paninis.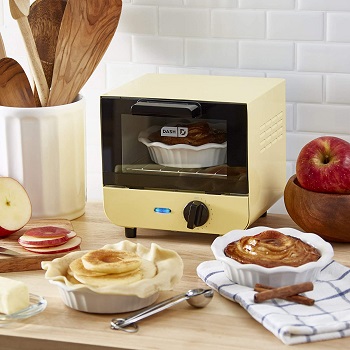 Timer-Operated
As it is operated by a timer, you will get to choose the shade of toast to your preference. You can set up the timer for up to 15 minutes, to get lighter or darker toast shades. Once the time is up, the colored toaster oven also turns off automatically to prevent burning and overheating.
Easy Maintenance
The crumb tray collects the drips and crumbs to prevent a messy countertop and can be easily removed for cleaning. It is also dishwasher safe, along with the oven rack and the baking tray. The other surfaces can be easily wiped clean. Included with the purchase, you will also get recipes to get you started with preparing breakfast and dessert meals.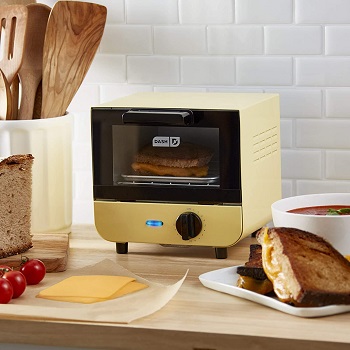 Even Browning
By placing toast slices on the oven rack, you will ensure that it is browned equally on both sides. You can do the same with bagels, pizza, and more. With its yellow color and a small capacity, it will look cute on any kitchen countertop.
Short Description:
small size, vertical shape, yellow color
baking pan, crumb tray, oven rack included
dishwasher safe parts for easy cleaning
15-minute timer with automatic shut off
evenly browns thanks to the oven rack
for bagels, toast, pizza, paninis, cookies, etc
saves space on the kitchen countertop
Best Pink Colored Toaster Oven
Ruse Toaster Oven Air Fryer Combo
Durable & Stylish
This pink toaster oven is made from a galvanized sheet which makes it durable, as well as stylish for kitchen countertops. It is equipped with a powerful convection fan that circulates heated air throughout the oven cavity for faster cooking with more uniform results.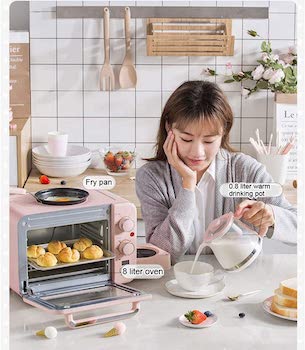 Feeds 1 to 3 People
The inside of the oven is large enough to fit pizzas, bagels, biscuits, frozen snacks, potatoes, as well as toast bread. Its capacity is suitable for feeding 1 to 3 people at a time. The control panel consists of two control knobs that are easy to turn to set up an oven temperature, as well as a timer.
Heats A Kettle
The timer can be set up for up to 30 minutes and will make a bell signal once the cooking time is up. The temperature knob can be used to adjust the oven temperature between 100 and 250 Celsius degrees. On the side of the oven, there is a kettle heating component that drops down when you want to use it, so it otherwise doesn't take up precious worktop space.
Fries Eggs & More
On top of the unit, you can also place a small fry pan to prepare many breakfast meals, including bacon and eggs. That way, you can have a complete breakfast in a short time, including a hot beverage, eggs, as well as toast, muffins, and similar things. The two buttons on the control panel are used to turn the griddle top and side heating element on.
Short Description:
durable galvanized sheet, pink color
an oven, a top griddle, and a side heater
temperatures from 100 to 250°C
30-minute timer with a bell signal
big enough to feed 1 to 3 people
Best Red Colored Toaster Oven
KitchenAid Countertop Toaster Oven
Gloss Cinnamon Shade
This toaster oven red color model comes in gloss cinnamon shade and features a digital screen display with two turning knobs. The oven door has a large viewing glass window on it and a silver handle for easy opening. It uses convection to evenly heat the inside of the oven and provide excellent results.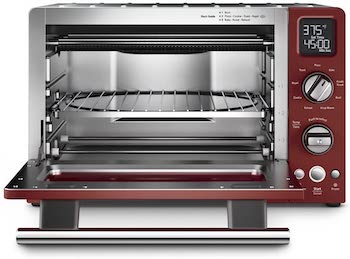 9 Cooking Programs
The colored toaster oven also features die-cast control knobs and a 120-minute timer so that you can cook many different meals. Besides that, it also offers 9 cooking programs to choose from, including settings such as reheat, warm, bake, broil, toast, pizza, cookie, and bagel.
6-Slice Capacity
The countertop toaster oven has enough room to fit 2-12-inch pizzas, cornish hens, and 6 slices of toast. The interior of the oven is non-stick coated so that it is easy to keep clean after each use. Besides that, you will also get a 12-inch baking pan, a 12-inch broiling rack, as well as a cooling rack, and a non-stick crumb tray.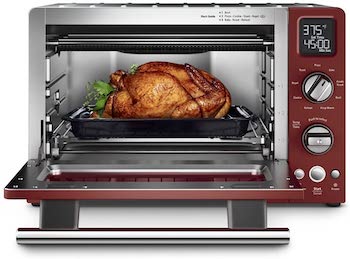 Convection Button
Besides choosing among the 9 cooking presets, you can also set up the oven temperature and choose the cooking time by using the digital screen and the control knob for temperature and time. The convection feature can be used by pressing the convection button at the bottom of the control panel for crispy foods.
Short Description:
gloss cinnamon red shade, digital settings
fits 6 slices of toast, 2-12-inch pizzas
offers 9 cooking programs, cooking timer
includes a baking pan, a broiling rack, and more
reheat, warm, toast, bake, broil, cookie, pizza, etc
offers a convection button for crispy cooking
Best Brown Colored Toaster Oven
Cuisinart Air Fryer Toaster Oven
4 Turning Knobs
This colored toaster oven comes in brown color, featuring a control panel with four turning knobs, and an oven door with a large glass window. It uses a power supply of 1800 Watts and also works with convection to make baking faster and more uniform. Besides baking, broiling, and toasting, it can also be used to air fry different foods.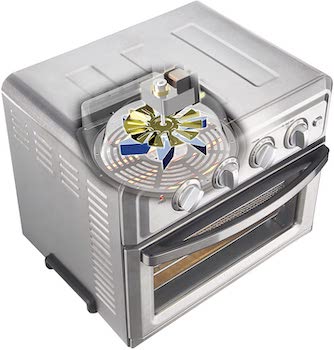 Fits a 12-Inch Pizza
The copper toaster oven uses an air frying setting to prepare healthier versions of traditionally fried foods, as it uses little to no oil to achieve crispiness. This is possible because hot air is circulated throughout the oven to achieve uniform cooking and browning. The 0.6 cubic feet interior can hold 6 toast slices, a 12-inch pizza, a 4-pound chicken, and more.
Select The Toast Shade
You can set the timer for up to 60 minutes when cooking and choose between light, medium, and dark toast shades when toasting bread. The oven temperature can be set for up to 450 degrees Fahrenheit. You can also choose between 7 cooking functions, including air frying, warming, toasting, baking, broiling, as well as convection baking, and convection broiling.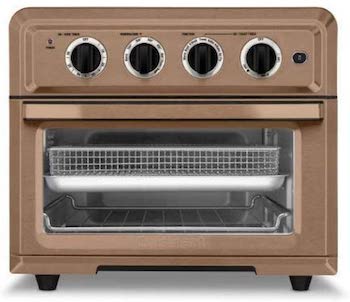 Included Contents
The interior of the oven is non-stick coated for easy cleaning. Included in the package, you will get a baking pan, an oven rack, and an air frying basket. You can enjoy your favorite crispy fried foods without worrying about calories, as little to no oil will be used to achieve crispiness.
Short Description:
brown color, copper style, large glass window
offers 7 cooking programs to choose from
holds 6 toast slices, a 12-inch pizza, etc
oven temperature up to 450°Fahrenheit
60-minute timer, three toast shades
air fry, bake, broil, convection bake, warm, toast
prepares healthier versions of fried foods
What To Consider In Colored Toaster Ovens?
When buying a toaster oven, there is much more to keep in mind than just the color of the appliance. You should also consider the size of the unit and make sure it is easy to use. Besides that, also take into consideration the cooking programs it has to offer and learn about the advantages of having such a kitchen appliance.
Colors Available – The market offers a wide range of colors and different hues you can choose among. From blue, green, yellow, rose gold toaster ovens, red, copper, black, white, and much more. You can choose the color according to the kitchen decor or choose something entirely different to give the space a pop of color.
Size – Toaster ovens can be small and large, and you should choose depending on your needs. If you live alone or have a small family, you won't need a very large unit, such as is needed for large families. Moreover, look for the overall dimensions. If you lack countertop space, you can go for a vertical toaster oven to save precious worktop area.
Ease Of Use – Apart from color and size, it is also important that the appliance is understandable and easy to use. That is why you should look for models with control panels that are intuitive to use, that feature clearly labeled functions and controls. Moreover, also make sure that the screen display is easy to read if it's a digital model.
Cooking Options – Besides toasting bread, colored toaster ovens usually offer a wide variety of other cooking programs. You can choose a setting for baking, broiling, roasting, while some models even let you air fry, dehydrate, rotisserie, and much more. The best model for you will be the one offering settings you want to and plan to use.
Advantages – Besides giving the space a stylish accent, toaster ovens can also be a great alternative to traditional ovens in small spaces, as well as in busy kitchens as extra help. They usually preheat faster, use less energy, and also produce less heat, so they are ideal for cooking during hot summer days. Likewise, they are also easy to keep clean.
To Wrap It Up
The Hamilton Beach red toaster oven is our favorite choice as it offers both an oven and toaster slots on top of the appliance. This colored toaster oven lets you choose between 6 toast shade settings, bakes at high temperatures, and is easy to operate. In case you want to check out some other colors in toaster oven models, consider our selection of green toaster ovens. Likewise, if you are a lover of vintage and retro looks, you might want to check out our reviews of vintage toaster ovens that come in different colors and designs.