Interested in yellow toaster oven selection available on the market?
In that case, read this article!
We have reviewed 6 toaster ovens that come in different yellow hues and that have different features included. Whether you are interested in smart, simple, small, big, modern, or vintage-style appliances, we have something for you. Also, we have explained some features to take into consideration when buying a toaster oven to get the best model tailored to your needs.
The Rundown
Best 6 Yellow Toaster Ovens
Best Of Best Yellow Toaster Oven
Dash Mini Toaster Oven
For Bread, Bagels, Paninis
This small toaster oven comes in a vertical shape and features a yellow body with a glass window on the door. It can be used for much more than just toasting bread. It allows you to also make cookies, pizza, bagels, and paninis. The vertical toaster oven won't take up a lot of space and is great for preparing snacks to enjoy on the go.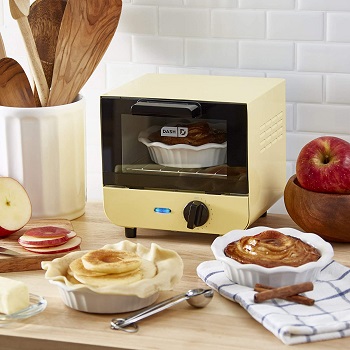 Smaller Vertical Footprint
Its vertical shape will be great for smaller countertops, allowing you to toast foods without sacrificing too much of the precious countertop space. Under the glass door, the turning knob allows you to set up a timer for up to 15 minutes and then automatically shut off.
Adjustable Toast Shades
When the unit turns off after the time us up, it also prevents overheating and burning while always providing perfect results. The toasting tray allows even browning and heating of both sides of your bread and bagels. By setting up the timer, you can choose whether you want lighter or darker toast shades.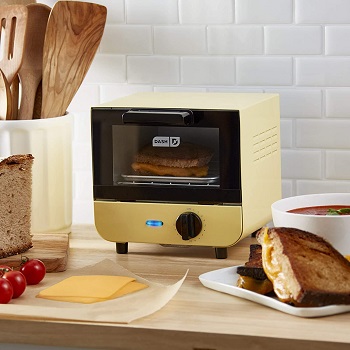 Dishwasher Safe Parts
The crumb tray is easily removable for cleaning as it collects all the grease and crumbs from cooking. It is dishwasher safe, as well as the baking tray and an oven rack. The other non-electric surfaces of the yellow toaster oven can be easily wiped down for spotless countertops.
Short Description:
yellow color and a vertical shape
toasts bread, bagels, paninis, etc
15-minute timer with auto shut-off
dishwasher safe parts for easy cleaning
even heating and adjustable toast shades
Best Modern Yellow Toaster Oven
LQRYJDZ 32L Toaster Oven
4 Set-Up Dials
This modern toaster oven features a 32-liter capacity and features a glass door for easy viewing of the cooking processes inside the oven. It comes in yellow color and features 4 dials for setting up the temperature of lower and upper heating elements, setting a timer, and choosing between cooking functions.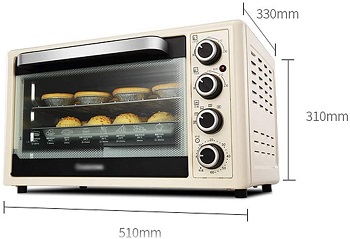 Separate Controls
By increasing the thermal cycle inside the oven cavity, this yellow toaster oven delivers uniform heating for better baking results. The first turning knob allows you to adjust the upper heating element's temperature between 90 and 230°C, and the second knob offers the same settings for the lower heating element.
Versatile Options
The third knob is to be used for choosing a cooking function. You can set up a grilling, a cycle for roasting and grilling by using one or both heating elements. That way you can bake pizza, cupcakes, roast vegetables, and do much more in just one small appliance.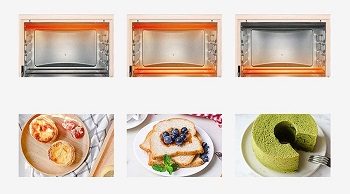 60-Minute Timer
The fourth knob allows you to set up a timer for up to 60 minutes. Once the cooking cycle is finished, the unit will automatically turn off to prevent overheating and burning. As it allows you to cook with upper and lower heating elements, or just one of them, you will be able to prepare many different meals.
Short Description:
a 32-liter capacity oven with 4 knobs
adjustable upper and lower heating temperatures
90-230°C adjustments available
60-minute timer with auto shut off
used for pizzas, cupcakes, vegetables, etc
uniform heating for better baking results
Best Pizza Yellow Toaster Oven
QYJH Family Toaster Oven
Black & Yellow
This pizza bagel toaster oven comes in a combination of black and yellow colors featuring a black front surface with a yellow handle, and a yellow side and top surfaces. With its large 32-liter capacity, you can roast a 3-kilogram chicken, 30 chicken wings, a 12-inch pizza, or an 11-inch hurricane cake at once.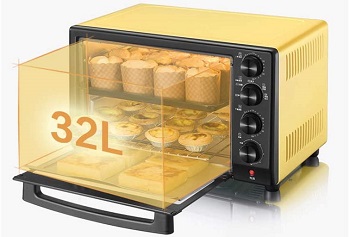 Family Capacity
The large capacity of the yellow toaster oven is suitable for family use as it can bake a large quantity of food at once. It delivers uniform heating with four heating tubes, so you don't have to worry about any slice of bread being more burnt than the others.
Explosion-Proof
The glass door on the toaster oven is very strong and explosion-proof, as well as the oven lighting, and features a comfortable yellow handle. The upper and lower stainless steel heating elements have independent temperature controls so that you can cook many different meals in it, including pizza, chicken, rice, and more.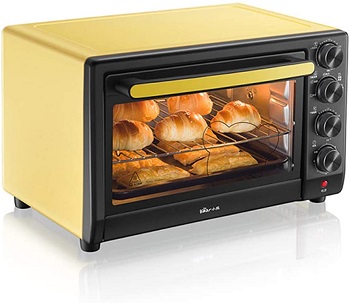 Threaded Knobs
On the front surface of the oven, there are four threaded knobs for setup without worrying about slipping thanks to the increased friction. The timer is also controlled by a threaded knob and you can set it up for up to 60 minutes, depending on the food.
Short Description:
black front and yellow side surfaces
large 32-liter capacity for family meals
for 3-kg chicken, 30 wings, a 12-inch pizza
four stainless steel heating tubes
explosion-proof door and lighting
Best Smart Yellow Toaster Oven
L Oven Toaster Oven
Compact Design
This yellow toaster oven offers a large capacity in a compact design, ideal for use in smaller spaces, such as campers, offices, caravans, dorms, etc. It features a high-definition screen display, four pushbuttons, and three turning knobs. The screen displays the temperature, time, and the cooking menu for easy use.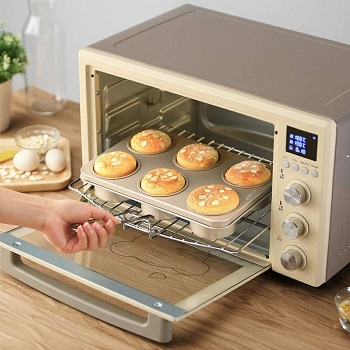 Smart Features
Featuring four heating tubes, this oven offers balances heat for uniform baking with 3D hot air circulation and can even roast chicken with 360° rotating. Temperature knobs allow you to independently control the upper and lower heating elements.
Versatile Menu Options
This smart toaster oven allows you to roast, steam, toast, bake a cake, or even grill your dinner. The menu options offer settings for fermentation, pizza, puffs, biscuits, cake, bread, grilled meats, and egg tart. By using the screen, it will be easy to choose the menu setting and set up the temperature and timer.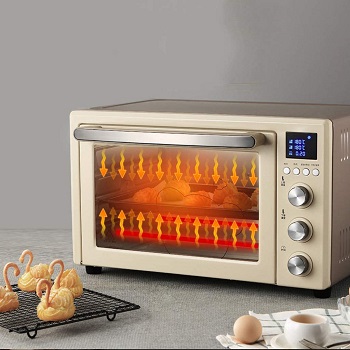 Included Products
Included with the product, you will also get a crumb tray, a grilled net, a baking tray, and the rotisserie equipment. The upper tube's temperature is controlled with the first knob, while the second controls the temperature of the lower heating tubes.
Short Description:
large capacity in a compact design
ideal for use in smaller spaces
high-definition screen for setup
separate temperature controls for elements
fermentation, pizza, puffs, biscuits, cake, bread
Best Microwave Yellow Toaster Oven
Fitness Retro Toaster Oven
Retro Yellow
If you want a yellow toaster oven that gives off retro vibes, this one could be the one for you. It features four stainless steel tubes for heating elements, delivering uniform baking, toasting, and can also keep foods warm. You can use it for baking pizza, broiling fish, making chicken, bread, and much more.
Microwave & Oven
The temperature can be adjusted up to 250°C, allowing you to cook many different meals in this toaster oven. The countertop microwave toaster oven combo also features a tempered glass door with an anti-scalding handle made of stainless steel for durability.
1-Hour Timer
The 60-minute timer is great for warming up food and toasting applications that are great for breakfast snacks. The upper and lower heating elements are individually controlled for precise cooking when it comes to different applications.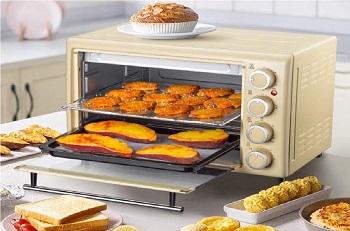 30-Liter Capacity
The toaster oven offers more than just the possibility of microwave functions. You can also use it for baking pizza and making toasted sandwiches, roasting, and baking other foods. With a 30-liter capacity, you will be able to prepare a meal big enough to feed the whole family.
Short Description:
comes in yellow color with retro vibes
four stainless steel heating elements
60-minute timer for warming and toasting
separate temperature controls up to 250°C
anti-scalding handle and a glass door
for baking pizza, broiling fish, roasting, etc
Best Simple Yellow Toaster Oven
LEIKEGONG Toaster Oven
Small Footprint
In case you want a simple toaster oven that will give you toasted bread without a lot of effort, check out this model. It comes in yellow color and is also smaller than other ovens, ideal for confined spaces thanks to its small footprint. At the top of the unit, you can fry foods, and at the bottom, you can roast.
15-Minute Timer
If needed, this yellow toaster oven even lets you fry and roast food at the same time. The timer knob on the unit allows you to time up to 15 minutes for precisely and evenly toasted bread. Besides toast, you can also fry eggs and omelet in this unit.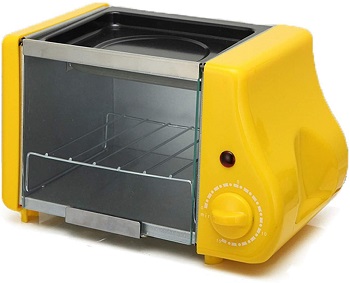 For Breakfast
By frying eggs on top of the unit and toasting bread inside the oven, you will get to prepare a whole breakfast by using only one kitchen appliance. It will save you both time and space in your kitchen, studio apartment, dorm room, or other small space.
1.5Liter Capacity
The maximum temperature the toaster oven can achieve is 220°C, allowing you to use it for various cooking needs. The unit measures 22 by 14 by 13 centimeters and has an oven capacity of 1.5 liters.
Short Description:
yellow color and small footprint design
allows you to fry and roast food
fry and roast simultaneously or separately
ideal for use in small spaces
toast bread and fry eggs or omelets at once
up to 220°C, 15-minute timer
ideal for easily preparing breakfast
What To Consider In Yellow Toaster Ovens?
These toaster ovens come in different sizes and with different available applications. When choosing between available models online, make sure to go for the one that offers a capacity to suit your needs, and look for cooking options it offers. Moreover, watch out for the user-friendly design and the temperature range the oven features.
Sizing – Available both in small and large sizes, toaster ovens offer different capacities for different needs. You can choose between smaller models that can hold up to 4 slices of bread at once, ideal for smaller households. Another popular size on the market is the 6-slice capacity. However, some models can hold up to 12 slices of bread at once, or even one or two 12-inch pizzas.
Applications – Various models are available to choose from, including toaster oven combos with microwave, broiler, rotisserie settings, and more. Most models let you toast bread, bagels, bake cookies, pizza, as well as reheat and keep food warm. You can roast chicken and vegetables, broil fish, and do much more.
User-Friendly – If it is complicated to use, it might not be the best option for you. To make sure you go for models that are easy to use, choose between the ones that have clearly labeled functions, that are intuitive to use, and that have easy-to-read screen displays. It will save you a lot of time you'd otherwise spend on operating the unit.
Adjustable Temperature – To be able to use a toaster oven for the versatility of cooking needs, it will need a wide temperature range. Most models go up to 450°Fahrenheit, allowing you to toast, bake, broil, and more by setting the appropriate temperature. Some models even let you independently set the temperature of the top and bottom heaters.
Benefits – If you are not sure whether you need a yellow toaster oven, these facts might help you decide. A toaster oven is a great alternative to regular ovens, ideal for small spaces where other ovens won't fit. It can also be a great extra cooking space in busy kitchens. It is easier to clean and easier to reach inside of it while saving energy and producing less heat.
To Wrap It Up
The one that stood out the most for use is the Dash yellow toaster oven. It features a vertical shape to take up as little space on the countertop as possible while letting you toast bread, bagels, and paninis. It also features a 15-minute timer for choosing between different toast shades. In case you are interested, also take a look at blue toaster ovens currently popular on the market. Likewise, for a more timeless look, check out the black stainless steel toaster ovens that we reviewed.