Planning to save countertop space by investing in a 2-in-1 toaster oven combo?
We admit the plan sounds great and that is why we want to help you by reviewing 6 different models for you.
If you read this article, you will find reviews of the microwave, stainless steel toaster top, air fryer, coffee maker, and rotisserie combination models the market has to offer. Moreover, you can also read our buying guide to help you focus on the important features that can tailor the toaster oven to your needs.
The Rundown
6 Top 2 In 1 Toaster Ovens
Best Of Best 2 In 1 Toaster Oven
Ninja Foodi Digital Toaster Oven
Uses Air Technology
This toaster oven uses air technology that lets you not just toast bread, but also air fry, air broil, and air roast. Besides that, you can also use it to prepare bagels, dehydrate fruits and vegetables, and keep food warm. The extra-wide toaster oven is easy to store when not in use by flipping it up against the backsplash to save 50% more countertop space.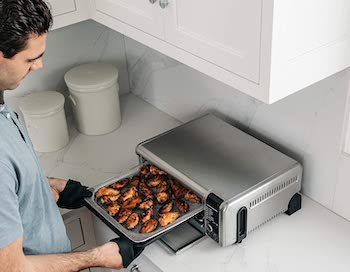 Multifunctional Use
Not only does it save space thanks to its design, but also thanks to its multifunctionality. It can be used for dehydrating, air frying, and toasting, as well as keeping food warm so that you can replace multiple other kitchen appliances with it. It is also easy to operate with the 8 digital presets available on the control panel.
9-Slice Capacity
Inside the 2 in 1 toaster oven, you can fit 9 toast slices, a 13-ich pizza, or 6 chicken breasts weighing 6 to 8 ounces each. It preheats in just 60 seconds and cooks up to 60% faster to prepare various meals in just around 20 minutes. When air frying, it uses up to 75% less fat than traditional fryers to achieve crispiness and crunchiness.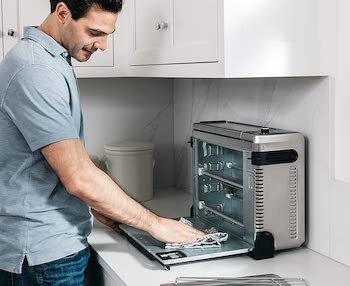 Accessories Included
Included in the package, you will get a non-stick 13 by 13 inches baking pan, a wire rack, a frying basket, and a removable crumb tray. Both the basket and the baking pan are dishwasher safe to make cleanup easy and quick. To check out customer reviews, click on the Amazon link below.
Short Description:
air technology for air frying, roasting, broiling
saves space when stored away
dehydrate, air fry, toast, keep warm, etc
offers 8 digital presets to choose from
fits 9 slices of bread, a 13-inch pizza, etc
Best Microwave 2 In 1 Toaster Oven
Galanz Convection Toaster Oven
1.2 Cubic Feet Capacity
This 2 in 1 microwave and toaster oven unit is made from stainless steel and comes in black color. It is engineered to cook more evenly thanks to patented inverter technology. With a 1.2 cubic feet capacity, it is large enough for defrosting, warming, microwave cooking, as well as toasting bread, and much more with the oven presets.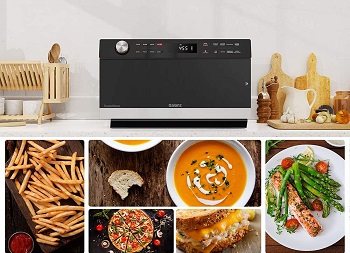 Versatile Settings
To cook without hot spots, the food spins inside the oven while the heated air is circulated within it, as well. The available oven settings allow you to toast, bake, broil, convection bake, prepare pizza, bagels, air fry, and keep food warm. The microwave settings include popcorn, defrosting by time or food weight, as well as sensor options.
Humidity Control
A humidity sensor is built into the unit to allow you to both cook and reheat foods while the unit monitors the humidity of food. That way, your food will never be over-or undercooked. The sensor reheating setting automatically stops when the precooked food is hot and ready to eat.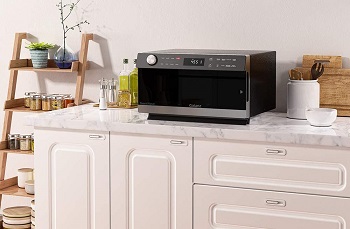 For Crunchy Snacks
This microwave convection toaster oven can also air fry, preparing crunchy snacks, such as French fries, chicken nuggets, or wings while using little to no oil. Compared to other air fryers, this 2 in 1 toaster oven features a kit that makes for better air circulation as there is more frying surface provides.
Short Description:
black color, stainless steel construction
1.2 cubic feet oven capacity
offers microwave and toaster oven settings
toast, bake, broil, pizza, bagels, air fry
popcorn, defrost, sensor cook, and reheat
circulates hot air while the food spins
Best Built-In Toaster 2 In 1 Toaster Oven
Hamilton Beach Two In One Toaster Oven
Sliding Lever For Functions
This Hamilton 2 in 1 toaster oven stainless steel model offers you the functionality both of a toast oven and a traditional toaster with slots on top. To change between using the oven and using the toaster slots, you will simply have to slide a lever. It lets you toast bread, but also bake and broil foods inside the oven.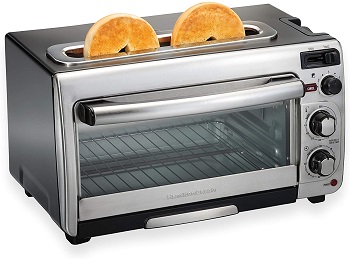 Adjustable Time & Temperature
The toaster oven with toaster on top offers two rack positions and can fit up to a 9-inch pizza inside. When using the oven, you can set up a timer for up to 60 minutes or choose the stay-on functions for longer cooking. You also get to set the oven temperature up to 450 Fahrenheit degrees by turning a control knob.
Toast Shade Selector
The toaster slots on the top toast up to 40% faster and can fit even bagels and artisan bread inside as they are wide. When using the toaster slots, you can also choose the toast shade to your preference. To select light, medium, or dark toast shades, you can use the shade selector turning knob.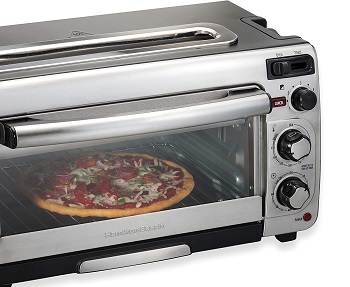 Space-Saving Design
By having both a toaster oven and toaster slots in one unit, you can save a lot of precious countertop space. With its stainless steel construction, the Hamilton 2 in 1 toaster oven will be durable and also look good in any kitchen decor. If you are interested in customer reviews, click on the Amazon button attached below.
Short Description:
lever slide for switching functions
features wide top toaster slots
bakes and broils foods in the oven
shade selector for toaster slots
wide slots for artisan bread and bagels
features a 60-minute oven timer
adjustable temperature up to 450°F
Best Air Fryer 2 In 1 Toaster Oven
Cuisinart Toaster Oven TOA-60
7 Cooking Functions
This 2 in 1 toaster oven offers you to choose among 7 cooking functions, including toasting and air frying. However, it can also be used for warming, broiling, baking, as well as convection baking, and convection broiling. With a built-in convection fan, it circulates the hot air within the oven for uniform baking and faster results.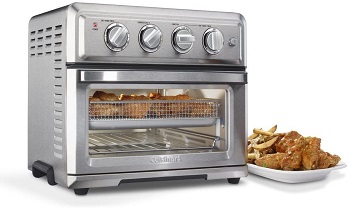 For 3 Pounds Of Wings
The air fryer convection toaster oven is non-stick coated on the inside for easy and fast cleanup and has a 0.6 cubic feet capacity. It can hold a 12-inch pizza inside, as well as air fry up to 3 pounds of chicken wings, roast a 4-pound chicken, or toast 6 pieces of bread for breakfast.
Fries Food With Air
To air-fry food, put it inside the included frying basket and choose the air frying setting on the control panel. That way, you will get crunchy and crispy foods without having to use a lot of oil to achieve that. When air frying, baking, broiling, or toasting, you can check in on the progress through the clear glass window on the oven door.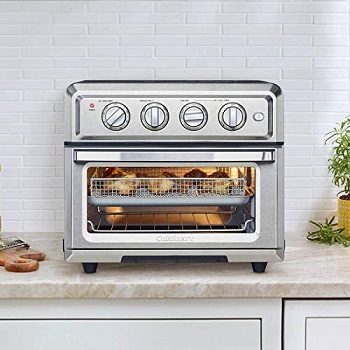 4 Control Knobs
The control panel consists of four turning knobs to let you set up the cooking program. You can set a timer for up to 60 minutes, choose the oven temperature up to 450 Fahrenheit degrees, and choose among the 7 afore-mentioned cooking functions. When toasting bread, you can also set the toast timer for light, medium, or dark toast shades.
Short Description:
features 7 cooking settings to choose from
a built-in convection fan circulates air
fits 6 toast slices, a 12-inch pizza, etc
toast, air fry, warm, bake, broil, convection
an air frying basket comes included
Best Coffee Maker 2 In 1 Toaster Oven
Nostalgia Breakfast Station Oven
Bakes & Grills
This model of a 2 in 1 toaster oven comes in red color and is perfect for preparing all the breakfast food by using just one appliance. It features a toaster oven with a griddle on top, as well as a coffee making station on the side. The griddle is non-sticking and family-sized, allowing you to fry eggs, bacon, prepare pancakes, sausages, and more.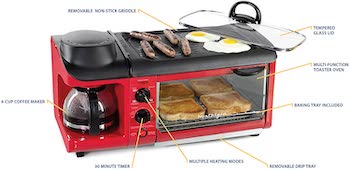 4-Cup Coffee Kettle
The unit has a vintage look to it and is easy to keep clean. The oven tray is removable for quick cleaning and the griddle is non-stick coated. The griddle also comes with a glass lid and can help to prevent oil and food splattering around the kitchen. The coffee maker on the side has a 4-cup capacity so that you can enjoy freshly brewed coffee each morning.
4-Slice Capacity
The vintage toaster oven can toast up to 4 slices of bread at once, bake 7-inch pizzas, or prepare desserts, hot sandwiches, and more. You can set the timer for up to 30 minutes and shuts the unit off automatically once the time is up.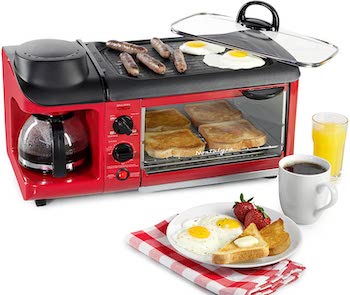 Versatile Use
You can even prepare burgers in this unit at the same time, but putting the buns in the oven while grilling burger patties on the non-stick griddle above. Other than that, you can also reheat leftovers to enjoy warm meals at any time.
Short Description:
coffee maker, griddle, and toaster oven
red color with a vintage look
a non-stick griddle; 4-cup coffee maker
the 4-slice oven holds a 7-inch pizza
prepares a whole breakfast at once
30-minute timer with automatic shutoff
Best Rotisserie 2 In 1 Toaster Oven
Cosori Toaster Oven 30L
6-Slice Capacity
This 2 in 1 toaster oven offers 12 different cooking functions including rotisserie. It features a control panel with a digital screen and two control knobs for easy setup. Inside the oven, you can fit up to 6 toast slices at once, a 13-inch pizza, or even a whole chicken.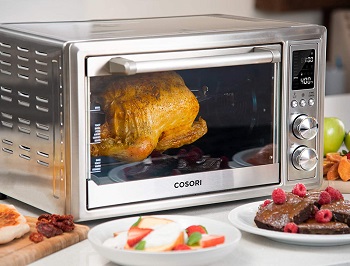 12 Cooking Presets
To choose between the 12 digital presets, you will have to read the screen while turning the function control knob. The time and temperature control knob is also used alongside the screen to precisely adjust these oven settings. The 12 presets include programs for toast, air fry, rotisserie, pizza, bagel, roast, bake, broil, dehydrate, ferment, warm, and cookies.
Rotates & Roasts
This toaster oven air fryer rotisserie comes with a rotisserie set so that you can roast chicken and other meals by rotating them on the spit. Besides that, you will also get a recipe book included, as well as a crumb tray, a basket for air frying, a wire rack, and a baking tray.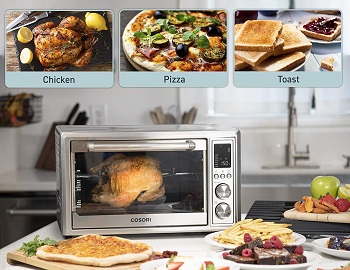 Large Glass Door
While cooking, you can check in on the progress at any time by taking a glance inside through the large glass door. If you enjoy fried foods such as French fries, shrimps, nuggets, wings, and more, you can use the air frying program. It will deliver crispy food while using less oil than traditional fryers.
Short Description:
features a screen with 12 cooking presets
the 6-slice oven holds a 13-inch pizza inside
precise adjustments to timer and temperature
toast, air fry, broil, bake, pizza, bagel, roast, etc
rotisserie set for rotating and roasting meats
baking and crumb trays, a wire rack, frying basket
it also air-fries for crispy and crunchy food
What To Consider In 2 In 1 Toaster Oven Combos?
The market offers different 2 in one toaster oven models and you need to figure out which combination would work the best for you before buying. Alongside that, you should also consider its capacity and make sure you understand how to operate it. Likewise, you should also learn about adjustable features and the advantages of having such a small appliance in your kitchen.
Possible Combinations – The best 2 in 1 toaster oven for you will be the one offering cooking functions you plan to use. Some models can be used both as a toaster oven and a microwave, while some allow you to also air fry in them, or use it as a rotisserie, as well as a coffee maker, and more. Some models even have toaster slots or a griddle on top of the unit.
The Capacity – There are versatile options available on the market, ranging from 2-slice toaster ovens to much larger models that can toast even over 10 pieces of bread at once. If you live alone or need a model for couples, you won't need more than a 4-slice model. Larger models cater to bigger families more easily.
Easy Operation – To save you time when setting up the cooking program, the oven should have the following features. The control panel should be intuitive to use so that it is easy to find any settings, and the controls and functions should also be clearly labeled for the same purpose. For models with screen displays, make sure they are easy to read.
Adjustable Features – To be able to control the cooking process, look for models that allow you to set the oven temperature, as well as the timer. For toasting bread, it is also good to have a toast shade selector. For flexible cooking, adjustable rack position is also a good feature to have.
Advantages – By having the functions of two appliances in one, it can save you precious countertop space. At the same time, such a unit can also be used in small spaces without a conventional oven or as extra help in busy kitchens. It preheats faster than big ovens while using less energy and producing less heat in the kitchen.
To Wrap It Up
Our favorite model is the Ninja 2 in 1 toaster oven as it can be used for both toasting and air frying. Among the other oven settings, you can also keep food warm, dehydrate, bake, and more. Its specific design will also help to save space when not in use. If you are interested in more combination models, we suggest you check out 3 in 1 toaster ovens available on the market. For models that combine toaster ovens and microwaves, consider our selection of countertop microwave toaster oven combos.