Do you spend a lot of time on the road in your car or other vehicle and wish to prepare a simple meal?
To keep your belly full, here are 5 different 12-volt toaster ovens that could help you cook.
Along with the reviews of toaster ovens that plug directly into the 12-volt car plug, here you can also read our buying guide to help you concentrate on important features when buying such a product. Enjoy reading about toaster ovens for cars, camping, and other travel situations.
The Rundown
5 Top 12-Volt Toaster Ovens
Best Of Best 12 Volt Toaster Oven
Rottogoon 12V Portable Oven
For Car Use
This model of a 12-volt toaster oven is ideal to use in your car, or when camping, having a picnic, and other family and friends gatherings. It comes in black color with a zip for easy opening and closing. It is not recommended to use it in 24-volt trucks but is otherwise great for people on the move who spend a lot of time in cars, such as delivery and business people.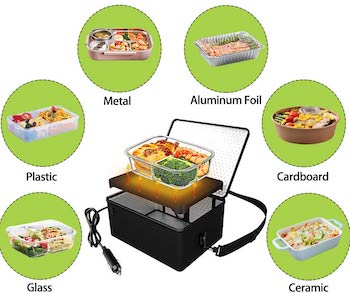 Cooks & Reheats
The unit is equipped with automatic temperature control so that you don't have to worry about overheating, burning, or drying out your food. It is suitable for both reheating prepared meals or cooking fresh meals from scratch. For frozen meals, it might take over an hour to get food ready for eating.
Used With A Container
It cooks slowly, without any timers or dials. To use it, you will need to place a flat and heat-resistant container inside that can have maximal measurements of 3.5 inches in height, 9 inches in width, and 6.75 inches in length. This container can be made out of plastic, cardboard, aluminum, ceramic, glass, or metal.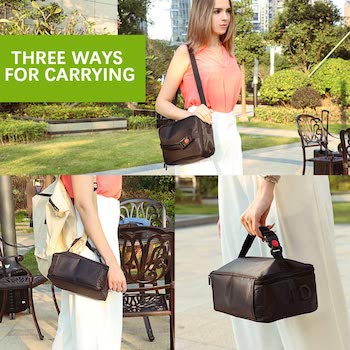 Convenient For Carrying
Depending on where you want to use this product, there are also three different ways of carrying it. You can place it on your shoulder with the strap to hang by your side, you can grasp it in your hands, and you can even let it hang from your backpack strap. To prepare food, the unit works between 149 and 239 Fahrenheit degrees.
Short Description:
suitable for 12-volt car connections
for camping, picnics, and more
auto temperature control from 149 and 239°F
suitable for many different containers
shoulder strap for three carrying ways
Best For Car 12V Toaster Oven
Alfredx Personal Car Oven
Cooks Or Reheats
This model of a 12-volt oven is great for reheating prepared meals and cooking raw foods. It can be used in cars by plugging into the 12-volt lighter connection inside your vehicle. You can even go picnic and camping and use this in your car then unplug and take out to enjoy warm foods.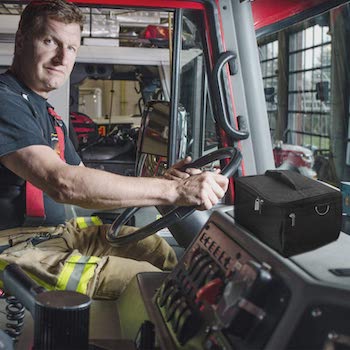 Cooks In 1 To 2 Hours
The 12-volt toaster oven is actually a slow cooker and will take between one and two hours to prepare most meals, while some frozen meals can take even longer. However, there are no dials or timers on the unit. It will be ideal for truck and car drivers, construction workers, and other people who spend a lot of time in vehicles.
Temperature Cycles
The food won't get burnt as the unit is engineered to automatically cycle between temperatures of 140 and 230 Fahrenheit degrees. It is ideal for working people, as you will just have to plug it in, without having to set up and programs or stir the food all the time.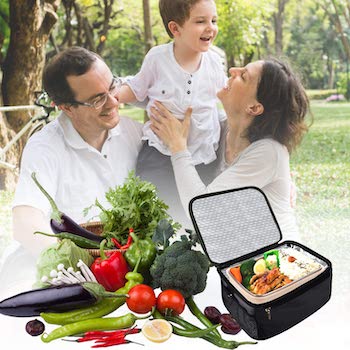 Lightweight Design
You can easily transport it with you as it is compact in size and very lightweight so that you can even put it in your backpack. It is safe even for airport security and can be taken through it. It will allow you to eat healthy as you will know what food you are eating if you prepare it yourself.
Short Description:
for reheating food or cooking food
plugs into a 12-volt car connector
ideal for picnics, camping, cars
it takes 1 to 2 hours to prepare a meal
automatically cycles the oven temperature
works between 140 and 230°F
Best Cheap 12 Volt Toaster Oven
Aotto Personal Portable Oven
Uses Little Energy
This 12-Volt toaster oven can be purchased for the price of around only 30 dollars on Amazon, making it quite affordable. It consists of a bag-looking body and a heating plate fitted inside. It can be transported easily and uses little energy to reheat meals in one to two hours.
Can Be Used Anywhere
To set up the cooking or reheating program, you will simply have to plug the power cord into the 12-volt socket in your car and you will have a ready meal in a couple of hours. It preserves moisture and evenly heats the food while cooking slowly. You will be able to enjoy your meal anywhere, without worrying about sharing a dirty microwave with others.
A Container Needed
To use the unit, choose a fresh or a prepared meal to cook from scratch or reheat and place it in a container. The container is then placed onto the heating plate inside the unit for cooking or reheating. You can use a container that is up to 3 inches high, 6.75 inches long, and 9 inches wide.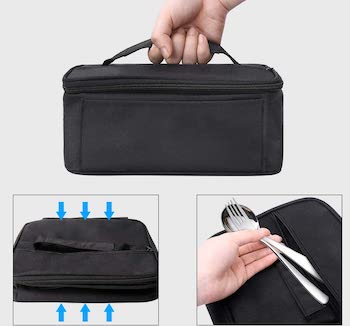 For Homemade Meals
You can use it anywhere where you have access to a 12-volt outlet, making it ideal for camping lovers, workers at a job site, people who spend a lot of time in their car on the road and away from their home and kitchen. This best toaster oven under $50 can thus help them to enjoy homemade food just about anywhere.
Short Description:
bag-body and a heating plate
used with a food container
works in one to two hours
preserves moisture and heats evenly
ideal for people on the road
for camping, workers at job sites
can reheat or cook fresh food
Best Travel 12V Toaster Oven
Koolatron 12-Volt Oven
1.6-Quart Capacity
This 12-volt toaster oven is ideal for traveling conditions thanks to its hard shell box-like shape. It can be used inside any vehicle with a 12-volt plug. The overall capacity of the unit is 1.5 liters or 1.6 quarts. It can be used for both cooking and reheating foods.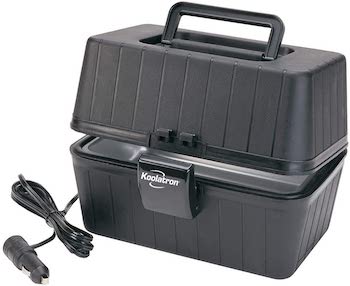 Works At 300°F
When you plug it into the car or other vehicle's 12-volt socket, the unit will work to heat and cook food at temperatures up to 300 Fahrenheit degrees or 149 Celsius degrees. You can enjoy warm leftovers, reheated cooked food, or freshly cooked food from scratch.
For Versatile Meals
You can cook rice, soup, pizza slices, stews, hot dogs, or grill sandwiches to enjoy a warm meal when you are hungry at a job site, on the road, and at other places far away from your kitchens, such as camping and picnic sites.

Control What You Eat
For people who travel a lot, this durable unit will save them from eating out every day and will thus help them to save money. At the same time, it will allow them to enjoy healthy meals as they can prepare them from scratch. The item weighs only 2.85 pounds for easy carrying.
Short Description:
durable hard-shell box unit
used in vehicles with a 12-volt plug
it cooks at 300°F/149°C
for leftovers, prepared food, or raw food
rice, soup, pizza slices, grilled sandwiches, etc
Best Camping 12 Volt Toaster Oven
Talc Food Warmer Personal Oven
For Warm Meals
This personal 12-volt toaster oven is great for preparing a meal in your vehicle while you are camping next to the river or in other designated camping sites. It can also be used on a picnic, road trip, or when working on the road to prepare a warm meal for your belly.
Three Side Compartments
The side of the bag comes with three compartments where you can store towels, cutlery, and other accessories you might need when eating away from your home. The inside of the unit is durable and resistant to tears for long-lasting use, ideal for camping lovers.
Designed For Carrying
The carrying handle is soft for comfortable carrying and the shoulder strap also helps you to conveniently carry the unit to have your hands free. For most meals, it will take two to three hours to cook, while frozen meals might take longer. It cooks slowly without any timers or control dials.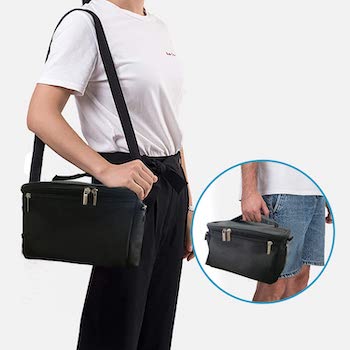 Reheats Foods
As it is compatible with most containers, it is also very convenient to use whenever you go camping. Apart from cooking fresh foods, you can even use it to reheat leftovers and it is a great size for easy transport and use.
Short Description:
great for use at camping sites
also for picnics, road trips, etc
a bag with three side compartments
tear-resistant and durable build
soft carrying handle and a shoulder strap
it cooks in two to three hours
What To Consider In 12V Toaster Ovens?
As toaster ovens that can be plugged into the car 12-volt socket don't exist, there are some other appliances that you can go for to enjoy food on the road and when away from your kitchen. To get the best product for your needs, here are a couple of things to check out. Firstly, make sure that the unit can plug into the 12-volt socket and that its size suits your needs. Also, check out what kind of cooking it can do and which features make it easily portable.
12-Volt Connection – As there are no toaster ovens with a direct 12-volt connection available on the market, you could buy a small toaster oven, such as a 2-slice toaster oven, and a 12-volt into an 110-volt inverter. If not, you can go for many alternatives to enjoy cooked foods in your vehicle and on the road. Many portable ovens come with a 12-volt connection.
Size – To be able to transport the unit and use it in your car, it should be compact in size. This means that you will mostly be able to cook for one to two people. The market is full of such compact models so that you can choose the one that best fits your demands.
Price – Most 12V toaster ovens will cost you between 25 and 50 dollars, making them quite affordable. You can find them on Amazon and other such online retailers as the prices are sometimes also discounted. The pricier models should be more durable and reliable so that is also something to keep in mind.
Cooking Options – Most of the oven models will be able to do both heating and cooking food, so that you can reheat leftovers and cook raw foods, as well. It will be ideal for RV owners, as well as truck and other drivers who spend many hours on the road, away from their home and kitchen.
Portable Features – Some 12v toaster ovens come with a shoulder strap that allows you to carry the unit with you easily wherever you go. Other than that, look for the length of the power cord that comes with the unit that will allow you to conveniently use it on the go without any restrictions.
To Wrap It Up
The Rottogoon portable oven is our favorite choice for a 12V toaster oven. It can be used on a road trip or when camping, having a picnic, and more. You can use it to both reheat cooked food and cook raw food. If you want to be able to transport your toaster oven, consider our selection of portable toaster ovens. If you are interested in models that are easy to operate, also consider some of the reviewed simple toaster ovens.