Do you want to invest in a camping rice cooker?
In that case, you've come to the right place!
Besides finding out about features that make the best rice cookers for camping, here you can also read reviews of many models suitable for camping. Check out the models of portable, big, stainless steel models, and more to find out which one works the best for your needs.
The Rundown
Best 6 Camping Rice Cookers: Electric & Gas
Best Of Best Camping Rice Cooker
Keith Titanium Rice Cooker
Inner & Outer Pot
This camping rice cooker can be used for cooking rice and some other food by using a gas or an electric stove, as well as an open fire. It features an outer and an inner pot and works by using the steam that is created from the water in the outer pot. The steam enters the inner pot to cook rice evenly, making it tender and soft.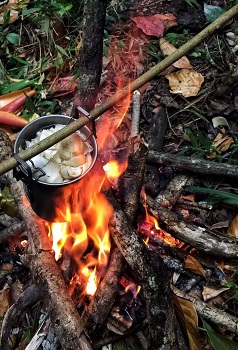 Premium Titanium 
The premium pure titanium grade 1 material is used in the construction of the inner and outer pot, the handles, and the lid. The lock spring is made from 304 stainless steel and the seal ring is made from silicone material. The titanium makes this rice cooker resistant to corrosion, lightweight, hypoallergenic, and eco-friendly.
Rice, Vegetables & More
With this non-toxic rice cooker, you can make backcountry rice, as well as cook vegetables, or make brownie cake. When cooking rice, the inner line markers show you how much rice to put into the inner pot, while the outer pot is reserved for water.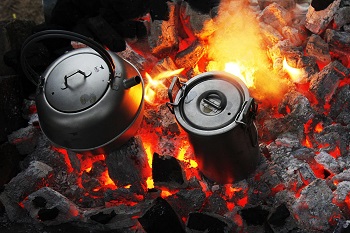 Mesh Storage Sack
You can use this model when camping and backpacking, no matter where you are. It comes with a mesh storage sack for easy portability. With its multifunctional use, it is compatible with any type of cooker you might take along with you to nature.
Short Description:
suitable for electric and gas stoves, open flame
premium pure titanium construction
features an inner and outer pot, and a lid
used for cooking rice, vegetables, cake, etc
ideal for camping, backpacking, outdoor spaces
Best Portable Camping Rice Cooker
Magic Chef Rice Cooker
Small Electric Unit
This cooker is suitable for use during outdoor activities and comes with a dual voltage 0f 110 and 220 Volts for use anywhere in the world. It is a small unit with an electric supply suitable for portability so that you can take it along with you anywhere to enjoy fresh and warm rice.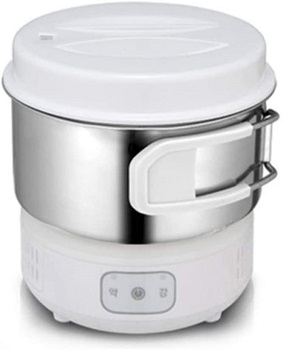 Cooks Different Foods
This camping rice cooker is safe to use without having to worry about handling the gas supply, as it works with electricity. This way, you can use it for cooking rice, curry, eggs, ramen noodles, porridge, and more. It is constructed from stainless steel material for durability.
Foldable For Portability
It is very easy to assemble and use even when on the go. The portable rice cooker consists of an electric base with a stainless steel cooking pot and a lid. For transport, you can put the base inside the cooking pot and cover it with the lid to take up less space.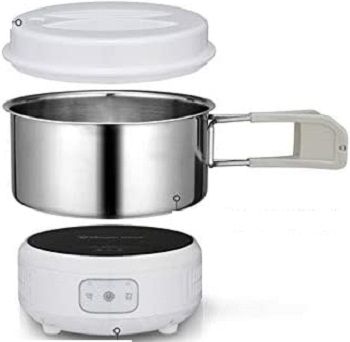 1.3-Liter Capacity
The compact size offers 1.3 liters of capacity, enough to feed you when you are camping in the outdoor spaces. The temperature of the cooker is controlled, allowing you to cook versatile foods precisely.
Short Description:
dual voltage, 110 and 220 Volts
cooks eggs, rice, ramen, curry, etc
stainless steel pot and electric base
compact and foldable for storage
1.3-liter capacity ideal for camping
safe to use without worrying about gas
Best Stainless Steel Camping Rice Cooker
ALPS Rice Cooker
Storage Bag Included
This camping rice cooker consists of a cooking base, a cooking pot with a handle, a cover lid, and a storage bag. It has a capacity of 1.3 liters and weighs only 1.3 kilograms. By taking it along with you on a camping trip, you will always be able to enjoy cooked food, no matter where you are.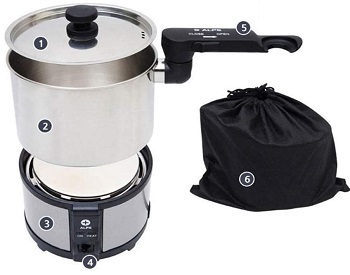 Very Compact Design
This mini induction unit can boil eggs, cook soup, rice, ramen, and more. When not in use and you want to transport it, you can put the cooking base inside the pot to take up less space. This will make it ideal to take along with you, and will easily fit into your suitcase or backpack.
Saves Space
It offers a dual voltage feature so that you can change between 110 and 220 Volts with a single switch. The pot has a turning handle to take up less space when not being used for cooking. When closed, it will connect to the knob on the lid so that the inside content can't spill from the pot.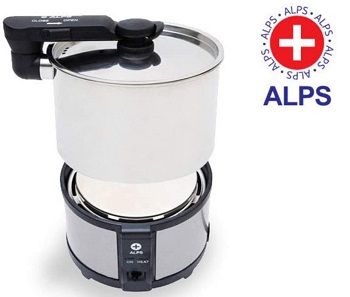 Multi-Purpose Cooker
As it is not a gas unit, it can be used both indoors and outdoors without worrying about your safety. It is made from stainless steel and polypropylene materials for durability. It is a multi-purpose unit so that you can use it for cooking many different meals.
Short Description:
cooking base and a cooking pot with a lid
the cooking capacity of 1.3 liters
it boils eggs, cooks rice, soup, ramen
single switch for 110 or 200 Volt supply
foldable design for easy transport and storage
it can be used outdoors and when camping
durable stainless steel and polypropylene materials
Best Big Camping Rice Cooker
Snow Line Pressure Rice Cooker
Feeds 3-4 People
This camping rice cooker has a capacity of 2.8 liters, ideal for feeding between 3 and 4 people during camping. It weighs only 860 grams. The lightweight cooker can be easily transported for use in outdoor spaces while camping and enjoying other outdoor activities. It comes with a case for transport and storage.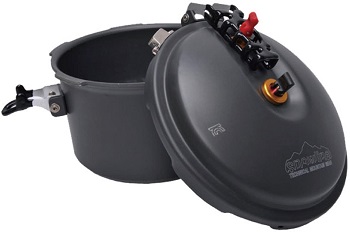 Pressure Cooking
This big rice cooker works to cook food with the help of pressure. It features a cooking pot with a cover lid that has an incorporated safety signal valve. The lid handle for easy grip can be folded to minimize the storing volume of the unit.
Aluminum Construction
This cooker is to be used with gas burners for cooking rice in outdoor spaces. It is constructed from aluminum material with a hard anodizing coating and measures 20 by 20 by 17.5 centimeters. Thanks to the pressure of cooking, it can even be used at higher altitudes for faster cooking.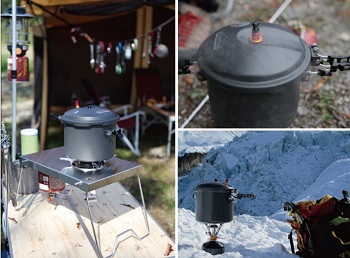 Eco-Friendly Choice
Compared to a general cookware unit, this type of rice cooker will save you both time and fuel. As it cooks fast, it reduces the cooking time of rice by up to one third. This also ensures that less fuel is used at once, saving the consumption by one quarter, making it an eco-friendly choice.
Short Description:
2.8-liter capacity for 3 to 4 people
weighs 860 grams for easy transport
aluminum material with an anodizing coating
suitable for camping and outdoor activities
it saves both time and fuel while cooking
Best Japanese Camping Rice Cooker
Logos Outdoor Rice Cooker
2-Cup Capacity
This small Japanese rice cooker can be used at a camping site for cooking 2 cups of rice. It is constructed from aluminum material and has a handle on the top so you can hang it above the open flame. It is also suitable for use on a gas burner in outdoor conditions.
Inner & Outer Bowl
With its small capacity, this camping rice cooker can be ideal for one to two people during a camping trip. The rice cooker is about 8 inches long and the bowl is around 5 inches high. The inner pot has a 6-inch diameter and is used for cooking rice in it. The outer bowl is to be used for water.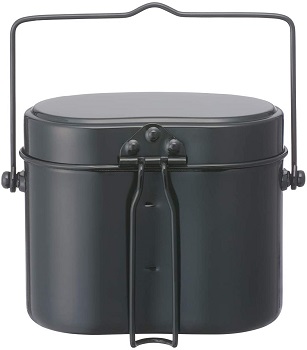 Close-Fit Lid
The cooking pot also has a lid on top for cooking rice while the lid seals the heat in. It is made of aluminum material and closely fits the pot. To check in on the cooking rice, it can be removed from the pot. However, make sure to be careful so you don't burn yourself.
Cooks Rice Fast
With the aluminum material, it will be easy to cook rice in this cooker, as it is easily heated up. The corrosion-resistant material comes in black color and can be used for cooking rice quickly, without spending a lot of gas or the need for a lot of open flames.
Short Description:
the capacity of 2 cups of rice
black color, constructed from aluminum
comes with a convenient top handle
suitable for open flame and gas burner
heats quickly to cook rice fast
feeds two people on a camping trip
Best Dual Voltage Camping Rice Cooker
Bles Electric Rice Cooker
110 Or 220 Volts
This dual voltage camping rice cooker can be used with 110 or 220 voltage, allowing you to take it along with you anywhere. It is portable for travel and features a cooking pot, an electric heating base, and a lid. The pot has a folding handle convenient for cooking, but without taking up extra space during transport.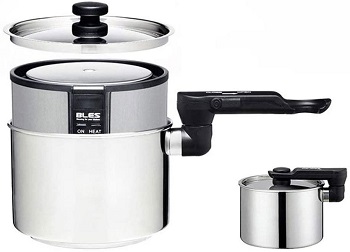 Compact Size For Travel
With its compact travel size, it measures only 7.2 by 6.4 by 5.1 inches. It has a small size capacity of 1.3 liters, allowing you to cook rice and other meals to enjoy when camping. To change the voltage, you will simply have to use a switch at the bottom of the base.
Foldable For Portability
When transporting the portable rice cooker for camping, you can store the power cord at the bottom of the base. The base can then be put inside the cooking pot to take up less space. This will make it more portable so that you don't have to worry about it taking up a lot of your luggage space.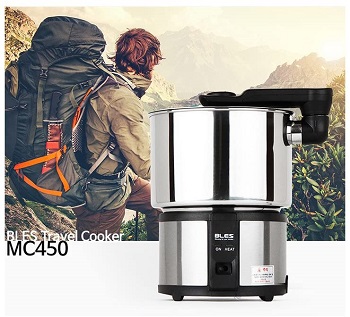 Rice & Hot Pot Meals
With a 1.3-liter capacity, it will allow you to cook rice for a couple of people. You can also use it to make hot pot meals, helping you to stay warm while camping, and doing other outdoor activities.
Short Description:
features a voltage switch for 110 and 220 Volts
includes a cooking pot, a heating base, and a lid
compact size, 7.2 by 6.4 by 5.1 inches
1.3-liter capacity for rice and hot pot meals
compact and foldable size ideal for portability
can be used for camping, outdoor activities
dual voltage for use anywhere in the world
What To Consider In Camping Rice Cookers?
When deciding to buy a rice cooker for camping, we suggest you consider the following advice to get the best item on the market tailored to your needs. Firstly, consider the type of cooker that fits your preference. Secondly, make sure it is easy to store and transport and that it offers a suitable capacity for your needs. Finally, check out some of the extra features that are mentioned below for easy handling.
Type Of Cooker – The market offers models that come with an electric heating base so that you can use them anywhere with an accessible power outlet. However, camping rice cookers can also be suitable for putting them on a gas burner. Gas rice cookers make rice quickly and in places without access to power.
User-Friendly – To make it easy to use, such a rice cooker should be suitable for easy storage and portability. When going camping, you might not be taking a lot of stuff along with you and have limited storage space. This is why it is important to look for compact models that work with the rest of your camping setup.
Capacity – Most camping cookers will be small in size so they are easy to transport and store away. However, they come in different sizes and capacities, so always make sure you are reaching for the one that can cook enough rice for your needs.
Voltage – Different parts of the world use different voltage for electric units. If you want to have the flexibility of using your item anywhere in the world, the market offers cookers with dual voltage. You can choose between 110 and 220 Volts by simply switching a button on the cooker.
What Else? – The material of the cooker is also important, always look for durability that will offer long-lasting use. A healthier choice will be a cooking pot made from stainless steel, while some cookers for camping can also be constructed from titanium, aluminum, etc.
To Wrap It Up
The above-reviewed Keith rice cooker made from titanium is our top choice for a camping rice cooker. It can be used on an open flame, as well as a gas or an electric stove. Made from premium pure titanium, it is used to cook rice and other meals. For other travel purposes, consider our selection of travel rice cookers available on the market. To take your lunch along with you wherever you go, also take a look at some of the electric lunch box cookers available.