Desperately searching for a quality portable rice cooker?
Then search no further!
We have explored the market and chosen six different models of portable cookers to review. Continue reading to check out models for camping, cars, lunch box options, and more. To get the best rice cooker for travel, also consider the most important specifications that we look into in the buying guide below.
The Rundown
Best 6 Portable Rice Cookers For Travelling
Best Of Best Portable Rice Cooker
Dcigna Portable Travel Rice Cooker
One To Two People
This portable rice cooker has a capacity of 1.2 liters and is suitable for making enough rice for one to two people. Besides rice, it can be used to also cook soup, stew, oatmeal, and other grains. It comes in white color with a removable non-stick inner cooking pot.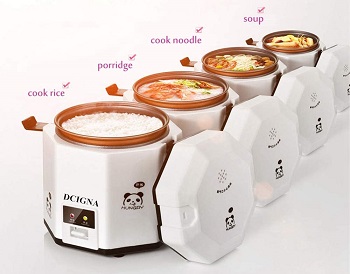 One-Touch Operation
For the cooker to start working, you will simply have to use a single switch on the unit. It comes accompanied by two indicator lights, alerting you when the rice is being cooked and when the warming mode is turned on. Simply add water and rice and turn the switch on.
Portable For Convenience
Equipped with a handle, you can take this unit anywhere with you. It is ideal for small households, preventing food waste. It can also be used by students living in dorm rooms, as well as busy professionals in offices, and on the go. When traveling, you can use it to make quick meals in your RV or camper.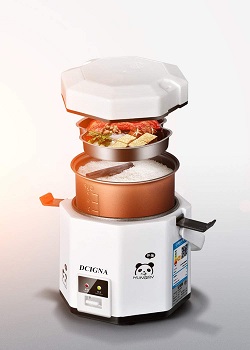 Equipped With Accessories
To set the water to rice ratio, you will also get a measuring cup. To serve the rice, a rice paddle is also included. A steaming pan is also included to allow you to steam foods above the cooking rice. The inner pot has a PFOA-free non.-stick coating which makes maintenance a breeze as rice won't stick to it.
Short Description:
1.2-liter capacity for one to two people
used for soup, rice, stews, oatmeal, grains
the removable non-stick inner cooking pot
for dorm rooms, offices, campers, RVs
measuring cup, steam basket, rice paddle included
Best Electric Portable Rice Cooker
Wolfgang Puck 1.5 Cup Rice Cooker
3 Cups Of Cooked Rice
This portable electric rice cooker can be used for making various warm meals. It has a capacity of 1.5 cups of dry rice and once cooked, it yields 3 cups of rice. It features a removable inner cooking pot, as well as a measuring cup and a scoop for serving rice.
Various Uses
Apart from preparing sticky rice, it can be used to also make soup, but even dessert and mac and cheese. This rice cooker comes in white color and features a single switch for operation. It is very easy to use. For cooking rice, simply add it to the cooking pot with water and turn the switch on.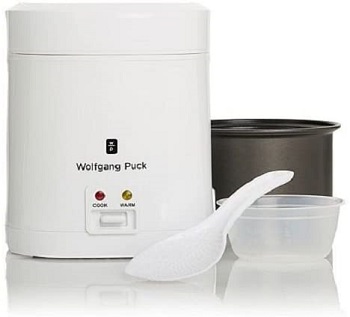 Automatic Warming Mode
To avoid guessing and prevent mess and spillage, there are two indicator lights on the unit. One will alert you when the cooker is turned on and the rice is cooking. When cooking is completed, the automatic warming mode will turn on and the indicator light will also show that.
Detachable Power Cord
The inner pot has a non-stick layer to make cleaning as easy as possible. To store the Wolfgang Puck 1.5 cup portable rice cooker, you can even detach the power cord. Thanks to the small size, it can be transported along with you anywhere. You can use it anywhere you go, as long as you have access to a power outlet.
Short Description:
the 1.5-cup capacity of dry rice
a removable non-stick inner pot
includes a scoop and a measuring cup
for rice, soup, dessert, mac and cheese
a single switch control with indicator lights
small size for portability and storage
Best Mini Portable Rice Cooker
Perfect Cooker Portable Rice Cooker
3-Cup Capacity
The built-in heating element in this cooker ensures that the rice is cooked evenly from all sides. It has a maximum capacity of 3 cups of rice, which makes it ideal for portability. When cooking rice, the sensors inside the unit determine when the rice is cooked so that you don't have to worry about that.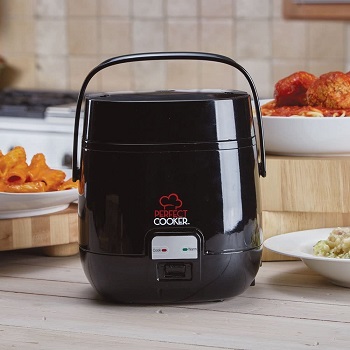 Removable Pot & Lid
The housing of the portable mini rice cooker stays cool to the touch for safety. Inside the unit, the non-stick inner pot makes cooking and cleaning very easy. Rice won't stick to it, so cleaning it will also be much easier. The lid and the inner pot remove from the unit easily, as well as the power cord for storage.
Portable Design
The two indicator lights show when the rice is cooking or the warming setting is turned on. The collapsible handle on the unit makes it perfect for taking with you on the go. This portable small rice cooker can be used in dorms, recreational vehicles, boats, and is very convenient with one-touch cooking.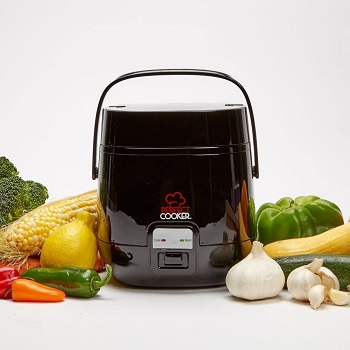 Recipe Book Included
A recipe book and a manual for use also come included to help you started with this portable rice cooker. The small size is also convenient when storing it away. You can even take it along with you inside your suitcase. It is 7.25 inches high, 6.88 inches wide, and 6.88 inches long. A measuring cup and scoop are included.
Short Description:
7.25 inches high, 6.88 inches wide and long
featuring a capacity of 3 cups of rice
collapsible handle and detachable cord
easy to use and perfect on the go
thermo-sensors determine when cooking is done
included measuring cup and serving scoop
features an easy-to-clean inner cooking pot
Best Lunch Box Portable Rice Cooker
Kobwa Electric Lunch Box
For On The Go
This portable mini rice cooker & lunch box is ideal for use in offices, schools, and outdoor spaces when on the go. It can create various meals in under half an hour, such as rice, steamed eggs, and other hot dishes. It comes equipped with both an inner cooking pot and a steaming rack.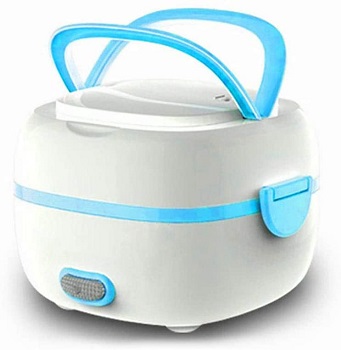 Stainless Steel Bowl
This electric lunch box cooker allows you to add the appropriate ratio of water to rice before plugging the unit into electricity and turning the switch on. The indicator light will show that cooking has started. The stainless steel bowl is a healthy choice as this material is non-reactive in cookware.
Uniform Airflow For Cooking
A rice spoon and a measuring cup are included for help. You can serve the rice with the spoon, while the cup will ensure that you set the right water to rice ratio. To steam eggs, you will get a steaming egg rack. Rice, as well as other food, will be evenly cooked thanks to the uniform airflow.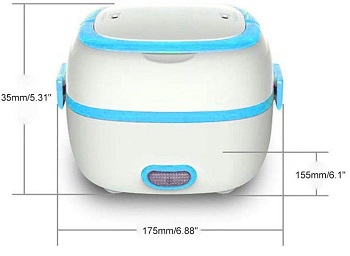 Compact Size
The retractable handles are convenient for carrying this small lunch box along with you. The portable rice cooker will provide you with a warm lunch, no matter where you are. When storing the Kobwa multifunctional electric lunch box away, the handles are easily pressed into the lid to save space. It is 5.31 inches high, 6.88 inches wide, and 6.1 inches long.
Short Description:
designed as an electric lunch box
for cooking rice, steaming eggs, etc
inner cooking pot and egg steaming tray
simple operation with a single switch
convenient retractable handles for transport
Best For Camping Portable Rice Cooker
Keith Titanium Rice Cooker
Versatile Heat Sources
This portable rice cooker for camping has a capacity of 30.4 fluid ounces and comes in a compact size. It measures 6.2 inches in height, 4.6 inches in length, and 4.3 inches in width. It is designed for cooking on gas, induction, and electric cooker, but can even be used on an open flame for cooking.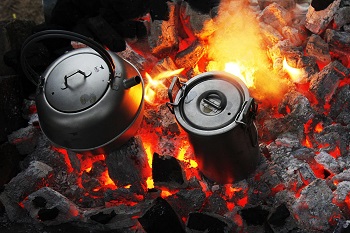 Special Cooking System
Both the inner and the outer pot are made from titanium with an airtight seal. To cook, add water to the outer pot, and rice to the inner pot. When heated over any of the heat sources, the vaporized steam will enter the inner pot and heat through the rice for even cooking.
Premium Construction
The premium pure titanium grade 1 material is also used for the lid and handles, while the lock spring is made of 304 stainless steel. It is hypoallergenic, corrosion-resistant, and eco-friendly. It is an ideal option for enjoying not just rice but even cake, and other compatible foods while staying far away from your kitchen.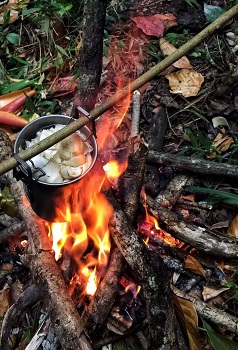 Ideal For Adventures
Thanks to its compact size, the camping rice cooker won't take up too much space to take along with you when camping. It can even be used for bike packing and backpacking. The lid locks by lifting and unlocks by pushing the handle down. The body handle is convenient for carrying.
Short Description:
the capacity of 30.4 fluid ounces
6.2 inches high, 4.6 long, 4.3 wide
for gas, induction, electric, open flame
premium pure titanium grade 1 construction
hypoallergenic, eco-friendly, corrosion-resistant
designed for camping, backpacking, etc
Best For Car Portable Rice Cooker
Onezili Rice Cooker Steamer
Cooker & Warmer
Cooking rice is possible even in your car, by using this portable rice cooker. With a 1-cup capacity, it can be used to cook rice, soup, and porridge. It offers both an option for cooking, as well as keeping the food warm afterward. This rice cooker for cars can even be used as an electric lunch box.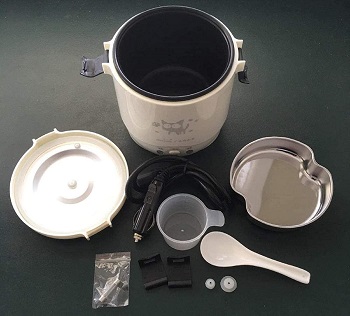 For Trucks & Cars
The 12-Volt rice cooker can be used in cars and trucks, cooking up to 1 liter of rice, ideal for one to two people. Using it on the go, you can have cooked rice in around 30 minutes. To cook in the car, you will have to start it and then connect the cooker to the cigarette lighter.
Comes With Accessories
The red indicator light will alert you when the cooker is working, and the green will turn on once it switches to the warming mode. Along with the cooker, you will also get a steaming plate, a rice scoop, and a measuring cup. The inner cooking pot cannot be removed from the unit.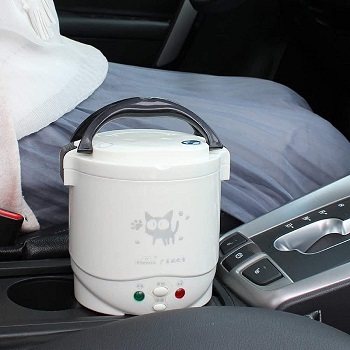 Ergonomic Handle
The handle on the unit is ergonomic for convenient transport. To start cooking, you simply have to press one button. Apart from the cooking button, you can also set up a warming mode with a separate button. You can't go hungry even when traveling in your car thanks to this rice cooker.
Short Description:
cooks rice, soup, porridge in the car
options for cooking and keeping warm
12-volt cooker suitable for trucks and cars
cooks up to 1 liter for one to two people
features two indicator lights for safety
cooking and warming with one button
includes a steam tray, scoop, measuring cup
What To Consider In Portable Rice Cookers?
To avoid hunger when traveling, you can take a rice cooker along with you. The market offers models with various capacities and in different designs so that you can choose the best one for you. Consider the capacity you need, and where you want to use your cooker. To choose a rice cooker for travel, it is also important to find a model that is easy to use and to look for its cooking capabilities.
Capacity – As they come in small sizes, their capacity is mostly suitable for feeding one to two people. With the portable design and the compact size, you can take it along with you anywhere, without it being too heavy or too big. A portable electric cooker for traveling will have a capacity of up to 3 cups of rice, starting at 1 and 1.5-cup rice cookers.
Use On The Go – When traveling and spending time away from your kitchen, you can cook rice in many different situations. The market offers models suitable for cooking in the car or truck, as well as options suitable for campers, RVs, dorms, and offices. Special models are also available for cooking on any sort of heat source in the wild while backpacking.
Ease Of Use – To make cooking as fool-proof as possible while on the go, always look for a cooker that is not complicated to use. Such models usually feature a single control switch, without complicated function buttons, and numerous programs. It usually offers both cooking and warming modes.
Cooking Capability – Portable rice cookers can do much more than just cook rice, allowing you to enjoy various meals made easily. Besides rice, they can usually also cook porridge, oatmeal, soup, and even stews. Choosing the best model will depend on the cook you are looking to make.
Extra Features – Measuring cups, rice scoops, and steaming trays are usual accessories that come with a rice cooker. Carrying handles are also convenient to easily transport the unit, and even store it away when not in use. A non-stick inner pot is useful for easy cleaning, while some models can even be used as electric lunch boxes.
To Wrap It Up
The one portable rice cooker that stood out the most to us is the Dcigna rice cooker. It can cook up to 1.2 liters of rice to feed one to two people. It can even be used for stews, oatmeal, soup, and more. It is designed for use in dorms, offices, campers, RVs, etc. For the best models of mini rice cookers for traveling, check out our selection of travel rice cookers. Consider also some of our small models of one-person rice cookers that are usually also quite portable.