Interested in switching to a ceramic pot rice cooker?
In this article, you can read about the benefits of cooking in such a unit and find out about the features that make the best ceramic cookers available on the market. Apart from that, you can look through the reviews of some of the best models we found after researching the market, including small, microwave, induction heater, and Japanese cookers with a ceramic pot.
The Rundown
Best 6 Ceramic Pot Rice Cooker Reviews
Best Of Best Ceramic Pot Rice Cooker
Aroma Ceramic Rice Cooker
12 Programs
This ceramic pot rice cooker has a capacity of 12 cups of cooked rice or around 4 quarts. It comes in white color and is equipped with a digital control panel with 12 cooking programs offered. You can choose between settings for white, brown, quick rice, porridge, soup, or even slow cooking.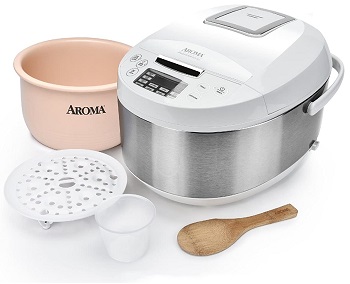 Without Teflon
The inner pot constructed from ceramic is a healthy alternative to non-stick pots with a Teflon coating. There are no added chemicals and you don't have to worry about the coatings being removed from the pot or mixing with your food. The outer body of the cooker stays cool to the touch in case you need to replace it when it is working.
Cooker & Steamer
This cooker can also be used as a ceramic rice steamer. With the included steaming basket, it allows you to place vegetables and meats for steaming above the cooking rice. It can even be used to make cakes, tarts, and yogurt. When steaming and cooking simultaneously, you save time and space while making one-pot meals.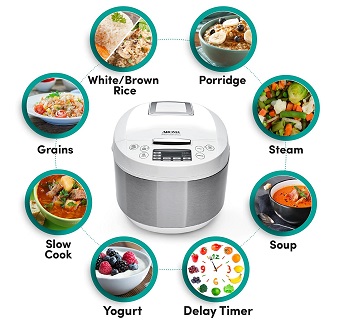 Included Contents
This digital rice cooker also features an automatic warming setting and even high and low settings for slow cooking. Apart from the steaming basket, you will also get a measuring cup and a rice paddle. You get to enjoy many healthy meals without a lot of effort needed.
Short Description:
4-quart capacity holds 12 cups of cooked rice
the ceramic pot is healthy with no chemicals
a digital panel with 12 available programs
cooks white, brown, quick rice, soup, etc
comes with a steaming basket included
Best Inner Pot Ceramic Rice Cooker
All-Clad Cooker Ceramic Insert
Cooks Rice & More
This rice cooker comes with a ceramic rice pot in black color, suitable for slow cooking rice and other meals. It features a screen display with pushbuttons for control, as well as side handles on the body for easy transport. The rice cooker ceramic inner pot also has handles for easy removal from the unit.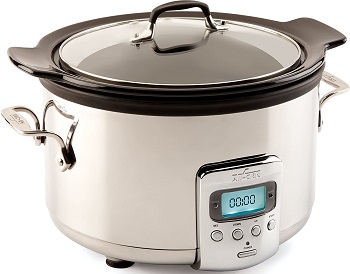 Feeds 4 To 5 People
With a 4-quart capacity, this cooker can be used for serving between 4 and 5 people and slow cooks between 4 and 20 hours. Apart from cooking, this model can also keep the rice warm for up to 6 hours. The cooker has indicator lights for cooking and warming so that you know what it is up to.
Dishwasher Safe Parts
When cooking is done, the beeping sound will alert you of it. The ceramic insert and the lid are dishwasher-safe for easy cleaning after cooking. The outer body is made from stainless steel material, making it a nice addition to your kitchen decor. At the same time, it is also durable for long-lasting use.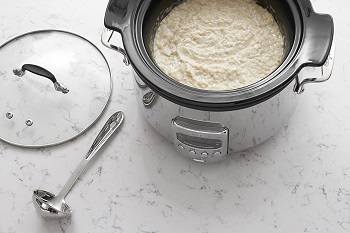 Easy To Use
By cooking in this slow cooker, the food will keep its aroma, flavor, and taste. You can make nice meals for your family or friends, without having to spend a lot of time in the kitchen. The cooker will do anything for you after you set the program and add the ingredients.
Short Description:
black ceramic inner pot with handles
stainless steel outer body with side handles
4-quart capacity feeds 4 to 5 people
6-hour automatic warming setting
slow cooking from 4 to 20 hours
indicator lights for warming and cooking
Best Microwave Ceramic Pot Rice Cooker
Jisam Trade Instant Cooker
One-Portion Serving
This ceramic pot rice cooker is made from clay and suitable for placing in the microwave to cook rice in just 15 minutes. It is ideal for serving one portion of rice, perfect for singles living alone or to cook rice quickly for one person in the household.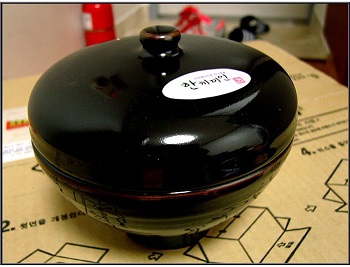 Inner & Outer Lid
The one-person rice cooker has a 5.12-inch diameter to easily fit into any microwave. The ceramic pot is equipped with an inner and an outer cover. It can be used for cooking two-thirds of a cup filled with rice. To get cooked rice, sog the rice in water for 10 minutes first.
How To Use?
After that, add the rice to the ceramic pot, and cover with water so that it is 1 centimeter above the rice level. Then put it in the microwave for around 18 minutes, and set the defrosting setting on. After it is done, leave it to rest for 5 to 10 minutes and then enjoy your rice.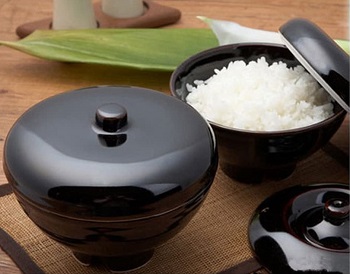 Might Overflow
This ceramic microwave rice cooker is advised to be put inside the microwave on a tray, as there is a chance it might overflow the pot. It is an ideal option for people living in small spaces and also saves time and space in the kitchen.
Short Description:
cooks rice for 15 minutes in the microwave
ideal for serving one person with rice
includes a ceramic pot and an inner and outer lid
used in defrosting setting for about 18 minutes
the rice needs to be soaked in water beforehand
5.12-inch diameter easily fits the microwave
ideally used with a tray in case of overflow
Best Small Ceramic Rice Cooker
Tiger Ceramic Coated Rice Cooker
3-Layer Coating
This small ceramic rice cooker can be used for cooking up to 5.5 cups of rice. It uses induction heating to make the inner cooking pot the source of heat. The pot has 5 metal layers and is coated with 3 layers of ceramic material. The unit can be used for synchro-cooking, slow cooking, and bread-making apart from rice cooking.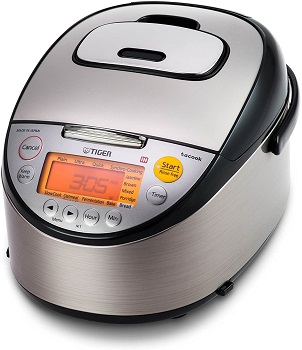 11 Cooking Settings
The control panel with a screen offers programs 11 cooking programs for white, jasmine, brown, mixed rice, porridge, oatmeal, and more. The small Japanese rice cooker even allows you to set the timer for the delayed cooking and has 2 settings for convenience.
Steaming Option
The synchro-cooking option allows you to simultaneously cook and steam foods at once. Simply put the rice in the Tiger ceramic rice cooker and hang the steaming basket above it. That way you can make one-pot meals that include cooked rice and steamed vegetables, meat, or fish.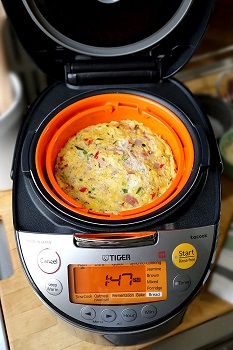 Warming & Quick Modes
After cooking is completed, it can keep rice warm for up to 24 hours so that you can enjoy warm rice at any time. If you are in a rush, you can also use the quick-cooking setting to enjoy white plain rice fast. With one cooker, you can precisely make many different types of rice.
Short Description:
metal pot with ceramic coating for cooking rice
the pot has a capacity of 5.5 cups of rice
control panel with 11 available programs
cooks white, jasmine, brown, mixed rice
synchro-cooking cooks and steams simultaneously
Best Japanese Ceramic Pot Rice Cooker
Kakomi Rice Cooker Ceramic
High Heat Resistant
This Kakomi ceramic rice cooker comes in black color. The ceramic material is resistant to high temperatures and both the pot and the lid are made of it. It can be used for cooking rice in a microwave, oven, or on direct fire. It should be washed and dried straight after use to maintain the condition.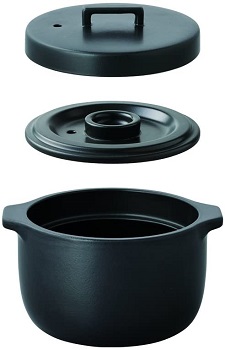 1.2-Liter Capacity
It should never be heated without water but is also not recommended to fill it with water to the rim. The cooking capacity of the pot is 1.2 liters. In case you burn it during cooking, add one tablespoon of baking soda and cook for 3 minutes on low heat.
Double Lid System
The handles on the ceramic bowl rice cooker and the lid will become hot when cooking so you will have to use it with mittens. The heat is easily retained as there are two lids on the pot. The included measuring cup is dishwasher safe. At the same time, the ceramic pot should be washed without abrasive detergents or a steel wool sponge to protect the material.
Heavily Made
When cooking is done, use the mittens to carry the ceramic Japanese rice cooker with both hands as it is heavy. The opening on the lid is great for letting the steam out during cooking.
Short Description:
black pot made from a ceramic material
includes two lids to retain the heat
suitable for direct fire, oven, microwaves
the capacity of 1.2 liters for cooking rice
to be washed and dried after each use
Best Healthy Ceramic Rice Cooker
Tianji Ceramic Pot Cooker
No Chemical Coatings
This model features a capacity of 6 cups of uncooked rice. The inner cooking pot is made from a ceramic material. It is a healthy and environmentally-friendly choice without chemical coatings. It can cook enough rice for 2 to 5 people as it yields about 12 cups of cooked rice.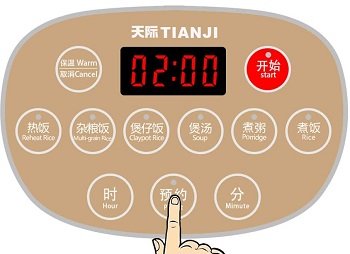 Digital Programs
The Tianji ceramic pot digital rice cooker offers pre-programmed settings for warming and reheating rice, cooking brown, clay pot rice, soup, and porridge. It can also preset the timer for up to 24 hours for delayed cooking. The heating plate has a bow shape to cook softer rice.
Non-Toxic & Healthy
This healthy rice cooker has no Teflon coating that can be leached into your food, keeping it healthy and away from toxic chemicals. You won't have to worry about aluminum pots, PTFE coatings, etc. It is especially suitable for cooking for babies and postpartum women.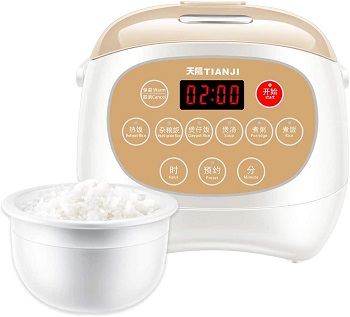 Easy To Clean
The rice won't stick to the pot, so it will be easy to clean without having to scratch the pot. It is a healthy choice for the family as it can feed up to 5 people. It preserves the flavor of rice inside the ceramic pot.
Short Description:
6-cup ceramic inner pot for healthy cooking
12 cups of cooked rice feed up to 5 people
non-stick without any chemical coatings
24-hour preset timer, 'keep warm' mode
digital panel for programmed settings
brown, clay pot rice, porridge, soup, etc
no toxic chemicals that can leach into food
What To Consider In Ceramic Rice Cookers?
Read the following advice to know which features to keep in mind to get the best rice cooker for your needs. For starters, know that ceramic material is one of the healthier choices available on the market when it comes to rice cookers. Likewise, look for the capacity suitable for your needs as well as the offered cooking programs. Finally, look for user-friendly models and consider the different heat source types.
Healthy Choice – As an alternative to non-stick PTFE and Teflon coatings that have proven to be toxic in some situations, the market offers a ceramic pot rice cooker. Rice cookers without Teflon don't have chemical coatings that can peel off and leach into the food. This way they won't be able to enter the human digestive system to prevent any health issues.
Capacity – Rice cookers have different capacities. Some can be used for cooking for several people, while some have a capacity for serving only one person. The capacity of rice cookers is measured in cooked or uncooked cups of rice. To get the best ceramic rice cooker for your needs, make sure to get the one that can cook enough rice.
Cooking Programs – Most cookers offer digital programs for cooking various types of rice, as well as other food. You can use the same kitchen appliance for cooking white, brown, jasmine, mixed rice, and more. Apart from rice, some can be used for cooking soup, oatmeal, porridge, and even baking bread.
Heat Source – Besides electric models, the market also offers rice cookers from a ceramic material suitable for microwaves, ovens, and open flame. The best one for you will the one suitable for the heat source in your house and based on your preference.
User-Friendly – For easy use, some models come with measuring cups and rice paddles to be used with the cooker. Some even include a steaming basket so that you can steam and cook foods at the same time. Programs should not be complicated so that choosing a cooking setting is easy and doesn't take a long time.
To Wrap It Up
Finally, let's do a final Aroma ceramic rice cooker review as it is our best choice. It can 6 cups of raw rice, yielding 12 cups of cooked rice inside a ceramic pot. It cooks white, brown, and other types of rice by choosing between 12 digital programs. In case you are buying on a budget, consider some of the cheap rice cookers popular on the market. Also, take a look at our selection of clay pot rice cookers currently available for purchase.