Undecided about which healthy rice cooker to buy?
In that case, you have come to the right place!
Continue reading to see which models the market has to offer at the moment, whether you are looking for stainless steel, ceramic, digital, or other types of rice cookers that are good for your health. In the second part of the article, you can also learn about technical specifications to have in mind when buying such a kitchen appliance.
The Rundown
Best 6 Healthy Rice Cookers
Best Of Best Healthy Rice Cooker
Aroma Stainless Rice Cooker
Food-Grade Construction
This rice cooker comes with a stainless steel inner cooking pot that has a capacity of 6 cups of cooked rice. The 304 stainless steel material is food-grade, very durable, and easy to wash in the dishwasher. It features a single lever for operation, allowing you to set up the cooking with one touch.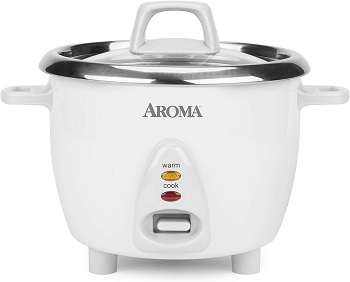 Two Indicator Lights
The smart technology inside the 6-cup rice cooker detects when the rice is cooked so that there is no need to set up the cooking time. As soon as the cooking course finishes, it will switch automatically to the warming mode. To avoid guessing, two indicator lights are showing when the rice is cooking, or being kept warm.
Versatile Applications
Besides rice, this healthy rice cooker can also be used for cooking pasta, oatmeal, soup, even omelet, and more. To make cooking easy, you will also get a rice spatula and a measuring cup. The cooker is easily portable thanks to the side handles. The transparent glass lid allows you to monitor the rice while it is being cooked.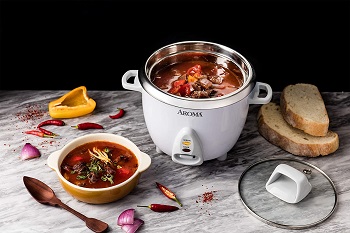 No Toxic Coatings
The inner pot has no coating that models with toxic non-stick coatings usually have. This makes it a great choice for healthy meals. It won't take up a lot of space in the kitchen, and will also save you time so that you can dedicate it to other cooking needs in the kitchen.
Short Description:
the capacity of 6 cups of cooked rice
304 stainless steel inner cooking pot
no toxic coating ensures healthy cooking
includes a rice spatula and measuring cup
used for rice, soup, pasta, oatmeal, etc
Best Stainless Steel Healthy Rice Cooker
Oyama Rice Cooker
Surgical-Grade Material
This stainless steel rice cooker can hold 8 cups of uncooked rice to yield up to 16 cups of cooked rice. It includes both a stainless steel inner pot and a stainless steel steam tray for healthy cooking without toxins. The 304 surgical-grade stainless steel material is healthy for cooking without leaching any toxins.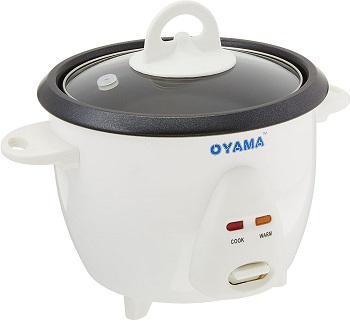 Cooker & Warmer
A single switch is easy to operate to start cooking rice. Simply add water and rice to the pot and press the switch on. The cooking indicator light will alert you that rice is being cooked. After cooking, it will switch to the warming mode, with the warming indicator lighting up. While cooking rice, you can also steam foods in the tray above.
One-Pot Meals
This healthy rice cooker works to quickly cook rice in about 20 minutes. To create one-pot meals, you can steam vegetables and meats above the cooking rice. The tempered glass lid is transparent, allowing you to check in on the progress inside the cooker at any time. The included helpful accessories are a measuring cup and a serving paddle.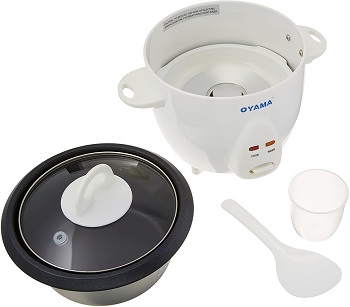 Non-Reactive Material
Cooking in a stainless steel pot preserves the flavor of food and helps it keep its nutritional value. The material is anti-rust and it won't peel to release toxins. Even when used with acidic food, it won't react. It is odorless and doesn't hold any flavor in the pot. All of this allows you to cook healthy meals without worry.
Short Description:
8 cups of uncooked, 16 cups of cooked rice
a stainless steel inner pot and a steaming tray
healthy odorless anti-rust surgical-grade material
one-touch cooking and an automatic warming mode
it allows you to steam foods above the cooking rice
a glass lid, a serving paddle, a measuring cup
Best Ceramic Healthy Rice Cooker
All-Clad Slow Cooker
4-Quart Capacity
This ceramic rice cooker features a black ceramic cooking insert with a 4-quart capacity. It can serve between 4 and 5 people, cooking slow and healthy meals. The slow cooker can work between 4 and 20 hours to create simmering tasty meals for the family. The inner cooking pot and the lid are washable in the dishwasher after cooking.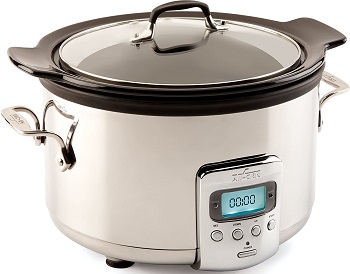 Convenient Handles
The body of the healthy rice cooker comes with side handles convenient for transport, as well as handles on the inner pot for easy removal from the unit. The covering lid works to trap the heat and the moisture inside the pot during cooking. The panel with buttons is easy to operate to set up the cooking time and has cooking and warming indicator lights.
LCD Control Panel
The LCD screen helps with easy operation and allows you to view the functions of low and high settings, and even letting you choose independent warming mode, besides the automatic one. Once cooking is done, the audible tone will alert you of it.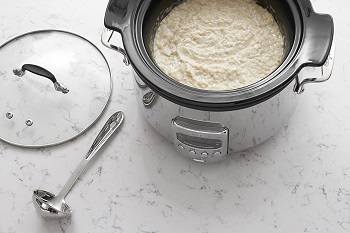 No Teflon Coating
By cooking slowly and inside a pot without toxic Teflon coatings, you will always get to prepare healthy meals for your family. Whether you are looking to cook rice or create one-pot meals for dinner, you don't have to worry about any toxins leaching into your food.
Short Description:
4-quart ceramic pot serves 4 to 5 people
slow cooking between 4 and 20 hours
the pot and the lid are dishwasher safe
the covering lid traps moisture and heat
LCD screen with control panel for operation
features independent and automatic warming
by cooking slowly, it prepares healthy meals
Best Clay Healthy Rice Cooker
VitaClay Rice & Slow Cooker
No Artificial Chemicals
This rice and slow cooker has a clay inner pot and covering lid without a glazing layer to enhance the taste and flavor of rice and other food. The pot doesn't have any aluminum or artificial non-stick coatings so that you can create meals without worrying about your health.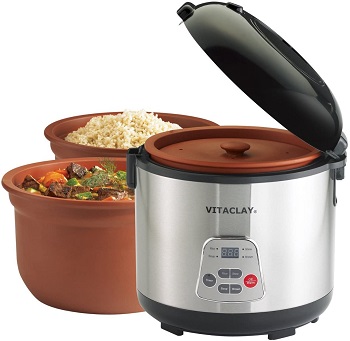 Cooking Programs
The body of the clay rice cooker comes with a screen display and a control panel with numerous settings. It offers programs for soups, stews, as well as for white and brown rice. You can also set up a delayed cooking time for up to 12 hours in 30-minute increments. You can even use it for making beanpot meals and porridge.
Pure Zisha Clay
Constructed from pure Zisha clay, the cooking pot is rich with minerals and has no artificial chemicals that can come in contact with your food. The double-layer lid and the heating base work to cook food uniformly, while saving up to 50% of energy.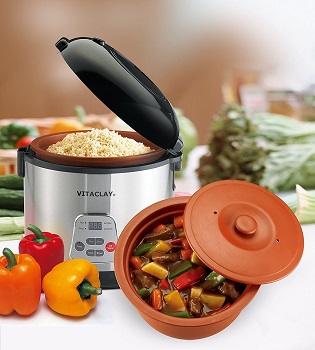 8-Cup Capacity
Even though this healthy rice cooker uses the slow cooking method with 50% less time, it still delivers the same cooking result. The clay pot will preserve the juices of the food cooking inside and deliver healthy meals to your family table. You can make up to 8 cups of rice to serve with other meals as a side dish.
Short Description:
features an unglazed clay inner pot
without non-stick coatings and aluminum
settings for white, brown rice, soups, stews
12-hour delay timer in 30-minute increments
it can cook up to 8 cups of rice
Best Digital Healthy Rice Cooker
Aroma Professional Rice Cooker
Healthy Ceramic Pot
This digital rice cooker features a ceramic inner pot and a control panel with various cooking programs. With a capacity of 12 cups of cooked rice, the ceramic cooking pot is a healthy alternative to non-stick inner pots as it is natural. The ceramic material does not leach chemicals into food and it can be easily removed from the pot.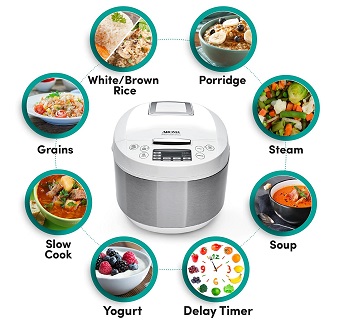 12 Cooking Programs
The outer body of the cooker stays cool to the touch at all times to prevent any accidents. The control panel offers 12 versatile programs for cooking, including rice, soup, but even cakes and yogurt. With the included steam basket, you can even steam vegetables and meats while rice is cooking beneath it.
Without Chemicals
Without added chemicals and with even heat distribution, cooking in this ceramic healthy rice cooker will remove the worry for your health and the health of your family. Included with the purchase of this cooker, you will also get a measuring cup and a bamboo paddle for serving rice.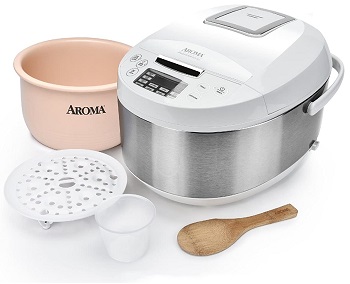 Time & Space-Saving
Cooking rice and one-pot meals in the healthy ceramic pot will save you space in the kitchen, without having to use the burner range. It also saves time you would otherwise have to spend on checking in on the rice and stirring when cooking on the stove burner.
Short Description:
12-cup ceramic inner cooking pot
a healthy alternative to non-stick pots
12 cooking programs for rice, soup, desserts
includes a steam basket for steaming foods
includes a measuring cup and bamboo spoon
healthy cooking without leaching chemicals
Best Cheap Healthy Rice Cooker
Elite Gourmet Rice Cooker
For Various Rice Types
This healthy rice cooker comes with a stainless steel inner pot that has a capacity of 20 cups of cooked and 10 cups of uncooked rice. It is suitable for cooking basmati, brown, or jasmine rice, as well as other types of rice with a single lever operation. Apart from cooking, it can also keep rice warm.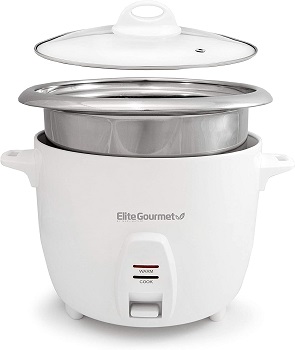 Removable Pot
This cooker will make perfectly cooked rice and once cooked, switch to the warming mode to keep it at an optimal temperature for serving. The cooking pot is constructed from 304 surgical-grade stainless steel and removable from the cooker so that you can even serve rice in it. It is also easy to clean and is free of any coatings.
User-Friendly
Included with the cooker, you will also get a measuring cup and a rice paddle for serving. The side handles on the rice cooker stay cool to the touch so that you can easily carry it around when needed. You can check in on the rice while it is cooking by taking a peek through the transparent glass lid.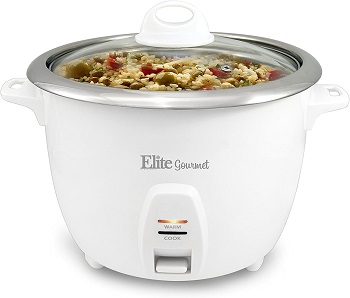 Also Cooks Other Meals
This cheap rice cooker is available to purchase for the price of around 30 dollars on Amazon. Apart from rice, you can also use it to make soup, porridge, stew, and oatmeal. When cooking rice, it makes a generous amount of up to 20 cups. The steaming tray allows you to steam different foods above the cooking rice.
Short Description:
20-cup stainless steel inner pot
for brown, jasmine, basmati rice, etc
it also cooks soup, stews, porridge, etc
automatic warming mode is included
the pot is free of coatings and easy to clean
includes a measuring cup and rice paddle
transparent lid and cool-touch side handles
What To Consider In Healthy Rice Cookers?
If you are worried about any potential health problems caused by non-stick coatings in rice cookers, the market has come up with a healthy alternative. Make sure to consider healthy materials without non-stick coatings to enjoy healthy meals. Likewise, look for the healthy rice cooker that offers enough capacity for your needs. Likewise, make sure it is easy to use and that it offers cooking programs suitable for your use.
Unhealthy Chemicals – Rice cookers with non-stick coatings on inner cooking pots are designed for easy use without having to worry about cleaning it or the rice sticking to it. However, the Teflon coating combined with the aluminum pots can leach toxins into your food in case it is cooked at high temperatures. It can cause several health problems for humans.
Healthy Materials – To avoid health problems, you should look for rice cookers with stainless steel, ceramic, or clay cooking pots. They don't react when met with high temperatures, so no chemical toxins will leach into the cooking food. As non-toxic rice cookers are free of non-stick coatings, they are a much healthier alternative to Teflon and non-stick coatings.
Capacity – Rice cookers come with inner cooking pots of various capacities. To choose the best one for your needs, look for smaller options if you are cooking rice for only a few people. If you need larger amounts of rice at once, opt for models with more generous capacities. The capacity of the rice cooker is usually measured in cups of cooked or uncooked rice.
User-Friendly Design – A rice cooker should help you save time and space in the kitchen by cooking rice. It is only possible if the cooker is easy to use, without complicated functions and operations. Simple rice cookers feature a single switch for operation, making its use very fool-proof. It is also helpful when cookers come with carrying handles and transparent lids.
Cooking Programs – Rice cookers can usually offer more than just cooking rice for you. Some of them are suitable for various rice types and can even cook soup, stews, porridge, oatmeal, and more. They can also include a steam tray suitable for steaming different foods and vegetables above the cooking rice.
To Wrap It Up
In conclusion, let's take a look back at our top pick one final time. The Aroma rice cooker includes a cooking pot constructed from food-grade 304 stainless steel material without a toxic coating. This healthy rice cooker can cook 6 cups of rice, as well as soup, stews, and more. For other healthy choices available on the market, you can also learn more about rice cookers without Teflon. If you like to eat healthily by steaming food, also check out the reviews of electric steam cookers.