In need of an electric cooker steamer pot?
In that case, look no further!
First, read the reviews of six different models of electric lunch boxes, mini, portable steamer models, and models with delay timers. In the section after the reviews, you can also learn about the important specifications to keep in mind when searching the market to buy such a kitchen appliance.
The Rundown
Best 6 Electric Cooker Steamer Pot Models
Best Of Best Electric Cooker Steamer
Black+Decker Rice Steamer
Dishwasher Safe Parts
This electric cooker steamer is equipped with an inner cooking pot that has a capacity of 3 cups of uncooked and 6 cups of cooked rice. It can be used for cooking between 1 and 6 cups of rice, as well as for steaming food. Along with the cooking pot, you will also get a steam basket, and a transparent lid cover. These parts are dishwasher safe.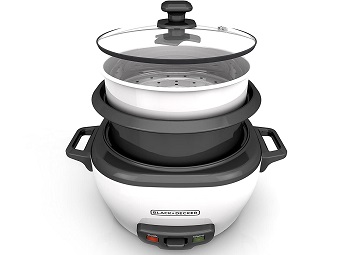 One-Touch Control
Featuring a single lever, this healthy rice cooker is very easy to operate. With one touch, you can set up the cooking or warming course. Once cooking is done, it automatically switches to the 'keep warm' option. The two indicator lights alert you when cooking starts and when it switches to the warming mode.
Non-Stick Pot
The inner cooking pot has a non-stick coating for easy cooking and hassle-free cleaning. As it is removable and dishwasher safe, you can simply put it on the top rack for washing. The included steaming basket is great for steaming fish, meats, and vegetables above the cooking rice.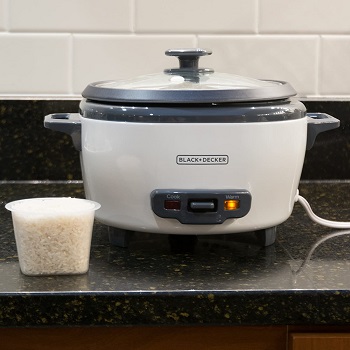 Time & Space-Saving
Apart from the basket for steaming foods, you will also get a measuring cup and a rice spoon. With the cup, you can measure the perfect water to rice ratio for cooking, while the serving spoon prevents scratches on the non-stick coating. You can steam and cook rice at the same time to save time and space in this electric steamer pot.
Short Description:
3 cups of uncooked, 6 cups of cooked rice
dishwasher safe pot, steam basket, lid
one-touch simple operation for cooking
can cook rice and steam food simultaneously
includes a measuring cup and a rice spoon
Best Lunch Box Electric Steamer Pot
Kobwa Cooker Steamer
Portable Handles
This electric steamer lunch box comes with two collapsible handles that lock into the cover lid to save space. They can be used for portability of the lunch box along with you, ideal for office use, etc. It can be used to make steamed rice, hot meals, steamed eggs, and other hot dishes.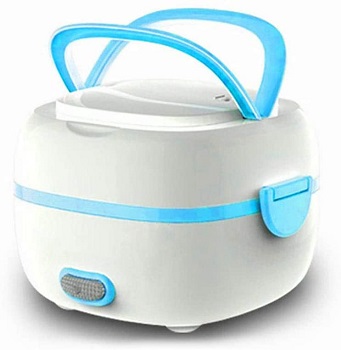 Use Away From Home
Even when you are away from home, this electric cooker steamer allows you to enjoy home-made meals, whether for breakfast, lunch, or dinner. Apart from office use, you can also use it in the school and other places with accessibility to a power outlet.
How To Use?
To start cooking in the electric steamer pot, add water to the inner bowl according to the reference manual, then add the food, and press the switch button. Once cooking begins, the indicator light will alert you of that happening. To make operation easy, you will also get a stainless steel bowl, an egg steaming rack, a serving spoon, and a measuring cup.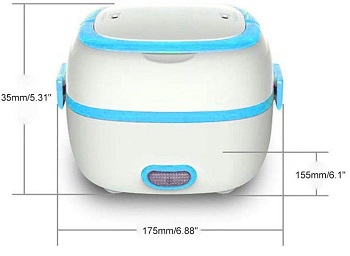 Even-Heat Distribution
The heat and the steam are distributed evenly across the electric lunch box cooker thanks to the way the box is engineered. This helps to make the food soft and delicious, allowing it to release the nutritional value. As the Kobwa multifunctional electric lunch box is compact in size, it can easily be taken along with you wherever you go.
Short Description:
two collapsible handles convenient for portability
for steamed rice, eggs, hot meals, and more
stainless steel pot and steam tray included
comes with a measuring cup and a rice spoon
one-touch switch button and indicator light
ideal for office use as a portable lunch box
Best With Delay Timer Electric Cooker Steamer
Secura Steamer Cooker
Stackable Containers 
This food steamer with delay timer includes a base pot with two stainless steel baskets that can be stacked on top of each other. A cover lid helps to seal the steam in once the steaming course is turned on. Each of the baskets has stay-cool handles for easy handling.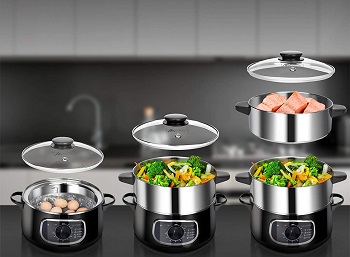 Analog Panel
The base stainless steel steamer also features side handles and comes with an analog panel that can be used for setting up the steaming course or to delay it. When delaying the start, the electric steamer pot will start working at the time you have set up. You can also check out other types of rice cookers with a timer feature here.
All Kinds Of Food
The stackable containers provide you with a capacity of 8.5 quarts, ideal for preparing enough steamed foods for your family. After the steam is generated in 15 seconds, you can enjoy steamed fish, vegetables, meats, rice, and grains fast. The food-grade stainless steel is free of BPA, anti-rusting, and resistant to high temperatures.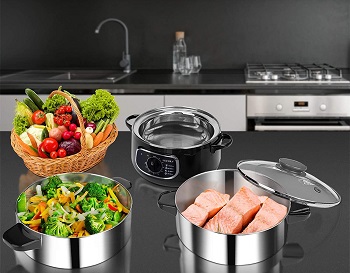 Dishwasher Safe
Depending on how much food you're cooking, you can choose to stack one or two steam baskets on top of the base of the electric cooker steamer. This Secura stainless steel food steamer works to evenly heat food while retaining all the natural taste, juices, and nutrition. The unit automatically shuts off when there is no water left. It is easy to clean and dishwasher safe.
Short Description:
two stackable stainless steel steam baskets
analog panel on the base of the steamer
features a convenient delay timer
8.5-quart capacity feeds a family
steams fish, meats, vegetables, rice, grains
BPA-free food-grade stainless steel
steaming foods retain nutrition and taste
Best Instant Electric Steamer Pot
Instant Pot Rice Cooker & Steamer
Smart Controls
This food steamers instant pot features settings for cooking rice, steaming, slow cooking, pressure cooking, warming foods, and making yogurt. It is one of the most selling electric cooker steamer models in America and features smart technology control. It controls the pressure, temperature, adjusting the cooking time for perfect results when cooking, and steaming.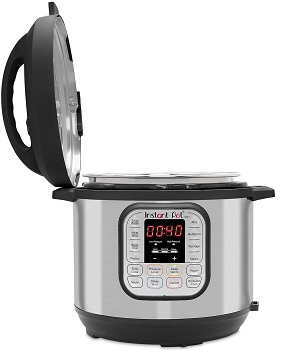 14 Cooking Programs
This electric steamer pot is engineered to cook up to 70% faster while delivering the same results, saving you time and space in the kitchen. It features a digital control panel with buttons for easy access to 14 cooking programs. These settings include options for cooking rice, poultry, beans, soups, ribs, and more inside a stainless steel inner pot.
Packed With Safety Features
The removable parts of the digital rice cooker are dishwasher safe for fast cleaning after each use. To remove the fear of pressure cooking, this cooker comes packed with safety features that prevent overcooking and that safely lock it while it is being used. The 6-quart capacity is an ideal size for feeding your whole family, cooking for up to 6 people.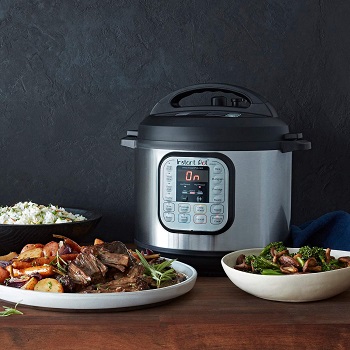 Steam Rack Included
To be able to use the steam option, the cooker comes with a steam rack that can be placed inside the cooking pot. With versatile cooking options, it can replace many appliances in the kitchen, allowing you to delay the cooking start and automatically keep food warm after cooking.
Short Description:
steams food, makes yogurt, warms food, cooks rice
smart technology controls the cooking specifications
includes a steaming rack for steaming foods
the inner pot is constructed from stainless steel
14 programs available on the digital panel
Best Mini Electric Cooker Steamer
N/C Electric Steamer Pot
Anti-Dry Burning
This mini electric food steamer is ideal for household use, steaming foods for breakfast, and more. With an anti-dry burning function, it includes a lid, two steamers, three steaming pans, and a scraper. By adding water to the base and waiting for it to boil, you can enjoy various steamed foods.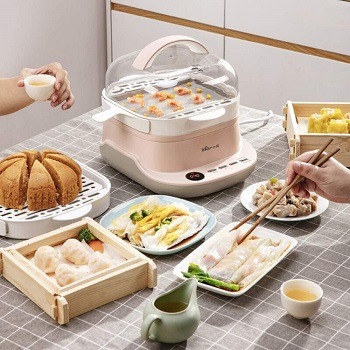 Steams Rice Noodle Rolls
The mini electric cooker steamer comes in pink color and has a capacity of 3 liters. You can steam enough food for the family, and with foldable containers, it is perfect for all household sizes. It can be used for steaming seafood, as well as rice noodle rolls. With the included scraper, you can use this unit as a rice noodle roll steamer.
6 Preset Programs
Featuring a panel display with 6 programs, it is easy to set up this steamer for use. It features drawers for making rice noodle rolls, while the top container can be used for many different kinds of food steaming, as it has a bigger volume.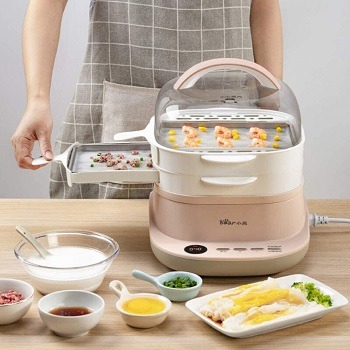 Reservation Function
When you are in a hurry, you can even use the reservation function for up to 9.5 hours for convenient steaming on the mini vegetable steamer electric model. After cooking, the parts can be removed and put in the dishwasher for easy and safe cleaning. The handles are anti-scalding for safety, as well.
Short Description:
3-liter steamer with 6 programs
the anti-dry burning function featured
steams food after water boils in the base
included scraper for making rice noodle rolls
ideal for steaming breakfast in households
removable parts are dishwasher safe
Best Portable Electric Steamer Pot
Prestige Electric Rice Steamer
Cooker & Steamer
This portable electric food steamer features a 1-liter cooking pot with side handles for easy portability. It can be used for cooking rice, steaming vegetables, cooking soup, porridge, and stews no matter where you are. As long as you have access to a power outlet, this steamer can be used to provide you with homemade cooked meals.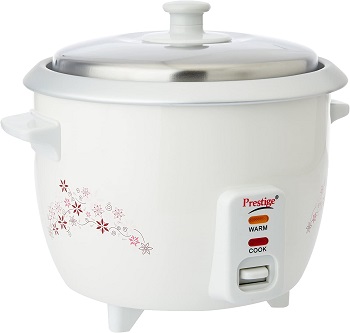 Detachable Cord
The Prestige electric steamer pot comes in white color with a single lever for operation and two indicator lights. The lights indicate when cooking starts and when the cooker switches to the warming mode automatically. It can keep the food warm for up to 4 hours. The cord is detachable from the body for easier storage when not in use.
Steam Tray Included
The stainless steel lid covers the Prestige food steamer for better cooking and steaming inside the pot. The lid comes with a knob for easy opening, as well. To be able to steam, you will get a steam tray. The lid has a vent for letting the steam out, preventing the overflow and lathering of rice.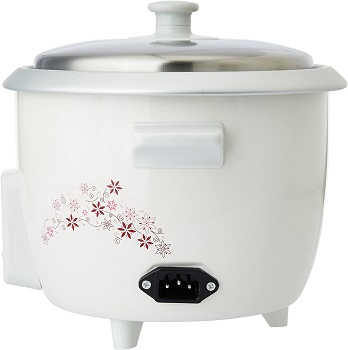 400 Grams Of Rice
The detachable power cord of the electric cooker steamer can also be convenient for serving the food straight out of the portable rice cooker. The Prestige rice cooker with steamer feature is very easy to use with a one-touch operation and can cook up to 400 grams of raw rice. The included measuring cup will help you set the appropriate water to rice ratio.
Short Description:
steams food, cooks rice, makes soup, porridge
cool-touch side handles for portability
a stainless steel lid with a steam vent
indicator lights for the cook and keep-warm
automatic warming mode up to 4 hours
included steam tray and measuring cup
1-liter pot can cook up to 400 grams of rice
What To Consider In Electric Steamer Pots?
To get the best electric rice cooker with steaming feature, you will have to keep the following technical specifications in mind. To start, consider the capacity that works for you and your family, and make sure it is suitable for the type of food you want to be able to cook and steam. Likewise, pick an electric cooker steamer that is easy to use and that can offer you some additional modes, such as a delay timer and automatic warming.
Sizing – The capacity of the electric steamer pot will define how much food you can cook in it at once. For example, one person rice cookers have smaller capacities, ideal for singles, couples, or small families. On the other hand, some have pretty generous capacities, allowing you to cook enough food for several people at once, sometimes even for family gatherings and parties.
Type Of Food – Besides cooking rice, these models can be used for many other types of cooking, as well as steaming. For example, some of the units can also be used for making soup, porridge, as well as to steam vegetables, meats, fish, other seafood. You can even cook rice noodle rolls in a steamer.
User-Friendly – Electric cooker steamer models help you to cook rice and steam foods, all at once. This makes them ideal for saving you both time and space in the kitchen. To make sure they are easy to use, look for models that don't have complicated functions and settings.
Delay Timer & Keep-Warm – If you lead a busy life, a delay timer can be used to set up the cooking start in advance. That means you can get home to freshly cooked food at any time by using the electric rice cooker with steamer. The warming mode usually works automatically after cooking is completed to keep the cooked and steamed food warm for hours.
Included Contents – To be able to cook and steam rice and other foods at once, you will need a steam tray or basket included with the electric cooker with steamer. Other accessories include a rice paddle for serving rice. Likewise, you will also get a measuring cup for setting the water to rice ratio properly.
To Wrap It Up
The best electric steamer pot is the Black+Decker rice steamer. It has a single lever for operation, yielding 6 cups of cooked rice from 3 cups of uncooked rice. With the included steam basket, you can steam foods above the cooking rice to save time and space in the kitchen. If you love steamed rice, you can also check out models of bamboo sticky rice steamers. Also, consider some of the best rice cookers for sushi available on the market if you are looking to make sushi at home.