Have you been trying to find the perfect rice noodle rool steamer to make Chinese rice rolls?
In case you have, look no further!
Here you can check out the reviews of different steamers suitable for making rice noodle rolls, including models with two or three tiers, stainless steel construction, or small models ideal for small and busy kitchens.
The Rundown
Best 6 Rice Noodle Roll Steamer Machines
Best Of Best Rice Noodle Roll Steamer
Ferrisa Cheung Fun Steamer
Multiple Heat Sources
This rice noodle maker can be used on electric stoves, gas cookers, as well as induction cooktops. It can be purchased in one-tier or two-tier constructions made out of stainless steel material. It is engineered for easy removal of stains and oil, resists rust, and stays durable. The tiered system is designed like two drawers for preparing rice noodle roll, dumplings, fish, or spareribs.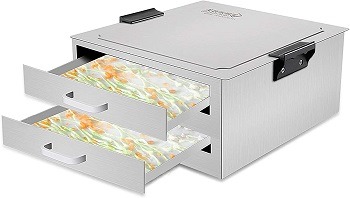 Seals Heat For Steaming
Designed with drawers, this machine ensures the heat is sealed in to better utilize the steam. The trays of the drawers are deep enough to prevent overflowing of any ingredients. The steamed rice noodle roll machine is thick enough to ensure even heat everywhere without emitting smoke in your house.
Homemade Steamed Food
This Cheung fun steamer allows you to make homemade rice noodle rolls at home, and from scratch. It is suitable for any household as it can be used on different kinds of heat sources. Preparing fresh breakfast will be simple by using this machine to achieve the soft and chewy texture of rice noodle rolls.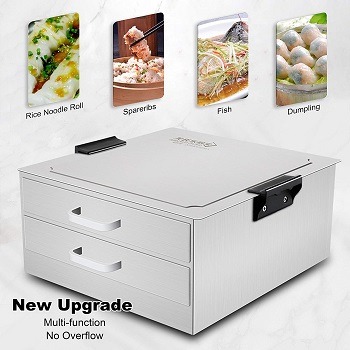 How To Clean?
This household steamer comes with an oil brush and a scraper so that you can fully enjoy the experience of making rice noodle rolls. To prevent rust and keep it in a hygienic condition, clean it and wipe any water off the trays, especially from the internal water tank. Placing it in a dry place with ventilation will prevent rust from water stains and oil.
Short Description:
two-tier stainless steel household steamer
suitable for various heat sources
drawer system for even heat and steaming
for dumplings, fish, spareribs, rice noodle rolls
comes with an oil brush and a scraper
Best Compact Rice Noodle Steamer
E-KEYWAY Rice Noodle Roll Steamer
Two-Tier Drawers
This rice noodle steamer features a two-tier system of drawers and comes with a replacement tray and is easily set up for use. To make rice noodle rolls, you will also get a cutter to cut up the long noodle once rolled up. It can be used on electric, induction, or gas cooking ranges. By using this machine, you can create rolls with your own choice of filling.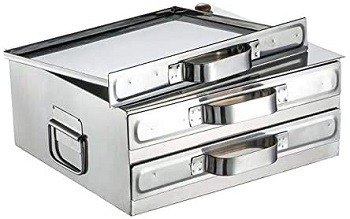 Stainless Steel Construction
To begin steaming, the water is put in through a hole in the corner of the steamer. This unit is constructed from stainless steel material for durability. It is also resistant to corrosion for hygienic use for cooking. The trays are easily opened with the help of handles on them.
Convenient Carry Handles
This compact machine measures 31 centimeters in length, 34 centimeters in width, and 14 centimeters in height. Apart from rice noodle rolls, it can be used to make dumplings, letting you enjoy homemade Chinese recipes. This Chinese rice noodle roll food steamer comes with handles on the side for convenient transport.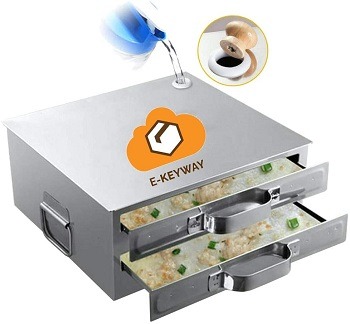 Even-Heat Distribution
The trays are flat to distribute the heat evenly across the drawers, making restaurant-quality rice noodle rolls. After steaming, empty the water from the unit for cleaning. With the compact size, it won't take up too much space when used or stored away.
Short Description:
features a two-tier drawer system
for electric, induction, gas ranges
a hole in the corner for water
corrosion-resistant stainless steel material
compact size with handles for transport
can make rice noodle rolls or dumplings
Best Stainless Steel Rice Noodles Maker
YEKIMEE Rice Roll Steamer
Food-Safe Material
This one-tier unit is constructed from 430 stainless steel material with a 304 stainless steel tray. The materials are food-safe for health and durability. The drawer comes with a wooden handle, that is practical to use as it is resistant to heat. This unit also comes with a scraper and brush equipment, as well as a replacement tray.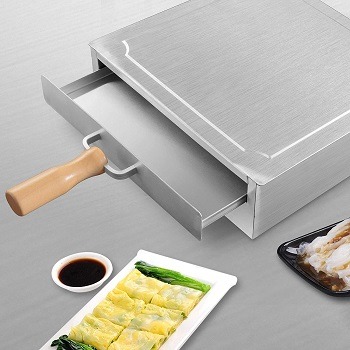 Flexible Use
This rice noodle roll steamer can also be used for steaming pumpkins, taro, dumplings, and buns. The flat tray ensures that the food is heated evenly, while the steam stays sealed in. It can be used in any household, as it is suitable for electric, gas, and induction cookers.
Homemade Rolls
For cooking, it is needed to first brush some oil on the tray and then begin preparing rice noodle rolls with your choice of filling and sauce. After cooking, it is recommended to brush the water from the trays, and leave the machine in a ventilated dry place to prevent rusting.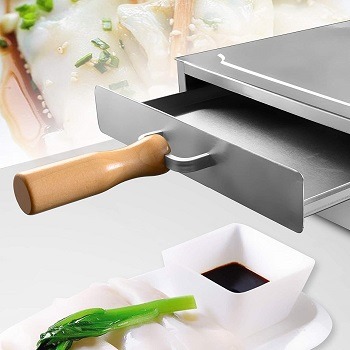 Comes With Gloves
With one tier for steaming, this machine is small enough for storage, without taking up a lot of space. The stainless steel material is thicker and easy to remove the stains from. When cooking, you can also use the convenient heat-resistant gloves that are included.
Short Description:
stainless steel unit and steaming tray
heat-resistant gloves and tray handle
a scraper and brush accessories
for electric, gas, induction ranges
easy to clean and remove the stains
one tier for steaming rice noodle rolls
can also steam taro, pumpkins, dumplings
Best Small Rice Roll Steamer
N/C Rice Roll Steamer Machine
Electric Food Steamer
Unlike the other models in this review article, this rice noodles maker comes in a smaller size and is suitable for steaming different breakfast foods, including rice noodle rolls. It is an electric unit that works upon plugging it in. It features a screen display with 6 preset programs for creating different types of food.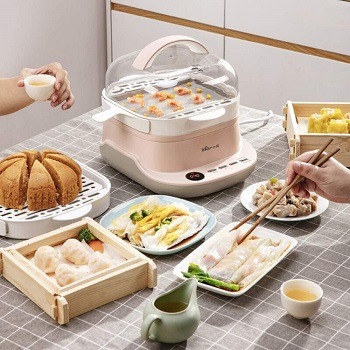 2 Steaming Trays
With a 3-liter overall capacity, this steamer comes with detachable parts that are also dishwasher safe. The two steaming trays are detachable for the flexible size of the unit. To start steaming, first, add water to the base and let it boil, then you can add the rolls, and other foods.
Stainless Steel Material
With a stainless steel body, this rice roll steamer is durable and uses water to be able to steam food. The featuring reservation function can last up to 9.5 hours. You can use it to steam shrimp dumplings, chicken feet, as well as pastry.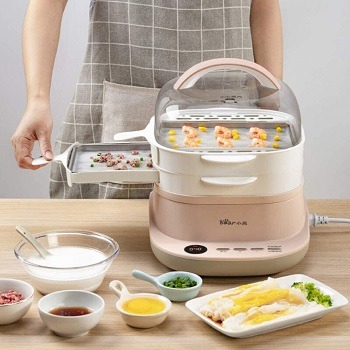 Comes With A Scraper
The steaming pans are constructed from 304 stainless steel and the included scraper helps with rolling rice noodles into rolls filled with different ingredients of choice. The unit has a transparent upper lid with a handle for monitoring the steaming process.
Short Description:
electric household breakfast food steamer
control panel with 6 presets for cooking
steams after water boils in the base
durable stainless steel construction
for rice rolls, dumplings, pastry, etc
Best Two-Grid Rice Noodles Maker
AIGOGO Rice Noodle Steamer Machine
Gas & Induction Cooktops
This two-grid rice noodles maker machine can be used in households, Chinese tea restaurants, as well as other types of restaurants. It is constructed from 201 stainless steel that is resistant to corrosion and high temperatures. It can be used on gas cookers and induction cooktops.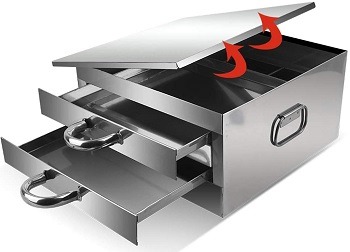 Included Equipment
This rice noodle maker also includes a spare drawer, an oil brush, and a rubber scraper for creating perfect rice noodle rolls. To begin steaming, add water at the bottom of the steamer and place it on the cooktop. After you brush some oil to the drawer tray, you can start making noodle rolls.
Convenient Handles
Each of the drawers has a handle for easy opening and closing while steaming. The side handles are convenient for transport and placing the unit on top of the cooking surface. It is 31.5 centimeters long and wide, and 16.5 centimeters tall.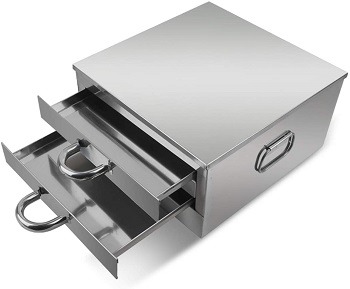 Multifunctional Use
The drawers ensure the heat and steam are sealed in for perfect results. With two drawers, you can make more rice noodle rolls at once. You can also use to steam vegetables, dumplings, pastries, seafood, and more. The construction is easy to clean and use.
Short Description:
suitable for household and restaurant use
the unit is made from 201 stainless steel
resistant to high temperatures and corrosion
suitable for gas and induction cooktops
two-drawer design for steaming foods
a spare drawer, scraper, and oil brush
Best Three-Grid Rice Roll Steamer
Feiuruhf Rice Noodle Roll Steamer
Three-Tier Drawers
With this rice noodles maker, you can prepare rice noodle rolls on three grids at once. The three grids have a drawer design that seals the steam in to deliver better steaming results over the noodle rolls. Thanks to the stainless steel construction, removing oil and stains will be easily done.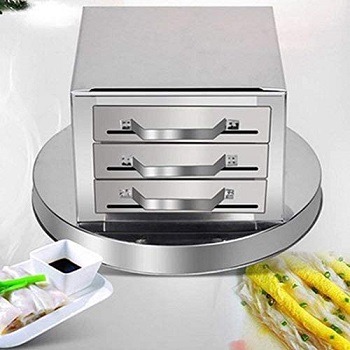 For Homemade Steaming
By preparing rice noodle rolls at home, you can pick a filling to fit your preference. You can use beef, shrimp, vegetables, or other ingredients to get the rice noodle rolls of your choice at home. With three tiers, you can prepare more rice noodle rolls at once, or even steam different foods at once.
For Gas Stovetops
This machine can be used on gas stovetops to get the water to a boil so that you can then steam different Cantonese style dishes in your home. The thin rolls are made from rice noodles and can be served as breakfast, but also as snacks, and added to other meals.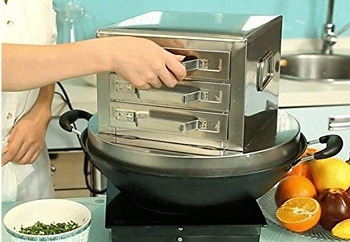 Easy To Clean
By making and steaming your own rice noodle rolls, you can control which ingredients go in, and also enjoy fresh rolls whenever you want. After making noodle rolls, you won't have to spend a lot of time or water trying to clean the product, as it is easy to remove the oil from it.
Short Description:
stainless steel construction is easy to clean
features three-tier drawers for steaming
suitable for gas stovetops at home
can steam different food types at once
oil and stains are easy to remove
drawer design seals the steam in
prepares fresh rolls with controlled ingredients
What To Consider In Rice Noodle Roll Steamers?
Rice noodles maker models can be purchased on Amazon, and have a few characteristics to pay attention to when buying one. Firstly, decide whether you want an electric unit or a unit that works with different heat sources. Likewise, think of the capacity you need when making rice noodle rolls. Finally, consider the food-safe materials these rice noodles makers are made from and opt for rice noodle makers that are easy to use.
Electric Type – The market offers electric steamers that come with preprogrammed settings for steaming different types of food. They can be used anywhere, as long as you have access to a power outlet. Use them for steaming many different breakfast foods, including rice noodle rolls, as well as dumplings, and more.
Flexible Type – The other type of rice noodle steamer machine can usually be used on different types of household heat sources, such as electric, induction, or gas stovetops. It is important to check whether a model is suitable for your heat source before buying.
Capacity – Featuring a drawer system, rice noodle pasta maker models can have one, two, or three tiers for steaming rolls and other types of foods. If you are looking for a smaller unit that is compact, then opt for models with one to two drawers. If you wish to make various steamed foods at once, models with two and three tiers will be more useful.
Construction – Most models of Chinese rice roll steamers are made from a stainless steel material that is safe for food. As this material is resistant to high temperatures, it can be used for boiling water and steaming food. This also makes it durable and easy to clean.
Easy To Use – Look for models with heat-resistant handles on drawers, and convenient carrying handles that can help with transport. It is also useful when rice roll steamers come with oil brushes and scrapers that are used to make rice noodle rolls from scratch. Also, make sure to look for corrosion-resistant models that make oil and stain removal easy.
To Wrap It Up
Our top pick for rice noodle steamer is the Ferrisa Cheung fun steamer that can be used in households with electric, induction, or gas cooking surfaces. This rice noodles maker offers one-tier and two-tier drawers that can seal the steam in to make rice noodle rolls, dumplings, and more. If you'd like to also check out machines for cooking rice, check out this article about smart rice cookers. In case you are interested in stainless steel rice cookers, take a look at stainless steel rice cooker 3 cup models available on the market.