Curious about smart rice cooker models available on the market?
If yes, keep reading this article!
We break down all the important information you need to follow to be able to pick the best smart electric rice cooker for your needs. You can read the reviews of mini, steam, and home smart cookers that let you cook rice the right way. With different capacities, adjustable temperatures, and much more, there are many models to choose from.
The Rundown
Best 6 Smart Rice Cookers
Best Of Best Smart Rice Cooker
Cuckoo Rice Cooker Smart IH
Smart NFC Feature
This smart rice cooker boasts a near field communication feature, allowing you to connect to a device with Android OS to enjoy versatile smart technologies while cooking rice. It has a 10-cup capacity and detects grain type, temperature, and cook time by using fuzzy logic and an algorithm for intelligent cooking. It is constructed from stainless steel and features a touch menu with an LED screen.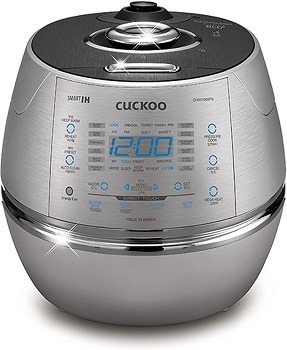 Three-Language Voice Navigation
Menu options include 19 programs that you can choose from on the touch panel. The IH smart cooker also offers voice navigation for three languages, English, Korean, and Chinese. Cooking rice is healthy thanks to the stainless steel interior with a non-stick coating. This rice cooker can be used for preparing sushi rice, as well as GABA rice. The germinated brown rice will need less soaking time to germinate and be cooked.
Versatile Cooking Functions
Besides cooking different types of rice, you can use this Cuckoo rice cooker smart IH model to make porridge, chicken soup, bake bread, and more. The stainless steel pot and inner lid can be washed in the dishwasher after cooking is done. It is non-sticking and removable from the unit. As it comes with handles, it is convenient for carrying around when needed.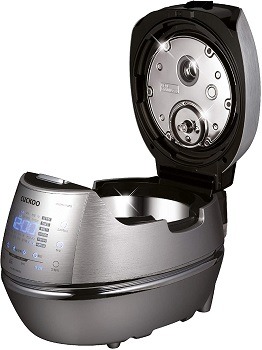 Features Induction Heating
The induction heating feature includes the bottom, the sides, and the lid to generate heat for more even cooking. This pressure cooker shortens the time needed to cook rice, while also preserving the food nutrients. Depending on the type of rice grain you want to cook, this cooker will determine the heat it needs to obtain for precise cooking.
Short Description:
has a 10-cup capacity for cooking
stainless steel non-stick inner pot
19 menu settings and an LED screen
induction heating and pressure cooking
smart features for precise rice cooking
Best IH Smart Rice Cooker
Buffalo IH Smart Cooker
Cooker & Warmer
This Buffalo IH stainless steel smart cooker can be used for cooking and warming rice inside an inner pot that has a non-sticking layer with induction heating. It has an 8-cup capacity and comes in black color. The monitor display comes with a touch control panel to choose between 11 cooking options. The inner pot has a non-stick layer without any chemicals and is also oxidation-resistant.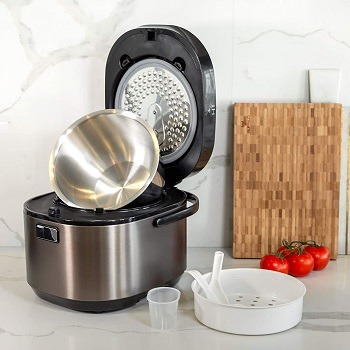 Smart Features
Featuring smart technology, this rice cooker automatically measures the rice weight and controls the temperature to obtain the nutritious worth of rice. Apart from cooking rice, it can be used for various other cooking needs. For example, you can make pasta, soup, porridge, but also steam, slow cook, or make a cake.
Stainless Steel Parts
In case you want a larger unit, you can also buy a 10-cup capacity Buffalo titanium grey IH smart cooker. The inner pot and the removable inner lid are both engineered from stainless steel material. The steam valve is also detachable, and the preset timer allows you to set up a cooking program for up to 24 hours in advance.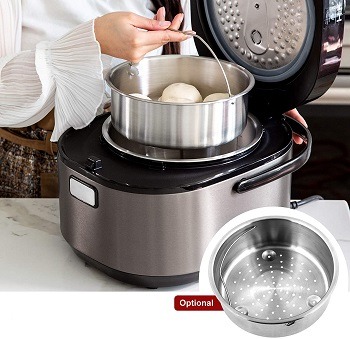 Included Accessories
Smart technology also helps to stop the rice and other food from overcooking, sticking, and overflowing. Apart from the smart mini rice cooker, you will also receive a soup spoon, a measuring cup, a scoop, and a steamer unit. You can prepare multigrain meals, or even make yogurt and baby food.
Short Description:
non-stick pot for cooking and warming rice
11 cooking options and 8-cup rice capacity
measures rice and controls temperature
rice, multigrain, yogurt, soup, porridge, etc
stainless steel inner pot and inner lid
smart technology used for cooking
Best Home Smart Rice Cooker
COMFEE' Smart Electric Cooker
6-Step Process
This multi-cooker is an ideal appliance to have in your kitchen, allowing you to cook rice, steam, slow cook, make yogurt, or stewpot, and much more. It has a 12-hour automatic warming function, as well as a 24-hour timer for delaying the cooking. A 6-step cooking process helps to deliver a performance for perfect rice.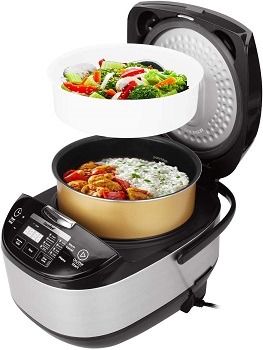 17 Versatile Programs
As it comes with 17 cooking programs, you get to enjoy various homemade meals, such as rice, soup, steamed vegetables, or pasta, and much more. The capacity of 10 cups of uncooked rice means that you can get between 10 and 20 cups of cooked rice, ideal not just for families, but for larger gatherings, such as parties.
User-Friendly Design
To set up the cooking course, use the touch control panel and the LED display. The inner pot has a non-sticking coating that makes maintenance a breeze. It can be washed in the dishwasher, as well as the included plastic accessories. Cooking with normal pressure, this electric rice cooker is considered a safe alternative to pressure cookers.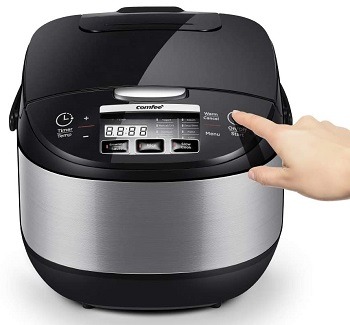 Multi-Cooker
The cool-touch handle on the unit is designed for safe carrying and storage. When cooking rice, the smart home rice cooker will take up to 40 minutes to cook 10 cups of rice. It can also be used to stew meat, or even make noodle soup, both in 20 to 30 minutes. Finally, it can also be used for making desserts.
Short Description:
cooks rice, steams, slow cooks, and more
17 programs on the LED control panel
12-hour warming and 24-hour delay timer
noodle soup, rice, meat stew, pasta, or soup
non-stick dishwasher safe inner cooking pot
features a cool-touch carrying handle
an intelligent cooking process with six steps
Best With Timer Smart Rice Cooker
Midea Smart Rice Cooker
24-Hour Timer
This smart rice cooker comes with a 24-hour delay timer and is ideal for people on the go. You can use it to delay rice cooking for up to 24 hours so that you can enjoy freshly cooked rice whenever you want. It features a control panel with an LCD screen, offering 11 cooking settings to choose from. You can cook white or brown rice, oatmeal, soup, or stew.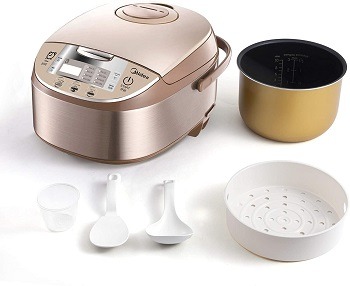 Non-Stick Inner Pot
Besides the user manual, you will also get rice and soup spoons, and a measuring cup. The inner pan has a non-stick coating, delivering fast cooking and heating. The steam basket is also included so that you can steam vegetables and meat while the rice is being cooked underneath.
Automatic 'Keep Warm'
This rice cooker can also be used to make cakes, pasta, yogurt, and soup. After cooking is done, the warming function starts automatically to keep your meal warm for you. When you need to relocate the unit or want to store it away, the carrying handle is convenient to use.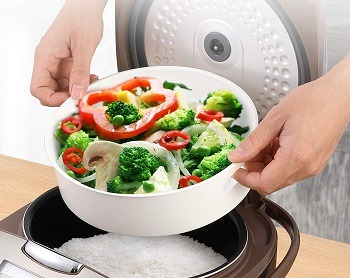 Generous Capacity
With a capacity of 5 liters, this cooker is suitable for 3 to 10 people, ideal for families and smaller gatherings. The 11 included menus make it multifunctional and suitable for different types of cooking needs and requirements. The stainless steel construction with a brushed brown color compliments any kitchen space.
Short Description:
features a 24-hour delay timer
LCD screen with a control panel
11 settings for rice, soup, pasta, etc
comes with a steam basket for steaming
5-liter capacity for family and dinner parties
Best WiFi Smart Rice Cooker
CHEF iQ Pressure Cooker
Wireless Phone Connection
This smart rice cooker can be connected to your phone through an app and WiFi and Bluetooth connection. By connecting it to the phone, you can access many videos for cooking, and also control or monitor your rice cooker. With the integrated scale, you can weigh all the ingredients inside the unit, and calculate how much water to use to cook rice to perfection.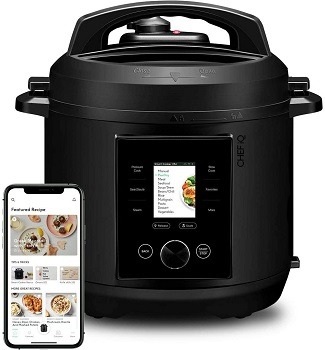 Numerous Presets Available
Chef iQ app comes with over 1000 presets to choose from, including many different meals, and 300 presets can also be found programmed on the pressure cooker. The mobile app also calculates the temperature and time needed to cook a certain meal by putting in the ingredients. The pressure is released after the cooking is done for safety.
Smart Cooking Technology 
This smart rice cooker Wifi model can be wirelessly updated the same way phones are updated to always have the latest version of the technology available. You can save your favorite cooking courses to easily use them anytime by simply pressing a button. It is multifunctional, letting you cook vegetables and rice, as well as steam, slow cook, and much more.
Steam Accessories Included
With the purchase of this cooker, you will also get a steam rack and a steam basket, allowing you to steam small and bigger pieces of vegetables, fish, and meat. When cooking rice, simply add it to the cooker where it will be weighed, and then add the recommended amount of water to cook it to perfection.
Short Description:
it connects to the Chef iQ app via WiFi
integrated scale and calculator for ingredients
access to videos and hundreds of cooking presets
releases pressure after cooking is finished
can cook various rice, vegetable, meat dishes
slow cooks, pressure cooks, steams, and more
Best Steam Smart Rice Cooker
Aroma Rice Cooker
Smart Steam Option
This Aroma rice cooker smart steam model has a capacity of 10 uncooked and 20 cooked cups of rice. It features three settings for cooking white, brown, or quick rice. Apart from these programs, it also has a smart steam option. The smart steam option lets you set up the time needed for steaming the food. The timer will start when the water starts boiling and count down until the set time is done.
Automatic Warming Function
Apart from steaming and cooking rice, it can also be used for slow cooking. To use the steaming function, you can cook rice beneath and steam vegetables, fish, or meat above it at the same time. After cooking is done, the warming function starts automatically. To plan a meal, you can also use the 15-hour delay timer.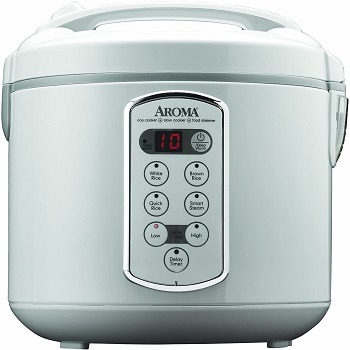 Includes A Recipe Booklet
For cooking rice precisely, you will get a measuring cup, as well as a serving spatula. To steam above the cooking rice, you will also get a steam tray. The included recipe booklet will help you prepare different dishes with rice and steamed food. After cooking, the anti-stick inner pot and other accessories can all be washed in the dishwasher.
Saves Time & Space
If you choose this smart rice cooker, you can prepare delicious meals, while saving both times you spend and the space you need in the kitchen. The sensor logic technology feature takes care of the temperature needed to cook rice automatically. When you need rice to e cooked quickly, you can use the quick rice setting that cuts cooking time by half.
Short Description:
the capacity of 10 uncooked cups of rice
white, brown, or quick rice options
also features a smart steam option
comes with a steam tray and measuring cup
includes a recipe booklet and a serving spatula
dishwasher safe anti-stick inner pot
sensor technology regulates temperature
What To Consider In Smart Rice Cookers?
If you are into smart technology in the kitchen, there are some features to keep in mind to get the best model for your needs. Look for types of rice you want to cook and make sure that the feature technology can make rice-cooking easier for you. Also, look for the type of rice cooker that best fits your demands and your preference. Finally, consider the capacity you need and the added features and accessories it comes with.
Type Of Rice – If you like to eat your meals with rice, you know that the market offers various rice types for cooking. Make sure that the rice cooker you decide to get supports all types of rice you want to cook in them. Whether it be GABA, white, or brown rice, as well as other types of grains, a rice cooker should be suitable for them.
Easy To Use – Smart cookers for rice can make operation much easier. The best smart rice cooker models know how to regulate the temperature according to the setting you decide to use. Some go a step further, measuring the weight you put inside the unit, and then calculating how much water will be needed. Measuring cups, spoons, and spatulas included are also useful.
Type Of Cooker – Whether you want to cook and steam, use induction heating, or pressure cook, the market offers many models for these needs. If you like to steam meat and vegetables, look for models that also offer a setting for steaming. Induction heating models will make sure that the rice is cooked evenly, while pressure cookers work with pressurized heating to raise the temperature during cooking.
Other Features – Rice cookers come in different sizes, offering a capacity from 5 to 20 cups of rice. Apart from cooking rice, some models can also prepare soup, pasta, cake, and more. Likewise, opt for models with non-stick inner pots that are easy to keep clean. Some of them are even dishwasher safe. Other useful features include delay timers, automatic warming function, and more.
To Wrap It Up
We have chosen the Cuckoo rice cooker smart IH model as our top pick of smart rice cookers. It can be connected to Android devices via NFC technology and uses fuzzy logic to determine the type of grain, as well as the needed temperature and cooking time to create perfect rice dishes. It features 19 pre-programmed settings for cooking rice, baking bread, making soup, and more. Check out small Japanese rice cooker models to see what types of mini cookers are popular on the market. For models with a timer feature, read my article about the best rice cooker with timer options.