Interested in switching to a convection bread maker?
Curious to try out bread-baking in such a bread machine?
In that case, this article can help you learn more about the benefits of such kitchen appliances. Likewise, you can learn more about the features to keep in mind when choosing a model. Whether you are interested in bread machines with automatic fruit and nut dispensers, or convection bread makers that bake horizontal bread loaves, you can read their reviews below.
The Rundown
Best Of Best Convection Bread Maker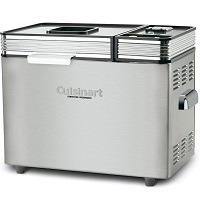 Cuisinart 2 lb Bread Maker
Featuring 16 pre-programmed settings for different bread types, it circulates air to create premium texture and crust on the bread loaf.
Jump To Review
Best Automatic Convection Bread Maker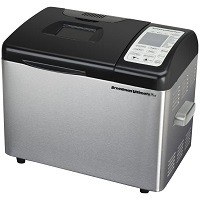 Breadman Ultimate Plus TR2500BC
This model lets you create 5 personal recipes, and also offers 300 pre-programmed recipes, including gluten-free, low carb, etc.
Jump To Review
Best 2 Convection Bread Makers
Best Of Best Convection Bread Maker
Cuisinart 2 lb Bread Maker
16 Versatile Settings
This convection bread maker features 16 pre-programmed settings and offers 3 crust settings, as well as 3 loaf sizes. By combining these settings, you can create over 100 options for baking bread, and making sweet cakes, dough, and jams. The convection fan inside the unit helps to circulate air and deliver premium crust and texture.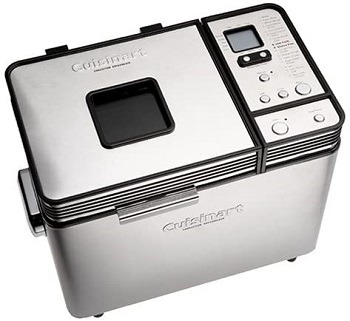 Loaf Color &; Size
With a body constructed from stainless steel material, this 2lb bread machine is equipped with a screen display and pushbuttons for setting up the baking cycle. You can use it to set up a baking cycle of a 1-pound, 1.5-pound, or 2-pound bread loaf with light, medium, or dark crust color. It bakes horizontal loaves of various bread types.
Bread, Dough, Jam
Among the 16 settings, you can choose between low carb, gluten-free, white, whole wheat, or French bread. Likewise, you can make jams, and different types of dough, including artisan dough which you can then bake in an oven. After you set up the cycle, the CBK 200 Cuisinart bread maker model will beep to alert you when to add any ingredients, remove the paddle, or shape the bread.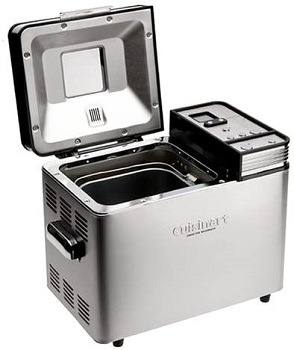 Additional Features
The 12-hour timer lets you delay the baking time, letting you wake up to fresh bread in the morning. The included recipes can help you get creative and even offer gluten-free and low carb baking options. Other convenient features are the 15-minute pause, a 'bake-only' option, and a backup function in case of power failure.
Short Description:
3 crust settings and 3 loaf sizes
16 settings for bread, jam, dough
low carb, gluten-free, French bread, etc
convection fan for superior crust and texture
features a 12-hour timer and bake-only option
Best Automatic Convection Bread Maker
Breadman Ultimate Plus TR2500BC
Horizontal Bread Pan
This bread maker comes in a stainless steel housing and features an opening lid with a viewing window and an automatic dispenser for dried fruits and nuts. It offers 1-pound, 1.5-pound, and 2-pound loaf sizes, and even lets you set the crust shade according to your preference. This automatic bread maker bakes traditional-shaped bread loaves in a horizontal bread bucket.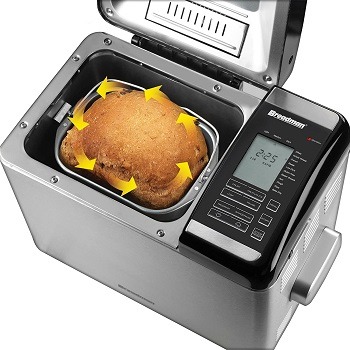 Includes 300 Recipes
The convection baking feature ensures a crispy crust on bread loaves. Over 300 recipes are programmed in the memory of the machine, letting you bake various bread types, and even jams and dough. You can prepare cake dough, pizza or pasta dough, and even bagel dough. Among other baking cycles, low carb, and gluten-free options stand out.
Automatic Nut Dispenser
The automatic dispenser is convenient for baking with nuts and dried fruits, scattering them into the dough at the right time. To monitor the baking process, the viewing window on the lid lets you take a peek inside without having to interrupt the course. You can bake white, French, sweet, or whole wheat bread, among other settings.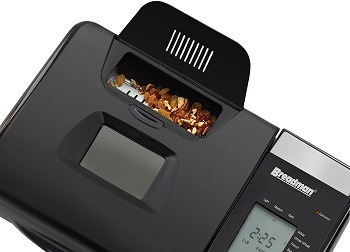 5 Custom Recipes
The baking and kneading programs also feature a program for memorizing 5 personal recipes. Apart from bread programs, you can also use this machine to prepare different types of dough. After baking is done, the bread pan can be removed for handwashing. When delaying the baking, you can use an impressive 24-hour timer.
Short Description:
1-pound, 1.5-pound, and 2-pound loaves
300 programmed recipes for baking
an automatic fruit and nut dispenser
bakes bread, makes dough and jam
features a convenient viewing window
white, French, whole wheat, sweet bread
What To Consider In Convection Bread Makers?
Circulating hot air to deliver premium crust and texture, convection bread makers are great kitchen appliances that are still to gain popularity on the market. If you decide to buy one, there are some features to have in mind to make sure you get the best product suitable for your needs. Firstly, look for the size and the capacity of the unit, make sure it is easy to operate and look for the various menu settings. Moreover, keep in mind some other features that make operation and maintenance easy.
Size – Bread machines come in different sizes, with horizontal or vertical bread pans. If you have limited kitchen space to use, look for compact bread machines that have a space-saving design. Depending on the capacity, the size of the unit will also vary.
Capacity – Bread makers usually have a 2-pound capacity, and models with convection fans are usually in this category. However, they also let you choose between several loaf sizes, mostly 1-pound, 1.5-pound, and 2-pound loaves. To further customize the bread, bread makers also offer three crust colors, light, medium, or dark, to get the bread that suits your preferences.
Easy Operation – To make sure that programming is easy, look for models with screen displays, and easy to follow operation functions. Bread machines are supposed to help you save time and space, and models with complicated setups can be hard to learn how to operate.
Menu Settings – Different bread makers offer different baking and kneading settings, letting you bake different types of bread, or make jam, dough, or yogurt. Choosing a model will completely depend on your preference and which settings you are looking to use. A delay timer is also a helpful setting, allowing you to set up a baking course in advance.
Additional Features – A viewing window is a convenient feature that lets you take a peek inside the unit without having to open the lid and interrupt the baking course. Bread pan and kneading paddle with non-stick coatings are also useful for hassle-free maintenance and easy bread release. To make baking as hands-free as possible, also look for automatic dispensers for yeast, or nuts and fruits.
To Wrap It Up
To conclude this article, the best convection bread maker is the Cuisinart stainless steel bread maker. It offers over 100 options for baking bread, jam, and kneading different types of dough. This Cuisinart 2 lb convection bread maker works by circulating the air inside the unit for tasty bread crust and premium texture. It can bake different types of bread, including gluten-free and low carb options. If you are looking for a bread machine ideal for home use, consider some of the models in this list of home bread makers. If you are interested in baking artisan bread loaves, check out this article about artisan bread makers.