Searching for a digital rice cooker to use in your kitchen?
In that case, check out this article, where you can read the reviews of models available on the market, including 10-cup cookers, stainless steel, big, and small options. Besides that, you can also check out our guide section to learn about which models to consider to get the best deal for your demand.
The Rundown
Best 6 Digital Rice Cookers
Best Of Best Digital Rice Cooker
Aroma 8 Cup Rice Cooker
Cooks 2 To 8 Cups
This digital rice cooker comes with an inner cooking pot that holds between 2 and 8 cups of rice. The control panel on the 8-cup rice cooker comes with a digital screen display and offers settings for white, brown, and flash rice, as well as an option for steaming food, warming, and delaying the cooking.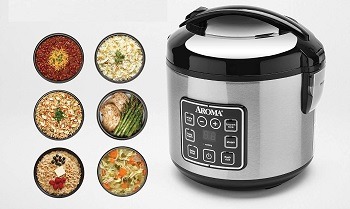 For Various Meals
This Aroma rice cooker can even be used for cooking jambalaya, soup, making a fluffy cake, and steaming meats and vegetables. To save time, use the included steam tray to steam meats and vegetables above the cooking rice. The kitchen appliance measures 8.25 inches by 8.5 by 9 inches.
Contents Included
The control panel with digital settings is easy to use and will switch to the warming mode automatically upon cooking. The cooking pot is non-stick coated to make cleaning easy, while the other contents include a measuring cup and a rice spatula, along with the steam tray.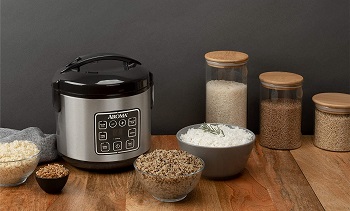 15-Hour Delay Start
When in a rush, you can use the flash rice setting to enjoy rice cooked in half the time. The delay option allows you to set up the cooking course to 15 hours in advance, to enjoy white or brown rice at the perfect time for you. The Aroma 8 cup rice cooker is very easy to set up the cooking cycle by simply pressing the button on the digital panel.
Short Description:
the capacity between 2 and 8 cups of rice
digital display for setting up the program
white, brown, flash rice, steam, warm
features a convenient 15-hour delay timer
steam tray, rice spoon, measuring cup included
Best 10-Cup Digital Rice Cooker
Zojirushi Rice Cooker, NS-ZCC18
Includes Recipes
This digital rice cooker comes in white color and features a digital panel with an LCD screen display and clock and a collapsible carrying handle. It also includes 2 measuring cups, a non-stick rice spoon, and a recipe booklet. The inner pot is non-stick and is spherical for heating.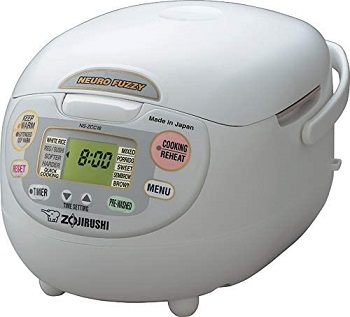 Different Rice Types
The panel offers programs for cooking white and brown rice, porridge, mixed rice, as well as sweet rice, and a quick-cooking setting. When cooking white rice, it allows you to choose between regular or sushi rice, as well as harder, and softer rice. It can even be used for reheating rice and keeping rice warm after cooking.
Yields 20 Cups
To cook fluffy rice, this item features fuzzy logic that works to control the temperature and cooking time for rice. The 10-cup pot capacity can yield up to 20 cups of cooked rice. The cooking pot and the inner lid are removable for easy cleaning and a retractable power cord for easy storing.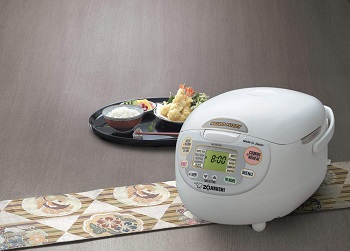 Microcomputer Controls
The fuzzy logic and the micro computerized settings make cooking perfect rice each time easy, ideal for incorporating rice into your diet. The thermal sensor in the shape of a button at the bottom of the inner body of the cute rice cooker is activated by placing the cooking pot with rice on it. It helps to control the temperature and time for cooking.
Short Description:
control panel with digital screen and clock
includes recipes, 2 measuring cups, rice spoon
white, brown, mixed, sweet, porridge, quick-cooking
regular/sushi, harder, or softer white rice options
programs for reheating and warming the rice
the microcomputer controls cooking 10 cups of rice
Best Stainless Steel Digital Rice Cooker
Presto 16-Cup Cooker
Cooker & Warmer
This stainless steel rice cooker has a maximum capacity of 16 cups of rice, allowing you to cook as little as 4 cups of rice. After cooking rice, it can keep it warm for hours. Apart from the cooking option and the warming mode, it also has a mode for steaming and cooking brown rice.
Simultaneous Steaming
Featuring not only a non-stick inner pot but this unit also includes a steaming basket. You can cook rice and steam other foods above it at the same time. You will also get a measuring cup for setting the appropriate water to rice ratio, as well as a rice paddle for serving rice.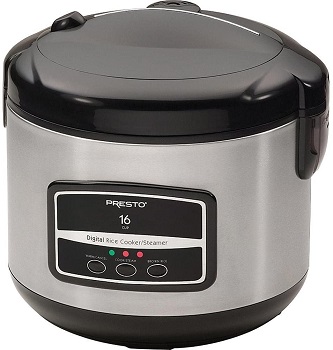 Non-Stick Inner Pot
When cooking is completed, the rice cooker Presto model switches to the warming mode automatically. When cooking brown rice, all you have to do is push the digital control button for brown rice. The non-stick pot is easy to clean after cooking, and removable from the unit for serving rice in it, as well.
Safety Indicator Lights
The indicator lights show when white or brown rice is cooking, and when the warming mode starts working. By simply pressing the appropriate button, this Presto 16 cup digital rice cooker is very easy to use. The exterior is constructed from stainless steel material for durability with a hinged lid that is easy to open.
Short Description:
the cooking pot holds between 4 and 16 cups of rice
white rice, brown rice, warming, steaming mode
steam basket for foods above the cooking rice
includes a measuring cup and a rice spoon
indicator lights for white, brown rice, warming
stainless steel exterior is long-lasting and durable
removable non-stick inner pot for cleaning
Best Big Digital Rice Cooker
Oster 20-Cup Rice Cooker
5 Cooking Functions
This big rice cooker comes with a cooking pot that can hold up to 20 cups of rice but can also be used for cooking soup, hot cereals, and more. Digital controls offer 5 cooking functions to choose from, including breakfast, steam, soup, as well as white and brown rice. It can also keep the food inside warm, and has a timer for delaying the start of cooking.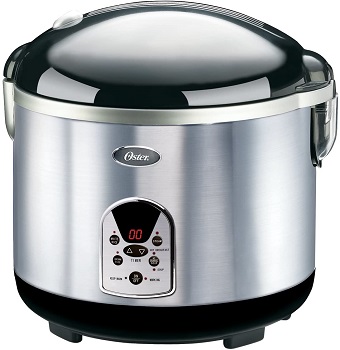 Dishwasher Safe Pot
The lid on the pot locks into place and is cool to the touch, and has an airtight seal on the cooking pot. The inner pot comes with a non-stick layer for hassle-free cooking and is dishwasher safe. As rice won't stick to it, it will be easy to keep clean by removing it and putting it in the dishwasher.
Accessories Included
The included accessories that come with this Oster 20 cup digital rice cooker are a measuring cup, a rice paddle, and a holder clip for it. To be able to use the steaming setting, you will also get a steam tray to steam different foods above the cooking rice. The exterior of the cooker is constructed from stainless steel material for durability.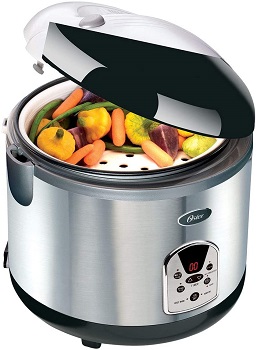 Compact Size
To precisely cook rice and other meals, this cooker automatically controls the cooking temperature. The digital screen on this item is helpful, displaying the timer and other functions for easy use. Despite its large capacity, this model measures 10.5 by 11 by 11 inches.
Short Description:
non-stick dishwasher safe inner cooking pot
the pot has the capacity of 20 cups of rice
a measuring cup, a steam tray, a rice paddle
features a digital display and control panel
settings for white, brown rice, steam, soup, etc
Best Healthy Digital Rice Cooker
Tianji Ceramic Pot Cooker
No Chemical Coatings
This healthy rice cooker comes with a capacity of 6 cups of uncooked rice and features a ceramic inner cooking pot. The pot is environmentally friendly and easy to clean after use. Without the chemical non-stick coating, this makes it a much healthier alternative, also preserving the rice flavor.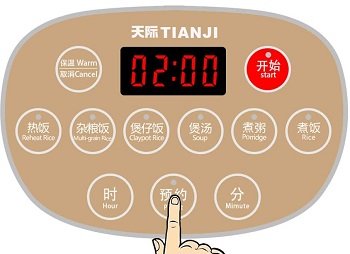 Digital Settings
With the 6 cups of raw rice, you can get up to 12 cups of cooked rice, feeding up to 5 people, so it is ideal for smaller families. The included settings on the digital rice cooker allow you to cook rice, multi-grain rice, as well as clay pot rice. You can also reheat rice and cook porridge and soup.
Delay & Warm Modes
The featuring preset timer allows you to delay cooking up to 24 hours, and you are even offered a button for the warming mode. The heating plate has a floating bow shape that helps to cook soft rice by having closer contact with the cooking pot. The rice can't stick to the ceramic pot which makes cleaning easy.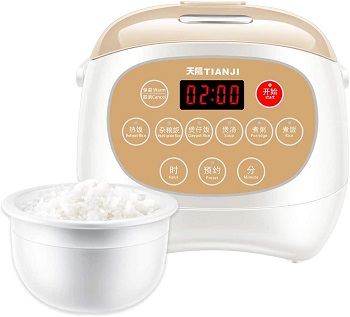 PTFE-Free Construction
By choosing this Tianji ceramic pot digital rice cooker, you choose healthy cooking for you and your family, also ideal for cooking for your baby. It is free of aluminum and PTFE chemical layers, and the ceramic material is also resistant to high temperatures.
Short Description:
a ceramic cooking pot without chemical coatings
6 cups of raw, 12 cups of cooked rice capacity
for rice, multi-grain rice, clay pot rice, soup, etc
24-hour delay timer and warming mode
resistant to high heat, free of PTFE chemicals
healthy cooking; feeds up to 5 people
>
Best Multi Digital Rice Cooker
Gourmia GRC970 Cooker
Versatile Cooking
This multifunctional rice cooker offers versatile cooking needs, saving you space in the kitchen as you can use one appliance for different cooking. It can slow cook, steam, cook rice, etc. The inner pot has a capacity of 20 cups of rice and comes with a transparent lid for monitoring the cooking process. The exterior of the unit is made from durable stainless steel.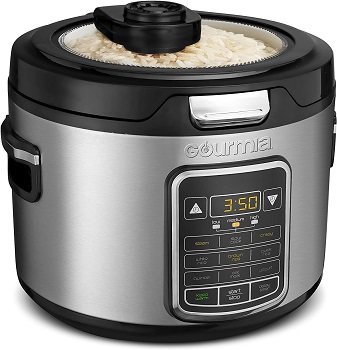 Many Cooking Programs
Apart from steaming and slow cooking, this digital rice cooker also offers programs for white, brown, quick rice, yogurt, oatmeal, and quinoa. It also features a warming setting and a 15-hour delay timer. The included measuring cup, steaming tray, and rice spatula are also useful.
Time & Space-Saving
The digital control panel also offers you the possibility to choose between adjustable low, medium, and high temperatures. With the 11 settings, you can enjoy a wide possibility for cooking in a single pot, including one-pot meals that will save you both time and space in the kitchen.
Quick-Cook Setting
You can cook rice and steam meats and vegetables above it at the same time. The 20-cup inner pot is perfect for larger batches of rice, ideal for larger family gatherings. The quick rice setting will help you to make rice fast when you are in a rush and need food.
Short Description:
the inner cooking pot holds 20 cups of rice
comes in a durable stainless steel exterior
white, brown, quick rice, oatmeal, quinoa
warming, delay, and yogurt settings
measuring cup, rice spoon, steam tray
it cooks one-pot meals to save time
for slow cooking, steaming, cooking rice
What To Consider In Digital Rice Cookers?
To get the best digital rice cooker for your needs, there are a few things to keep in mind. To start, look for a model that offers a capacity suitable for your needs. Likewise, consider models with various cooking programs, and make sure the digital control panels are easy to use. Finally, keep in mind their price and look for some of the extra features mentioned below.
Capacity – The capacity feature is one of the most important things to pay attention to. To get the best cooker for your needs, it has to be able to cook enough food. Depending on your demand, you can go for smaller models suitable for small families, and larger models that can even cook enough food for family gatherings. It is usually measured in cups.
Cooking Programs – Digital cooking programs featured in a regular rice cooker usually include settings for white and brown rice, at least. Some models go further, offering settings for sushi rice, mixed, GABA rice, and more. Apart from rice, some cookers can even be used for other cooking needs, such as soup, steaming, porridge, and more.
Ease Of Use – Digital features usually come with buttons for different settings and a screen display that makes use even easier. As rice cookers are supposed to save you time in the kitchen, they must be easy to use. This will save you time while allowing you to cook rice quickly.
Price – Depending on the accompanying features, rice cookers with digital panels can be cheaper or more expensive. The market offers something for everyone, so you should be able to find something that suits you within your budget. Cheap rice cookers will usually offer less versatility than more expensive models.
Other Features – The inner cooking pot can come with a non-stick coating or be constructed from healthier materials. To make operation easy, rice cookers usually also include a rice paddle and a measuring cup. A carrying handle on the unit will help you with portability and storing it away when it is not being used.
To Wrap It Up
The best digital rice cooker on this list is the Aroma rice cooker slow cooker. It can cook between 2 and 8 cups of rice by using the digital panel for choosing between white, brown, flash rice, and steam settings. For exceptional cooking results when using such a kitchen appliance, check out our selection of smart rice cookers. For easy cooking and warming of rice, look for models of automatic rice cookers available on the market.