Desperately searching for a quality automatic rice cooker?
In that case, you are in the right place!
In this article, you can read reviews of digital, simple, and warmer automatic rice cookers currently popular on the market. Also, you can read our buying guide to find out which features make the best models on the market and how to choose a model suitable for your needs.
The Rundown
Best 6 Automatic Rice Cookers
Best Of Best Automatic Cookers
Salton Rice Cooker Auto
6-Cup Maximum
This Salton automatic rice cooker and steamer can cook up to 6 cups of rice or quinoa at once. It features a cooking base with a non-stick insert, a tempered glass lid, and side handles on the body of the unit. The non-stick bowl can be removed from the body and is easy to wash in the dishwasher.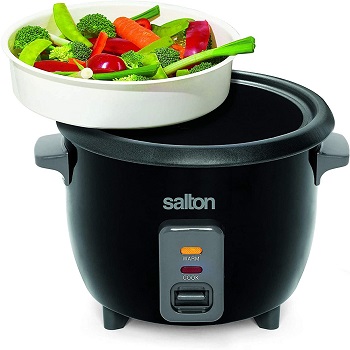 Auto Keep-Warm
To get 6 cups of cooked rice, add 3 cups of raw rice and water to the cooking bowl and turn on the switch. Once cooking is done, you will be alerted by an audible signal. After that, the Salton 6-cup rice cooker will automatically switch to the warming setting, keeping the rice warm until serving.
Steam Basket Included
You can use it for any type of rice, as well as for quinoa, and cooking wheat cream. The Salton RC1653 automatic rice cooker can also be used for steaming vegetables and other foods above the cooking rice. To be able to do so, you will get a steaming basket with the cooker.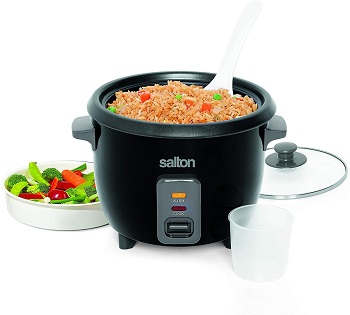 One-Pot Meals
The glass lid allows you to monitor the cooking process without having to interrupt it by opening the lid. A spatula that comes along with the product can be used for stirring the rice and for serving it. By steaming and cooking simultaneously, you can create one-pot meals easily.
Short Description:
3 cups of uncooked, 6 cups of cooked rice
features a dishwasher safe non-stick pot
operated by turning on a single switch
audible tone signals when cooking is done
automatically turns the keep-warm mode on
Best Warmer Automatic Rice Cooker
Cuckoo Automatic Rice Maker
3-Cup Capacity
This Cuckoo automatic rice cooker comes in a combination of white and orange colors, featuring a single switch for setup. With cook and warm indicator lights, you will never have to be guessing what your cooker is up to. With 3 cups of uncooked rice, the cooking pot has a 1.6-quart capacity.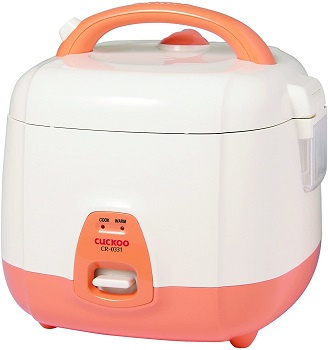 For Rice Only
The coating on the inner cooking bowl is non-sticking, preventing the rice from burning and sticking to the inside of the bowl. To cook rice, you will have to add 3 cups of rice and water and press the lever. This automatic cooker warmer is engineered for cooking rice only.
Keeps Rice Warm
The cooker automatically turns on the warming mode after cooking is done to keep the rice at a perfect temperature until serving time. By doing so, you can devote your time to other cooking needs in the kitchen, preparing other food to be served with rice.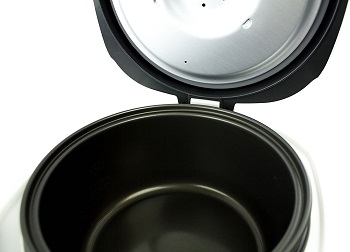 Convenient Handle
The rice will be kept warm until other food is ready so that it can be served warm with your Chinese and Indian dishes, as well as with other food. The handle on the lid makes it ideal for when you want to relocate it or store it away, and can be used as a portable rice cooker.
Short Description:
features cook and warm indicator lights
features a single lever for operation
the capacity of 3 cups of raw rice
a 1.6-quart inner non-stick bowl
automatically switches to keep-warm
engineered for cooking rice only
Best Auto Shut Off Automatic Cookers
Pars Auto Rice Cooker
For Persian Tahdig Rice
This automatic rice cooker is specialized in making Persian tahdig rice. This type of rice dish is cooked to form a crusty brown layer at the bottom of the cooking pot. With a 15-cup capacity, the inner cooking bowl is removable from the base. The bowl can be used for serving rice in it and is later easy to clean in the dishwasher.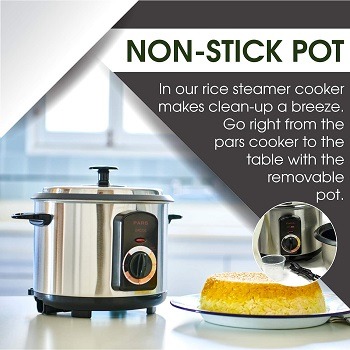 Durable & Rustproof
This rice cooker auto shut off model is constructed from stainless steel material for durability and to prevent rust. When storing it away, the power cord can be detached from the unit to save some space, ideal for small kitchens. A user manual, a measuring cup, and a rice paddle are included for easy use.
Prevents Overcooking
The rice cooker automatic shut off function prevents the rice from burning and overcooking. The automatic warming mode turns on after cooking is done, preventing the rice from going cold until serving time. The customizable timer allows you to achieve the perfect tahdig rice results by setting up the cooking time for up to an hour.

Feeds 10 People
This Pars automatic Persian rice cooker with a timer and a 15-cup capacity is enough to feed up to 10 people, which is ideal for households with larger families or smaller family gatherings. The pot comes with measuring lines, helping you to set adequate water to rice ratio.
Short Description:
used for making Persian tahdig rice
has a 15-cup inner non-stick bowl
rustproof and durable stainless steel
features a timer for precise rice cooking
automatic shut off prevents overcooking
automatically keeps rice warm after cooking
ideal for feeding up to 10 people
Best Steamer Automatic Rice Cooker
Rival Rice Cooker Automatic
Oval-Shaped Unit
This fully automatic rice cooker can be used for both cooking and steaming. It features a bowl for cooking rice and a steaming basket. It is oval-shaped, allowing you to steam foods that are usually hard to fit into round bowls. The Rival automatic steamer and rice cooker in one comes in white color with a transparent cover.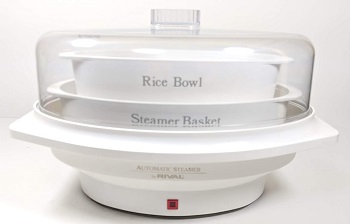 Auto Shut Off
To learn how to properly use this electric cooker steamer, you will get a steaming guide and a recipe book along with the unit. The featuring rice bowl can hold up to 8 cups of cooked rice. It shuts off automatically once cooking and steaming are done so you don't have to worry about overcooked foods ever again.
Food Versatility
The oval shape of the unit makes it ideal for steaming foods such as asparagus, lobster, and corn on the cob. Besides that, the automatic steamer by Rival can also be used for steaming foods such as poultry, seafood, vegetables, pudding, and much more. The rice cooker auto shut off mode prevents drying and scorching of food.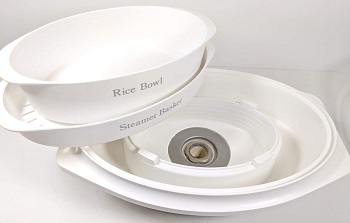 Dual Water Reservoir
By cooking rice and steaming many different foods simultaneously, this Rival automatic steamer rice cooker can help you prepare a whole meal at once, by using only one kitchen appliance. It will save you time and space in the kitchen. The steaming water is separated from the food juices thanks to the dual water reservoir.
Short Description:
oval-shaped unit for cooking and steaming
includes a cooking rice bowl and a steam basket
dual water reservoir for steam and food juices
steams poultry, seafood, vegetables, and more
automatic shut off prevents drying and overcooking
Best Digital Automatic Cookers
Aroma 8-Cup Rice Cooker
Included Contents
This automatic rice cooker cooks 2 to 8 cups of rice inside a non-stick cooking bowl. Besides the non-stick pot, the cooker also includes a measuring cup, a rice spatula, and a basket for steaming foods. It can be used for cooking not just rice, but also chili, jambalaya, soups, and more.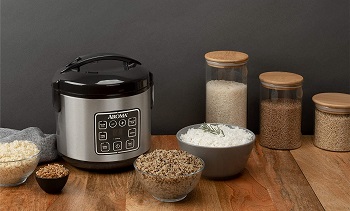 Digital Programs
The panel on the digital rice cooker offers settings for white, brown, and flash rice, as well as a steam option, a keep-warm setting, and a delay timer. When cooking rice, the unit automatically switches to the warming mode, keeping it at an optimal temperature until serving time.
Simple To Use
With the steaming basket, you can steam vegetables, fish, and meat above the cooking rice. With this possibility, you can save time in the kitchen, without sacrificing quality. It is very simple to use and set up by simply pressing a button.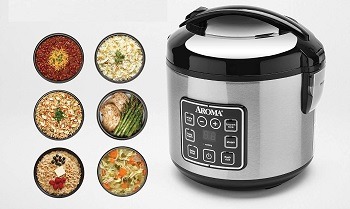 For Busy Lifestyles
By using brown and white rice settings, you can also cook quinoa, barley, and other grains. If you are in a hurry, you can use the flash rice setting that cuts cooking time in half. For people on the go, a 15-hour delay timer is very convenient.
Short Description:
the capacity of 2 to 8 cups of rice
features a non-stick inner bowl
cooks rice, chili, soup, jambalaya, etc
the steam basket ideal for steaming foods
digital panel for white, brown, flash rice
automatic keep-warm, 15-hour delay
Best Simple Automatic Rice Cooker
Prestige 1L Rice Cooker
Versatile Cooking
This Prestige automatic rice cooker comes with a 1-liter cooking pot and features side handles ideal for easy portability. As long as you have access to a power outlet, you can use it to cook rice, soup, stews, porridge, and even steam food. It can cook up to 400 grams of raw rice and comes with a measuring cup.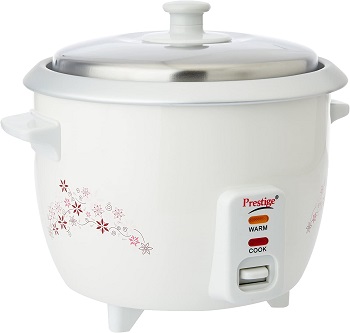 Vented Cover Lid
This rice cooker comes in white color with a floral design to lift the look of any kitchen decor. It will provide you with homemade meals even when used away from home. For better cooking and steaming results, the stainless steel lid keeps the bowl covered. It features a vent that prevents the overflow and lathering of rice.
4-Hour Keep-Warm
Featuring a single lever for setup and two indicator lights, this simple rice cooker is very easy to use. The indicator lights for cooking and warming modes are included. As soon as cooking is done, the 4-hour warming setting starts automatically.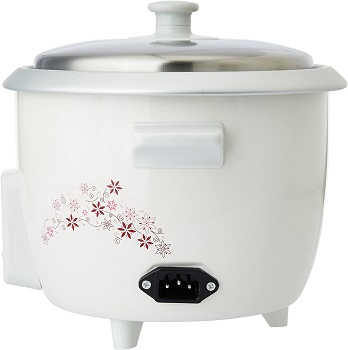 Steaming Possible
The included steamer tray allows you to make one-pot meals by cooking rice and steaming foods at the same time. The power cord is detachable from the unit so that you can store it easily when not in use, as well as serve rice straight out of it.
Short Description:
1-liter cooking pot for versatile cooking
it cooks soup, stew, rice, porridge, etc
it can cook 400 grams of raw rice
a stainless steel lid has a steam vent
comes with a steam tray and measuring cup
automatic 4-hour warming setting
the cook and warm indicator lights
What To Consider In Automatic Cookers For Rice?
The market flowers with automatic models of rice cookers. To be able to pick among the abundance of cookers, keep in mind the following specifications. For starters, think of the acceptable capacity for your needs. Moreover, make sure the unit is easy to use and that it offers cooking capabilities that match your demand. Finally, consider other convenient features that will make rice-cooking easier and more fun.
Automatic Features – Automatic cookers for rice usually imply that besides cooking, the unit can automatically switch to the warming mode once cooking is done. To cook rice in it, you will have to add rice and water to it and turn it on. Indicator lights for cooking and warming are usually also included.
Capacity – The market offers both small and large rice cookers. Their capacity is usually measured in cooked or uncooked cups of rice. Depending on your needs, you can choose between smaller capacities, including cookers for singles and couples, as well as family-sized models, all the way up to large commercial models.
Ease Of Use – For foolproof use, make sure you understand how to operate the rice cooker you are thinking to buy. If you find it complicated, it will cost you a lot of time to learn how to use it. A rice cooker should always be straightforward to use, making rice-cooking as easy as possible.
Cooking Options – Most automatic cookers for rice on the market will be able to do much more than just cook rice. Usually, they can be used for making soups, stews, porridge, and much more. Some models also offer the possibility of steaming by using an included steam tray. You can cook one-pot meals while saving time spent in the kitchen.
Convenient Features – A delay timer can help you to set up a cooking course in advance, ideal for busy people and people on the go. A non-stick inner pot is also useful, especially when dishwasher safe for hassle-free maintenance. Included with the cooker, you will usually get a measuring cup and a rice paddle.
To Wrap It Up
The Salton rice cooker is our top choice for an automatic rice cooker. It can cook up to 6 cups of rice and automatically keep it warm once cooking is done. For faster cooking, check out the models of fast rice cookers on the market. For cooking rice with an induction heater, consider some of the reviewed induction heating rice cookers.