In need of a fast rice cooker?
In that case, look no further!
Continue reading this article to find out about the models available on the market, read their reviews, and find out about their technical specifications. Likewise, we have gathered all the important guidelines to stick to when buying such a kitchen appliance on the market to get the best model for your needs.
The Rundown
Best 6 Quick/Fast Rice Cookers
Best Of Best Fast Rice Cooker
Aroma Rice Cooker Quick Rice
Holds 2-8 Cups
This fast rice cooker can make between 2 and 8 cups of cooked rice. It features a flash rice program for cutting the cooking time of rice in half. The control panel also offers cooking programs for white and brown rice, as well as an option for steaming food, keeping warm, and delaying the cooking.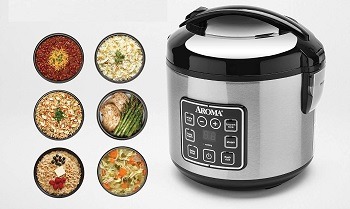 Steamer & Cooker
The contents that come with the cooker include a non-stick inner pot, as well as a measuring cup, and a serving rice spatula. Besides white and brown rice, it can also be used for steamed meats and vegetables, as well as cake and jambalaya. The steaming tray allows you to steam foods above the cooking rice.
Automatic Warming Mode
It is easy to set up the cooking program by using the control panel with pre-programmed settings. Once the cooking course is completed, it will automatically switch to the warming mode. It can even make one-pot dishes to enjoy with minimal effort required.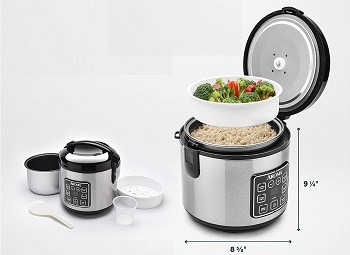 Time & Space-Saving
When in a rush, the flash rice setting allows you to get fluffy rice in half the cooking time. By cutting the cooking time in half, it is an ideal feature for families on the go, as well as busy professionals. It will save you both time and space in the kitchen.
Short Description:
cooks between 2 and 8 cups of rice
flash rice program for faster cooking
includes steaming, warming, delay options
can cook and steam foods at once
white and brown rice cooking settings
Best Instant Pot Quick Cooker Rice
Instant Pot Rice Quick Cooker
Microprocessor Control
This quick rice instant pot features a control panel for setup and has a capacity of 6 quarts. The control panel offers 14 programs that require one touch for operation. It includes a microprocessor for monitoring the temperature, cooking time, and pressure of the cooker.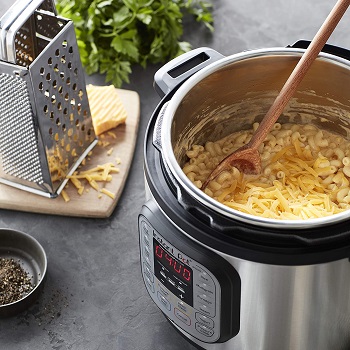 70% Faster Cooking
This model of a fast rice cooker can cook up to 70% faster, allowing you to use the same pot for many different cooking needs. Besides fast cooking, it can be used for slow cooking, pressure cooking, steaming, making yogurt, and keeping food warm.
Free App With Recipes
The covering lid with the handle is made from stainless steel material resistant to fingerprints for easy cleaning. To use this kitchen appliance to its full potential, you can check out the free Instant Pot iOS and Android app. You can check out many available recipes suitable for this cooker.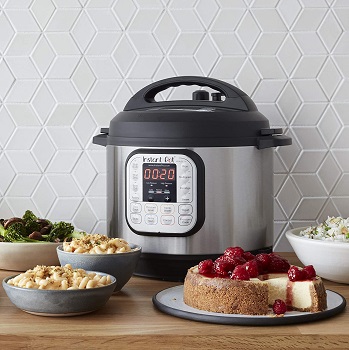 Serves 6 People
With this quick cooker rice model, you can make enough rice to serve up to 6 people. It is an ideal size for families, cooking enough food for family gatherings. By cooking with the pressure setting, many meals can be cooked 2 to 3 times faster. With the versatile options, it will save you some time, as well as cooking space.
Short Description:
6-quart capacity feeds up to 6 people
a microprocessor monitors the cooking
regulates temperature, cooking time, pressure
a control panel with 14 cooking programs
it cooks meals up to 70% faster
it can cook rice, slow cook, steam, etc
Best Stainless Steel Fast Rice Cooker
Zojirushi Quick Cooker Rice
Multi Cooking Functions
This stainless steel rice cooker 3 cup model features a digital screen with numerous cooking settings. It offers white, brown, GABA rice settings, as well as settings for sushi rice, long-grain white rice, oatmeal, and quick cooking. To ensure uniform cooking, it has heaters on the bottom, sides, and the lid.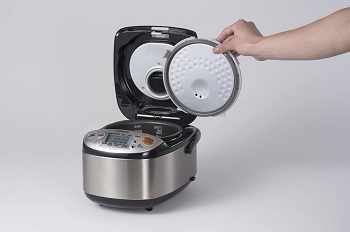 Holds 3 Cups Of Rice
The inner pot of this fast rice cooker can hold 3 cups of uncooked rice, ideal for cooking rice for smaller families and couples. The body of the item is made from stainless steel for easy cleaning. It can also complement any kitchen decor with a sleek design. For preparing small portions, it can cook as little as half a cup of rice.
Delay & Warm Settings
The 'keep warm' setting turns on automatically after cooking is done, to preserve the warmth until serving time. You can even program the time for cooking, delaying it until you can eat. It comes with a rice spatula for serving, a holder for it, as well as a measuring cup.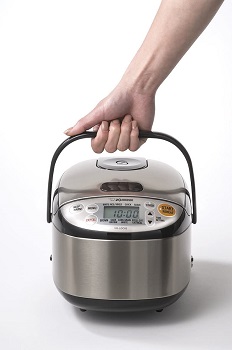 Compact For Storage
When using the quick-cooking setting for making rice, the rice may end up slightly harder upon cooking. It comes with a carrying handle for easy storage, along with a detachable power cord. As it has a microcomputer, it will control and customize the temperature and the cooking time.
Short Description:
for white, brown, GABA, sushi rice
settings for oatmeal and quick cooking
3-cup capacity for couples and small families
quick setting can result in harder rice grains
features a microcomputer for control
carrying handle and detachable cord for storage
side, top, and bottom heaters for even cooking
Best Plastic Quick Cooker Rice
Lekue Quinoa & Rice Cooker
Microwave Cooker
This quick cooker rice model is made from plastic material and is engineered for cooking any kinds and sizes of rice and grains in minutes. It is to be used in the microwave, for easy and mess-free cooking. It saves you time as you won't have to first boil water and then wait for the rice to be cooked.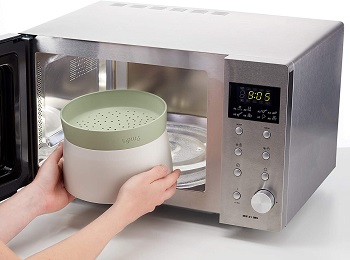 Grains Of Different Sizes
This plastic rice cooker features a cooking pot with a colander for rinsing different types of grains, including quinoa and other small grains. The 100% platinum silicone material is BPA-free and dishwasher safe for easy cleaning. By placing it in the microwave, you can have up to 4 servings of rice in 12 minutes.
Includes Recipes
This Lékué quick quinoa and rice cooker comes with an included table for cooking, as well as recipes for perfectly cooked rice and other grains. With the attractive look, it can even be used for serving rice on the table straight from the cooking pot.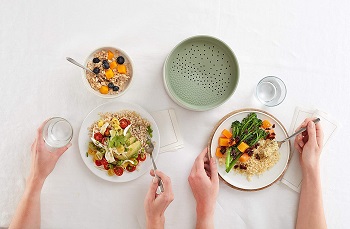 Saves Time & Space
With this practical fast rice cooker, you will be able to save both space and time in the kitchen. It is designed for mess-free cooking with a design that prevents the foam from coming out of the unit and making a mess inside your microwave. After cooking, simply place it in the dishwasher for cleaning.
Short Description:
BPA-free 100% platinum silicone construction
includes a cooking pot and a colander
for different types and sizes of rice and grains
makes 4 servings of rice in 12 minutes
mess-free and suitable for dishwashers
Best Smart Fast Rice Cooker
Panasonic Quick Cook Rice Cooker
Quick Cook Setting
This fast rice cooker has a capacity of 5 cups of uncooked rice with brown, white, and quick settings on the control panel. Another cooking setting that is available allows you to cook soup or porridge. The control panel also features an on/off button and a button for the warming mode.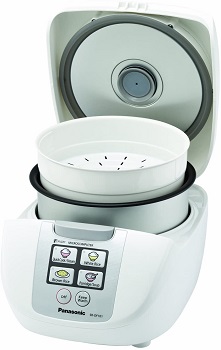 Smart Fuzzy Logic
To cook rice and other foods precisely, it has a microcomputer with fuzzy logic for controlling the cooking time and temperature. This smart rice cooker can also be used for steaming food above the cooking rice in the steam tray. The control panel is easy to use, as you can set up any of the programs with a simple touch of a button.
Induction Heating
This Panasonic rice cooker quick cook model switches to the 'keep warm' setting automatically to keep the rice warm for up to 12 hours after cooking. The induction heating feature heats the pot for easy and even cooking of the food. Included with the cooker, you will also get a measuring cup and a non-stick serving scoop.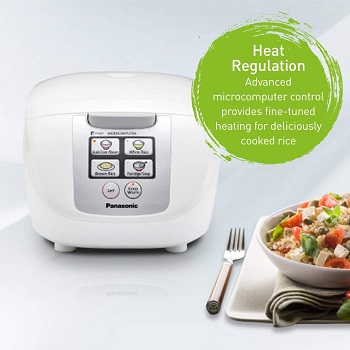 Small Footprint
The quick cook mode can make a warm meal fast, perfect for when you are in a rush. Its small footprint won't take up a lot of space in your kitchen while saving you some time for other cooking needs. You can make all rice, soup, porridge, and more to serve with other food.
Short Description:
the capacity of 5 cups of uncooked rice
settings for white, brown rice, soup
warming, steaming, and quick cooking
induction heating for even cooking
a microcomputer controls time and temperature
a steaming tray for steaming foods included
Best Portable Quick Cooker Rice
White Tiger Fast Cooking Cooker
1-Liter Pot
Compared to the above-reviewed quick cooker rice models, this one comes in a smaller size, ideal for portability and travel. It features a non-stick inner pot with a capacity of 1 liter for serving one to two people. It has a single switch for setup and two indicator lights, for cooking and warming.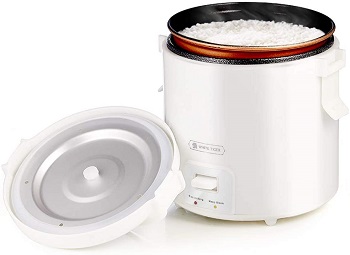 15-Minute Cooking
This portable rice cooker can be used for cooking rice in just 15 minutes. It can also be used for oatmeal, soup, porridge, cake, pasta, and more. The removable lid has a carrying handle for easy portability. It can be used for singles in offices, dorm rooms, and studio kitchenettes.
Included Contents
After cooking is done, the 'keep warm' setting will start automatically to keep the rice ready for serving. The inner pot of this fast rice cooker will be easy to clean after cooking as it is coated with a non-stick layer. Included with the unit, you will also get a rice paddle for serving and a measuring cup for adequate water to rice ratio.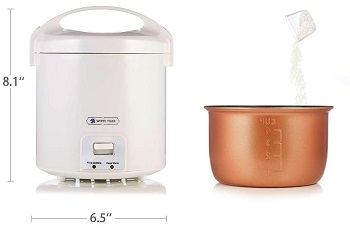 Designed To Save Time
Thanks to the simple operation and fast 15-minute cooking, you will save a lot of time in the kitchen. All you have to do is add the water and rice and turn the switch on with one touch. For steaming food, you will also get a tray. Both the tray and the inner cooking pot are dishwasher safe for easy cleanup.
Short Description:
1-liter non-stick pot for one person
a single switch with two indicator lights
cooks rice fast in about 15 minutes
featuring an automatic warming setting
dishwasher safe tray and cooking pot
for rice, soup, porridge, pasta, cake, etc
for offices, dorm rooms, studio kitchenettes
What To Consider In Quick/Fast Cooking Rice Cookers?
Convenient for busy lifestyles, some rice cookers are engineered to cook rice fast by featuring quick-cooking programs. To make sure it can cook rice fast, go for models that offer quicker programs for cooking. Likewise, pay attention to the capacity it offers and choose between simple, microwave, or smart models on the market. Finally, look for ease of operation to help you save time.
Quick Programs – To be able to cook fast, most rice cookers will offer a program engineered for quicker cooking. Apart from offering you normal programs for cooking different types of rice, as well as other food sometimes, it will offer a quick program for cooking. This program is ideal for when you are in a rush but want to eat a quality dish, such as rice.
Capacity – The market offers fast cooking rice cooker models with different capacities. Some are suitable for singles and small families, while some can cook enough rice to serve multiple people, ideal for bigger families, family gatherings, etc. Be careful as some models measure capacity in cooked, while some measure it in uncooked cups of rice.
Type Of Cooker – There are versatile options of quickest rice cookers available to choose from, depending on your needs. Smart models use a microcomputer to control cooking, including time and temperature. Simple rice cookers don't include numerous buttons with cooking programs but allow you to start cooking rice with a single press of a button. You can even buy a microwave cooker suitable for cooking rice fast.
Ease Of Use – To get a user-friendly cooker, make sure it is easy to operate. As they should help you save time, quick coker rice models with complicated functions can make this harder to achieve. Always go for the option you understand, offering simple functions for cooking needs.
Cooking Capabilities – Engineered for primarily cooking rice, rice cookers can be suitable for different types of rice and grains, including white, GABA, sushi, brown rice, as well as oatmeal, porridge, etc. Some models even allow you to steam meats and vegetables over the cooking rice to create a whole meal faster.
To Wrap It Up
We have chosen the Aroma rice cooker as our top choice of a fast rice cooker. It can be used for white and brown rice, as well as for steaming and quick-cooking. With a capacity of 2 to 8 cups of rice, this quick cooker rice model can even steam and cook at the same time. If you are interested in pressure cooking, check out electric pressure cookers for rice. To save you some time in the kitchen, you should also look through our list of automatic rice cookers.