Do you need a plastic rice cooker for your kitchen?
If yes, take a look at the selection of plastic cookers and steamers in this article.
Below, I have reviewed several cheap, big, and small rice cookers made out of plastic materials so that you can find the one that best fits your requirements. Moreover, you can also check out the buying guide to help you concentrate on the most important features when choosing a model.
The Rundown
Best 6 Plastic Rice Cookers & Steamers
Best Of Best Plastic Rice Cooker
Joseph Joseph Rice Cooker
Multifunctional Paddle
This plastic rice cooker has a capacity of 2 liters for cooking rice in the microwave. It includes a beige plastic pot with a colander, measuring cup, and an orange paddle. To lock the lid on the pot, you can use the paddle. By doing this, you will also get two convenient side handles from the paddle.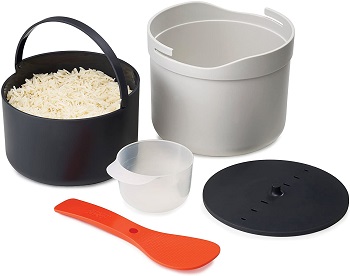 Collapsible Handles
As the paddle is multifunctional, it can also be used as a spoon for serving rice. Measure the rice in the measuring cup, and add it to the colander before rinsing and draining the rice. The colander comes with a collapsible handle for easy attaching and detaching from the pot.
Microwave Cooking
By making rice in the microwave, you will have plenty of space and time left to do other chores, including cooking in the kitchen. Apart from rice, it can be used for cooking and serving other types of grains, as well. Serving fluffy rice becomes very easy after it is cooked in the microwave.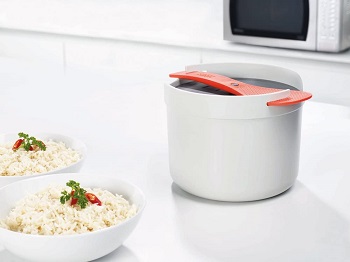 Dishwasher Safe
For added convenience, all the parts of the plastic microwave rice cooker can be washed in the dishwasher. This will save you the time you would have to spend on all the washing. It is suitable for use in domestic microwaves of all power ranges.
Short Description:
2-liter cooking pot for rice
suitable for all types of grains
includes a multifunctional rice paddle
includes a measuring cup, a colander
dishwasher safe parts for easy cleaning
Best Steamer Plastic Rice Cooker
Swift Microwave Rice Steamer
For Microwave Use
This plastic rice steamer has a large capacity. It is made out of transparent plastic and includes a pot with a steaming insert and a lid with small openings. It measures 17.5 centimeters in height and 23 centimeters in diameter. Designed for microwave use only, this steamer is also dishwasher safe.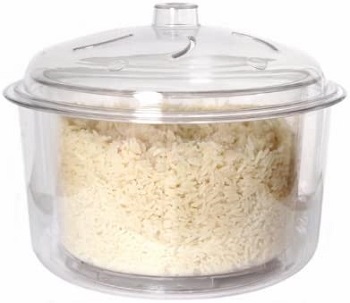 Polycarbonate Plastic
The base is made from polycarbonate plastic which makes it tough and stain-proof. It can be used for steaming rice or a wide variety of vegetables. The clear lid allows visibility inside the steamer, while also protecting the microwave from splashes.
For Variety Of Foods
To steam rice, simply add it to the unit and add the recommended amount of water, and then put it in the microwave on the adequate setting. As it has no handles, be cautious when removing it from the microwave. The item is useful in the kitchen, as it can steam various foods.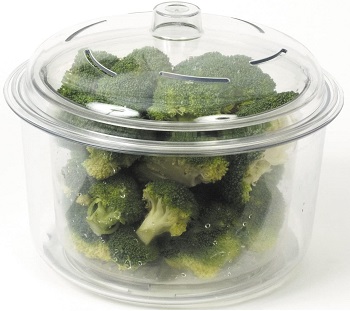 Saves Time
Apart from vegetables and rice, you can also use this plastic rice cooker to make pasta. As it saves space on the burner stove by cooking in a microwave, you can have more time to dedicate it to making other food to serve with a side of steamed rice, vegetables, or pasta.
Short Description:
transparent plastic microwave rice steamer
17.5 cm high and 23 cm in diameter
a plastic pot with a steaming insert and a lid
used for steaming rice, vegetables, pasta
dishwasher safe parts for convenient cleaning
clear see-through parts for visibility
Best Non-Toxic Plastic Rice Cooker
Homestyle Rice Cooker Plastic Steamer
87.9-Ounce Capacity
This rice cooker plastic steamer has an 87.9-ounce capacity and comes in red color with a clear lid. The durable plastic is free of BPA chemicals and is dishwasher safe. It is 6.25 inches tall and has an 8.5-inch diameter. The 87.9-ounce capacity means it can cook 10 cups of rice.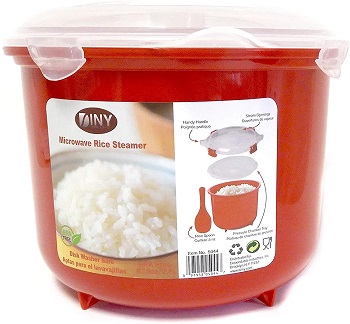 Convenient Lid Handles
The chamber tray keeps the pot closed and also has an outer lid with steam openings and convenient handles. Likewise, you will also get a rice spoon for serving the rice. The steamer cooker will make fluffy rice in the microwave with minimal effort needed.
Gradual Steam Release
This non-toxic rice cooker is ideal for busy lifestyles, preparing rice to serve with many different dishes. The heat distribution is optimized in this plastic steamer, preserving the temperature of the rice by releasing the steam gradually. With a generous capacity, it can make enough rice for a family meal.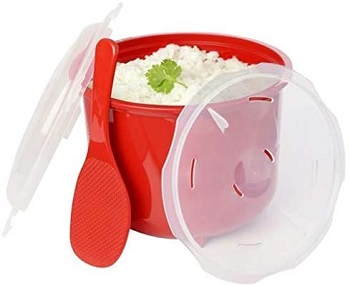 Portable Design
Cooking and steaming rice in the microwave leaves a lot of cooking space and time that you can dedicate to preparing other foods. By carrying this cooker by the handles, you can easily transport it from the microwave to the dining table, or anywhere else. After cooking is done, the plastic pot can be washed in the dishwasher.
Short Description:
BPA-free microwave rice cooker and steamer
it features an 87.9-ounce or 10-cup capacity
6.25 inches tall, 8.5-inch diameter
featuring lid with handles and steaming openings
includes a rice spoon for serving rice
cooks and steams rice in the microwave
gradually releases steam through the lid openings
Best Cheap Plastic Rice Cooker
Progressive Plastic Rice Cooker
Affordable Price
This cheap rice cooker can be purchased on Amazon for the price of just around 10 dollars. It makes rice in just a few minutes by placing it in the microwave. It can be used for any type of rice, cooking different side dishes to any meal. The set includes a cooker with a lid, a rice paddle, and a measuring cup.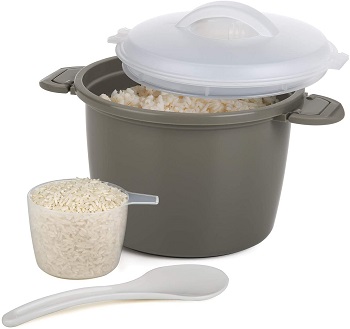 BPA-Free Propylene
Apart from rice, you can also use it for quinoa and oats in just minutes. This plastic rice cooker is constructed from propylene material free of BPA suitable for high heat. It has a non-stick coating and is also dishwasher safe for easy cleaning. The capacity of the cooker is 6 cups, making enough rice for a family dinner.
Included Accessories
To set the proper water to rice ratio, use the included measuring cup. When serving the rice, you can scoop it out from the cooker with the included rice paddle. The included cooking instructions will help you learn how to get fluffy rice.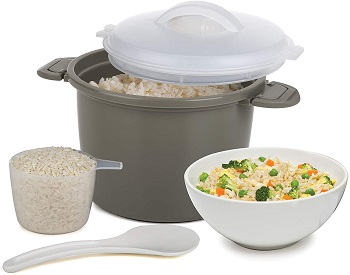 Hassle-Free Maintenance
After cooking, you can place it in the dishwasher, which will save you some time. It will come out clean as it has a coating that prevents rice from sticking to it. The side handles help you to conveniently transport the cooker to the kitchen table.
Short Description:
the affordable price of around 10 dollars
makes up to 6 cups of rice in minutes
propylene BPA-free plastic for microwave
non-stick coating, dishwasher safe
includes a rice paddle and measuring cup
Best Big Plastic Rice Cooker
Good Cook Microwave Rice Cooker
11-Cup Capacity
This plastic rice cooker has a capacity of 11 cups and is made from BPA-free material. It comes in red color with a clear lid and also includes a red rice paddle. The cooking pot has side handles for carrying and easy removing from the microwave after the rice is cooked.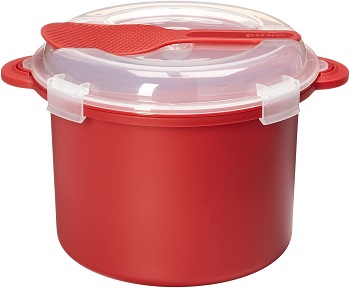 Steams & Cooks
This big rice cooker measures 10 by 8.3 by 6 inches and lets you select the pressure for cooking rice. The outer lid has openings for letting out steam, while the inner lid helps to keep the cooker under pressure. To start cooking, simply add rice and water, close the cooker, and place it in the microwave.
Dishwasher-Safe
To close the lids over the cooking pot, it comes with sealing clasps, fastening the lid around the pot's edge. It is easy to do, as well as undo. After cooking, placing it in the dishwasher will clean it with minimal effort on your side.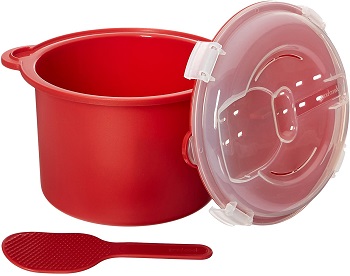 Saves Space
Serving the rice can be done with the paddle that comes with this kitchen item. It makes cooking and serving easy, providing fluffy side dishes to many different dinner meals. By using it in the microwave, it saves space on the kitchen stovetop for other cooking needs.
Short Description:
the capacity of 11 cups of rice
made from BPA-free plastic material
it cooks food in the microwave
convenient side handles on the pot
a pressure lid and outer lid with steam openings
it is dishwasher-safe for convenient maintenance
Best Pressure Cooker Plastic Rice Cooker
Handy Gourmet Cooker
Environmentally-Friendly
This plastic rice cooker is made with the environment in mind. It uses 40% less plastic to make a cooker that is suitable for microwave use. The eco-friendly item has the look of natural wheat fiber with a textured feel. This pressure cooker works to quickly cook rice and other meals in the microwave.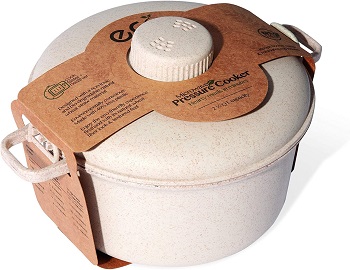 Versatile Cooking
Besides rice, this pressure cooker can also be used for pasta, chicken, and many more quick meals to save you time in the kitchen. The plastic material is non-toxic and bio-degradable serving a variety of cooking needs. The included recipe booklet can help you discover the creativity of cooking in a microwave.
Convenient Handles
When in hurry for busy people, it can be used to make a meal in minutes. It features a cooking pot with side handles and a covering lid with a knob. The included accessories are a serving spatula and a measuring cup.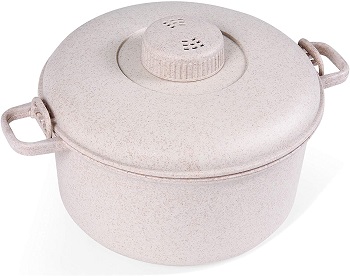 2.5-Quart Capacity
The cooking pot has a 2.5-quart capacity, ideal for making enough rice to serve alongside different meals. On Amazon, you can purchase this model for under 20 dollars, and is an eco-conscious choice.
Short Description:
eco-friendly with 40% less plastic
textured feel and wheat fiber look
non-toxic and bio-degradable material
cooking pot with a 2.5-quart capacity
includes recipes, spatula, measuring cup
can be used for pressure cooking rice
also cooks vegetables, pasta, chicken
What To Consider In Plastic Rice Cookers?
The market offers a wide range of plastic rice cooker models. To get the best model for your needs, ensure it is made from non-toxic materials. Likewise, make sure the capacity of the cooker is enough for the needs of your household. The size and the specifications of the cooker are also important, to get the one suitable for your microwave. Also, look for some of the below-mentioned features that make this item easy to use.
Material – To cook in plastic material without any health concerns, make sure it is constructed from non-toxic and food-grade material. To ensure the item you get is long-lasting, look for durably built and sturdy units. Investing in a healthy and strong unit will give better results for cooking.
Capacity – Consider how much rice you need the cooker to make to get the best capacity for your needs. A smaller size will suffice for households of one and two people, while you might have to invest in a larger model for bigger family needs.
Usage – Most plastic rice cookers and steamers allow you to do much more than just cook rice in them. You can use them to steam vegetables, cook pasta, chicken, and much more. All you have to do is follow the instructions and you can then enjoy various meals from your microwave.
Lid Design – The included lid is important for securely closing the rice inside the pot. If it can be fastened to the pot properly, it will ensure that there is no spillage in the microwave, for cooking free of mess. The openings on it will let the steam out. The inner lid is also important to keep the steam and pressure in the pot.
Other Features – To make operation and usage of this kitchen item easy, also look for models with side handles for easy transport and carrying. Colanders, rice paddles, and measuring cups also help to make cooking rice in a plastic pot as easy as possible.
To Wrap It Up
The one plastic rice cooker that stands out the most in this article is the Joseph Joseph rice cooker. It can be used in the microwave for cooking rice in a 2-liter pot. It is suitable for all types of grains and comes with a rice paddle that can also lock the lid and serve as handles for transport. For rice cookers that can cook minute-rice, take a look at our selection of the best minute rice cookers. Also, check out our article about red rice cookers, including plastic models.