Interested in getting a red rice cooker?
You've come to the right place!
In this article, read about red rice cookers with small and large capacities, as well as with automatic warming modes, smart technologies, and more. Below, you can also learn about the specifications and features that make the best rice cookers. This can help you choose the best one for your demands.
The Rundown
Best 6 Red Rice Cookers
Best Of Best Red Rice Cooker
Oster Rice Cooker Red
Cooker & Steamer
This rice cooker comes in red color and can hold up to 3 cups of dry and 6 cups of cooked rice. Apart from cooking rice, it can be used to make fondue and soup. Likewise, it comes with a 1-liter steaming tray, allowing you to steam vegetables, fish, and more above the cooking rice.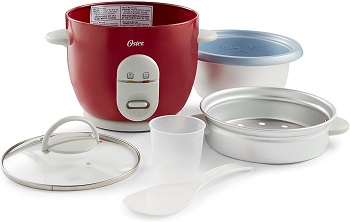 Tempered Glass Lid
While rice and other foods are cooking and steaming, you can monitor it through the transparent clear tempered glass lid. Included with this kitchen item, you will also get a measuring cup and a rice paddle. The cup will help you set the proper water to rice ratio, while the paddle can be used for serving the rice.
One-Switch Operation
By cooking and steaming simultaneously, you can get a one-pot meal at once, saving both time and space in the kitchen. Operation is easy, as there is only one switch to turn on before it can start cooking. Likewise, after cooking finishes, it will switch to the warming mode.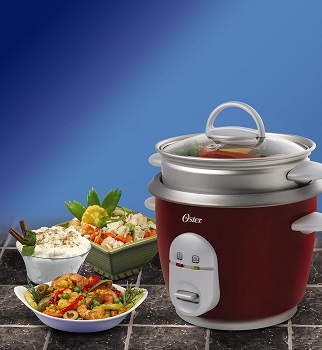 Dishwasher-Safe Parts
The steaming tray and the non-stick inner pot are both easy to remove from this red rice cooker for cleaning. The cookware is dishwasher safe. The capacity is enough for couples and small families, cooking enough rice to serve with many dishes.
Short Description:
the capacity of 3 cups of dry rice
cooks soup, fondue, rice, etc
includes a 1-liter steaming tray
suitable for making one-pot meals
one-touch operation for cooking
Best Small Red Rice Cooker
Aroma Rice Cooker Red
2 To 6 Cups Of Rice
This small red rice cooker has a capacity of 3 cups of uncooked, and 6 cups of cooked rice. Apart from cooking, it can also be used to steam different foods. It can prepare anywhere between 2 and 6 cups of rice, depending on your needs. This item comes in red color and features a single control switch for setup.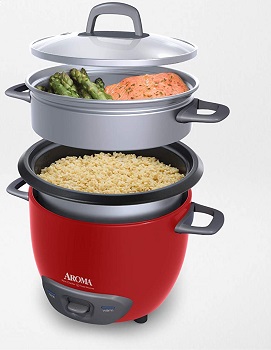 Two Indicator Lights
Steaming vegetables and meats can be done above the cooking rice, preparing a whole meal in just one pot. All you have to do is add the rice and the water and turn the switch on. The cooking indicator light will alert you when it is cooking rice. Once completed, it will switch to the warming mode and the warming indicator light will also turn on.
Useful Accessories
You can also use this kitchen appliance to make chili, soup, or jambalaya. To monitor the cooking process, there is a tempered glass lid covering the cooking unit. To be able to steam, you will get an aluminum steaming tray. Likewise, a measuring cup and a rice scoop are also included.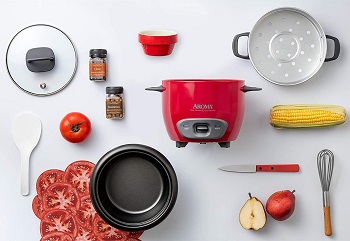 Compact Size
The compact design won't take up a lot of cooking space, also saving the burners on the stovetop for other cooking needs. It can make enough rice to serve for a family in the inner non-stick cooking pot. For versatility, you can even make a cake in this cooker.
Short Description:
can be used for cooking and steaming food
a non-stick inner pot and aluminum steam tray
cooks between 2 and 6 cups of rice
includes a rice scoop and a measuring cup
cooks rice, makes cake, chili, steams foods, etc
cooking and warming indicator lights
one-touch setup for one-pot meals
Best Automatic Red Rice Cooker
Salton Rice Cooker In Red
Various Cooking Needs
This red rice cooker features a single switch control and indicator lights for cooking and warming modes. It can hold up to 6 cups of rice but is also suitable for other cooking needs. It can cook oatmeal, quinoa, and even cream from wheat. The side handles are convenient for transporting and storing the unit away.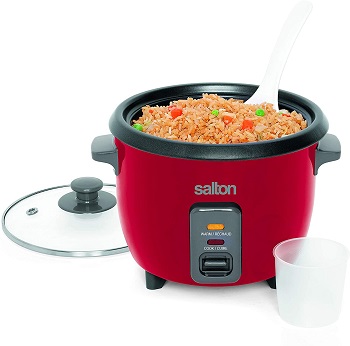 Helpful Accessories
This cooker comes equipped with several accessories. A measuring cup can be used to set the appropriate water to rice ratio for perfectly fluffy rice. The included rice spatula can be used for mixing and serving rice. A food steamer is also included, suitable for vegetables, meats, and fish.
Non-Stick Pot
The inner cooking pot is coated with a non-stick layer that prevents the rice from sticking to the surface. This also makes it easy to clean. The lid is see-through so that you can monitor the rice while it is cooking. The included basket allows you to steam foods while rice is cooking beneath it.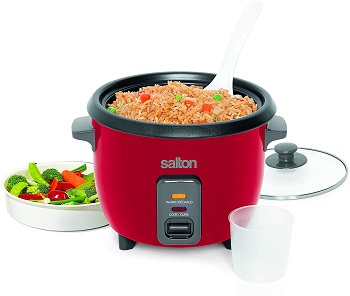 Various Rice Types
This rice cooker is suitable for both white and brown rice, as well as specialty rice types. After cooking is completed, it will switch to the warming mode automatically. This automatic rice cooker will keep rice at an optimal temperature for serving.
Short Description:
two indicator lights, one switch
the capacity of 6 cups of rice
cooks rice, quinoa, oatmeal, etc
side handles for convenient carrying
a measuring cup and scoop for serving
a steaming tray for vegetables and meats
suitable for white, brown, specialty rice
Best Big Red Rice Cooker
Aroma Professional Red Cooker
20-Cup Capacity
This big rice cooker can make up to 20 cups of cooked rice and comes in red color. It features a screen display and a control panel, offering numerous cooking programs. Along with cooking rice, it can be used to make many other dishes. It includes a measuring cup, a spatula for rice, as well as a tray for steaming foods.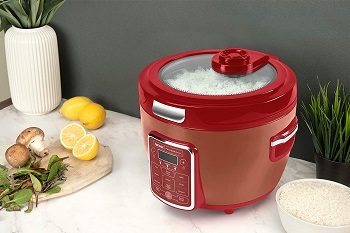 11 Cooking Programs
The digital display allows you to easily navigate through the 11 programs, to make rice, cake, soup, yogurt, oatmeal, etc. The glass lid is transparent for checking in on the rice while it is cooking. The side handles stay cool to the touch, allowing you to easily move it and store away when not in use.
For Family Meals
The cooking programs also include slow cook settings, sauteing and simmering, as well as steaming vegetables and meats. Apart from rice, you can cook a whole chicken in it, as well as 2.5 pounds of meat. This means that you can easily prepare a whole meal for the family.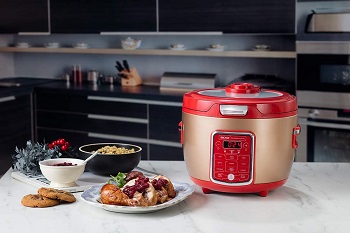 Non-Stick Cooking Pot
Once cooking is done, a warming option is also available, to keep your meals warm for hours. The inner cooking pot of this red rice cooker is non-stick coated, which makes cooking and cleaning hassle-free. It is also dishwasher safe. All of these helpful features make cooking easier and shorter in your kitchen.
Short Description:
the capacity of 20 cups of cooked rice
features a screen with a control panel
11 programs for cooking different foods
rice, grains, oatmeal, yogurt, cake, soup
measuring cup and steam tray included
Best Smart Red Rice Cooker
Cuckoo IH Pressure Rice Cooker
15 Cooking Settings
Colored in red, this rice cooker features a digital display with 15 cooking programs. It even offers voice navigation compatible with Korean, Chinese, and English. The intelligent algorithm and smart technology combine to detect the type of grain to set the time and temperature for cooking.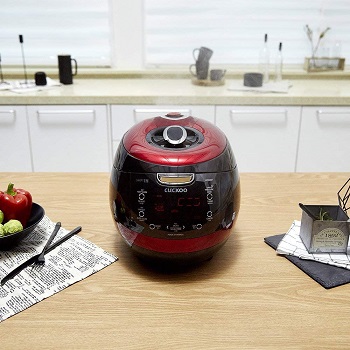 Even-Heat Distribution
Cooking is fast and easy thanks to the induction heating this cooker uses. This smart rice cooker is equipped with an inner bowl that has a diamond coating for obtaining the temperature and distributing the heat evenly. The lid and the pot are easy to clean as the pot also has a non-scratch surface.
6 Cup-Capacity
The inner pot has a maximum capacity of 6 cups, to cook various meals for the family. Besides cooking, you can use it to reheat and keep food warm, as well as pressure cook. With the combination of red and black colors, it will bring a modern touch to your kitchen.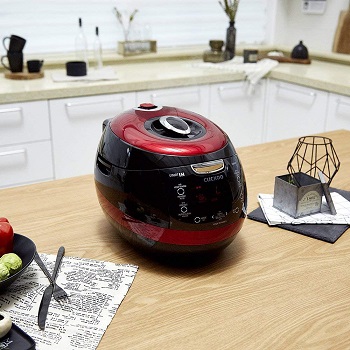 Safe To Use
A stainless steel coating can be found on the inside lid and the top cover, which gives it both shine and durability. Using it in the kitchen, you can save a lot of time and space for cooking other foods to serve with rice. It is also safe to use as it automatically releases steam and pressure and automatically controls the temperature.
Short Description:
15 cooking programs on the digital display
available voice navigation in 3 languages
smart technology detects grain type
uses induction heating to cook 6 cups of rice
safe to use and saves time in the kitchen
distributed heat evenly for cooking
Best Plastic Red Rice Cooker
Homestyle Microwave Rice Cooker
BPA-Free Plastic
Unlike the other models or red rice cookers in this article, this kitchen item is made out of plastic material. It is used to cook rice in the microwave, with a 2.6-liter capacity. The plastic material is free of BPA and includes a cooking pot, a rice spoon, a pressure chamber tray, and an outer lid.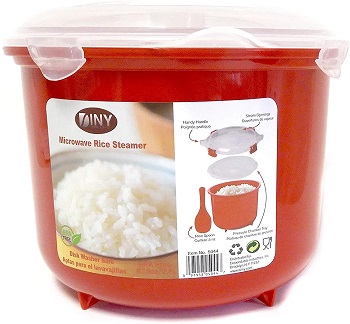 For Family Meals
Perfect for busy lifestyles, this cooker can be used to easily make rice by simply placing it in the microwave. The rice steamer cooker releases the steam gradually to distribute heat evenly and keep the food at an optimal temperature. Thanks to its capacity, it can make enough rice for your whole family.
Dishwasher Safe Cooker
The cooker is 6.25 inches tall and has an 8.5-inch diameter. It is dishwasher safe so that you can easily clean it after cooking is completed. When serving the rice, you can use the included rice spoon to scoop it out of the pot. This plastic rice cooker can even be used for reheating the rice in the microwave.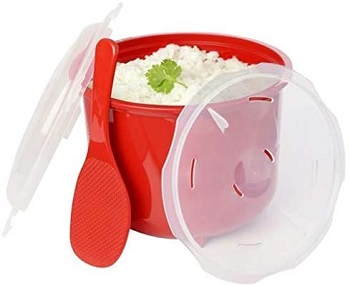 Space & Time-Saving
As it comes at an affordable price on Amazon, this cooker is a convenient addition and helper in any kitchen. It can save you both time and space in the kitchen, cooking rice quickly and precisely. That way you can spend that time and space preparing other dishes to serve with rice.
Short Description:
plastic BPA-free microwave rice cooker
gradually releases steam for even cooking
the capacity of 2.6 liters for cooking
comes with a rice spoon for serving
6.25 inches tall, 8.5-inch diameter
easy-to-clean dishwasher safe parts
for a busy lifestyle, cooks rice fast
What To Consider In Red Rice Cookers?
To get the best rice cooker in red color, keep in mind the following few specifications. First of all, red rice cookers are available in different sizes and capacities. Secondly, consider the ease of use and check which cooking options it offers you. Finally, also opt for models that are suitable for different types of rice.
Sizing – Small and big, rice cookers come with different cooking capacities. If you are looking for a cooker that can cook for up to 2 people, a smaller unit with 1 to 3 cups of rice should be enough. For smaller families, 6-cup models should be enough. Larger models are ideal for cooking more rice at once. Beware as some manufacturers measure capacity in cooked, and some in uncooked cups of rice.
Cooking Options – Rice cookers are widely used for other cooking needs as well. They are usually suitable for cooking not just rice, but also soup, stews, and oatmeal. Some models can also make a cake or steam foods, as well as prepare various other dishes.
Types Of Rice – To make sure that the cooker is suitable for all types of rice, always check the user manual. Most models can be used for both white and brown rice, while some even offer customized settings for sushi, jasmine, and basmati rice.
Easy To Use – Apart from smart rice cookers with numerous cooking settings, the market also offers simple rice cookers. They feature a single switch for operation, which makes them very easy to use. Whether you end up getting a simple or a smart rice cooker, make sure it is fool-proof to use. If complicated, they will take a lot of time to learn how to use it.
Extra Features – A cooking pot that is dishwasher safe and that prevents rice from sticking to it is very useful. Other accessories for easy use are the measuring cup and a rice scoop, which are often included with the cooker. For units that also offer steaming possibilities, a steam tray is necessary.
To Wrap It Up
The best red rice cooker in this article is the Oster rice cooker. With a capacity of 6 cups, it can be used for cooking rice, soup, fondue, and more. It can even steam meats and vegetables above the cooking rice by using the included steam tray. If you are buying on a budget, check out the best affordable rice cookers available on the market. Read the reviews in this article, if you want to invest in a cute rice cooker.