Keen on having a cute rice cooker in your kitchen?
Great, because we have picked 6 different models for you!
Continue reading to find out more about rice cookers that are not just cute but also easy to use. Apart from reviews, you can also check out our buying guide to help you find a rice cooker that is as equally cute as it is suitable for your needs.
The Rundown
Best 6 Cute Rice Cookers
Best Of Best Cute Rice Cooker
Dash Mini Rice Cooker
Funky Colors Available
This cute rice cooker comes in pink color but is also available to purchase in red, black, aqua, and white color. It is used for cooking more than just rice, including pasta, oatmeal, soup, stew, quinoa, and steamed vegetables. It has a 2-cup capacity, ideal for cooking healthy portions of breakfast foods.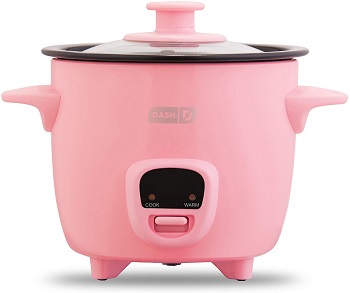 Cooks In 20 Minutes
After you add the water and rice, or other food to the unit, all you will have to do is press the single switch to start cooking. No matter which food you end up cooking, it should be done in around 20 minutes. After cooking, the unit automatically keeps the food warm.
Cooker & Warmer
To avoid guessing, there are two indicator lights on the body of the cute mini rice cooker. The cooking light indicates when the cooking process is happening. After cooking, it will switch to the warming light, indicating the unit is keeping the rice warm inside the non-stick inner pot.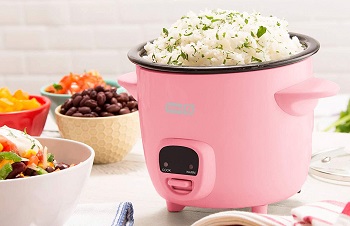 Recipe Book Included
With a smaller footprint, this unit can be ideal for use in dorm rooms and kitchenettes in studio apartments. With the palette of available colors, it will be able to fit into any kitchen design without problems. With the purchase, you will get a recipe book, as well as a measuring cup, and a rice paddle. You can buy this cheap rice cooker on Amazon for the price of around 20 dollars only.
Short Description:
available in pink, red, aqua color, etc
cooks rice, pasta, soup, stew, and more
2-cup inner non-stick cooking pot
automatically keeps the rice warm
comes with an included recipe book
Best Red Cute Rice Cooker
Aroma Rice Cooker Red
Variety Of Rice Types
This cute rice cooker comes in red color, cooking  3 cups of raw rice to yield up to 6 cups of cooked rice. It is to be used for cooking rice and steaming vegetables and meats. Whether you want to cook white, brown,  jasmine, or some other rice variety, you can do it in this cooker.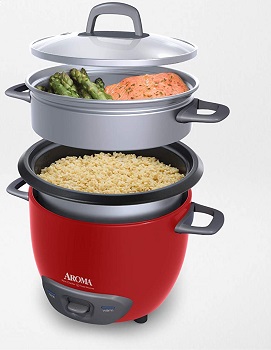 Steaming Foods
Apart from cooking rice and steaming foods, the unit can also be used for cooking jambalaya, chili, or soups. To be able to cook rice and steam vegetables at the same time, you will get a steaming tray that can be used inside the cooking pot. You will also get a measuring cup and a spoon for rice.
One-Pot Meals
To start cooking, add water and rice, and turn the single switch on. After cooking, it will switch to the warming setting automatically. It is ideal for creating one-pot meals of cooked rice, and steamed vegetables, fish, or meat. This way, you can save both time and space in the kitchen.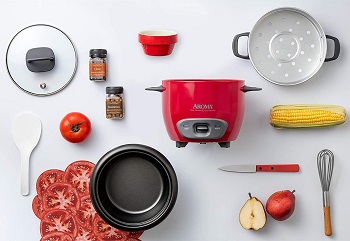 Family Portions
The capacity of the red rice cooker is enough to make rice not just for you, but your family also. After cooking, you can remove the inner pot from the unit for convenient cleanup in the dishwasher. You can use this cooker to express your creativity, as it can cook much more than just rice.
Short Description:
the rice cooker comes in red color
3-cups of uncooked, 6 cups of cooked rice
cooks rice, chili, jambalaya, soups, etc
steaming tray for steaming many foods
the inner cooking pot is dishwasher safe
it saves time and space in the kitchen
Best One-Person Cute Rice Cooker
Livart Rice Cooker
For 1 To 2 People
This cute rice cooker has a cooking pot suitable for making 1 cup of rice. The capacity and the cooking and warming modes make it a great one-person rice cooker. It can make enough rice to serve one to two people, ideal for dorm rooms and busy people on the go.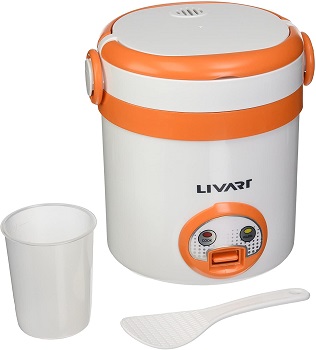 Foolproof Use
The cooker features one switch for starting the cooking process. After cooking is completed, it will keep the rice warm. To avoid guessing, the cooking and warming indicator lights will alert you of the current setting being used. The single switch operation makes for foolproof use. It is white in color with orange details.
Teflon Coated
To start cooking, you will have to add the appropriate water to rice ratio. To be able to do so, you will get a measuring cup along with the cooker. The rice won't stick to the pot as it has a non-stick Teflon coating. For serving the rice, you will also get a rice spatula.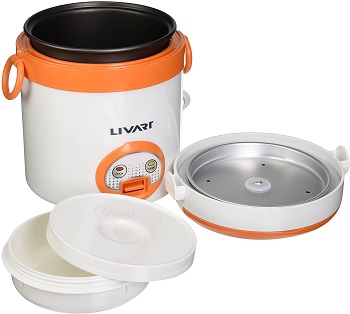 Detachable Handle
The handle on the unit is detachable and great to use for the portability of the cooker and its storage. To take rice along with you wherever you go, you will also get a plastic lunch box. To learn how to operate the unit properly, you will also get a manual with instructions.
Short Description:
featuring a non-stick Teflon pot
the capacity of 1 cups of rice
ideal for cooking for 1 to 2 people
includes a plastic lunch box
used for cooking and warming rice
features warming and indicator lights
Best Portable Cute Rice Cooker
Onezili Rice Cooker For Car
For On The Road
This rice cooker is great for use in the car so that you can transport it along with you and use it wherever you go. It is a great choice for busy people who spend a lot of their time on the road and away from their kitchen. The cooker features a non-stick pot that can't be removed from the unit with a 1-liter capacity.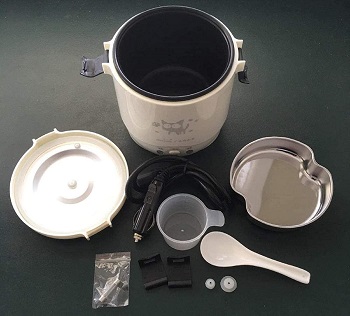 Safe To Use
With a small capacity, the unit is easy to transport without taking up a lot of space. It can make enough rice to feed between 1 and 2 people. With the 12 Volt supply, it is engineered for use in trucks and cars. It is safe to use without worrying about overheating thanks to the protective features.
Cute Prints
When cooking rice, this unit will take between 20 and 35 minutes to finish cooking, depending on the type of rice. This cute rice cooker comes in white color with a cat drawing and paw prints. It is colored in a combination of white and black.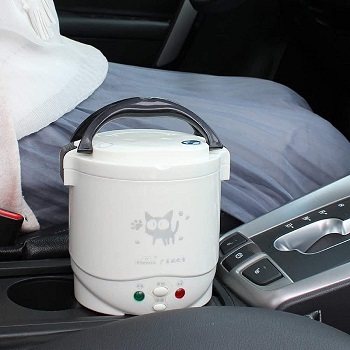 Ergonomic Handle
After cooking, the portable rice cooker can retain the heat inside the unit between 4 and 5 hours, keeping the rice inside warm. Apart from rice, you can use it for making oatmeal, soup, and stews. The handle on the unit is comfortable and ergonomic for carrying and portability.
Short Description:
1-liter capacity for 1 to 2 people
12 Volt cord for trucks and cars
takes 20 to 35 minutes for cooking
features a 5-hour warming setting
cooks rice, oatmeal, stew, and soup
Best Simple Cute Rice Cooker
Hello Kitty Rice Cooker
Pink Color
This cute rice cooker comes in the known Hello Kitty pink color and has a recognizable Hello Kitty print on it. It features a non-stick inner pot and a cover lid with a handle for portability and easy storage. The handles stay cool to the touch so that you don't have to worry about burning yourself when handling the unit.
One-Touch Operation
On the front of the body, a single lever is located for easy operation. The indicator light for cooking stays on while the cooker is cooking rice, and then switches to the warm light to indicate that the rice is being warmed. After adding rice and water to the unit and turning on the switch, you can leave the cooker to do its work.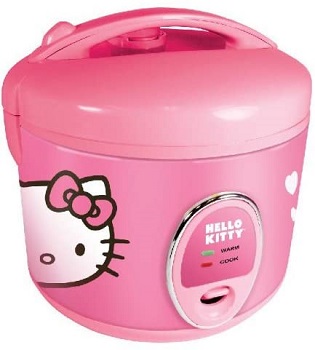 Removable Inner Pot
When switching to the automatic warming mode, the cooker has a sensor that knows when the rice is cooked to perfection. With the warming mode, the rice will be warm so that you can enjoy it whenever you are ready. The inner pot is removable from the unit for cleanup.
2 to 10 Cups Of Rice
With this simple rice cooker, you can enjoy rice in your home, in the dorms, or any other space with access to electricity. Its cute design will encourage your kids to eat fluffy rice and for the whole family to enjoy the meals. It cooks 2 to 10 cups of rice.
Short Description:
comes in pink color with Hello Kitty prints
features a removable inner cooking pot
it senses when the rice is cooked
features the automatic warming mode
cooks between 2 and 10 cups of rice
foolproof operation with a single switch
Best Smart Cute Rice Cooker
Cuckoo Micom Rice Cooker
9 Built-In Programs
This cute rice cooker comes in a combination of white and pink colors. It features a digital control panel with 9 built-in cooking settings controlled by a microcomputer. When cooking rice, the fuzzy logic and the smart cooking algorithm control the cooking time and temperature according to the detected rice type.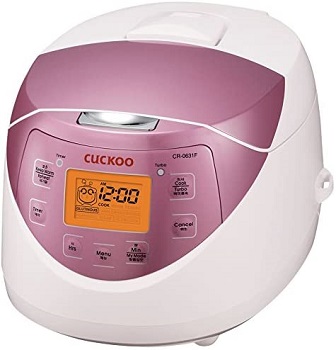 Cooks Evenly
Apart from the pre-programmed settings, you can also program a rice-cooking setting with your own preference of softness, taste, and glutinosity. The pre-programmed settings include options for mixed, white, GABA rice, porridge, and much more. The inner bowl is designed to thoroughly and evenly cook the rice inside it.
Feeds 6 People
Besides the foolproof operation and the cute design, this cooker is also packed with safety features. The inner cooking pot is coated with Teflon to prevent the rice from sticking to it. It has a capacity for cooking enough rice to feed up to 6 people, ideal for family use.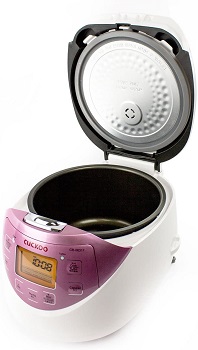 Steams & Slow Cooks
The color of the cooker will lift the decor of any kitchen with white and pink colors. The cooker can even be used for slow cooking and steaming different foods. Apart from cooking options, it can also keep the rice warm at an optimal temperature until serving time.
Short Description:
a combination of white and pink colors
digital panel with 9 built-in programs
fuzzy logic and smart algorithm for cooking
controls the cooking time and temperature
cooks mixed, GABA, white rice, and more
packed with features for safe use
slow cooking and steaming options available
What To Consider In Cute Rice Cookers?
Besides the cute design that fits your preference, there are many other features to take into consideration to get the best cute rice cooker for your needs. For starters, the capacity and ease of use are very important. Likewise, the available cooking programs are also something to keep in mind. Finally, look for models that can cook many types of rice and that come with some of the below-mentioned features.
Sizing – The market offers anything from really small cookers that are made to feed only one person, to large rice cookers that can make tens of cups of rice at once. The best one for your needs will be the one that can cook enough rice for your family's demands. Some manufacturers measure the capacity in cooked, and some in uncooked cups of rice.
Ease Of Use – To be able to easily use the unit, make sure the settings are not complicated and that you understand them. You can choose between digital rice cookers and rice cookers that start with a one-touch operation. No matter which one you end up going for, make sure it is foolproof to use, without having to spend a lot of time learning how to use it.
Cooking Programs – Besides cooking rice, rice cookers can also be used for preparing many other dishes and meals. These mostly include soup, stews, oatmeals, and other grains. Likewise, some even have programs for so cooking and for steaming foods. To steam vegetables and meats, you will get a steaming tray to use above the cooking rice.
Rice Variety – Some rice cookers offer separate programmed settings for cooking different types of rice, such as white, brown, jasmine, GABA, or mixed rice. Some are suitable for cooking only some of the mentioned types of rice. The best model for you will be the one that can cook the types of rice you eat.
Other Features – An inner pot with a non-stick coating will make cooking and cleanup a breeze. A measuring cup and a rice paddle will also be useful for precise cooking and serving. A warming mode will keep the rice warm after cooking is finished.
To Wrap It Up
Our top choice is the Dash cute rice cooker. It comes in pink color and is also available to purchase in other funky colors. The cooking pot can hold 2 cups of rice, and can also be used for cooking soup, stew, and more. When choosing a rice cooker on a budget, check out our selection of the best affordable rice cookers on the market. If you want to eat from a cooker with healthy materials, consider some of the healthy rice cookers.