Which model of the whole orange juicer is the best fit for you and your kitchen?
We are bringing you reviews of 6 top models to help you choose the perfect one. Read this post and see which whole orange fruit is your new partner to a healthy lifestyle!
The Rundown
Best 6 Whole Orange Juicers
BEST OF BEST WHOLE ORANGE JUICER
Breville Squeeze Juicer
Combination Of Materials
With its silver housing, transparent cup with a measurement scale, and a black tube, this whole orange juicer has a little exotic design. It extends in height and is made of a couple of different materials. The juice jug is made of Tritan, the housing is ABS polymer, while the filter is made of steel.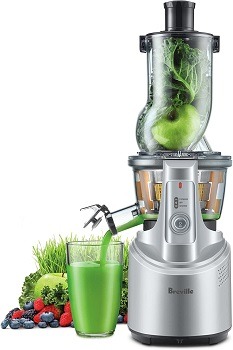 Quiet Motor Operation
The main specification of the 240 Watts motor is that it's ultra-quiet, which makes him a good choice for families with small children. Thanks to its low speed, during the extraction method there is minimal heat transfer which contributes to its quietness.
Technical Components
The juicer comes with dimensions of 10.8 x 15 x 17.5 inches and it weighs 12 pounds. Due to its size, the juicer also has a large feed chute with a width of 3 inches. Because of its high-quality screw and filter, the juicer slowly squeezes a large amount of fresh juice from whole ingredients.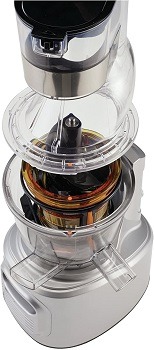 Whole Orange For The Juice
The Breville squeeze juicer doesn't require preparation and that is one of its greatest advantages. The design allows you to juice whole ingredients at once, without the need for cutting, slicing, and peeling. Just put the whole orange into the tube, and freshly squeezed juice is coming shortly.
Direction Control For Easier Process
This juicer also has a direction control that allows you to change the direction between forward and reverse. With this option, you are able to juice and unclog quite easily. When it comes to cleaning, the juicer comes with a cleaning tool that will help you to access more hidden parts. For more detailed instructions, take a look at a manual book.
Short Description:
made out of the combination of materials
the motor is powerful with 240 Watts
the juicer is suitable for the soft flesh of any fruit
the motor runs at a slow speed and in a quiet mood
no additional preparations like cutting and peeling
BEST STAINLESS STEEL WHOLE ORANGE JUICER
Mueller Centrifugal Juicing Machine
Professional Touch Of The Design
Made of stainless steel and with black details made of plastic, this whole orange juicer comes in a sleek stylish design.  The combination of black and silver makes it a good fit for any design style of the interior, giving it that professional impression and touch.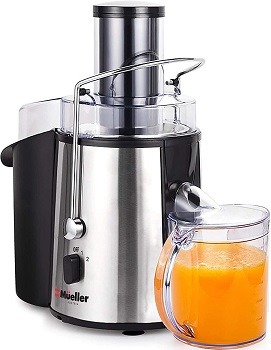 Dual-Speed
With its maximum power of 11oo W, the motor also comes with two speeding options. The low speed goes from 12 000 to 15 000 RPM, while the fast one goes from 15 000 to 18 000 RPM. Due to its speeding options,  the juicer is suitable for a variety of ingredients, and besides oranges, it can juice tomatoes, carrots, kale, celery, and many others. The motor works in a quiet mood.
Design Without Spillage
This juicer comes in the dimensions of 16 x 12.6 x 9.9 inches, and it weighs 2.2 pounds. Due to its size, the juicer also has an extra-large feed chute with a width of 3 inches. The juicer comes with an anti-drip function that protects the surfaces from spilling.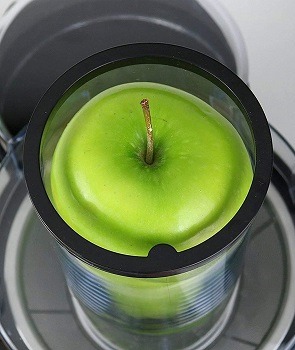 Details Of Quantity And Safety
The juicer has a container with a volume of 34 fl oz, while in the process, it preserves all the nutrients and vitamins, making more fresh and smooth orange juice. To ease up the process, the juicer has a locking mechanism which, if not placed and locked right, won't start the juicing.
Thermal Switch And Cleaning
Due to its built-in thermal switch, the motor will automatically shut down if it jams or overheats, so no need to fear for safety. This juicer is made of stainless steel and food-safe plastic, so it's quite easy to clean and assemble when you're done.
Short Description:
made of stainless steel and safe-food plastic
dual-speed that adjusts to the type of the ingredients
extra-large feed chute suitable for fruit and vegetables
anti-drip function for no spillage
locking mechanism and built-in thermal switch
easy to assemble, clean, and maintain
BEST HOME WHOLE ORANGE JUICER
Bextcok Juicer Machine
Designed With Classic Lines
In the combination of black housing and transparent details, this juicer is a classic tool that fits in any interior. Simple design and full of colors while juicing the oranges and lemons, as well as other ingredients, the Bextcok juicer machine is pleasing to the eye.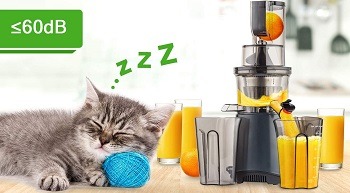 Durable Motor
With a quiet motor of 200 W that runs under 60 dB, the juicer is suitable for use at any time of the day. It comes with dimensions of 15.1 x 13.4 x 7.7 inches and a weight of 9.63 pounds.  Due to the specifications of the motor, it is made to last.
Technology For Richer Juice
This whole orange juicer machine comes with an 8 segment spiral that minimizes the oxidation and gives you maximum preservation of the nutrients. The technology of the juicer makes richer orange juice with less foam, while it extracts the fruit in no time.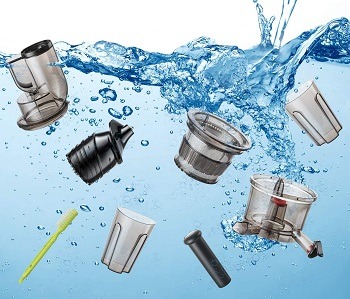 Safety First
The safety of the juicer is one of the key elements. This Bextock juicer automatically stops if clogged or when it reaches a too high temperature. It also has a security lock for easier assembly and is made of food-safe materials.
Cleaning Notes
When it comes to cleaning, you just need to detach all the parts. The juicer has a quite simple design so it makes the cleaning part much easier. The pulp outlet is u-shaped so it is simpler to discharge it, and therefore it's easier for cleaning. The cleaning brush is included in the package.
Short Description:
comes with black housing and transparent details
the motor has a power of 200 W and it works under 60 dB
8 segment spiral gives a richer orange juice
security options in case of clogging and high temperatures
design is made to make cleaning easier
BEST QUIET WHOLE ORANGE JUICER
Caynel Cold Press Extractor
Sleek And Stylish
With its champagne color and transparent details, this juicer looks quite modern and attractive. It also comes in the red color of the housing. Sleek and stylish, this juicer will have no problem with fitting in your kitchen and interior.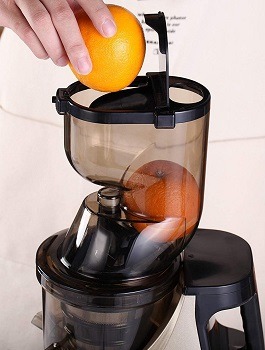 Slow Juicing For More Extraction
The juicer comes in the dimensions of 12.75 x 12.63 x 12.5 inches, and it weighs 4.27 pounds. The Caynel juicer is low-maintenance and works slow to extract more juice. This operation is also known as cold press and it provides more vitamins and minerals.
Efficient Motor
This whole orange juicer comes with a motor that works with 75 RPM, and due to its power, the juicer can provide you with 20 minutes of continuous juicing. The motor gives you a quiet mood operation, less than 55 decibels. The Caynel juicer gives you fresh juice without disturbing you or your household members.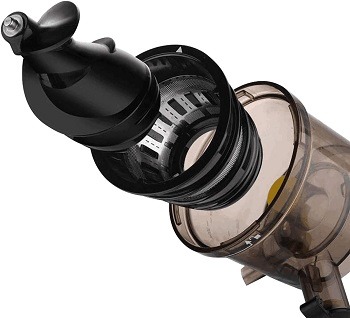 Juicing Whole Oranges And A Variety Of Ingredients
This model has an extra-wide chute with 3 inches width and is good for juicing whole oranges, as well as other fruit, vegetables, and ingredients. Due to its specification and design, this juicer separates the juice from pulp automatically, giving you smooth and rich juices. The juicer also has a reversing function in case of clogging.
All Parts Dishwasher Safe
All parts of the juicer are BPA-free and safe for the dishwasher. So no mess and fuss, when you're done with making fresh and healthy beverages, separate all the parts and put them in the dishwasher. The package includes a cleaning brush.
Short Description:
good design with champagne finish
the juicer works as a slow press to extract more juice
motor that provides 20 minutes of continuous juicing
extra-wide chute with 3 inches width
all removable parts are BPA-free and safe for dishwasher
BEST ELECTRIC WHOLE ORANGE JUICER
Vitaextra Slow Juicer
Impressive Design
This big impressive juicer comes in silver housing with dark transparent details. Even though the design looks like it's a little bit complicated, don't worry, this model is perfect for juicing, due to its great and simple handling and specifications.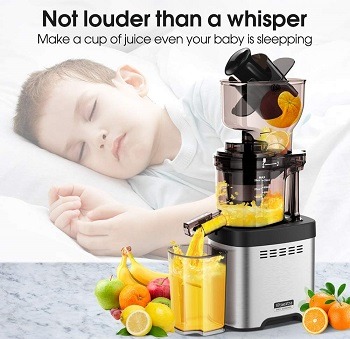 Big With Good Capacity
With the dimensions of 15.28 x 15.28 x 10.63 inches and weight of 18.41 pounds, this whole orange juicer will surely take up some place in the kitchen, but due to its size, it has a capacity of around 23.66 oz and the juice can be preserved for up to 12 hours.
Quiet As A Whisper
This slow masticating juicer works at low speed and due to that, it doesn't create much friction, heat, or foam. The motor works in a quiet mood, almost quieter than a whisper, so the machine is perfect for families. The juicer is designed for oranges, as well as other ingredients that can be juiced up in no time.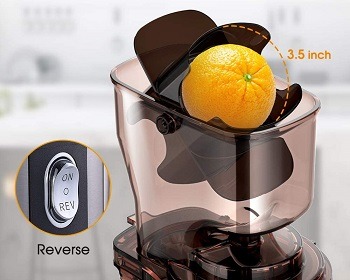 2 Filters For Divers Densities
The whole orange juicer comes with 2 filters. Each of them has a different density that allows you to adjust the taste to your wishes. Whether you want your juice to be thicker or perhaps thinner, it's up to you to decide, and thanks to 2 filters, you can manipulate the outcome of the juice.
Simple Technology And Cleaning
The technology of this juicer is quite simple. It is made to separate the skin from juicy flesh and to give you fresh juice that is right according to your wishes. If you're wondering how to clean this machine, it's rather simple. All the parts are detachable and dishwasher-safe.
Short Description:
impressive design with silver housing & transparent details
big in size, as well as in capacity
low speed for quiet operations
comes with 2 filters for different densities of the juice
detachable parts are dishwasher-safe
BEST FOR BEGINNERS WHOLE ORANGE JUICER
Picberm Centrifugal Juicer
Stylish Addition To The Kitchen
The elegant design of this juicer comes in black color with orange details. This juicer is a great fit for the modern, yet minimalist kitchen. Not only it is a good addition to the interior design, but its functionalities will also be a good addition to your lifestyle.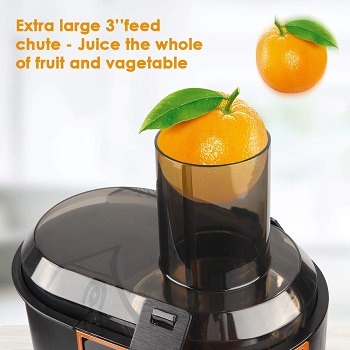 Dimensions And Motor
With an 800 W motor and speed that runs between 16 0000 RPM and 20 000 RPM, this juicer provides you with a high speed of juicing. It only takes a couple of minutes to make fresh orange juice. The juicer comes in dimensions of 16.68 x 13.27 x 8.98 inches and it weighs 9.44 pounds.
3-Inch Feeder Chute And Sharp Blades
The Picberm whole orange juicer comes with a feeder chute of a 3-inch width. Due to the internal sharp blades that are honeycomb designed, the oranges or any other used ingredient, are finely ground so the juice is smooth and rich with nutrients.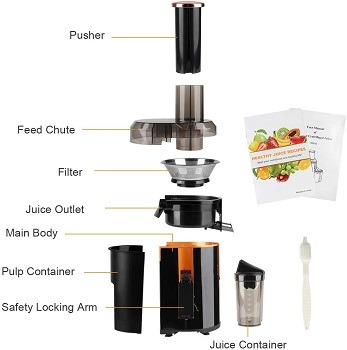 Safe And Simple To Use
This whole fruit juicer has a safety locking arm to prevent juicing when the cover isn't locked to its place. At the bottom of the juicer, there is a non-slip rubber to secure stability during the process. Due to that, the juicer is quite simple to use for all generations.
Designed For Clean Juicing
Juicer is made of BPA-free material, as well as stainless steel, and it's designed to prevent spillings and additional mess. The cleaning brush is included in the package, so be sure to use it for cleaning all the detachable parts, or just put them in the dishwasher, since all parts are dishwasher safe. The package also includes juice recipes.
Short Description:
stylish design fits a modern and minimalistic kitchen
powerful motor provides high speed of juicing
big feeder chute and sharp blades
design and usage suitable for all generations
comes with a cleaning brush and juice recipes
What To Consider About The Whole Orange Juicer
Since there are so many models of whole orange juicers, check out our tips that will guide through the journey of juicers. See what design and model to pick, what about assemblage and the power of the motor, and which operating system is your best fit.
Model According To Skills – pick the model that best suits your lifestyle. If you're just beginning with juicing oranges, pick the juicer that is simple in design and even simpler to use. You don't need the one with all kinds of options, you just need the good one for simple juicing oranges.
Bigger Capacity For Whole Oranges – since the oranges are quite big, with a specific juicer they don't need to be peeled for juicing. That's why it's important to find the juicer that comes with a larger capacity so you don't have to slow the process while changing one cup after another. The capacity of the juicer has to be at least 20 oz, otherwise, you'll squeeze half of an orange and the cup will be full.
Speeding Options – When it comes to speed, you can choose any juicer that comes from with a speed of 75 RPM to 20 000 RPM. If you want a high-speed juicer and thinner juice, go with 16 000 RPM to 20 000 RPM range, while the low-speed juicer will give you a thicker juice so keep that in mind.
Powerful Motor – even though most whole orange juicers have quite a powerful motor, due to the hard skin of oranges, try to choose the one that guarantees you good power that is suitable for oranges. The motor should be equipped with a power of 200 W and up. That means the best pick is a motor around 800 W.
Powerful Motor – a slow cold press juicer extracts more juice and nutrients. That is a better option for whole oranges, especially if you don't mind the pulp and a thicker juice (almost like a smoothie).
To Wrap It Up
The best whole orange juicer that I recommend is Bextcok Juicer Machine. I would recommend this model because it comes with a powerful motor of 200 W and it works in a quiet operation. This model also has an 8 segment spiral, as well as security lock and options in case of clogging and riching high temperatures. If you're interested in finding an orange juicer with smaller dimensions that will be a better fit for your kitchen, read this article about mini and small orange juicers. If you perhaps want the juicer that is good for a variety of citrus, make sure to read the article about stainless steel citrus juicer.