The market is filled with all kinds of whole fruit juicers, so how to be sure that you choose the right one?
With these reviews of 6 models divided into 6 different categories, discover the one that suits you the best. Read this post and find the full fruit juicers that meet all your requirements!
The Rundown
Best 6 Whole Fruit Juicer
BEST OF BEST WHOLE FRUIT JUICER
Gourmia Juicer
Good Professional Fit
The modern design of this whole fruit juicer comes in a combination of black and silver. Its lines are a good fit for every modern and stylish kitchen while the model certainly gives an impression of a professional cuisine. Although it looks like it's a little tough to handle, the juicing is quite easy.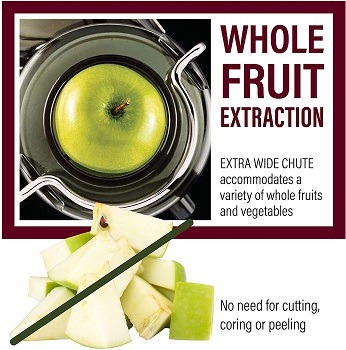 Power For The Variety
The Gourmia juicer, with its dimensions of 17.8 x 15 x 8.4 inches, and weight of 10.08 pounds, has a big 32-ounce juice tank, and a motor-powered with 800 watts. Due to its power, it can juice a variety of whole fruits and vegetables.
Manipulating The Speed
The juicer comes with 4 power levels that you manage through the digital display. It's that easy and simple to manipulate the juicing speed. If you want soft fruits, turn down the speed to low, and if you want to get rid of all the skin and pulp, turn on the extra boost.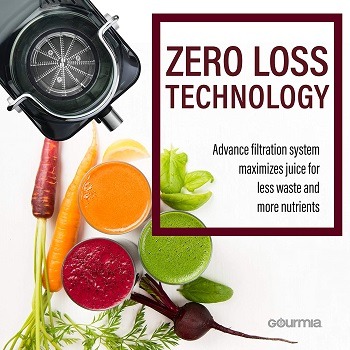 System For Smoothness
This whole apple juicer comes with the centrifugal extraction system. The system is made to minimize the pulp, while the micro-mesh filter removes the debris, giving you fresh and smooth juice. No more peeling, cutting, and chopping, with this juicer, everything is easy.
Technology For Safety
With its ETL certificate, the Gourmia juicer presents high-quality that is food-safe, and it is made as a zero loss technology, minimizing the waste of the juice. After you're done with juicing and fresh beverages, separate all the parts of the juicer and put them in the dishwasher for cleaning.
Short Description:
modern design with a combination of black and silver
big 32-ounce juice tank for more fresh beverages
800 watts motor suitable for fruits and vegetables of all sizes
manual adjustment of the speeds
centrifugal extraction system to minimize the pulp
BEST HOME WHOLE FRUIT JUICER
Breville Juice Extractor
Impressive Steel Design
This classic silver juicer comes in a bit of professional design since it is equally good for commercial purposes, as well as home ones. Despite its professional design, its silver color, which comes from pure steel, gives quite a good first impression.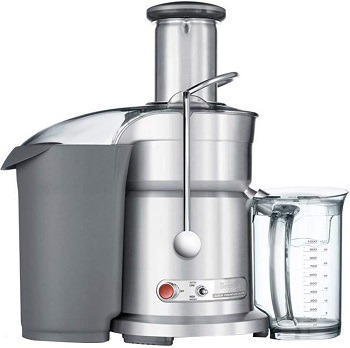 Motor Specifications And Use
This Breville whole orange juicer comes with a motor of 1000 Watts and it can be manipulated to a high speed of 13 000 RPM, and low of 6 500 RPM. Do not use the juicer for over one minute at the highest speed or while putting pressure on the ingredients. Let the motor rest between use. The circular feed tube of 3 inches is suitable for whole fruits and vegetables.
Size Fit The Functions
Due to 40 000 filtering pores, the juicer gives you smooth juice without the pulp, and thanks to the dual speed, you can manipulate the juicer due to softer or harder ingredients. This Breville whole fruit juicer comes in the dimensions of 16.5 x 9 x 16 inches, and with a weight of 1 pound.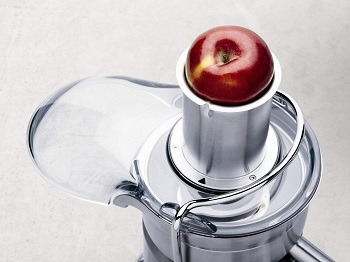 Made To Last And Extract
The juicer comes with a cast steel housing and micro-mesh filter, and the sharp cutting disc is titanium plated. Due to those specifications, the juicer is made to last, as well as to extract more juice, vitamins, and minerals. The juice jug capacity is 1.1 quarts, while the pulp container has a capacity of 3.2 quarts.
Addition Features And Instructions
The juicer comes with a locking arm bolt that can move to ¼ in all directions so that you have a better grip while using, as well as with a cord storage and overload protection that prevents overheating. All the materials are BPA-free and all parts, besides the basket with the filter, are safe for the dishwasher, just put them on the top shelf while cleaning.
Short Description:
suitable for commercial and home use
made of stainless steel to last and extract more juice
1000 Watts motor manipulated by the 2-speed controller
40 000 filtering pores provide smoothness
every part, except the filter basket, is dishwasher safe
BEST FOR BEGINNERS WHOLE FRUIT JUICER
Kuvings Whole Fruit Juicer
Sleek Combination Of Colors
With its sleek and stylish design, the Kuvings juicer brings that classic lines with a little modern twist due to a combination of black tube and silver housing, with little orange details. It also comes in the red and white housing combination.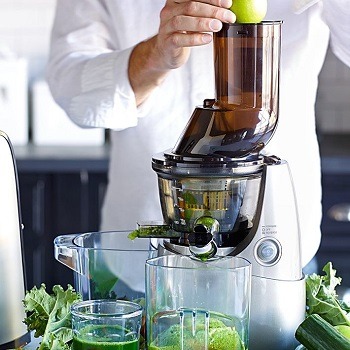 Size And Materials
The juicer's dimensions are 9 x 8.2 x 17.6 inches, while it weighs 14.11 pounds. Regarding the materials, the juicing bowl, pulp cup, and juice cup are made of Tritan, while the screw and strainer are made of Ultra. Due to all the specifications, the juicer is a 3 in 1 multi juicer, and besides juices, it can also make smoothies, baby food, and nut milk.
Motor And Feeding Tube
With the 240 W powerful motor, Kuving's whole fruit juicer is durable and works in a quiet mood. Due to the low-speed juicing, the juicer preserves quite a large amount of nutrients. The feeding tube is 3 inches wide and is suitable for whole fruits and vegetables.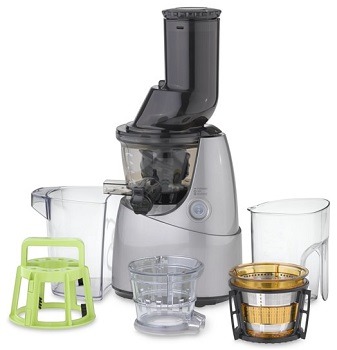 Less Time, More Juice
The mentioned feeding tube that is suitable for larger fruit and vegetables, doesn't require additional preparation, such as cutting, slicing, and peeling. The pulp outlet duct is quite large and it reduces the amount of pulp in the extract, making more juice. Thanks to the sieve, you can manipulate how much pulp you want in the juice.
Additional Parts And Accessories
This whole fruit slow juicer comes with a drip-free smart cap, and cleaning tool with the additional brushes for cleaning the strainer, as well as all other parts that are detachable. If you find yourself with a lack of inspiration, the Kuvings juicer comes with a recipe book
Short Description:
stylish design in black and silver
possibility of different colors combination
3 in 1 juicer that makes juices, smoothies, baby food, and nut milk
feeding tube suitable for different sizes of fruit and vegetables
comes with a smart cup, cleaning tool, and brushes
BEST UNDER $100 WHOLE FRUIT JUICER
Cayner Juicer Extractor
Standard Design In Black And Red
The classic design of the juicer comes in the combination of red and black housing, while the tube is transparent. Its simple design has a standard look that will fit right into your kitchen. It doesn't come in any other color, but the red details will be just enough to impress.

Dimensions And Motors
Cayner juicer extractor comes in the dimensions of 22.6 x 12.2 x 7.5 inches and weighs 3.3 pounds. The induction motor has 150 Watts and easily works with tough ingredients. This type of motor generates less noise and has a stable operation. It is powerful, but it works at a lower speed.
Feeding Tube And Blank Strainer
The feeding tube is quite big and it comes with a width of 3 inches. It allows you to use larger whole vegetables and fruit while lowering the preparation time to the minimum. The juicer has an option to switch to the blank strainer to make frozen desserts.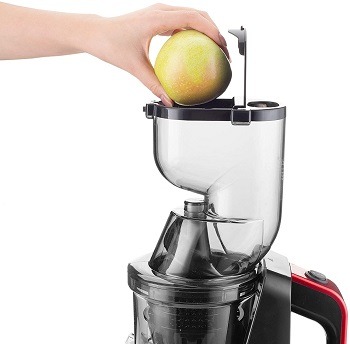 Innovative And Simple
This whole orange juicer machine comes with a simple operation method that provides you with the new juicing mechanism. It is good at preserving all nutritions and fresh taste, while at the same time, it gives you all the convenience of the process, quiet and just in time.
Easy-Cleaning
Cayner juicer extractor comes with two containers for bigger capacity. The cleaning brush is also included in the package. Due to the new strainers with larger and elongated grooves, as well as the simple design, this juicer comes from an easy-cleaning series.
Short Description:
standard and simple design in black and red
150 Watts motor that is suitable for tougher ingredients
generates less noise and provides stable operation
two types of the strainer, one for juicing, one for frozen desserts
easy to clean and maintain
BEST BIG WHOLE FRUIT JUICER
VonShef Whole Fruit Extractor
Timeless Classic
In black and silver combination, this VonShef juicer machine brings out the professional design. It comes with sleek lines and a stainless steel finish. The body is in black color, while the strainer compliments the design with pure steel. Though the juicer may look quite standard, it has that timeless classic that never goes out of style.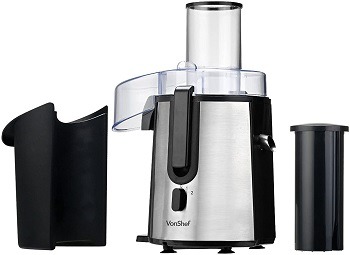 Size Suitable To The Power
This big juicer comes with dimensions of 14.17 x 10.04 x 17.32 inches and weighs 12.35 pounds. According to the size, the juicer has a powerful motor of 700 Watts that is quiet in the operation. The juicer has two speeding options that are suitable for soft and hard ingredients.
Juicing Without The Additional Preparation
VonShef professional whole fruit juicer is made to save you time from all the preparation, peeling, and cutting. Due to its large chute, you can juice whole fruit and vegetables without any additional preparation. Just make sure that you adjust the speed of the motor according to the softness of the fruit, and you're good to go.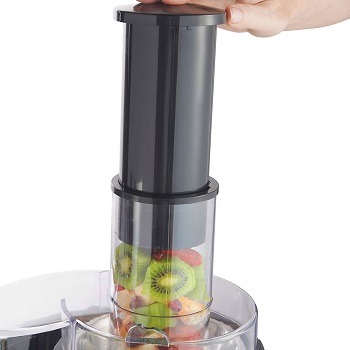 Safety System
Although the machine is quite easy to assemble, be sure to check out and follow all the directions from the instruction manual. Even if you assemble the machine in the wrong way, it has a safety system that will prevent it from starting, so you don't need to worry, but to make it simple and easy, just follow the instructions.
Included Equipment
This juicer comes with all sorts of additional parts. It comes with a large transparent and detachable pulp container of 70oz, a juicer collector, two blades, and a cleaning brush. Regarding the cleaning, all removable parts are safe for the dishwasher.
Short Description:
classic and professional design in black and silver
the motor of 700 Watts and two speeding options
quiet in the process of juicing
large chute suitable for whole fruit and vegetables
the safety system in case of the wrong assembly
BEST QUIET WHOLE FRUIT JUICER
Aicok Filter Juice Machine
Cute Black Design
With its pretty design that resembles a little robot, Aicok filter juice machine comes in black color and is made of plastic. The used materials are BPA free and food-safe. Due to its design, it can fit in every kitchen and be a great partner to a healthy lifestyle.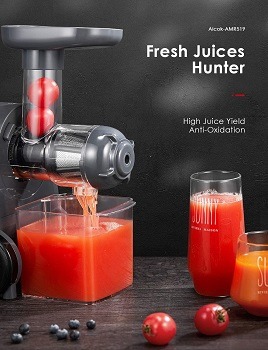 Low Power For Slow And Quiet Operation
This slow whole fruit juicer comes with a low rpm motor of less than 60 decibels noise. It has a stable body throughout the process, and due to the specifications of the motor, the juicer is safe to use no matter what time of the day is. While working, the juicer is silent and easy to use.
Nutritions In The Juicing Process
Since the juicer uses a specific type of motor, in its slow juicing it extracts all the nutritions of fruits and vegetables. Due to less adding of the air during the process, juices can be stored for a longer time, up to 72 hours.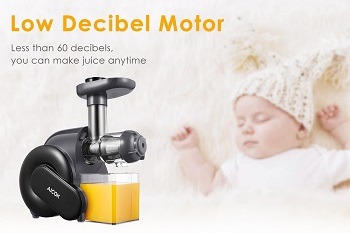 Juices And Baby Food
The Aicok whole fruit juice machine is made to be a multipurpose model. It means that the machine can provide you with juices made from a variety of fruit and vegetables. You can extract nutrition and juice from gingers, carrots, apples, oranges, wheatgrass, and a lot more. Except for making healthy beverages, the juicer is good for making baby food.
Easy To Maintain
When it comes to cleaning, all the removable parts are safe for the dishwasher. They can also be hand-washed since the package includes a cleaning brush. Also, you don't need to worry about clogging. This model is made with strong functions that provide you continuous work without any additional problem.
Short Description:
unique design in black and made of plasticr
due to low motor, the juicer is silent in the process
the specifications of the process contribute to a longer storage
multipurpose model suitable for making juices and baby food
all the removable parts are dishwasher safe
What To Consider About Whole Fruit Juicers
To be sure that you choose the right model of the whole fruit juicer that fits you just right, be sure to read our little tips that guide you through choosing the right model, as well as its materials, speeding options, safe use, cleaning, and maintenance.
Design – the market is filled with all kinds of fruit juicers, so while choosing the right design, be sure to pick the one that suits your kitchen. Whether you want a classic, standard model with neutral colors, or the one that is a little more modern and innovative, just be sure that it will perfectly fit into your interior.
Material – most juicers are made of plastic with stainless steel components. Be sure to choose the one that will meet your juicing desires. If you choose the plastic one, there's a chance that it will break sooner than one made of stainless steel.
Speeding Options – when we're talking about the whole fruit juicers, the speed option is quite important. Whether there are just two-speed options or more, you need to adjust the type of used ingredient to the speed. If there is only one low speed, it probably won't do any good to a tougher fruit and there's always a chance of breaking. If you only have a high-speed option, you don't have a choice of making thick smooth juice. So choose the juicer that offers you at least two-speed options.
Safe Use – be sure to read all the instructions that are listed in the manual book if you choose the juicer that needs to be folded. Also, be very careful through the process since the juicer comes with a few parts that are quite sharp. We recommend you to choose the fruit juicer that doesn't require any hard assembling.
Cleaning Options And Maintenance – when choosing the juicer for the whole fruit, go with the one that has all parts detachable and are safe for the dishwasher. It's easy to get lost in dividing the parts that are meant to be hand washed and the ones that are dishwasher-safe.
To Wrap It Up
The best whole fruit juicer that I recommend is Gourmia Juicer. I would recommend this model because it has a powerful motor that is suitable for any sort of whole fruit and vegetables, no matter the size and skin. It also has a digital display and manual adjustment of the speed, as well as a centrifugal system that minimizes the pulp, while the filter removes all the debris. If you want to see other models suitable for a specific whole fruit, perhaps for oranges, be sure to check the post about the whole orange juicer. If you don't find a desirable juicer for making smooth orange beverages, be sure to check out the post about mini orange juicers that perhaps are more suitable to your needs.