In search of a clay rice cooker?
Great! We have prepared 6 different models reviewed for you.
Continue reading to see whether an electric or another type of rice cooker made of clay works for you. We have picked the best models after researching the online market to help you in your hunt. Also, don't forget to check out our buying guide with helpful tips.
The Rundown
Best 6 Clay Pot Rice Cookers
Best Of Best Clay Pot Rice Cooker
Vitaclay Rice Cooker
Unglazed Clay
This Vitacay chef model cooks rice, slow cooks, makes yogurt, and also steams the food. The pot is made of unglazed clay material while intensifying the flavor of the rice and other food cooked in it. The control panel allows you to choose between different cooking programs and offers a delay timer.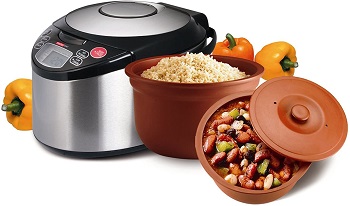 5-Hour Delay
With the airtight dual lid, the heat is retained inside the pot for cooking. The large LCD screen along with the buttons on the digital rice cooker lets you set the cooking program and keep the food warm afterward. The delay timer can be set up for 5 hours in advance in 10-minute increments.
For Rice & Yogurt
The rice cooking programs can be used for white, brown, germinated, sushi rice, as well as quinoa and whole grains. With the yogurt making program, you can enjoy low-fat alternatives to cream cheese, and make yogurt cheese and Greek yogurt.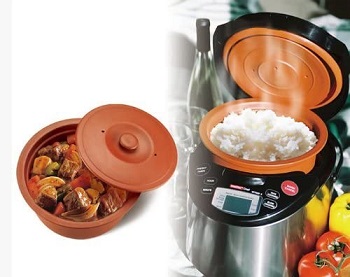 Slow Cooking
The slow cooking setting mode allows you to make soups, bone broths, and more in a healthy pot. It gives the same results as other slow cookers while cooking up to 4 times faster. The clay pot is free of aluminum, Teflon, and other toxic chemicals. To check out Votaclay reviews, visit the Amazon link below.
Short Description:
clay pot made of unglazed clay
control panel with cooking settings
5-hour delay in 10-minute increments
cooks white, brown, germinated, sushi rice
programs for slow cooking and making yogurt
Best Electric Clay Rice Cooker
Tianji Purple Clay Cooker
Raw Ore Purply Clay
This clay rice cooker offers a digital panel for choosing between many different cooking programs. It allows you to prepare different types of Chinese soups and stew at home, as well as to cook rice. The pot is made of high-quality raw ore purple clay, free of toxins and chemical coatings.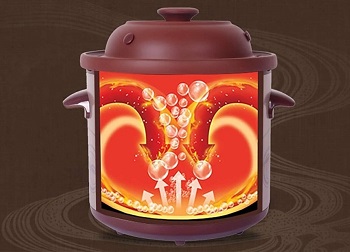 For 3 To 6 People
The purple clay rice cooker offers three-dimensional heating for cooking food with high nutritions. It has a capacity of 4 liters to cook food for 3 to 6 people. To enjoy delicious cooking, you can choose between slow and fast cooking programs.
24-Hour Delay
For flexible cooking, you can delay the start for up to 24 hours. To start cooking, simply add the ingredients into the clay pot electric rice cooker, add the proper amount of water, and choose the cooking program. To add the appropriate water to rice ratio, you will get a measuring cup.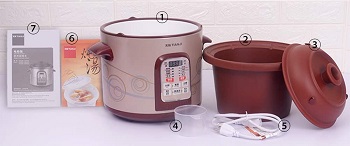 Anti-Overflow Design
The outer body comes with stay-cool handles so that you don't burn yourself when you have to relocate or carry the unit. The lid comes with a steam valve while keeping the heat inside the pot for cooking. You don't have to worry about your countertop being messy as this Chinese rice cooker has an anti-overflowing design.
Short Description:
programs for rice, soup, and stew
4-liter capacity for 3 to 6 people
pot made of raw ore purple clay
24-hour day timer for flexible cooking
stay-cool handles and anti-overflow
comes with a measuring cup
Best Inner Pot Clay Pot Rice Cooker
Vitaclay Slow Cooker
8-Cup Capacity
This Vitaclay rice cooker can be used for both slow cooking and cooking rice. It has an 8-cup capacity and has a simple digital panel for choosing between settings for white and brown rice, soup, and stew. Likewise, it also features a timer setting and a 'keep warm' mode.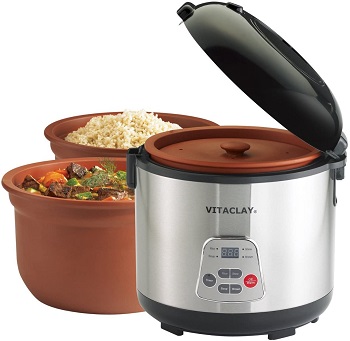 15-Hour Delay
The healthy rice cooker with clay inner pot can also be used for cooking porridge and beans. The pot is made of unglazed clay material and saves up to 50% of the cooking time even when using the slow cooking mode. The programmable timer can be set between 30 minutes and 15 hours in 30-minute increments.
Saves Energy
The double lid system creates pressure during cooking to make tender food with great flavor and also helps to save energy. When using the slow cooking mode, it works much faster than other models, boiling food up to 4 times faster, while delivering the same quality.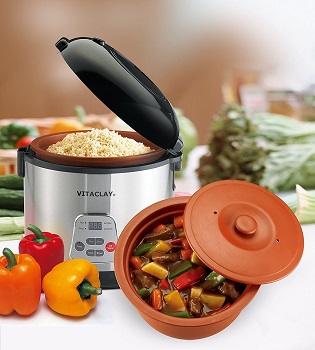 Healthy Choice
By choosing this clay rice cooker, you can enjoy more than just rice without worrying about the health of your family. The pure Zisha clay is great for retaining moisture and nutrients, without worrying about harmful lead, aluminum, and other chemicals.
Short Description:
8-cup capacity for cooking rice
settings for white and brown rice
also cooks soups and stews
unglazed pure Zisha clay material
15-hour delay in 30-minute increments
double lid system saves energy
free of aluminum, lead, and toxins
Best Japanese Clay Rice Cooker
Iga Mono Rice Cooke
Popular Japanese Pot
This Japanese ceramic rice cooker is made out of clay and recognized as a very popular Kamado-san pot in Japan. It is designed for cooking rice on direct fire. The clay material retains heat for deliciously cooked rice.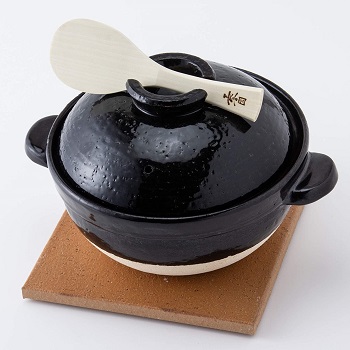 Double Lid
The package consists of a pot with an inner and outer lid. The included rice paddle can be held on top of the outer lid's knob. The pot measures 9.2 by 9.2 by 7.7 inches and weighs around 9 pounds.
Direct Fire
When cooking rice on a direct fire, the pot creates a far-infrared effect. As it has a double lid system, the rice should not overflow and make a mess in your kitchen.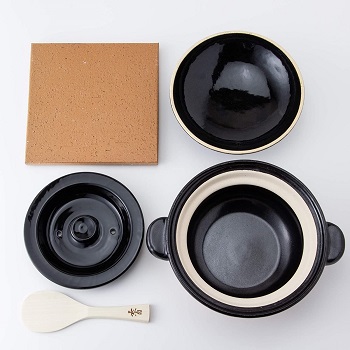 Serves 2 People
By purchasing this clay pot rice cooker, you can have enough rice to serve two people, ideal for couples living together. You can use it to enjoy fluffy rice without a lot of effort. It comes in black color and will compliment any kitchen.
Short Description:
popular Japanese Kamado-san pot
made of clay, serves 2 people
suitable for cooking on direct fire
features a double lid system
convenient anti-overflow design
Best Small Clay Pot Rice Cooker
Kotobuki Earthenware Cooker
4-Cup Capacity
This earthenware rice cooker can hold 1.5 cups of uncooked rice, and once cooked, it yields 4 cups of rice. It is made in Japan and not recommended for microwave use. It features a pot with side handles and an inner and outer lid.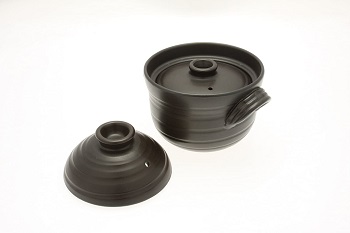 Lids Retain Heat
Both of the lids help to retain the heat inside the pot while letting the steam out through the hole on each lid. It is made of earthenware material which makes it slightly porous and comes in black color.
For Mixed-Rice Dishes
While rice is cooking, the double lid system prevents the rice and water from overflowing. Apart from cooking plain rice, it can be used for making various rice dishes mixed with other ingredients. These dishes are famous under the name takikomi gohan in Japan.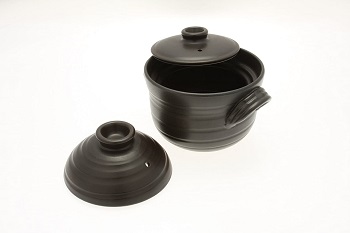 For Handwash
After cooking, it is recommended to hand wash this small Japanese rice cooker. As it comes in small size, it is perfect for cooking rice in small kitchens and for a couple of members of a household. It also won't take up a lot of space in the kitchen cupboards.
Short Description:
1.5 cups of uncooked, 4 cups of cooked rice
the pot is made of porous earthenware
not suitable for use in the microwave
double lid system prevents overflowing
ideal for plain rice and mixed-rice dishes
recommended for handwash only
Best Personal Clay Rice Cooker
Milo Donabe Rice Cooker
Ideal For Singles
This personal rice cooker is ideal for making enough rice to feed one person. This makes it popular for singles, cooking enough food so that you don't have to waste any food and can serve a maximum of 2 people. With its traditional Japanese donabe style, it can cook rice and stews.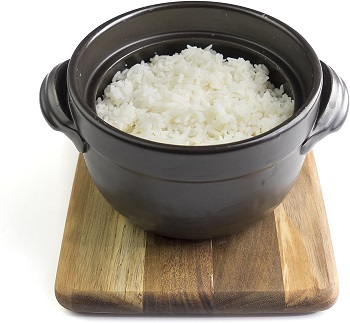 Slowly Heating Clay
A donabe pot is to be used on high heat and is made of clay material which makes it slowly heat. Once heated, it is good at retaining the temperature for versatile cooking, including rice. The clay pot has side handles for carrying and a lid with a single steam hole.
For Versatile Cooking
This clay pot rice cooker can be used for white and brown rice, as well as cooking stews by adding broth and other types of grains to the pot. Apart from cooking, it can be used for braising and steaming foods. It is suitable for use both on the stove and in the oven, cooking 1.5 cups of rice.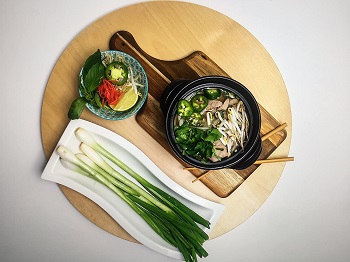 Compact Size
Boasting natural elements, it will lift the decor of any kitchen. By slowly heating, the flavor of rice will be retained for delicious meals. Measuring 4 inches in length, 6 inches in width, and 4 inches in height, it won't take up a lot of space for storage.
Short Description:
serves 1 person, maximum 2
traditional Japanese donabe style
made of heat-resistant clay material
side handles and a lid with a steam hole
suitable for white and brown rice
can also steam, braise, cook soup, stew
the capacity of 1.5 cups of rice
What To Consider In Clay Rice Cookers?
This type of rice cooker is designed for different heat sources so it is something to keep in mind. Also, the market offers different capacities, suitable for different needs. No matter which model you pick, make sure it is easy to use and that it can be used for many different food dishes.
Clay Material – Unlike non-stick inner pots, getting a rice cooker with a clay inner pot will be a healthier choice. Clay pots are free of aluminum, as well as lead, toxins, and other chemicals. Compared to Teflon coatings, no chemicals will leach into the food as they can be scratched off the pot.
Heat Sources – The market offers clay pot rice cookers with an electric supply, as well as models suitable for cooking on a stove, in the oven, and even on direct fire. To get the best one for your demands, tailor it to the heat source in your home.
Capacity – Rice cookers with a clay pot can be used for feeding only one person, while some are suitable for making more generous amounts of rice and other food. If you live alone or have a small family, you won't need a very big model. On the other hand, if you want to cook for larger crowds, consider a big rice cooker.
Cooking Capabilities – Electric cookers can be used for cooking rice, soup, stews, and some even for making yogurt, and many other dishes. Some also allow you to steam foods above the cooking rice. Investing in a rice cooker will thus help you with many different cooking processes.
Ease Of Use – For the models with digital control panels, make sure you understand the cooking functions and that they are not complicated to use. For models to be used in the oven or on the burner, make sure to look for models with a double lid to prevent overflowing.
To Wrap It Up
Finally, the best clay rice cooker in our opinion is the Vitaclay cooker. It cooks white, brown, germinated, and sushi rice inside an unglazed clay pot. The control panel also offers you settings for making yogurt and slow cooking. For other non-toxic options on the market, check out our selection of ceramic pot rice cookers. Likewise, you can also consider some of the rice cookers without Teflon currently popular on the market.