Searching for a 1500-Watt hot plate?
Can't decide between a single and double burner?
In this article, we break down the information on single and double burners with a power supply of 1500 Watts. Continue reading to check out the reviews of different models with exposed and hidden coils, or with induction cooking surfaces.
The Rundown
6 Best 1500-Watt Hot Plates
Best Of Best 1500 Watt Hot Plate
Cusimax 1500-Watt Single Burner
7 Temperature Levels
This safe hot plate features a single cast-iron burner with a power supply of 1500 Watts. It has a black stainless steel body that is durable for frequent use. On the front side of the unit, there are two turning knobs. One can be used to easily switch between on and off, while the other features 7 heat settings. It is suitable for all types of cookware under 7.1 inches.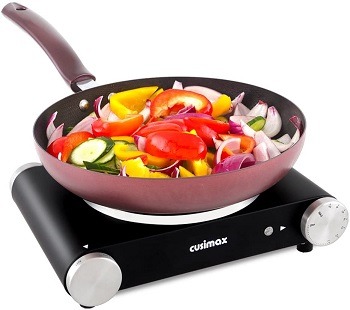 Various Cooking Applications
By using the thermostat knob, you can choose between different temperature settings for cooking different foods. Sauces, soup, pasta, steak, vegetables, and boiled water are some of the things you can cook on this 1500-Watt hot plate. The non-slip feet make it stable on countertops for safe use while making a variety of meals.
Portable Size
This model is 11.6 inches wide, 7.79 inches long, and 2.71 inches tall. Its size makes it portable and ideal for use in small spaces. You can use it for cooking in dorm rooms, studio apartments, offices, RVs, or when camping, etc. For entertaining purposes, it is also a great addition to a busy kitchen when making a lot of food for parties and other gatherings.
Heats Quickly & Evenly
The 7.4-inch cast-iron heating element spreads heat evenly and quickly across the surface so that there are no cold patches while cooking. After you are done, leave the hot plate to cool down and then wipe it clean with a damp cloth. It will usually take around 20 minutes to cool off after use, and the surface should not be touched before to prevent burns.
Short Description:
11.6 inches wide and 7.79 inches long
single 7.4-inch cast-iron burner
thermostat knob features 7 heat levels
portable and ideal for cooking in small spaces
spreads heat quickly and evenly across the surface
Best Single Burner 1500 Watt Hot Plate
Cadco Hot Plate 1500-Watt
8-Inch Coiled Burner
This single burner features an 8-inch heating element with exposed coils and a stainless body for durability and ease of maintenance. The front side of the hot plate also features an on and off switch, a temperature knob, and a power indicator light. It uses a power supply of 1500 Watts to heat the surface quickly for faster cooking.
Adjustable Temperature Knob
The turning knob with infinite heat lets you choose between warm, low, medium, and high options for cooking. By adjusting the temperature, you can cook different meals more precisely, depending on the level of heat they require. Before you use it for the first time for cooking, heat it for about 10 minutes at the maximum setting to get rid of the smoke from the special coating.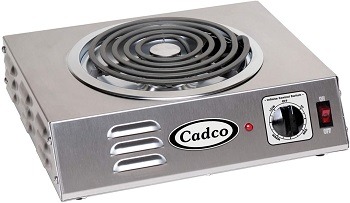 How To Use?
This 1500-Watt hot plate measures 14 inches in width, 12.25 inches in length, and 4.125 inches in height. For safe use, keep the unit at least 4 inches away from any walls to avoid excess heating on the walls and other surfaces. Also, make sure the unit is stable on the countertop surface and use cooking pots and pans that won't easily tip over.
How To Clean?
For cleaning this single burner, you will have to tilt the coiled heating element up. That way you can easily clean the drip pan underneath that serves as a protection for the inside of the cheap hot plate, preventing any spillage to go in. To clean the unit, you can use a damp cloth with mild detergent.
Short Description:
14 inches wide, 12.25 inches long
8-inch heating element with exposed coils
warm, low, medium, high heat settings
durable stainless housing for frequent use
drip pan for spillage under the coiled burner
clean with a damp cloth and mild detergent
Best Double Burner 1500 Watt Hot Plate
Ovente Infrared Cooktop
Two 750-Watt Infrared Burners
With a power supply of 1500 Watts, this model features two infrared burners with a 7.5-inch diameter constructed from crystallite ceramic glass. It can be used with any type of cookware but gives the best results when used with flat cooking pots and pans with a diameter close to the size of the burner. Each burner uses a power supply of 750 Watts.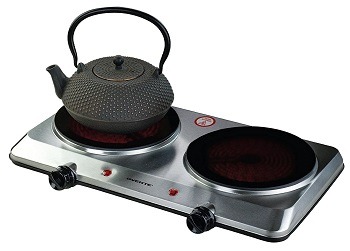 Durable Design 
Each burner has a power indicator light and an individual thermostat knob for temperature adjustments. With non-slip rubber feet and stainless steel housing, this 1500-Watt hot plate is durable and stable for frequent use. It measures 10 inches in length, 18 inches in width, and 2.5 inches in height.
Lightweight & Portable
As it weighs only 5.1 pounds, the low-wattage hot plate is ideal to take with you and use anywhere with access to a power outlet. It is ideal for studio flats, work, dorm rooms, etc. It can withstand a maximum weight of 11 pounds. With infrared technology, the unit heats the surface just in a few seconds depending on the set temperature level.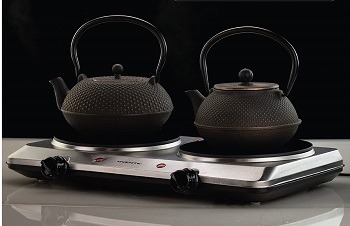 Straightforward Maintenance 
The burner will maintain the desired temperature throughout use for cooking without cold or hot spots. It will take this hot plate about 15 minutes to cool down after you turn it off. It is very easy to maintain clean by using a damp cloth to wipe the cooking surface and the body down.
Short Description:
two 7.5-inch ceramic glass cooking surfaces
750 Watts of power per each infrared burner
separate temperature knobs for heat adjustments
10 inches long, 18 inches wide, 2.5 inches tall
best results with flat cookware the size of the burner
infrared technology heats plates quickly and evenly
lightweight and compact for portability
Best Induction 1500 Watt Hot Plate
NuWave 1500-Watt Single Burner
Special Induction Cookware
This single burner uses electromagnetic induction to turn special cookware into a source of heat for cooking without wasting a lot of energy. The pots and pans need to have magnetic bottoms to be able to induce heat. This induction hot plate uses about 70 percent less energy than gas models to cook food.

Wide Temperature Range
You can choose between a wide range of temperatures to cook different foods more precisely. The temperature ranges from 100 to 575 Fahrenheit degrees and can be adjusted by using the control panel. You can choose the temperature in 10-degree increments and even set a timer for cooking.
9-Inch Cooking Element
The 9-ich cooking element can be used to both keep food warm at a buffet station but also to cook various meals at other medium and high temperatures. With a circular design, this 1500-Watt hot plate won't take up too much space on countertops, while also being safe to use. For example, upon removing the cookware, it will automatically shut off for safety.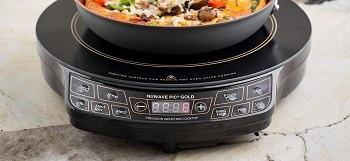 100-Hour Memory
For quick-cooking, you can simply choose one fo the 6 preset temperatures, but also choose between 52 different temperature settings when needed. The control panel also lets you program up to 100 hours for your favorite procedures when cooking different meals.
Short Description:
suitable for cookware with magnetic bottoms
9-inch induction single burner
control panel with screen for settings
wide temperature range from 100 to 575°F
features six preset temperature buttons
Best Portable 1500 Watt Hot Plate
Sunavo Hot Plate 1500-Watt
Single 7.1-Inch Burner
Available in black and silver color, this 1500-Watt hot plate features a 7.1-inch heating element with a temperature knob for adjusting the heat. The power light warns you when the hot plate is turned on to avoid injuries and damage. It works with all types of cookware, including glass, ceramic, and aluminum pots and pans under 7.5 inches.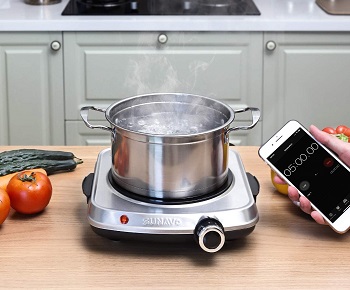 6 Temperature Settings
The thermostat knob offers 6 heat levels so you can keep food warm, fry, deep fry, and more by adjusting the temperature. The cast-iron burner is designed to spread heat more evenly across the surface and is durable even for everyday use. The stainless steel housing is also durable and convenient to keep clean.
Safety Features
The non-slip feet keep the hot plate stable on any countertop so it can move while you are cooking food on it. The cool-touch handles are great for adjusting the unit even when it is on without burning yourself. It is also safe to use with overheating protection by cycling on and off to automatically keep the desired temperature.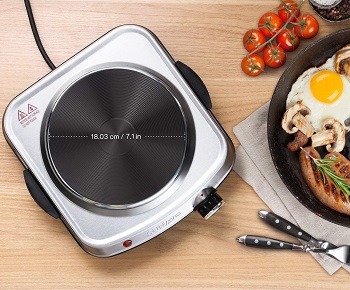 Compact & Durable
This travel hot plate is easy to transport and store as it is only 11.1 inches wide, 10.12 inches long, and 2.95 inches high. It can be used in any small or busy space when you need aa cooking surface for a quick meal. It is also anti-rust for longer life even when used frequently.
Short Description:
7.1-inch cast-iron cooking element
suitable for all cookware under 7.5 inches
control knob with 6 temperature levels
easy-to-clean durable stainless steel housing
11.1 inches wide, 10.12 inches long
auto cycling on and off for overheat protection
Best Big 1500 Watt Hot Plate
Oster 1550-Watt Hot Plate
Two-Sized Solid Burners
This double burner uses 1550 Watts to power two solid heating elements for cooking food. Each burner has a turning knob for independent heat adjustments. This way you can cook two different things at once, and you don't have to use the same temperature on both heating elements. The larger element is great for cooking, while the smaller should be used for simmering.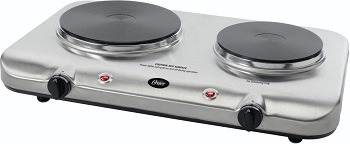 Two Indicator Lights
Each burner also has a power light that indicates when the cooking surface is turned on and heating for the user's safety. It comes with a 31.5-inch long power cord for convenient plugging in, without being too long to avoid possible accidents. The cooking surfaces are solid and easy to keep clean for hygienic cooking.
Safe & Stable Design
This 1500-Watt hot plate comes in brushed stainless steel that looks stylish and easily complements any interior. At the same time, it is durable and easy to keep clean. It comes with feet that prevent sliding on surfaces for stable and safe use. You can use it in the kitchen or spaces without a kitchen for cooking and simmering food.
Measurements
This large hot plate is 23.62 inches long, 12.4 inches wide, and 3.62 inches high. It is elegant enough to be used in the kitchen and even in front of guests when hosting parties. The larger burner has 900 Watts of power and the smaller uses 650 Watts for keeping food warm.
Short Description:
12.4 inches wide, 23.62 inches long
900-Watt and 650-Watt solid burners
individual temperature knobs and power lights
the smaller burner is used for simmering only
safe and stable to use on countertops
convenient 31.5-inch power cord
anti-slip legs for stability and safety
What To Consider In 1500-Watt Hot Plates?
The market offers 1500-Watt hot plates in single and double burner sizes and both have their advantages. They can have induction or infrared heating elements or cast-iron and exposed coiled cooking surfaces. When choosing between all these models, it is also important to consider the temperature range they offer to be able to cook the food you wish to prepare. Finally, keep in mind their size for ease of portability and storage.
Single Burners – Single burners with a power supply of 1500 Watts are usually powerful enough to be used for a variety of cooking applications. With a wide range of temperature settings, they can be used to boil water, grill, fry, deep fry, and more. They can work with the help of induction, infrared technology, or have a cast-iron or coiled heating element.
Double Burners – When it comes to models with double burners, some of them feature two burners in the same or in different sizes. Usually, when both burners come in the same size, they both have a power supply of 750 Watts. On the other hand, when they come in different sizes, smaller burners are usually ideal for simmering and larger for faster cooking. They usually use infrared technology or have cast-iron heating elements.
Types Of Hot Plates – Some models of hot plates have cast-iron heating elements, while some have exposed coils. The market also offers infrared and induction cooking surfaces with glass material. Unlike the rest of the types, induction models need special magnetic cookware to work with them. Glass cooktops are usually the easiest to keep clean, while cast-iron models can be more durable for pressure cookers, etc.
Heat Settings – By using the control panel or the turning knobs, you can control the temperature of the cooking surface on hot plates. Double burners usually have separate knobs so that you can set individual temperatures for each burner. Most models only offer low, medium, and high ranges, while some let you choose between exact temperatures. The temperature range is usually between 150 and 450 Fahrenheit degrees.
Portability – Seeing as hot plates are usually purchased for occasional use and in small and busy spaces, always look for the size measurements. That way you will know whether a certain model can fit your dorm room, RV, office, etc. This is also convenient for storage when the hot plate is not in use.
>To Wrap It Up
The one 1500-Watt hot plate that stands out the most is the Cusimax single burner. It features a single cast-iron burner with 7 temperature levels for cooking a variety of meals. It is durable and can be used with any type of cookware under 7.1 inches in diameter. If you are still interested in single and double burners, look through these articles about electric single burner hot plates and electric double burner hot plates to check out the reviews of many different models currently popular on the market.