Have you been looking for the best heart-shaped mini waffle maker on the market?
Then this post might help you with your search.
I reviewed five of the best models that are currently available for sale. You will find all the important information about their designs, prices, and different beneficial features they have to offer. Check them out and find the perfect model that fits all of your needs.
The Rundown
Best 5 Heart-Shaped Mini Waffle Makers
Best Of Best Heart Mini Waffle Maker
Euro Cuisine WM520 Waffle Maker
Chrome Housing
This heart mini waffle maker features a highly durable chrome exterior. This is a great thing because chrome increases surface hardness, provides the unit with high resistance to corrosion, and makes the cleaning process much simpler.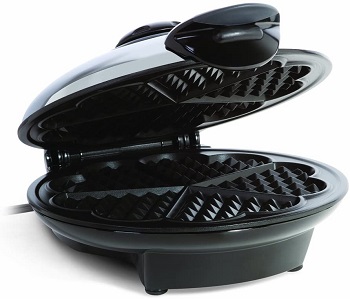 Simple Temperature Control
Thanks to its rotating temperature knob you won't have any trouble adjusting the perfect temperature level according to your needs. Simply turn the knob toward the minimum or maximum temperature and wait for the ready indicator to light up.
Fully Coated Cooking Surface
The best thing about this home waffle maker is that it features a fully coated cooking surface. That means that you won't have to use any additional fat during the cooking process and the waffles will simply slide out from the plates.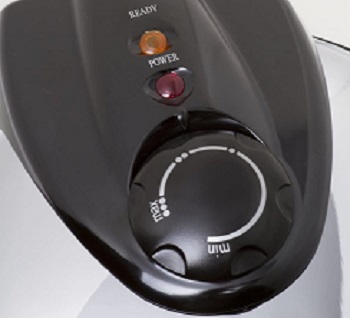 Food-Safe Materials
You can be sure that this waffle maker is perfectly safe to use for food processing. Its non-stick coat is entirely made out of food-safe materials that contain no PFOA-s or PTFE-s that are usually used for creating non-stick properties.
Short Description:
practical space-saving design
highly durable chrome housing
high-quality food-safe non-stick coat
fully adjustable temperature control
power and ready indicator lights
completely PFOA and PTFE-free
requires very little storage space
Best Cast Aluminum Heart Shaped Mini Waffle Maker
Nordic Ware Sweetheart Waffler
Cast Aluminum Plates
The two cooking plates of this waffle maker are made out of durable cast aluminum material. This means that the unit won't be as heavy as some cast iron waffle makers are, but it will also provide amazing durability and heat conduction.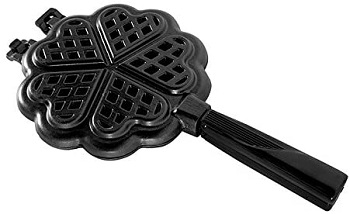 Hard Plastic Handles
Unlike the cooking plates, its two handles are made out of hard plastic material. The upside of this feature is that plastic is a much lighter material. The downside of this feature is that plastic is also a soluble material and you will need to be careful not to place the handles over direct heat.
Deep Pocket Waffles
Because of its design, this waffle maker will create perfectly crisp, extra deep-pocket waffles that you will be able to fill with your favorite syrup or cream. It doesn't provide temperature control but you can control its browning effect by controlling the heat on your stove.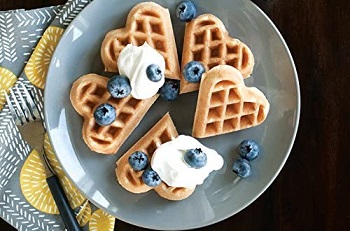 Stove Compatibility
This heart-shaped mini waffle maker is designed to be used over gas stoves. This is a great feature because it means that you can also take it on your camping trips and family vacations and use it anytime you want. Everything you need is a small portable gas heater and you are good to go.
Short Description:
high-quality cast aluminum cooking plates
two hard plastic handles
creates extra deep-pocket waffles
compatible with different gas stoves
Best Round Mini Heart Shaped Waffle Maker
Shadow Heart Waffle Maker
Simple Electric Design
This waffle maker features a very simple electric design. That means that everything you need to have for this unit to work properly is a regular power source you can plug it into. It is a great choice both for home use and as an on-the-go waffle maker.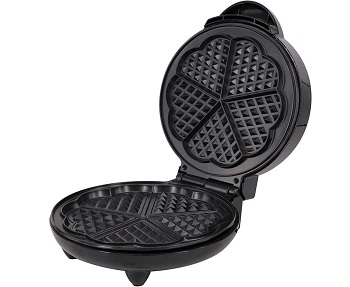 Light Indicators
Another great thing about this waffle maker is that it comes with built-in light indicators that let you know the current status of the unit. The red indicator will light up immediately when you plug the waffle maker in. The green one will let you know when the unit reached the set cooking temperature and is ready to be used.
Adjustable Temperature
This is another heart-shaped mini waffle maker that allows you to control its cooking temperature by simply rotating the temperature knob in the desired direction. By adjusting its cooking temperature, you will automatically adjust the browning level that this waffle maker provides.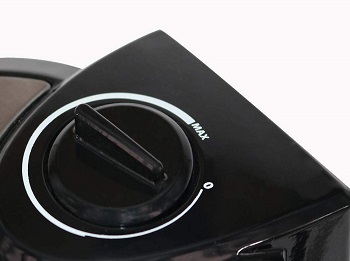 Non-Slip Feet
The rubber feet that are located on the bottom of the round waffle maker will provide the waffler with additional stability. Thanks to that feature you never have to worry that the unit might move around or slip while you use it.
Short Description:
very simple eclectic design
built-in red and green light indicators
easily controlled and adjusted temperature
fully coated non-stick cooking surface
non-slip rubber feet for additional stability
Best Portable Mini Heart Waffle Maker
Dash DMWH100HP Waffle Maker
Mini Size
This is a somewhat smaller Dash waffle maker than other models. It is designed to make one small heart-shaped waffle at a time. It may not be a practical choice for larger families but it is the perfect choice for everyone who needs a small unit they can take on vacations.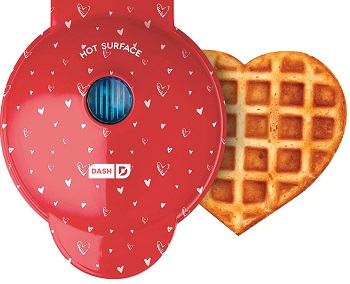 Quick Performance
Even though this waffle maker is smaller, it will still provide you with a very powerful and time-efficient performance. It distributes heat evenly throughout the entire cooking surface to ensure that you can get perfectly crisp and brown waffles in no time.
Easy To Store
Because of its small size, you won't have any trouble finding the perfect storage space for this heart-shaped mini waffle maker. It will fit inside cabinets and even kitchen drawers. Also, you can store it in a vertical position to save more space for other appliances.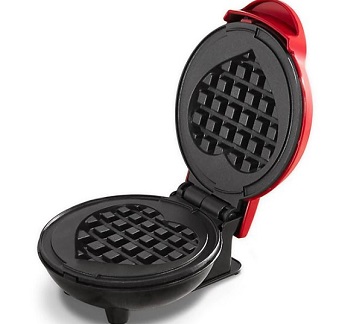 Affordable Price
If you are looking for a cheap waffle maker, this model might be an amazing choice. It costs less than twenty dollars, but it offers pretty much the same beneficial features as more expensive ones do, it only comes in a smaller size.
Short Description:
highly practical mini size
a four-inch cooking surface
very powerful and time-efficient performance
even heat distribution throughout both cooking plates
requires very little storage space
comes at the most affordable price
Best Stovetop Heart Mini Waffle Maker
Paney Waffle Maker
High-Quality Design
Just like all of the listed models, this mini heart waffle maker also features a high-quality design. It is made out of food-grade cast aluminum material that ensures the durability of the unit and provides protection against rust.
Coated Handles
You don't have to worry that you might burn your hands while using this waffle maker. It comes with two handles that are completely insulated and don't transmit any heat from the unit. This feature makes this waffle maker very easy to handle.
Nonstick Surface
The fully coated non-stick surface ensures that you won't have any trouble with removing the cooked waffles from the cooking plates. Also, you won't have to add any additional fat or oils to the batter. As a result, you will get a much healthier breakfast.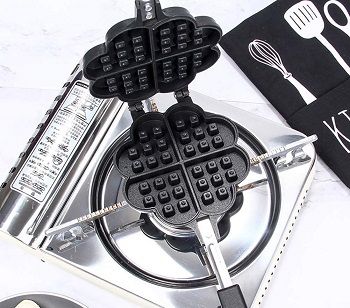 Units' Compatibility
This stovetop waffle maker is compatible with regular home gas stoves and with portable fuel gas stoves. Make sure that you don't use too much fire because you need to move the cooking plates over the heat to get even heat distribution. Note that this waffle maker is not made to be used on induction cookers.
Short Description:
food-grade cast aluminum construction
fully insulated locking handles
fully coated non-stick cooking surface
compatible with regular and portable gas stoves
not compatible with induction cookers
What To Consider About Mini Heart-Shaped Waffle Makers?
Mini heart-shaped waffle makers are specially designed to help you make perfectly shaped and delicious heart waffles. They will make everyone's breakfast full of love and great taste. Here are some things you should consider when deciding which one to buy.
Size And Portability – Smaller units have much less weight and they are much easier to transport. They are a great choice for everyone who loves to travel and needs a small portable unit they can keep inside an RV or a camper.
Capacity Of The Unit – Depending on the size of the waffle maker you decide to buy, you can have a waffle maker that can make one single heart-shaped waffle at a time or a unit that can multiple slices. The first one is a great choice if you live alone or need a waffle maker for your dorm room or office. However, if you live with your family you might consider getting one that makes multiple small pieces at once.
Exterior Construction – Stainless steel waffle makers are always a great choice because of the quality and the durability of the material. However, you can also find models that are made out of cast-aluminum or iron that have protective films that prevent rust and other exterior damages.
Cooking Plates – If you want to avoid trouble with both the cooking and cleaning process, look for the models that come with fully coated non-stick cooking plates. The thing you always need to check is whether the coat is made out of food-safe materials because chemicals such as PFOA-s and PTFE-s are often used in creating the non-stick properties.
Different Controls – Most of the heart-shaped mini waffle makers you can find on the market provide different user-friendly features. For example, electric waffle makers usually have a temperature knob that allows you to control the temperature level and the browning degree that the unit provides.
To Wrap It Up
The best mini heart waffle maker is the Euro Cuisine WM520 Waffle Maker. It features durable chrome housing, has a fully coated non-stick cooking surface, and is entirely made out of PFOA and PTFE-free materials. Find out more about fun-shaped waffle makers, such as snowflake waffle makers and cartoon waffle makers, and choose the one that accommodates your needs the most.