Have you been trying to find the best freestanding dishwasher that will perfectly fit into your kitchen?
Then this post might help you with your search!
Listed below, you can find short reviews of the 15 top-rated models that provide exceptional performance. Check them out, find out more about their design, features, and prices, and read my buying guide that might provide you with some helpful information.
The Rundown
What Does "Freestanding Dishwasher" Mean?
It is actually a standard dishwasher that is finished on all sides so it can be placed on or next to the countertop not built into it. It can be permanently placed in the kitchen and plumbed into the required drain.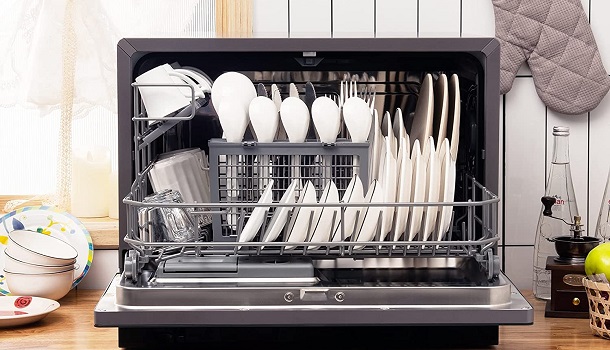 How Does It Differ From A Built-In Model?
Besides the design, there are a couple of more differences between a freestanding appliance and that classic built-in model.
Size. Even though the freestanding model usually features an 18 or 24-inch big unit, the same as the built-in one, you can also choose smaller constructed units that are big between 14 and 18 inches.
Additional Features. And by additional we mean wheels. Freestanding models can feature rollers at the bottom so they can be rolled in or out of the kitchen.
Countertop Possibilities. As these models are constructed to be freestanding and can feature a smaller unit, they can easily be placed at the top of the countertop or table.
Do Freestanding Models Need To Be Plumbed In?
No, they do not require any complex plumbing. They actually have an easy-to-use plug-and-play interface and can be hooked up to any tap fixture with a drain. Some models can even feature a built-in water tank.
3 Different Model Options
We already mentioned a couple of specific details of these models, but here is the official categorization.
The classic freestanding model is designed to simply be placed next to the countertop or any other available space in your kitchen. Once it is placed, it is permanently located there. This model usually has an 18 or 24 inches big unit.
Freestanding appliance with wheels is designed for usage per request. It has wheels at the bottom so you can use it only when you need to and then store it back. This model also has an 18 or 24-inch big unit.
The countertop model with a freestanding design is simple to handle, use, move, and store. It is made to fit any countertop or table. This model is smaller than the other 2 as it features a unit that is big up to 18 inches only.
Standard Price Range
The freestanding designed dishwashers are usually priced between $300 and $1,200, depending on the model. Commercial ones are a bit more expensive and they can reach the price of more than $3,000.
How Do I Know If I Need A Freestanding Washing Appliance?
Here are a couple of reasons when and why you should get this dishwasher design.
When you already have beautifully designed cabinetry and you simply can't find a space for building in a dishwasher.
If you have an available space next to the cabinetry but can't think of how to decorate it so a nice stainless steel dishwasher can give an aesthetic touch.
If you have a small kitchen but still don't want to hand wash the dishes.
If you have a mobile home, RV, or boat, a countertop dishwasher is ideal for enhancing the cleaning experience.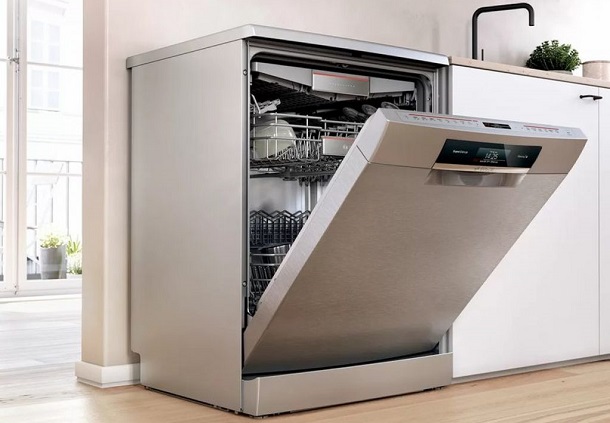 Energy Star Option For Small Bills
Most people don't want to get a dishwasher because they think it will consume great amounts of water and energy. However, hand washing the dishes spends up to 25 gallons of water, while a dishwasher needs only 15 gallons per load. It also needs just 1.59 kWh. Also, if you get an Energy Star certificated dishwasher, those numbers will decrease even more.
A certificated dishwasher uses less than 4 gallons of water per load.
In the terms of energy consumption, such models use only 0.87 kWh of energy per load.
How To Find The Best Freestanding Constructed Dishwasher
To choose the most ideal dishwasher for your household and needs, you need to look for some specific features, functions, and specifications. Here are the details.
High-Quality Construction
Stainless steel made dishwashers are the most durable models on the market. Such a material of the making is strong and it contributes to better cleaning and drying performance. It is also resistant to high temperatures, stains, and odors. The other option you have is plastic. This material is also strong and durable, however, it isn't as preferred as steel.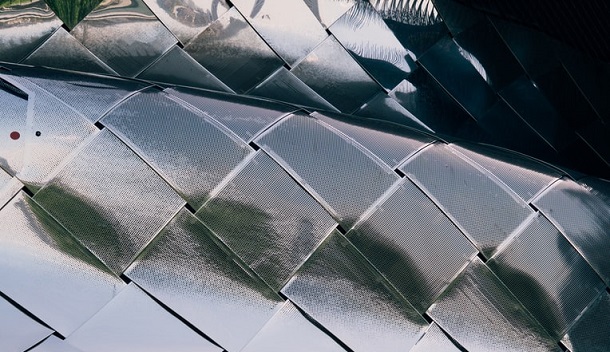 Variety Of Capacity Options
The interior capacity depends on the model you go for. Here is what each of the models can offer you regarding their size and capacity.
A classic freestanding model can hold up between 12 and 16 place settings.
A rolling dishwasher usually holds a bit smaller amount of dishes – between 8 and 14 place settings.
A countertop model can hold the least place settings. As the final number depends on the model and its size, this dishwasher usually holds between 4 and 8 place settings.
Can I Have an Interior With Adjustable Racks?
If you go for a classic or rolling dishwasher type, then yes. With this feature, you can customize the interior by using and rearranging compartments, baskets, and racks in order to fit all types and shapes of dishes and cookware.
What About Third Rack?
This feature can also be included with classic or rolling models. A third rack gives you additional space above the top rack of the dishwasher. It is used as a utensil drawer for flatware, cooking and serving tools, and other small items.
Cycles & Options
Most models have at least 4 cleaning cycles. That can include any cycle such as light, heavy, and normal wash, ECO mode, baby care, top rack only, glasses, delicate, quick wash, and others.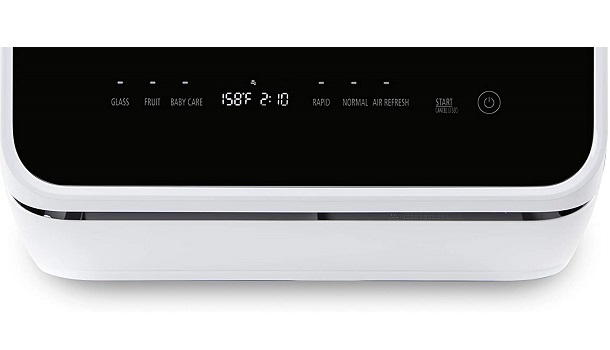 I Need A Drying Function Too. Can I Get It?
Yes. Almost all dishwasher models feature a drying option. It can be either a heated drying or an air-dry function. Both functions are efficient, however, heated drying uses a lot of energy for the operation while air-dry is an eco-friendly feature.
Are These Models Quiet?
They can be, depending on the model. Usually, more pricey dishwashers are quieter and they feature less than 48 dB noise level. Cheaper models are a bit louder but still rather quiet as they feature a noise level between 48 and 55 dB.
Top 15 Standalone Dishwashers
hOmeLabs HME010033N Dishwasher
Simple Design
This dishwasher features a very simple design. It can accommodate up to 6 place settings and it offers 6 different cleaning programs. Its stainless steel interior tub requires very little maintenance and ensures a lasting lifespan of the appliance. It is even Energy Star certified.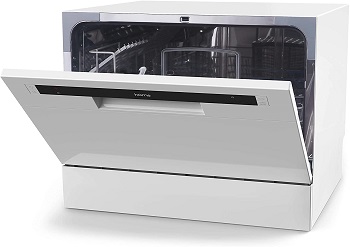 Automatic Dispensers
Just like the rest of these models, this dish machine for home use also comes with a fully automatic detergent and rinse aid dispenser. The only thing you need to make sure of is that the dispensers are always full.
SPT SD-6513SS Dishwasher
User-Friendly Design
This dishwasher on wheels features a user-friendly design. It is constructed out of high-quality stainless steel material, provides 6 different wash programs, has a capacity of up to 10 standard place settings, a rinse aid warning indicator, an error alarm, etc.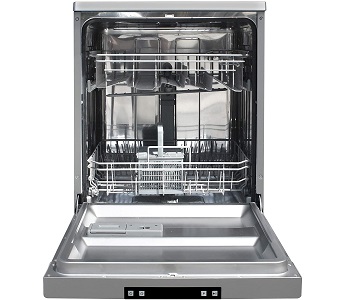 Rolling Wheels
As its category implies, this standalone rolling dishwasher comes with wheels. Thanks to this feature you won't have any trouble moving it around when needed.
Farberware FDW05ASBWHA Dishwasher
Convenient Size
The best thing about this self-standing dishwasher is that it comes in a highly convenient size. It will easily fit atop your kitchen countertops or inside the under-sink cabinetry. It features a pull-out dish rack, a small cutlery rack, and a magnetic latch & a see-through glass window.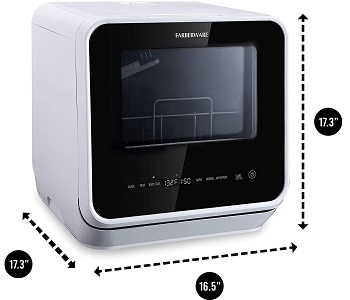 Multipurpose Use
Because of its versatile cleaning cycles and functions, you will be able to use this electric dishwasher to clean versatile items. Apart from the dishware, you can use it to clean baby bottles and pacifiers as well as fruits and veggies.
Kapas KPS-XWJ01 Dishwasher
Sanitizing Performance
Due to its double rotating spray arms, this cheap dishwasher will provide amazing cleaning performance. With its multiple cleaning cycles and a high 75° cleaning temperature, you can be sure that your dishware will get properly sanitized. Its air drying cycle ensures that you can store your dishes in the cabinets straight from the machine.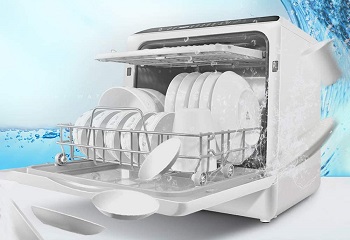 No Hookups Required
This cheap countertop dishwasher comes with a 5-liter water tank thanks to which you won't have to hook the machine directly to a water source. However, if you do decide to install it in your kitchen, you can easily hook it up to your kitchen faucet.
Farberware FCD06ABBWHA Dishwasher
Multipurpose Use
Due to its versatile cleaning cycles and options, you can use this dishwasher to clean versatile items. Each washing program is specially designed to provide amazing performance and results.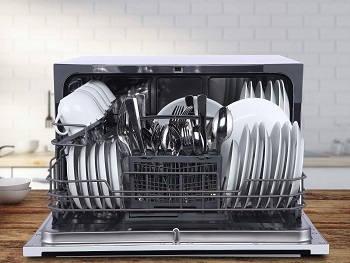 Locking Mechanism
This is another standalone dishwashing machine that comes with a highly convenient locking mechanism. It allows you to lock up the control panel and ensure that no one can tamper with the functions it provides. This feature can come in very conveniently for families with small children.
Bosch SPE68U55UC Dishwasher
Narrow Design
Since this model comes in a bit more narrow 18-inch size, it is the perfect choice for everyone looking for a somewhat smaller model that doesn't take up too much floor space.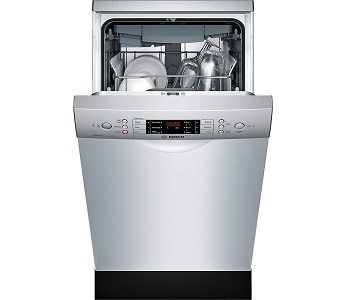 Amazing Features
Note that this 45cm dish machine offers versatile amazing features. It can accommodate up to 10 place settings and offers multiple cleaning cycles and options. It also has a specially designed water softener, powerful AquaStop Plus leak protection, super low 44 DB operating noise, etc.
SPT SD-2213S Dishwasher
Setting Capacity
Because of its size, this dishwasher in silver color can easily accommodate up to 6 standard place settings. It can clean versatile dishware pieces that are up to 10.25 inches in diameter. It can also fit atop most of the countertops or inside the cabinetry.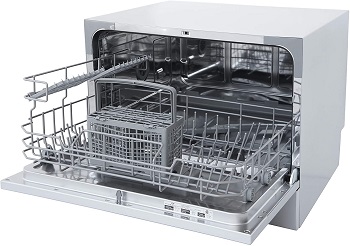 Simple Setup 
You won't have any trouble setting up this freestanding silver dishwasher. A universal faucet adapter comes included in the package to ensure that you can easily hook the machine up to your kitchen faucet. Most importantly, it will require as little effort as possible.
Magic Chef MCSCD6W5 Dishwasher
Electronic Controls
This white dishwasher comes with very simple electronic controls and a convenient digital display. Its 6 different cleaning settings will give your dishware a thorough clean. Its stainless steel interior tub and a completely removable filter make the machine much easier to clean.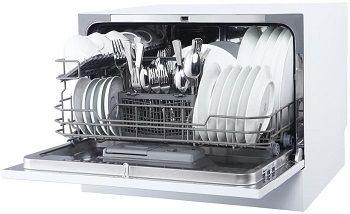 Programmable Delay
The best thing about this white model is that it comes with an adjustable 24-hour delay program. This means that you will be able to set the exact time you want the next cleaning cycle to start, several hours in advance.
Novete TDQR01 Dishwasher
Portable Size
What makes this dishwasher such an amazing choice for transportation is its convenient size and a 5-liter water tank. This means that the machine requires absolutely no permanent water hookups.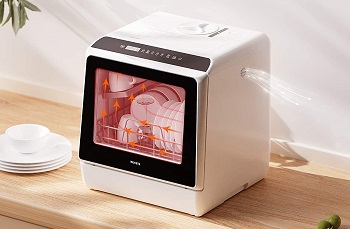 Full Coverage
Its size also makes it a convenient choice for small apartments, offices, dorm rooms, RVs, campers, etc. With its versatile cleaning cycles and powerful 360-degree spray arms, this portable dishwasher will provide your dishware with full coverage and powerful sanitizing performance.
Handiy Mini Dishwasher
Mini Size
This is another dishwasher that comes in a convenient compact size. Its control panel is located just below its door and it has backlit indicators. With its full-coverage 360-degree spraying arms, you can be sure that your dishes will get a thorough clean.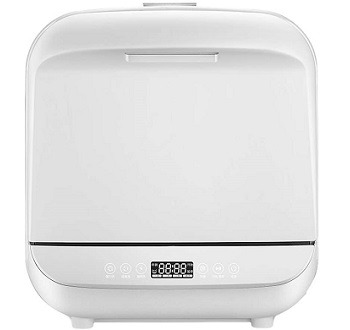 Transparent Tank
Its water tank is completely transparent and can hold up to 5 liters of water at once. Since it is completely removable, you won't have any trouble refilling it or cleaning it when required.
Black+Decker BCD6W Dishwasher
Small Size
Even though this dishwasher comes in a somewhat smaller size, you won't have any trouble fitting it on your countertops or inside the cabinets. It can easily accommodate up to 6 standard place settings that are up to 10 inches high.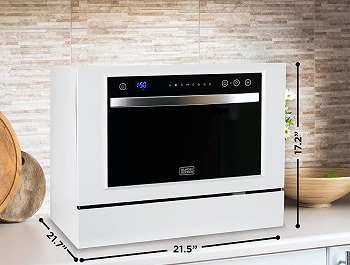 Simple Display
Another convenient feature of this small dishwasher is its simple control display. It features multiple backlit controls and a time display. With its child lock safety mechanism, you will be able to lock up the control panel and ensure that no one can tamper with it.
LG LDP6797ST Dishwasher
Tall Tub Design
As opposed to the previously reviewed models, this full-size dishwasher features a tall tub design. Its 3 separate dish racks will easily accommodate up to 15 place settings. With its stainless steel design, you can be sure that this dishwasher will provide a lasting lifespan.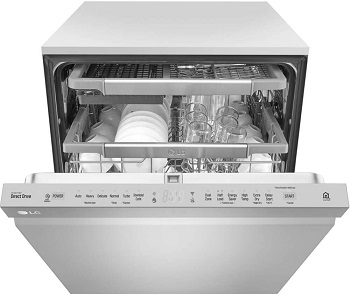 Smart Features
This model offers amazing smart features. It offers a SenseClean washing system and a dual-zone washing system with a half-load option. It is even WiFi enables, meaning, you will be able to control it via your smartphone.
Jet-Tech F-18DP Dishwasher
Commercial-Grade Design
This is the only dishwasher in this post that features a commercial-grade design. It is made out of high-quality stainless steel material that provides it with exceptional quality, durability, and a lasting lifespan.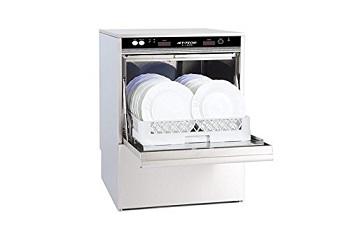 Efficient Performance
Note that this self-standing dishwasher provides a highly efficient cleaning performance. It can clean up to 24 racks of dishes in about one hour. This means that its cleaning cycles last only about 2.5 minutes. Due to its high-temperature performance, it will sanitize your dishware and get it ready for the next use.
Danby DDW631SDB Dishwasher
High-Quality Design
This dishwasher comes with a stainless steel construction. Thanks to that, it provides exceptional quality, durability, and a lasting lifespan. The dishwasher offers a standard 6 place setting capacity and a user-friendly control panel with versatile controls. It even comes with warning indicators that inform you when something is wrong with the dishwasher.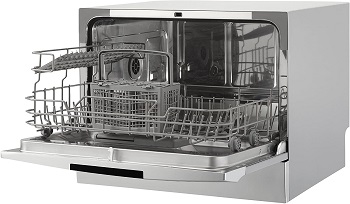 Energy Star Compliant
The best thing about this self-standing dishwashing machine is that it is Energy Star compliant. This means that it consumes much lower amounts of water and power per cleaning cycle.
Fisher Paykel DD24DAX9 Dishwasher
Double Drawer Design
This is the only freestanding dishwashing machine that features a double-drawer design. It comes in a high-quality stainless steel design and has a recessed handle that provides it with additional elegance. Its small control panel is located in its top right corner to ensure that you can easily access it.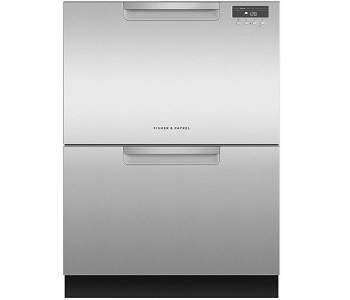 Independent Cycles
The best thing about this dishwasher with a double-drawer design is that it allows you to run independent cleaning cycles in each drawer. Also, you can decide to run only a half load.
Freestanding Design With Standard Safety Features
Most dishwashers feature standard safety factors, but they are all you need for safe use and handling. Those safety features include leakage protection, an alarm buzzer, light indicators, and well-designed bottom for stability.
Regular Cleaning As A Part Of Safe Use
Of course, cleaning and maintenance are a big part of safety. Make sure to clean your dishwasher inside and out at least once a week. That includes wiping up the exterior of the dishwasher and deep cleaning its interior. To do that, run one cycle with white vinegar and another one with baking soda.
Hook Up Your Freestanding Dishwasher Without Troubles?
The installation requirements vary from one model to the other. Here are tips on what to do with your new dishwasher that feature a freestanding design.
Can I Replace An Integrated With Freestanding Model?
Absolutely. A freestanding model doesn't require so much plumbing and connecting and it will fit the space as these 2 models share the same sized units. If you wish to kick out the built-in dishwasher, you can also use the space as additional storage, while your new freestanding machine can be placed somewhere else.
Standard Freestanding Model
Even though you're not building this model for your cabinetry, it will still be a permanent appliance in your home. Now, it is best to call a professional to install it for you. If you want to do it by yourself, you can try, however, make sure to follow the official manual for guidance since the installation depends on the model you get.
Rolling Model With Wheels
Here are simple steps for the installation of this dishwasher model.
Remove hoses from dishwasher interior.
Install the hoses on the dishwasher's bottom back area.
Remove the tap adapter and install the thin washer.
Align the bottom of the clip with the cut-out on the dishwasher's top-back area.
Once the top and bottom areas are aligned, push down the clip and lock it into place.
Turn the water off at the main tap at the sink and push the button on the coupler assembly.
Hook 2 hoses into the rear hose hook at the back of the dishwasher.
Countertop Dishwashers
If you have a model that has a built-in water tank, you just need to add water and place the plumbing to the sink so the dishwasher can drain. If your model doesn't have a tank, follow the detailed installation instructions that come with your dishwasher.